The 2019 edition of the Jaguar Simola Hillclimb, which took place in Knysna at the weekend, marked the 10th running of the event. Competitors faced tricky conditions throughout the 2-day programme and here's how it all unfolded...
Every year, the Jaguar Hillclimb presents different challenges to its participants; this year it was inclement weather and daylight, or the lack thereof. Saturday's practice sessions were run in mixed conditions that ranged from damp to wet and eventually dry in the afternoon. Dialling in a perfect setup was always going to be tricky with so few comparable runs to work with.
The regular frontrunners all set close to record times late on Saturday, which consists of 5 practice sessions and 2 qualifying runs. Robert Wolk had set a blistering time of 37.279 sec in his Ferrari-powered A1 GP car, but with only the qualifying times counting towards the final, reigning King of the Hill Andre Bezuidenhout laid down the 1st marker with a time of 37.692 sec in his Gould GR55 single-seater, which was specially designed to take on hill climbs like this one. His average speed over the run was 181 kph (from a standing start).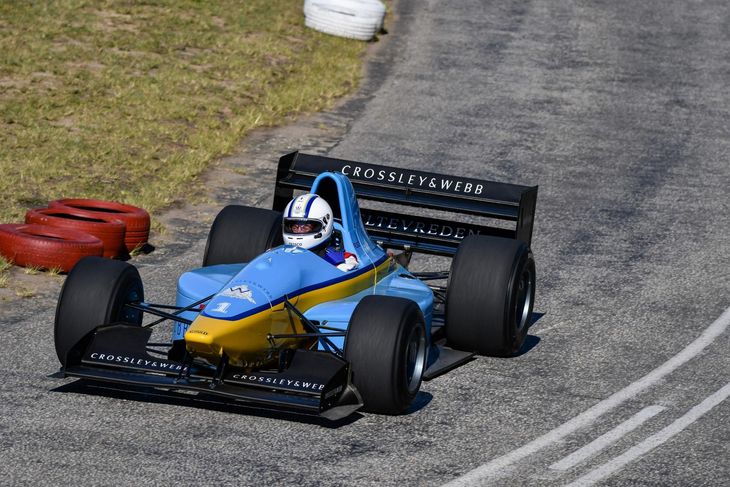 Andre Bezuidenhout in his hill-climb special Gould GR55.
For the modified saloons, the waters were a little muddy; several teams were struggling with mechanical issues. Charl Joubert claimed the award for the unluckiest person on the hill as, during his run, his car spun on some oil (that had leaked from a previous car) and barrel-rolled into the embankment. Charl was okay, but his very modified Lotus Elise was irreparable.
Topping the times on Saturday was Franco Scribante's multi-winged Nissan GT-R, which looked to be in a class of its own (38.551 sec). The next best was Martin van Zummeren in a 2002 Nissan Skyline (40.732 sec). A previous winner of the category, Wilhelm Baard struggled to get a clean run in his Nissan GT-R and opted not to run in the wet conditions, only to see his car suffer a drive-shaft failure during a qualifying run.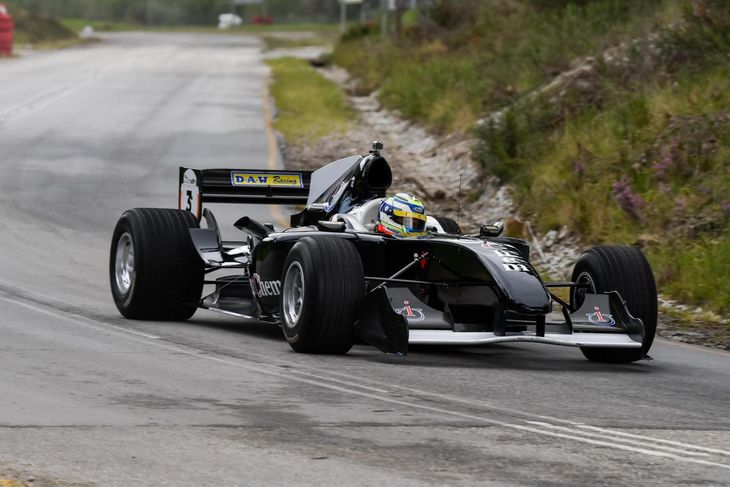 Robert Wolk set the fastest time in practice in his A1 GP single seater.
Back in the road car category, the Cronje brothers (Mark and Gavin) were consistently improving their times in equally specced, showroom standard Jaguar F-Type SVRs. They didn't seem to have an answer, however for Reghardt Roets in his not quite standard Nissan GT-R, with a second separating him from Mark Cronje.
Day 2 ("Payday")
Hazy sunshine kept the rain at bay throughout Sunday, giving the competitors a full morning's running before the finals in the afternoon. That was until the timing system failed, causing a delay of a few hours relegating the final showdown to dusk/sundown.
It took some serious guts for the single-seater guys to go full bore up a misty mountain with not much light to work with. Still, it provided an extremely close finish in the top-10 shootout: Bezuidenhout clocked in at 36.764 sec, just over a 10th quicker than Wolk (36.920 sec). Third place went to Garth de Villiers in his 2002 Formula Volkswagen.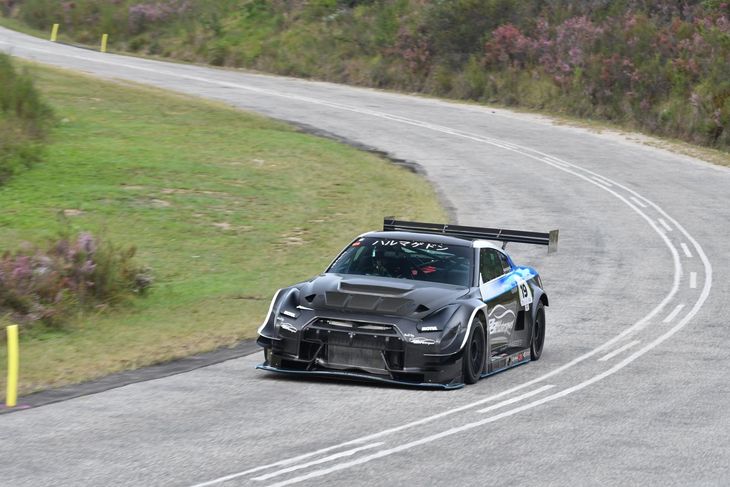 Wilhelm Baard was unable to match the Scribante with his less-winged GT-R.
The modified saloons appeared to garner the most eyeballs as the crowd tried to get their minds around all the winglets, canards and snow-ploughs fitted to regular sportscars. Downforce and outright power proved to be enough for Franco Scribante to stay ahead of the pack – his GT-R dipped well below the magical 40-second mark with a 39.342. Second-placed Wilhelm Baard couldn't get within a second of Scribante, notching up a time of 40.349 sec, but still half a second ahead of Franco Di Matteo (2000 Jaguar V8 Supercar) with a 40.862.
In the roadgoing supercar shootout, Reghard Roets maintained his 1-second gap over the standard cars, clocking a 44.094 ahead of Gavin Cronje's F-Type SVR that managed a 45.040. Gennaro Bonafede managed to collect 3rd place in a BMW M2 Competition (45.938) after Mark Cronje picked up time penalties for clipping a few bollards in his final run.
The old guard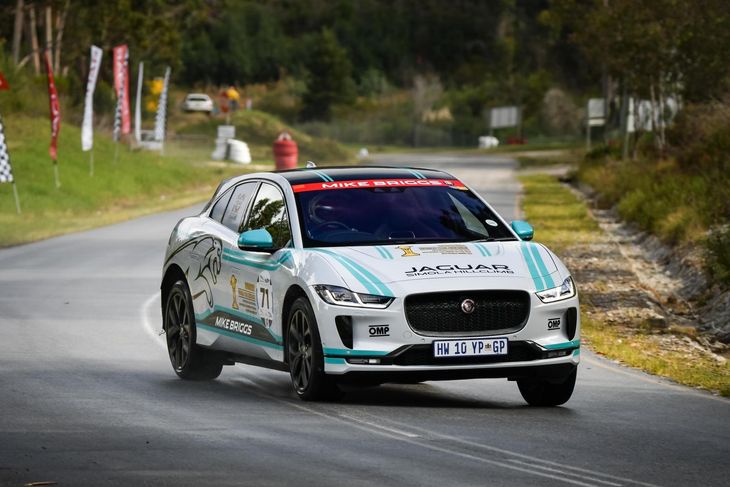 Mike Briggs turned back the clock and proved he was still the fastest of the old guard.
One of the great highlights of the event was watching 3 of South Africa's touring car greats – Mike Briggs, Deon Joubert and Shaun Watson-Smith – go head-to-head in new-school, all-electric cars. The brand new Jaguar I-Pace posed a unique challenge for the 3 stalwarts of SA motor racing as they would use maximum power available on the climb up the hill and then recoup the energy on the way down the hill. Briggs managed to beat his old rivals, with Deon Joubert 2nd and Watson-Smith 3rd.
A quick highlights reel from the event
Related content:
Jaguar F-Pace SVR Unleashed in SA
2017 Jaguar Simola Hillclimb Highlights Video
Great turnout at 2017 Jaguar Simola Hillclimb
5 cool cars from 2016 Jaguar Simola Hillclimb