The F-Pace has always offered style – and verve – in a segment dominated by buttoned-up continental machinery. As the model's facelift draws near, Jaguar has launched a Chequered Flag special edition​ of its executive SUV. We sampled the newcomer just before the country was placed under lockdown...
We like: Styling, strong engine, cabin space, agile handling.
We don't like: Options can get pricey, rivals are cheaper.
Fast Facts
Price: R1 117 300 (April 2020, before options)
Engine: 2.0-litre 4-cylinder turbodiesel
Gearbox: 8-speed automatic
Fuel economy: 5.8 L/100 km (claimed)
Power/Torque: 177 kW/500 Nm
Own a Jaguar? Tell us about your experience here.
SERIOUS ABOUT BUYING?
Where does it fit in?

The shape is unmistakably that of a Jaguar. Note how nicely the big wheels fill those arches.
​The F-Pace was Jaguar's first offering in the luxury SUV segment and famously won the World Car of the Year title in 2017; since the executive SUV made its arrival, Jaguar has added the smaller E-Pace and more expensive all-electric I-Pace to its line-up. And that's just Jaguar – suffice to say that in the R1-million-plus bracket, you're spoilt for choice with some excellent and luxurious offerings.
When it was launched in South African market in the middle of 2016, the F-Pace range included petrol and turbodiesel derivatives and, after that, the range was bolstered by the introduction of a hardcore SVR performance derivative, which we sampled towards the end of 2019. Roll into 2020 and Jaguar Land Rover SA has launched the Chequered Flag special edition of the F-Pace. There are 3 derivatives available (2 turbodiesels and a turbopetrol), each of which utilises an Ingenium powertrain. Here we sample the mid-spec F-Pace 25d AWD Chequered Flag.
Own a Jaguar? Please tell us about your experience here.
How it fares in terms of...
Design & Packaging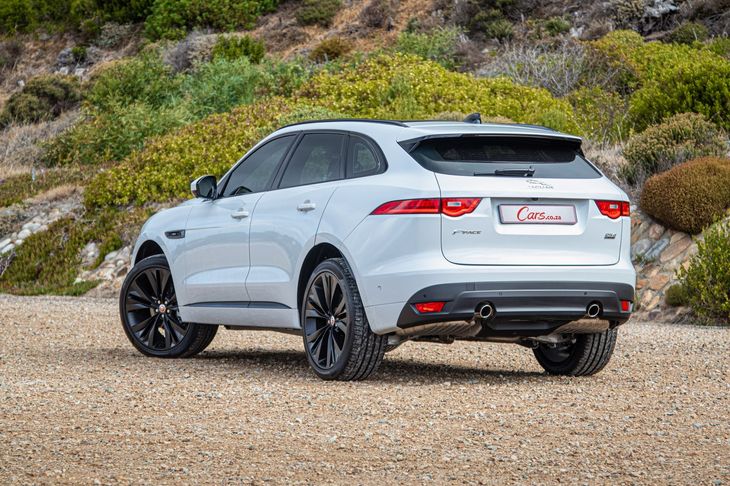 The white/black contrasting theme and twin exhaust outlets give the F-Pace strong aesthetic appeal.
It's been around for a fair while now, but the Jaguar F-Pace could never be described as ugly or boring; its British designers imbued it with a distinct sense of style. The Coventry-based brand claims to have implemented many of the F-Type sportscar's styling cues in the F-Pace's design, which is understandable, given the brand's obsession with motorsport and heritage. The Chequered Flag edition adds extra sportiness with a bespoke front bumper, gloss black detailing, -side vents and -roof rails. A pair of chrome-tipped exhaust ends rounds off the look. So far, so good. Now while the press kit said the derivative has 19-inch alloys as standard, our test unit was shod with 22-inch gloss-black alloys. Not only do they really look the part – they contrast beautifully with the Yulong White finish.
Meanwhile, the F-Pace's cabin feels suitably luxurious (as expected at this derivative's price point, of course), but also offers the kind of sense of occasion that one wouldn't necessarily expect from the cabin of the executive SUV segment's "elder statesman" – after all, many have seen it before. However, there's some personality to the Jaguar's interior – classy touches and fine detailing abound.
There's a visually impressive infotainment system, which doesn't seem particularly user-friendly from the onset, but you soon get the hang of it, plus it is compatible with Apple CarPlay, as well as Android Auto. It's not as slick as the infotainment system we've experienced in the Jaguar I-Pace (with its split-screen setup), but we assume the latter will make its appearance in the facelifted F-Pace, which is expected to be revealed at some point in 2020. The test unit also featured a customisable digital instrument cluster. Unfortunately, it is an optional extra, but wow, it really adds to the appeal.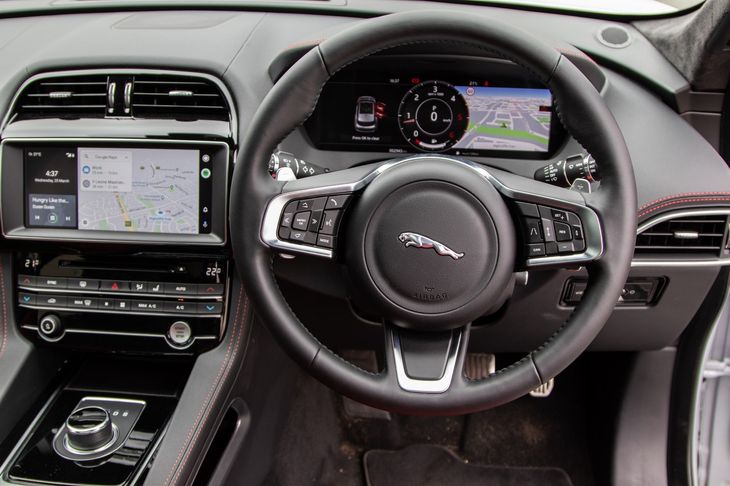 Android Auto connected and the digital dashboard in its coolest layout setting. Red stitching adds to the sportiness.
Initial reservations about the F-Pace's cabin lacking the "wow factor" have certainly been addressed in this 25d AWD Chequered Flag test unit; vibrant pimento red leather trim (with ebony accents) enhance the derivative's sporty theme and the front seats are not only 10-way electrically adjustable, but additionally feature a heating function. There are some cool subtler touches too, such as the transmission selection knob that rises out of the central stack and the engine start button that pulses red like a heartbeat... We never grew tired of it.
The real ace up the F-Face's sleeve is its superb practicality. When fitted with a tyre-repair kit (as opposed to a spare wheel), the Jaguar's load bay eclipses those of its rivals (Audi Q5, BMW X3 and Mercedes-Benz GLC) for capacity and even taller rear occupants have sufficient head- and legroom. The test unit further featured dual rear USB charging ports, as well as rear climate control.
Performance & Efficiency
The F-Pace has always been entertaining to drive. It's marketed as being all-wheel-driven, but it's a part-time setup, so you're essentially driving a rear-wheel-drive machine until grip conditions change and the front wheels are brought into play. There is no shortage of grip, so when tackling winding roads you can be a tad aggressive and pretend you're in something that's not a comfort-focused SUV.

The various driving modes offered in the Jaguar F-Pace
The 25d AWD Chequered Flag is powered by a new 2.0-litre twin-turbocharged 4-cylinder diesel engine, which produces peak outputs of 177 kW and 500 Nm. It forms part of Jaguar's new Ingenium 4-cylinder range of powerplant and, on paper, those numbers look impressive. Power is directed to all 4 wheels (when required) via an 8-speed automatic transmission (shifts can also be actuated via steering-wheel-mounted paddles); Jaguar claims a brisk 0-100 kph time of 7.2 seconds and a top speed of 217 kph. The motor emits some characteristic diesel clatter, which, although noticeable from the outside, is remarkably damped when you're sitting in the cabin. If all else fails, drown out the engine noise with the impressive (and voluminous) Meridian audio system.
Given its small capacity, it's remarkable how potent this engine is. A peak torque figure of 500 Nm is not to be underestimated, particularly when you consider how quickly all that twist is produced... and makes its way to the Jaguar's wheels. The twin-turbo setup does well to reduce lag and when there is some, the transmission will simply drop down a gear and ensure that acceleration remains as seamless as mechanically possible. The transmission is, however, mapped for efficiency; in the normal driving mode, it can feel as if the 'box is prone to change up unnecessarily quickly.
With its dynamic driving mode engaged, however, the 25d AWD Chequered Flag's in-gear acceleration is particularly impressive, especially when you need to execute overtaking manoeuvres in the 80-to-120 kph range. The best part is that if you drive conservatively, you'll be rewarded with decent fuel economy... By the time the F-Pace departed our test fleet, we saw an indicated average fuel consumption figure of 7.9 L/100 km, which, while some way off the claimed figure, was impressive for a car of this size and with a considerable performance bent.
Ride & Handling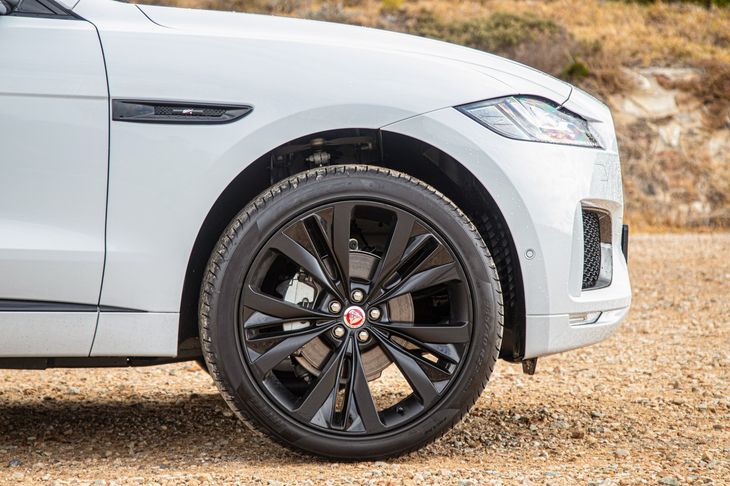 The Jaguar F-Pace looks incredible on big wheels – our unit featured these 22-inch gloss black beauties.
As we mentioned earlier, our test unit was specified with the optional 22-inch alloy wheels (which add R50 000 to the 25d AWD Chequered Flag's asking price), as opposed to the standard 19-inch units. We're usually sceptical of massive wheels, as their contribution to a vehicle's aesthetic value is usually offset by a reduction in ride quality, but this wasn't the case with the F-Pace. Jaguar also likes to remind everyone that its F-Pace has an aluminium structure, which makes it quite the lightweight (surprisingly, it weighs less than the smaller E-Pace). A lower kerb weight, of course, is of obvious benefit to a car's handling prowess and on top of that, Jaguar has tuned the steering to be quite involving, which is a polar opposite to many of the F-Pace's rivals' numb, uninspiring tillers.
The result is a family SUV that handles relatively nimbly; the Jaguar feels a lot more wieldy than an equivalent product from, say, its sister brand Land Rover. We covered a considerable distance in comfort and refinement, with the F-Pace doing a sterling job of dialling out the road noise. At this price point, one expects luxurious refinement and the 25d AWD does not disappoint in that regard.
Seeing as Jaguar's offering is an SUV, you may want to know about its off-road abilities. Look, the provocatively named Chequered Flag edition is unlikely to venture far from tarred roads, but it's reassuring to know that thanks to its 213 mm of ground clearance, all-wheel drive and integrated off-road driving modes, the F-Pace can venture off the beaten track/on dirt roads now and again.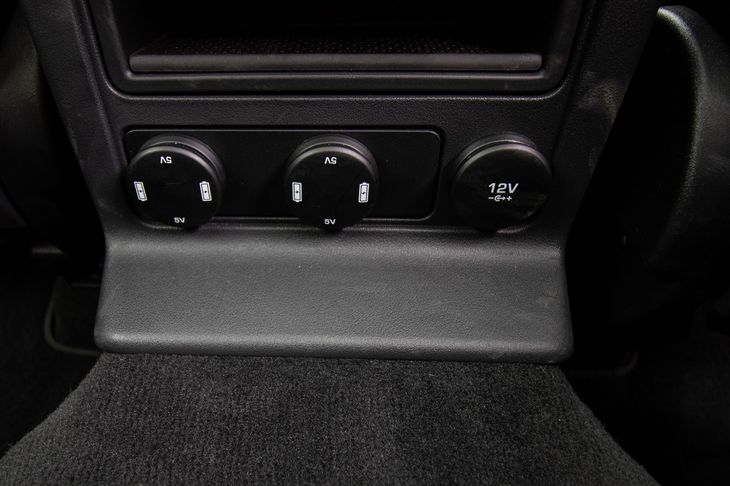 Rear passengers can charge all the things!
Price and warranty (April 2020)
The Jaguar F-Pace Chequered Flag range starts at R1 030 500 for the 2.0 132 kW derivative, with our 2.0 177 kW unit costing R1 117 300 before options. The vehicle comes as standard with a 5-year care (maintenance) plan, which comprises a 100 000-km warranty and paid-up servicing within a 5-year period, whichever ends first.
Verdict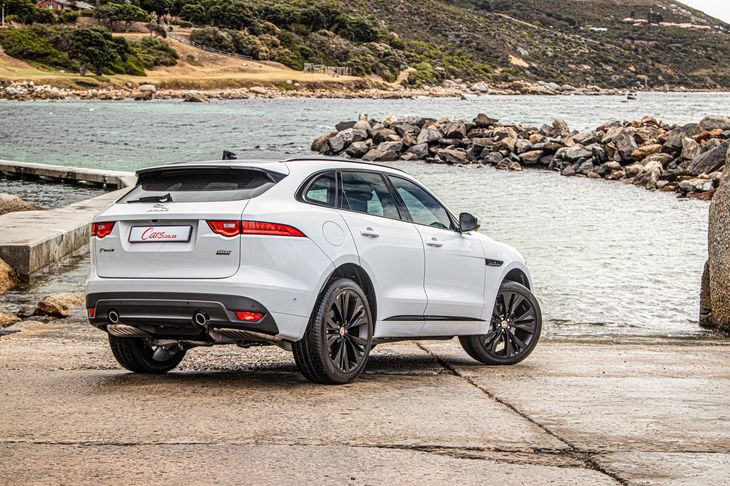 The Jaguar F-Pace is one of JLR's more interesting products. Not only does it look great, but its driving experience is commendable. Pity about the price.
​Nothing quite spurs you into undertaking a last-minute extended road trip like a looming national lockdown, and we were lucky to get some substantial time behind the 'wheel of the F-Pace 25d AWD Chequered Flag before our President announced that we should all stay at home for a few weeks. This was not our first outing with Jaguar's executive SUV – we doubt it'll be our last – and we didn't discover anything groundbreaking during the assessment. We did gain an appreciation for the new Ingenium engine – it's an absolute peach – and we were reminded of just how good the F-Pace is to drive; it handles well but rides quietly and pliantly. The cabin is tastefully detailed, well-appointed and offers a high level of occupant comfort, plus the luggage capacity/practicality is commendable.
While we'd love to give the 25d AWD Chequered Flag a glowing review, we have to consider where it's positioned, price-wise. Like other car brands that import all the models that they sell on the local market, Jaguar Land Rover is at the mercy of the fluctuating exchange rate, more so than some of their rivals, which earn import rebates because they have production facilities in Mzansi. Jaguar doesn't sell high-volume products; although most of its derivatives are well-specified, they're premium-priced. If you're willing to spend R1.1 million, there are some exciting alternatives, such as the BMW X3 M40i, Audi SQ5 and Mercedes-AMG GLC43 to consider. Those rivals may have less cabin and/or luggage space, but they offer better performance and as much, if not more, prestige.
Looking to buy a new/used Jaguar F-Pace?
Find one on Cars.co.za by clicking here
Further Reading
Spy Shots: 2021 Jaguar F-Pace SVR
Jaguar F-Pace Chequered Flag Specs & Price
Jaguar F-Pace SVR (2019) Review
Jaguar F-PACE (2016) First Drive