The Isuzu KB X-Rider was initially offered as a limited edition model but after experiencing sales success in the local market, this spruced-up double cab is now a permanent fixture in the KB lineup. Should you consider the KB X-Rider? This quick review will help you decide.
We Like: Styling, ruggedness, power delivery
We Don't Like: Dated radio system, unrefined engine, no PDC
Alternatives
For more power: Consider the Ford Ranger 2.2 Double Cab Hi-Rider XL, priced from R394 900. This derivative offers 118 kW and, perhaps more importantly, 385 Nm of torque from its 2.2-litre turbodiesel engine. The Ranger offers fewer standard features than the X-Rider, but is arguably more refined. Perceived interior build quality is better too.
For similar value: Consider the Fiat Fullback 2.5 Double Cab SX priced at R402 900. Its 2.5-litre turbodiesel engine offers similar outputs compared with the KB X-Rider with 100 kW and 324 Nm of torque. Standard feature specification is basic, but added comfort features include cruise control and a heated driver's seat.
Compare the Isuzu KB 2.5 X-Rider with the Ford Ranger 2.2 Hi-Rider XL and Fiat Fullback 2.5 SX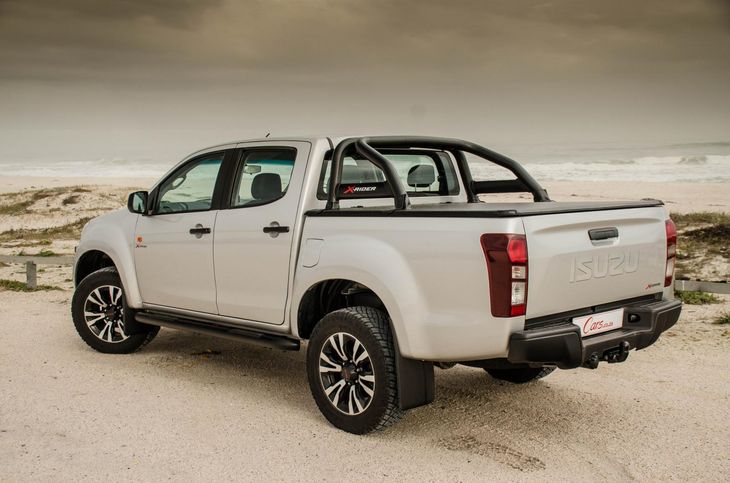 Combining affordability with attractive styling, the KB X-Rider has proven popular in the local market.
Facts & Figures
Price: R388 400 (June 2017)
Engine: 2.5-litre turbodiesel
Power: 100 kW
Torque: 320 Nm
Transmission: 5-speed manual
Fuel Consumption: 7.7 L/100 km (claimed)
What is it?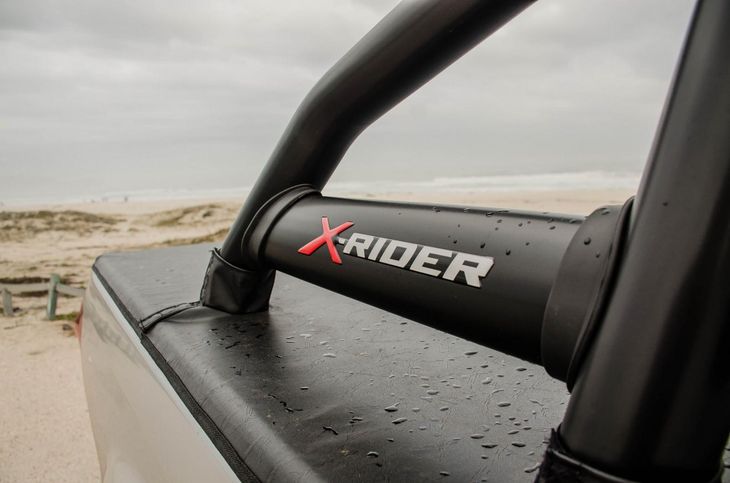 The visually enhanced KB X-Rider is fitted with a sports bar, 18-inch diamond-cut alloy wheels and side steps for added road presence.
The KB X-Rider is based on Isuzu's entry-level KB 250 Hi-Rider Double Cab derivative, but is differentiated by a number of exterior visual enhancements and interior appointments that will appeal to the image-conscious bakkie buyer looking for an affordable, dual-purpose double cab. Combining attractive pricing with bold looks, while doubling up as a workhorse when it's required, is the X-Rider worth considering? Let's find out…
The good
Striking looks

The KB X-Rider excels in the style stakes... as far as looks are concerned, it hits the mark. It comes with 18-inch, diamond-cut alloy wheels (with contrasting red centre caps) shod with all-terrain tyres, while the black bumper guard (with integrated fog lights) and tubular side steps gives the X-Rider added road presence. A beefy sports bar completes the exterior look, plus several X-Rider badges remind you that this is not an ordinary KB.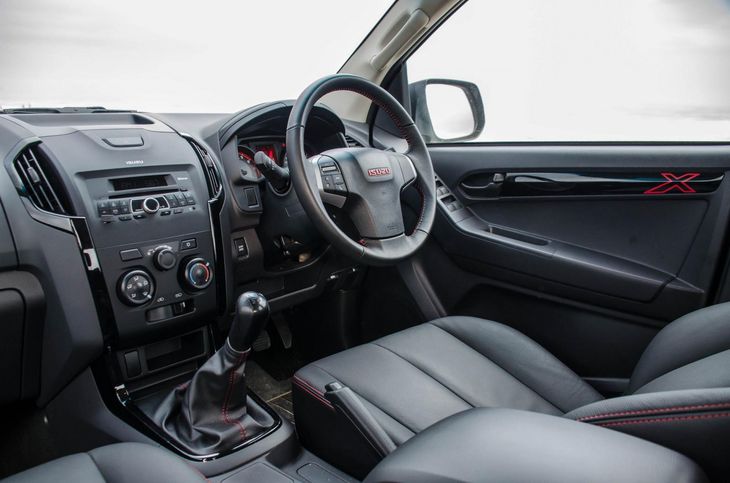 Red stitching, piano black trim and X-Rider badging sets the interior apart from the rest of the KB lineup.
On the inside, you are met with leather-trimmed seats with red contrasting stitching that's also seen on the leather steering wheel and gear lever boot. The headrests are embroided with 'X-Rider' logos and piano black inserts are seen on the centre console, door trim and central air vents.
A red Isuzu badge and 'X' on the door trim further differentiates the X-Rider's interior from those of standard KB derivatives.
Practicality

The X-Rider successfully wears two hats, as the well-known expression goes... It's a good-looking weekend lifestyle vehicle and it's ready to get to work when you are. Being a 4x2, you won't be able to venture very far from the beaten track (reasonably well maintained surfaces), but with a ground clearance of 224 mm, you can easily tackle a gravel road or hop the odd pavement if you have to. A differential lock is offered as an option.
The X-Rider is also fitted with a heavy duty tow bar and has a maximum braked towing capacity of 2.1 tonnes. The X-Rider has a payload of 1 020 kg, which means you can transport bulky items with ease.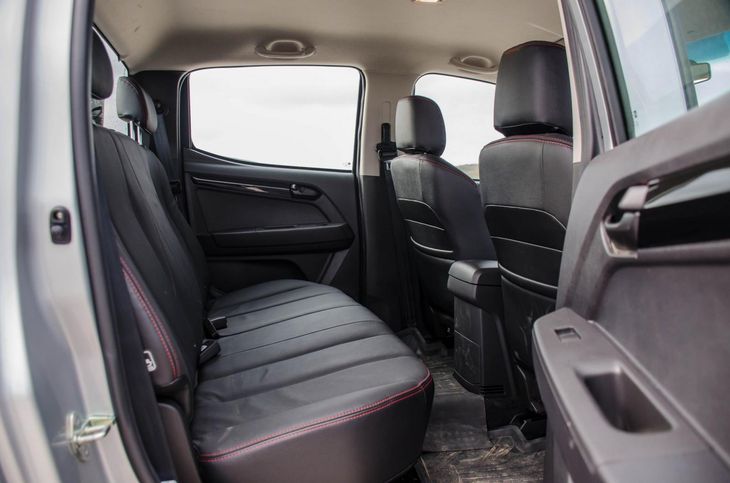 The KB X-Rider offers generous legroom for rear passengers.
Rear passengers will find legroom is more than reasonable and the X-Rider has bottle holders in the door mouldings while a drinks holder is at the driver's disposal. Additional storage space is available in the centre console, glovebox, ahead of the gear lever and atop the dashboard. The driver's seat is height-adjustable and the steering column is adjustable for height only. Electric windows and a manual air conditioning system is standard.
The interior is composed of hard-wearing plastic which means that it can withstand daily abuse and can be cleaned with relative ease.

Sufficient performance
The KB X-Rider is powered by a 2.5-litre turbodiesel engine that produces 100 kW and 320 Nm of torque. The rear wheels are driven via a 5 -speed manual gearbox. The engine is noisy at start-up, but settles into a typical diesel thrum out on the open road. With all its torque available from 1 800 rpm, the X-Rider offers good punch between robots and on the highway.
The shift action of the transmission is somewhat notchy, in fact, it feels a trifle stubborn when it is not at optimal operating temperature; to get the most from the engine (like when you need to execute an overtaking manoeuvre), you will find yourself gearing down often to access its sweet spot. To summarise the driving experience, by the standards of double cabs that have been introduced more recently than the KB (many of which are admittedly more expensive than this derivative), the X-Rider feels more "old school bakkie" than modern family car.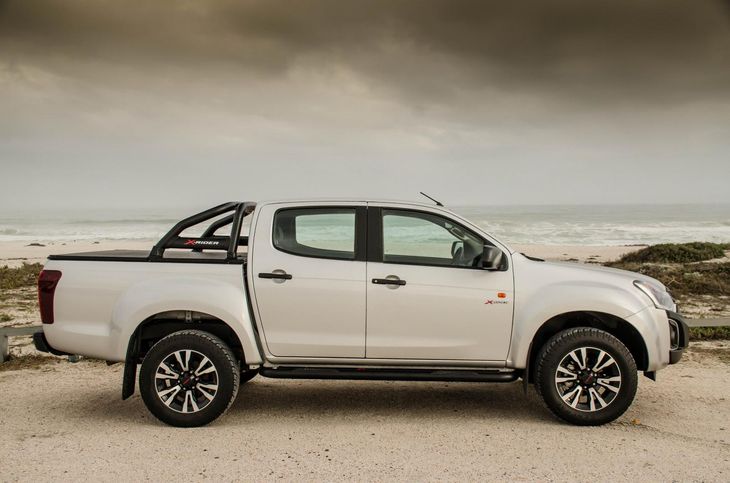 The X-Rider's engine is somewhat unrefined but it performs well low in the rev range where it delivers strong perfromance.

In terms of its ride quality, the X-Rider is average, delivering relative driving comfort in most cases. Ride quality deteriorates marginally as the road surface quality worsens, where the ride becomes more jittery. Incidentally, Isuzu claims a fuel consumption figure of 7.7 L/100 km, but you can expect to see figures of around 9.5 L/100 km, depending on your driving style.
The bad
Poor radio quality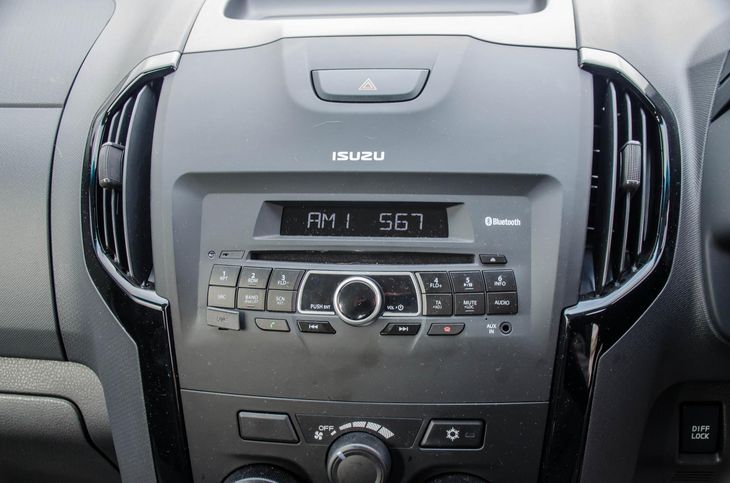 The radio is frustrating to use and is of poor quality. Isuzu can do better here...
The KB X-Rider is fitted with a basic radio system and although it offers Bluetooth functionality and a USB/Aux port, looks rudimentary. The quality of the buttons and the sound quality produced by the 2 front speakers are poor. We also found the radio to be distracting to use while driving. Steering wheel mounted audio controls are present, however, for convenience.
No PDC
For a vehicle of this size and considering that the large dimensions of the X-Rider make it cumbersome to manoeuvre, Park Distance Control (PDC) would help prevent unnecessary parking mishaps. Careful judgment is required to manoeuvre the X-Rider and without PDC, it's probably only a matter of time before you bump into something.
Standard safety feature specification is basic and the X-Rider is equipped with ABS and EBD, Brake Assist, Electronic Stability Control with Traction Control and Hill Start Assist. Only 2 airbags for the driver and front passenger are fitted.
Price and warranty
The Isuzu KB X-Rider is priced at R388 400 and is sold with a 5-year/120 000km warranty and a 5-year/90 000km service plan.
Verdict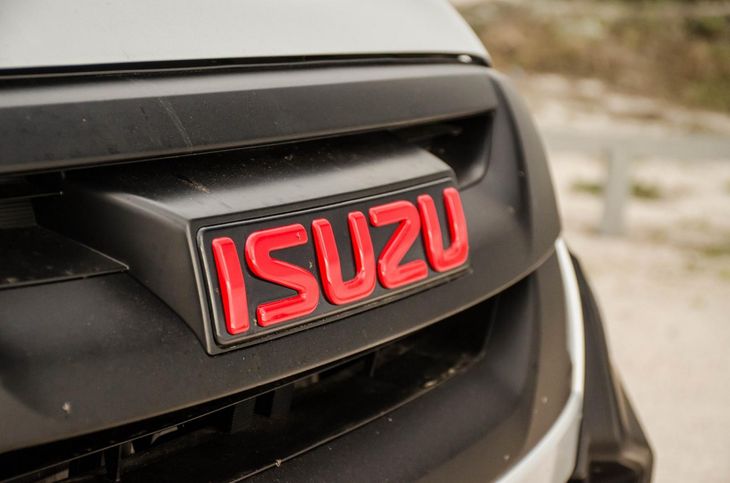 The KB X-Rider is not perfect, but it's a robust offering and is backed by a comprehensive warranty and service plan.
The Isuzu KB X-Rider is a no-fuss double-cab with attractive styling that bakkie lovers can appreciate. The interior appointments lift the interior's appeal somewhat, but at ultimately, the X-Rider can't hide its utilitarian roots. Although the interior is fairly well constructed, the quality of the radio system is disappointing.

The X-Rider's power delivery is good with solid performance low down in the rev range, but you will have to wrestle the notchy gear lever to access it. Its robust build and workmanlike demeanour will make light work of most tasks in its way. As a reasonably affordable, good-looking double-cab bakkie, the KB X-Rider has its appeal and is keenly priced, but buyers will have to come to terms with its limited refinement. The KB X-Rider is, however, backed by a comprehensive warranty and service plan that will go a long way in ensuring peace of mind.
Related content:
Isuzu KB X-Rider : Specs and Pricing in SA
Isuzu KB 250 HO X-Rider Extended Cab (2016) Review
Isuzu KB300 LX 4x4 Extended Cab (2017) Review
Facelifted Isuzu KB (2016) First Drive
Ford Ranger 2.2 XLS 4x4 Automatic (2016) Video Review
Ford Ranger 2.2 XLS 4x4 Automatic (2016) Review
Fiat Fullback Double-Cab 2.5 Di-D 4x4 LX (2017) Review

Want to buy an Isuzu?