Special edition vehicles and "cab-and-a-half" bakkies are two things that the mainstream automotive media reviews infrequently. Shortly before the facelift of the KB range, we were availed an X-Rider Extended Cab unit… and liked it.
We like: For urbanites, an extended cab is far more practical than a single cab. Tax benefit.
We don't like: Ill-fitting doors, low footwell, very basic infotainment system
Alternatives
For greater refinement: Consider the Toyota Hilux Xtra Cab 2.4 GD-6 Raised Body SRX, priced at R354 800. It may appear slightly expensive in this company, but what you do get is the best engine on offer as well as a very car-like cabin. In addition to its smoothness, the 2.4-litre mill is also powerful (400 Nm of torque), endowing the Hilux with a braked tow rating of 2 750 kg. It comes with a diff-lock as standard, but lacks electronic stability control. Somewhat surprisingly, it rides on 17-inch alloy wheels as standard.
For a workhorse-oriented offering: Battling it out with the Toyota in the sales charts is the more basically specified (as standard) Ranger 2.2 Hi-Rider XL. You pay extra for alloy wheels, a diff-lock etc., but those items are available and not that pricey, which means the price of R343 900 is competitive. What you do get is an impressive engine, a braked tow rating of 2 500 kg, standard electronic stability control and even rear storage boxes.

What is it?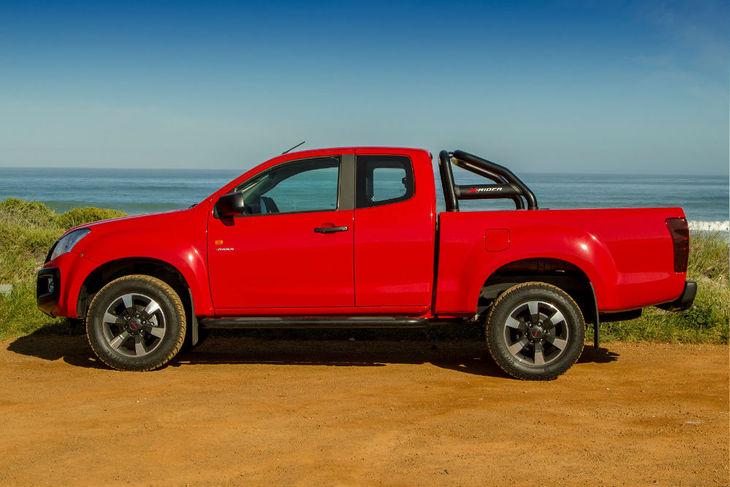 The X-Rider add-ons made the pre-facelift Isuzu KB turn plenty of heads. It looks more "leisure", than workhorse.
First, a disclaimer – the bakkie reviewed here is no longer listed on the new vehicle price sheets, so unless you can find one standing at a General Motors dealer (unlikely), you may have missed the boat on this one. Based on traffic on this site, however, there appears to remain significant interest in the special edition Isuzu KB X-Rider. In some ways this is quite perplexing. A refreshed Isuzu KB has since been launched – read about that here – and if you look at the sales figures, fewer than 100 units have been sold in the four months it was officially on sale (June, July, August, September). A closer look at those sales figures reveal, however, that the X-Rider had boosted Isuzu sales in this segment (especially considering the pre-facelift KB was on run-out). And if you look at the other brands, it seems there is some demand for a more highly specified, leisure-oriented offering such as this X-Rider. Isuzu... you may want to make it a permanent fixture of the line-up!
So, given the continued interest in the X-Rider even since its discontinuation, we've decided to publish the review to aid buyers looking for this type of vehicle in the pre-owned market.
How does it fare in terms of…
Making a statement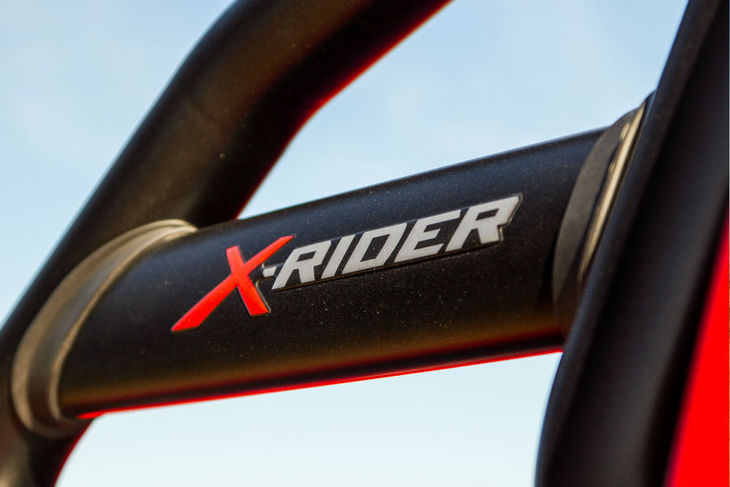 Unlike other special edition bakkies, the X-Rider's accessories don't appear generic and "off-the-shelf".
"Extended-cab" bakkies aren't generally on the radar of the automotive media, because family vehicle buyers want bakkies with bigger cabins to accommodate passengers (that's why there are double cabs). And, because most motoring publications' content is tailored to private buyers, "stretched cabs", which are meant to avail space for the transportation of goods/equipment (SARS allows businesspeople to deduct such purchases from tax), hardly ever feature in car companies' media fleets. But, the X-Rider appears to target a different type of buyer. With its bold looks it turned plenty of heads during its time with us, and generally we think it appeals strongly as a dual-purpose vehicle – workhorse during the week, leisure vehicle by weekend.
The X-Rider accessories package turns the pre-facelift KB into quite a looker. In fact, some members of the team were of the opinion that the X-Rider package should have been the facelift! You get a black front bumper guard, black tubular side steps, black sports bar and a neatly blacked-out B-pillar. Combined with the Maranello Red paint of our test unit, the black accessories were particularly eyecatching. Also included are striking 18-inch diamond-cut alloy wheels, LED daytime running lights, wheel caps with the Isuzu branding in red and X-Rider body decals.
Cabin features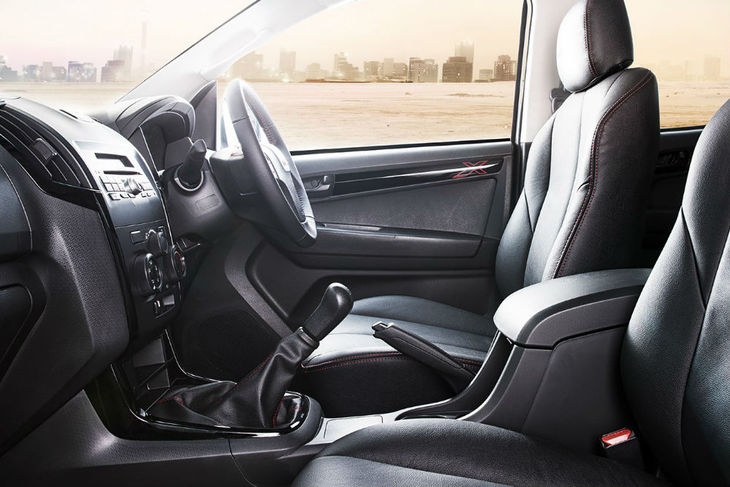 Leather upholstery, piano black inserts and X-Rider logos dominate the cabin.
The black/red X-Rider theme continues inside where the KB's cabin ambience gets a welcome lift through the standard fitment of black leather upholstery, piano-black plastic inserts on the facia and doors, bold X-Rider logos and a red Isuzu badge on the steering wheel. It's a solid-feeling vehicle that strikes a fine balance between being obviously hard-wearing, yet sophisticated enough in appearance to appeal to the leisure crowd.
Standard features on this model include a radio/CD system with USB and Bluetooth support, a rake-adjustable steering wheel with remote audio controls, air-conditioning, and electric windows and mirror adjustment.
Open the rear "suicide" doors and there's quite a lot of space available in the back for the fitment of storage boxes. As standard, there's nothing, except a carpeted floor (including two lift-up flaps) and a slightly padded section against the rear wall. The rear windows can be opened using hinges. An irritating characteristic of this particular test unit was that the doors needed a very determined – borderline violent – slam to close properly. On many an occasion the remote central locking refused to function because the doors were not closed.
The cabin features a number of useful storage solutions. You get a double glove compartment, a large storage box between the seats and numerous drinks holders, including ones sliding out of the facia.
Power and Refinement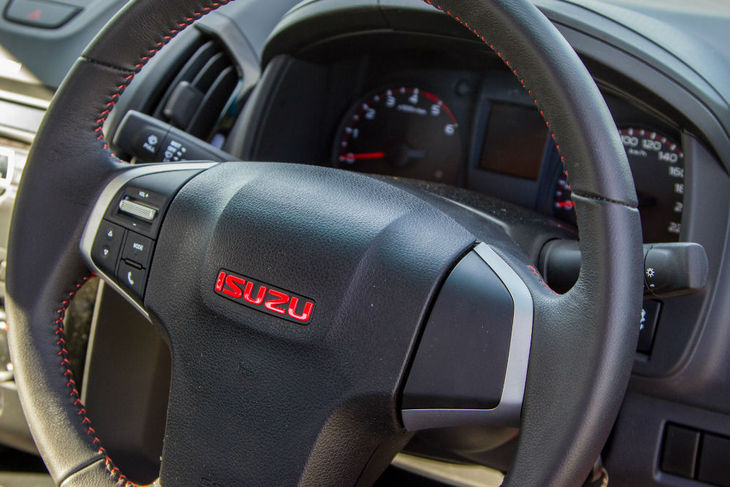 The red on black theme continues inside, and matches the instrumentation.
There has been no change underneath the bonnet of the X-Rider. Power comes from the brand's tried and tested 2.5-litre turbodiesel engine, which following an earlier upgrade delivers 100 kW from 3 600 rpm and 320 Nm of torque from 1 800 to 2 200 rpm. These power figures are by no means class-leading, and as we also found in our test of the Double-Cab 4x4 LE model, it's not particularly free-revving, either. Nevertheless, we wouldn't describe the X-Rider as frustratingly slow, and once you've grown accustomed to its power delivery characteristics and the spacing of its five-speed manual transmission's ratios, you can make swift and steady progress.
From a workhorse point of view the engine is more impressive. Mechanically the vehicle feels very robust, and the braked tow rating of 2 100 kg and payload capacity of 1 133 kg translate into a vehicle that can roll up its sleeves when necessary and do the hard yards. Notwithstanding its lower torque output (compared with its rivals), the Isuzu feels particularly strong after pull-away.
Isuzu claims a fuel consumption figure of 7.6 L/100 km for this model, and during our test we managed an average of 8.5 L/100 km. Interestingly, the percentage difference between claimed and real-world is significantly less than what we've achieved with some other vehicles. On a 80-litre tank of diesel you should be able to achieve close to 1 000 km between fill-ups.
Ride and Handling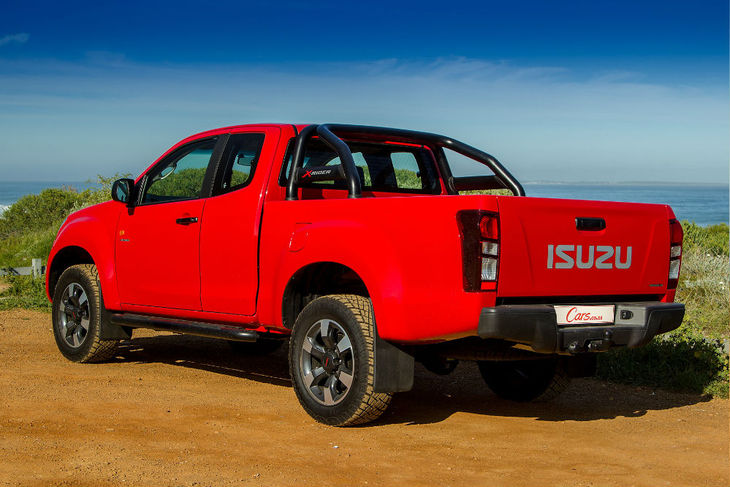 Notwithstanding the X-Rider's striking looks, the KB remains a hard worker.
One area in which the X-Rider's workhorse roots are difficult to hide, is in its ride and general on-road behaviour. It's a firmly sprung vehicle, obviously, and the refinement of its drivetrain falls some way short of what is offered by the more modern rivals from Toyota and Ford. Then again, this isn't necessarily a criticism. The Isuzu feels indestructible and built to take punishment. It remains highly regarded in this respect by its owners.
Price and after-sales support
The Isuzu KB 250 X-Rider Extended Cab retails for R355 900 (if you can still find one), but is based on the KB 250 Hi-Rider, which sells for R337 400 following its facelift. All Isuzu KB models are backed with a lenghty 5-years/120 000 km warranty and 5-years/90 000 km service plan.
Verdict
The X-Rider was quite a unique offering at its price point, which perhaps explains the strong interest in the vehicle to some extent. Current offerings in the market can't quite match its combination of leisure-oriented specification, good looks, and workhorse ability... not in standard form anyway. It is a very appealing dual-purpose vehicle for a couple without kids that also need their vehicle to work hard. In that regard, we'd highly recommend the fitment of lockable rear storage boxes, tonneau cover and a rear diff-lock.
That said, as trusty as the 2.5-litre diesel engine is, Isuzu is falling behind the pack when it comes to refinement and power. It's less of a problem in a pure workhorse application (especially if there is a cost benefit), but when there is also a leisure role to consider the rivals' engines are more in tune with segment demands.
Related Content
Isuzu KB (2016) facelift - First Drive
2016 Isuzu KB specs & pricing
Isuzu KB vs VW Amarok vs Toyota Hilux vs Ford Ranger (2016) Review + Video
Interested in buying a new/used Isuzu KB?