Are you looking for a dependable workhorse? We recently spent some time with the Isuzu KB300 LX 4x4 Extended Cab to determine if it's worthy of your consideration. Read on…
We Like: Styling, improved ride comfort, sufficient features
We Don't Like: Sticky doors, middling performance
Alternatives
For the power house: Consider the Ford Ranger 3.2 XLS 4x4 SuperCab priced at R471 900. Its 3.2-litre turbodiesel engine offers 147 kW and 470 Nm of torque allied with brutish good looks.
For more refinement: Consider the Toyota Hilux 2.8 GD-6 4x4 Xtra Cab Raider. It's a bit more expensive than the KB at R492 900 and it offers 130 kW and 420 Nm of torque from its 2.8-litre turbodiesel engine.
Wait for the new Nissan Navara: The new Nissan Navara will be launched in South Africa in March 2017 and based on our first drive report, it's shaping up to be a goody. Depending on local pricing, the Navara could very well be worth the wait.
Compare the Isuzu KB300 LX 4x4 Extended Cab with its rivals here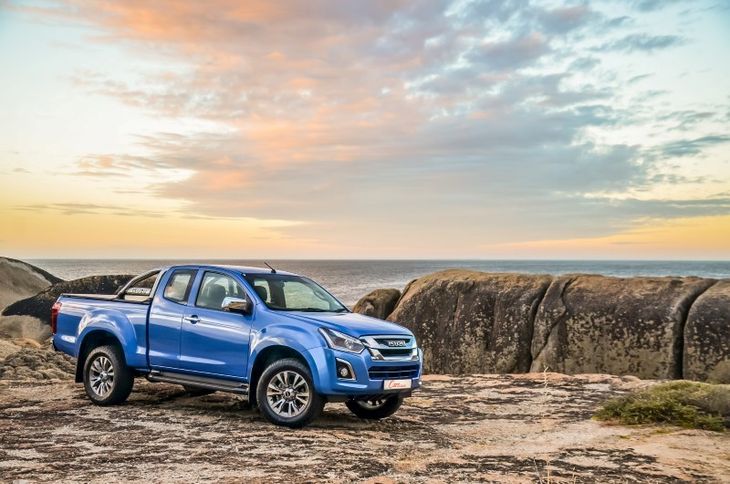 The Isuzu KB300 LX 4x4 Extended Cab rivals the popular Ford Ranger and Toyota Hilux, and it compares favourably.
What is it?
The Toyota Hilux and Ford Ranger have cornered the local leisure double cab market in South Africa and the Isuzu KB is often an afterthought when it comes to the double cab game. Much the same can be said in the extended cab market, where Ranger and Hilux were dominant players throughout 2016, with the Isuzu KB trailing far behind in terms of sales.
But that says more about consumer preference than it does about Isuzu's product offering and bakkie folk are notoriously risk-averse and traditionalist when it comes to their preferred choice of bakkie. Isuzu, however, has a long history in South Africa to fall back on and its products are widely praised for their capability and rugged appeal.
We drove the facelifted Isuzu KB at launch in Namibia last year and it brought much-needed updates to the range and has effectively made the KB more competitive against its rivals, both in terms of price and specification. More recently, however, we tested the KB300 LX 4x4 Extended Cab, a vehicle that would typically attract buyers looking for a capable and dependable workhorse for a wide range of activities, including farming and construction. Is the Isuzu KB the workhorse of your dreams? Let's find out…
How does it fare in terms of…
Work appeal?
Looks don't really matter for a working bakkie, but it's still good know that the facelifted KB looks bolder and more attractive than ever before. Isuzu has seemingly done a good job in lifting the presence of the KB. With a ground clearance of 220 mm, the KB does however fall short against the Hilux and Ranger in this regard, but it's still adequately poised to tackle most terrain, whether it be in the sticks or in the concrete jungle. A maximum wading depth of 600 mm may also be useful if you need to cross a river, perhaps…
The KB has a towing capacity of 3 500 kg and its large load bay has a useful payload capacity of 1 083 kg. We put the KB to work during our test, loading it up with large wooden flower beds that needed to be moved. The KB made light work of this minor burden and it's certainly capable of more gruelling tasks.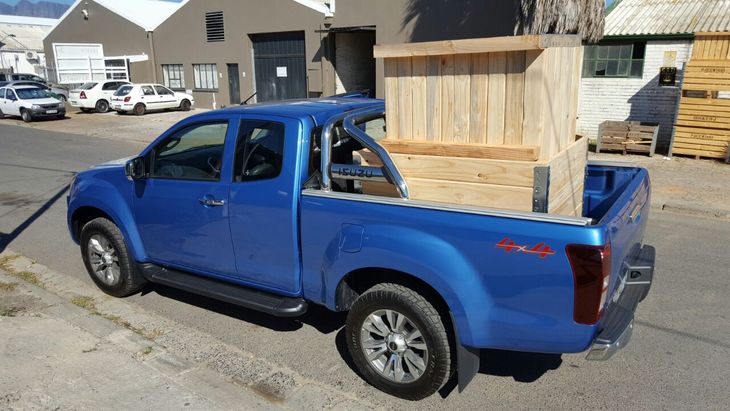 The KB is suitably equipped to carry out a wide range of tasks.Transporting flower beds was an easy task for the KB.

Our experience with the KB on the sand dunes of Namibia proved its capability in tough conditions. When the terrain demands it, the driver can quickly switch into 4H or 4L as required using the conveniently placed rotary dial in the centre console and a rear differential lock can also be engaged if the going gets tough.

The rear cabin compartment is easily accessed via the Flex Doors and a detachable, a lockable storage box is standard and can be used to store valuables such as tools or whatever else you wish to keep safe.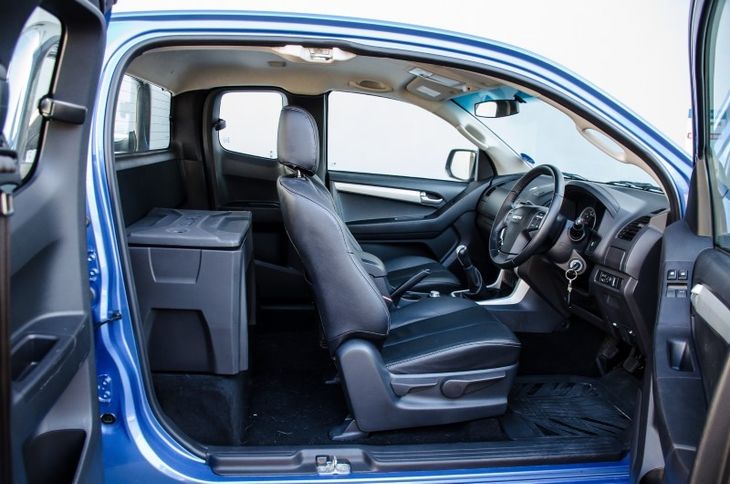 Practical Flex Doors are welcome, as is the standard storage box behind the driver's seat.
Performance & ride comfort?

This KB300 LX 4x4 Extended Cab is powered by Isuzu's 3.0-litre turbodiesel engine that produces 130 kW and 380 Nm of torque; it's mated with a 5-speed manual transmission. Although 380 Nm of torque can't match outputs from the equivalent Ranger (470 Nm) or Hilux (420 Nm), the KB performs ably, but can feel a little flat-footed in cut-and-thrust traffic... engine noise and turbo hiss increase as you mash the accelerator to the floor, but in normal driving situations the engine chugs away quite discreetly. The gear lever action is relatively smooth, if a tad notchy, but not frustratingly so. The current iteration of the Isuzu motor has been in service for a long time; consequently it is not as refined as its newer rivals'.

Isuzu claims 7.9 L/100 km on the combined cycle, but figures above 9.5 L/100 km are more realistic, depending on how hard you choose to work the engine...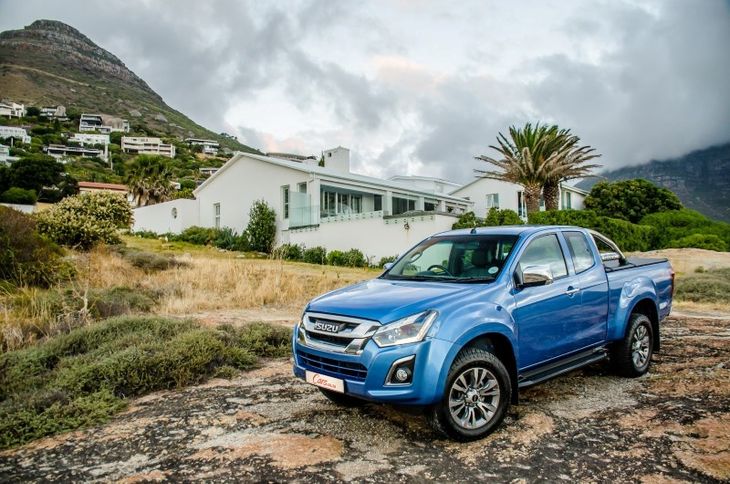 Ride comfort is much improved and the KB performs particularly well on gravel.

A revised suspension setup has gone a long way in improving ride comfort on the road and the difference is noticeable. The KB settles to the tar nicely and delivers a far more steady drive than the pre-facelift version. The KB Extended Cab will likely spend much of its time on gravel roads and it's here where it shines the brightest as it copes well with ruts and undulations in the road.

Overall, we think the KB300 LX 4x4 Extended Cab is a strong performer, even though it lacks a degree of refinement found in its rivals.
Interior execution & features

The interior of the KB300 LX 4x4 Extended Cab, although largely devoid of frills or flashy design cues, is reasonably well equipped with features suitable for a workhorse. The seats are upholstered in cloth, but leather is offered as an option (as seen on this particular test unit) and the driver's seat is height-adjustable. The steering wheel has mounted controls for audio, Bluetooth and cruise control. The steering column, however, is only height adjustable and the low arch of the footwell still impedes a driver's left shin when operating the clutch pedal.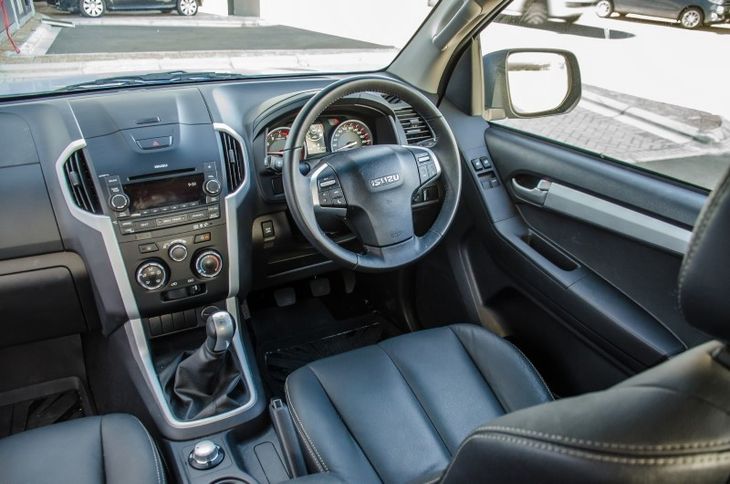 The KB's interior is basic but it is equipped with most features you would need in a workhorse.
This derivative is fitted with a radio and CD player with Bluetooth and MP3 functionality that's simple enough to use. USB and auxiliary ports are standard and additional comfort features include electric windows and side mirrors and air conditioning.
There's ample storage space found in the doors, glovebox, below the steering column and on top of the dashboard, but this compartment has a flimsy cover that doesn't feel particularly durable. Of course, there is additional storage space in the aforementioned storage box behind the driver's seat as well as a reasonable amount of extra room behind the passenger seat.

Much of the interior is solidly built and the hard plastics should withstand the hardships associated with a life of hard work. We must mention, however, that the doors are sticky and need a fair amount of force to close properly. This is one problem that we thought Isuzu would have rectified with the facelift, but sadly, and annoyingly, it persists.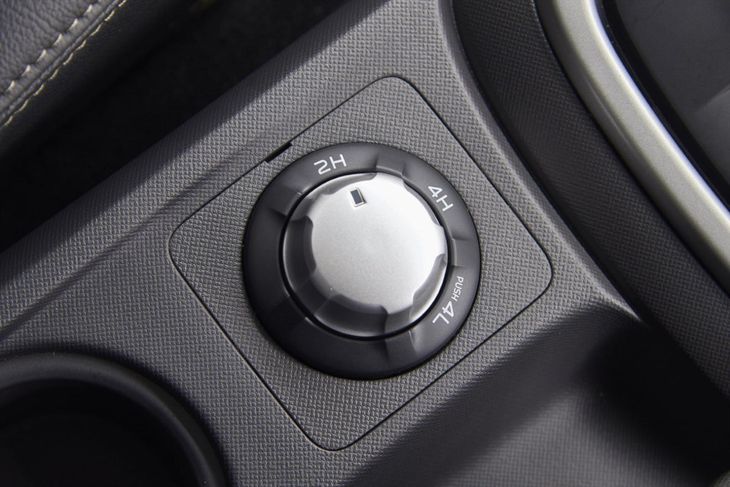 Tackling challenging terrain is made easy using this rotary dial.
Safety?
In terms of safety, only 2 airbags are fitted (there are no side bags, in other words). However, ABS with EBD, Brake Assist, Electronic Stability Control with traction control, Hill Start Assist is standard. More than this and unlike its rivals, the KB is fitted with Park Distance Control, which is very handy for safely manoeuvring its large body in tight spaces.
Pricing and warranty
The Isuzu KB300 LX 4x4 Extended Cab is priced from R479 200 and is sold with a 5-year/120 000 km warranty and a 5-year/90 000 km service plan with service intervals every 15 000 km.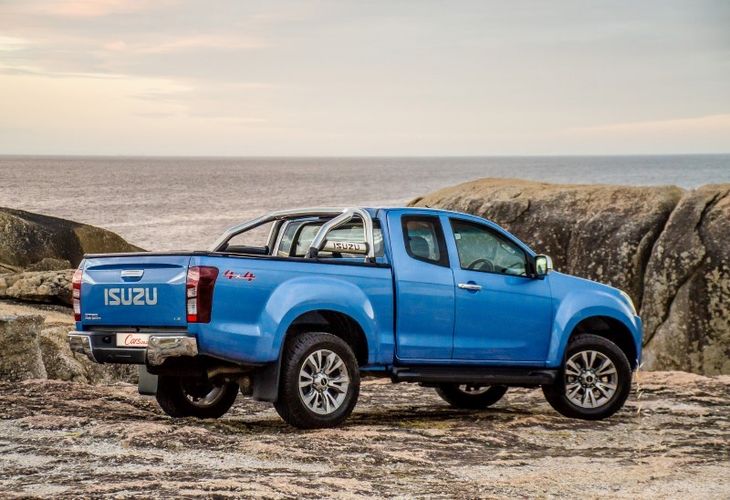 The KB is worth consideration if you are looking for a hard-working bakkie.
Verdict
The KB300 LX 4x4 Extended Cab is a solid working bakkie. Its engine performance is good enough to perform just about any task you throw at it and improved ride quality has made the KB easier to live with on a daily basis. Its capability is undeniable and it's unlikely to let you down. Yes, the interior may be a bit dull compared to its rivals but it is fuss-free and well-kitted.
The lack of additional airbags might deter some buyers, but for a working bakkie, this shouldn't be a deal breaker. In terms of pricing, this particular KB Extended Cab derivative sits between the more affordable Ford Ranger 3.2 XLS 4x4 SuperCab priced at R471 900 and the pricier Toyota Hilux 2.8 GD-6 4x4 Xtra Cab Raider at R492 900. The allure of a more powerful engine in the Ranger might be difficult to resist for some while the Hilux's perceived reputation of reliability is equally difficult to ignore. Having said all that, the KB offers decent value with honest-to-goodness capability and less image-conscious buyers won't feel short changed. Just make sure you close those doors with a solid thud, hmmkay?
Related content:
Facelifted Isuzu KB (2016) First Drive
Isuzu KB 250 HO X-Rider Extended Cab (2016) Review
Isuzu KB 250 D-TEQ Double Cab 4x4 LE (2015) Review
3 Double Cabs Set to Shake Up the Market
Fiat Fullback Double-Cab 2.5 Di-D 4x4 LX (2017) Review
Mitsubishi Triton (2017) Video Review
Mitsubishi Triton (2017) – Meet its Rivals
Mercedes-Benz X-Class Concept Finally Revealed
Spy Shots: Mercedes-Benz X-Class
Drag Race: Hilux vs Ranger vs Amarok vs KB
In-Depth Comparison: New Hilux vs Ranger vs KB vs Amarok (video)
Toyota Hilux vs Ford Ranger vs Isuzu KB vs Volkswagen Amarok (2016) Comparative Review
Want to buy an Isuzu KB