The Toyota Corolla and Hyundai Elantra have been long-time rivals in the compact sedan segment and both manufacturers are likely to introduce performance-orientated derivatives in the future. How would the Elantra N and Corolla GR stack up against each other? Let's take a closer look.
The C sedan segment is currently dominated by the Corolla and the Corolla Quest and the segment as a whole is under tremendous pressure as buyers have shown a preference for crossovers and SUVs. It's no surprise then that Hyundai no longer offers its Elantra sedan in South Africa and it also brings the local introduction of the new 7th generation Elantra into question.
Nonetheless, that doesn't mean we can't pit Hyundai's N division against the boffs from Toyota's Gazoo Racing arm in a hypothetical sense. In fact, we think the potential match-up between the Corolla GR and Elantra N is not only closely-contested but it's also perhaps just the excitement that this segment needs.
We recently imagined what the forthcoming Hyundai Elantra N and Toyota GR Corolla sedans would look like in our very own renderings. On that note, let's take a closer look at what's on the cards in terms of exterior and interior styling and performance from the Elantra N and Corolla GR.
Exterior and Interior Styling
Hyundai Elantra N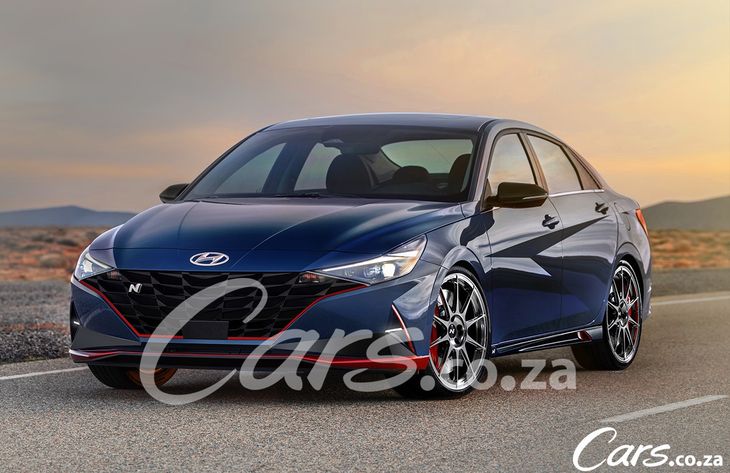 Sharp and sporty, the Elantra N is quite the looker. Render courtesy of Duwyne Aspeling, Cars.co.za
The Elantra N draws its design inspiration from the new Elantra which features a much bolder and sportier design underpinned by the Seoul-based firm's new 'Sensuous Sportiness' design language which features sharp body lines and a progressive cascading grille design.
The Elantra N will, however, feature unique exterior styling treatments to match its performance intentions. These additions include a sporty front spoiler along with red detailing also seen bordering the cascading grille. The Elantra N is also likely to ride on larger and sportier alloy wheels shod with low-profile rubber along with obligatory red N brake callipers which add a sporty touch. Front and rear N badges will further differentiate the Elantra N from its standard sibling.
The interior of the Elantra N will follow on from the new Elantra, albeit with sporty accoutrements such as an N performance steering wheel (with shift paddles) wrapped in leather and suede, bolstered sport seats and sports pedals.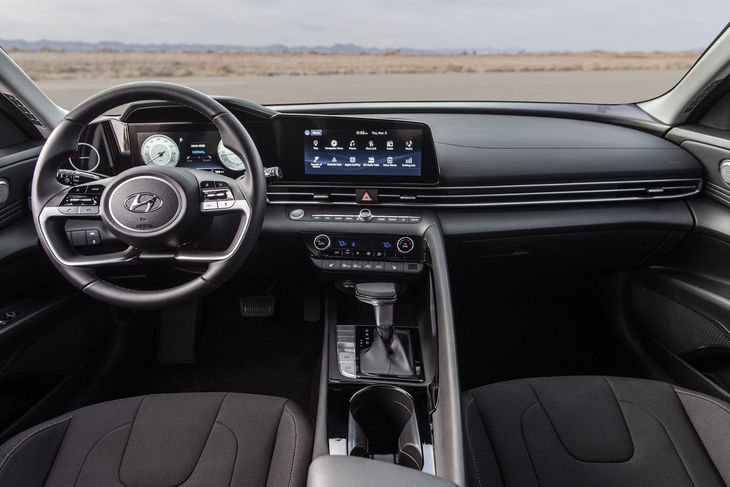 The Elantra N's cabin will be based on the new Elantra seen here, but sporty details will be added.
Toyota Corolla GR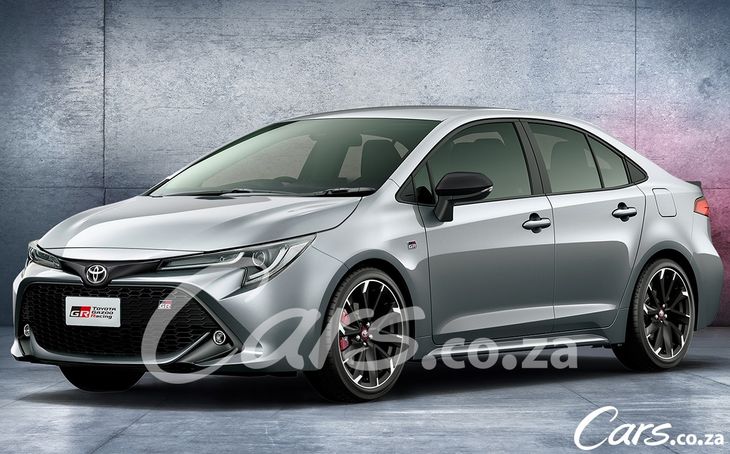 Toyota Gazoo Racing's experience in motorsport will be infused into the Corolla GR. Render courtesy of Duwyne Aspeling, Cars.co.za
Much like the Elantra N, the Corolla Corolla GR will be based on the new 12th generation Corolla which recently arrived in South Africa. The Corolla is built on Toyota's New Global Architecture (TNGA) platform and the Corolla GR will likely sit lower than the standard Corolla while wearing a slightly more aggressive front bumper. We wouldn't be surprised if a neat rear spoiler makes its way onto the boot lid. GR badges seen on the grille, boot lid and below the side mirrors will be a reminder that this isn't an ordinary Corolla. The Corolla GR will also ride on larger and sportier alloy wheels.
As for the interior, the Corolla GR will follow the design of the new Corolla but will include sporty touches such as bolstered Gazoo Racing sport seats, a GR sports steering wheel and aluminium pedals. Further GR badging is likely to be found on the side sills and mats.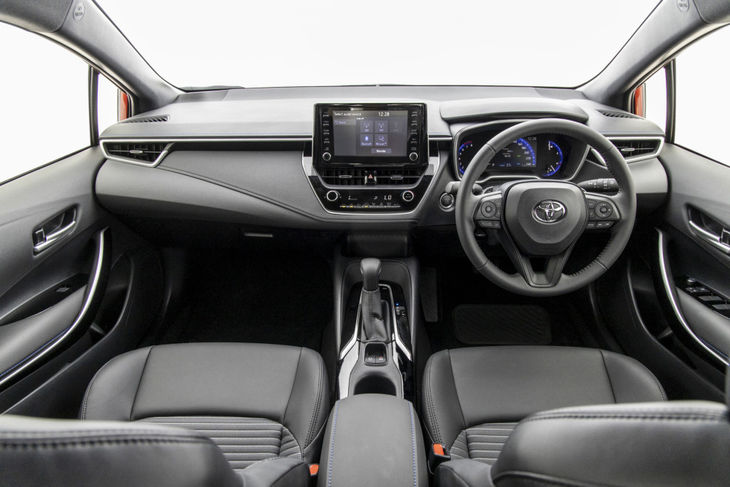 The new Corolla's cabin is familiar but the Corolla GR's cabin will be decisively more sporty in execution.
What about performance?
Hyundai Elantra N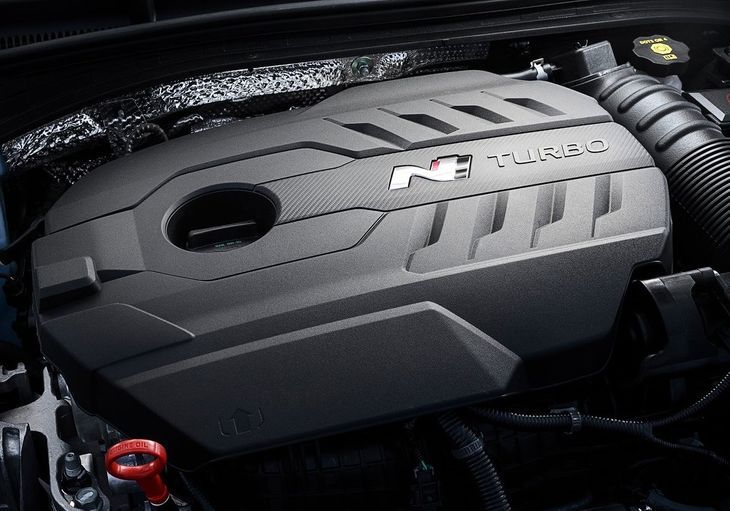 Hyundai's 2.0-litre turbopetrol engine will offer more than enough grunt for the Elantra N.
The same 2.0-litre turbopetrol engine found in the i30 N is expected to make its way into the Elantra N and it will likely be offered in conjunction with a slick-shifting 6-speed manual transmission or Hyundai's newly-developed 8-speed DCT which will soon make its way into the i30 N and Veloster N.
Outputs will likely be in the region of 202 kW with 353 Nm which should provide ample shove in the Elantra N. More than this, if equipped with the 8-speed DCT, an additional 24 Nm overboost for 20 seconds is possible thanks to a new N Grin Shift mode which will improve full-bore acceleration.
More than this, the Elantra N will also feature an uprated suspension system to allow for enhanced dynamic handling ability and dual exhaust with a variable-valve system is expected to deliver a sporty engine note.
Toyota Corolla GR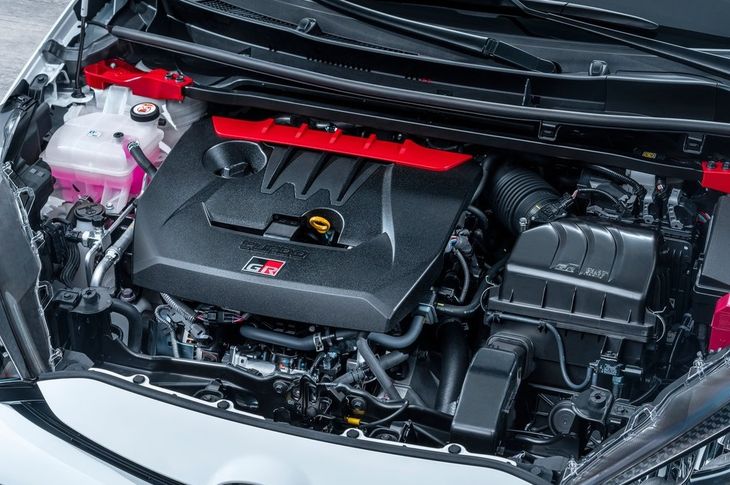 The new Yaris GR's 1.6-litre, turbocharged petrol engine is a likely candidate for the Corolla GR.
We have reason to believe that if a Corolla GR sedan is indeed in the works, it will employ the same 1.6-litre, 3-cylinder turbopetrol engine found in the new rally-bred Yaris GR (which is due for SA in 2021). This punchy motor produces 192 kW and 360 Nm but there's also a high-powered version that offers 200 kW and 370 Nm, which is pretty much on par with the Elantra N.
The Corolla GR will employ a 6-speed manual transmission and since Toyota doesn't have its own rapid-shifting transmission, perhaps the Japanese powerhouse will employ the services of the 8-speed ZF automatic transmission which does duty in the GR Supra, or look to Lexus to send over a unit from its performance RC-F. Neither of those are great options as they are built to deal with far more torque than a Corolla GR could ever muster. The Corolla GR sedan would also feature a revised suspension and braking setup to enhance dynamic handling ability.
If we close our eyes and imagine the Hyundai Elantra N and Corolla GR lining up at Killarney Raceway for a quarter-mile drag race showdown, we can see this being a very close battle. What car do you think will win? The previous Yaris GRMN punched well above its weight and we think the Corolla GR might be able to out-perform the larger-engined Elantra N. It may very well come down to what car has the best engine-transmission combination. Time will tell...
Related Content
Hyundai Elantra N: What We Know
Toyota Corolla GR Sedan Coming?
Hyundai N Line Elantra Inbound