Passenger-vehicle market arch-rivals Toyota and Volkswagen continue to reap success from producing legacy models. The former recently introduced a new Corolla Quest to avail the previous-generation of its compact sedan to buyers looking for a reliable, value-for-money vehicle. We put the range-topping 1.8 Exclusive automatic derivative through its paces...
We Like: Engine performance, excellent ride quality, good build quality, value
We Don't Like: Lack of Android Auto/Apple CarPlay
Fast Facts
Price: R317 700 (March 2020)
Engine: 1.8-litre petrol, naturally-aspirated
Power/Torque: 103 kW / 173 Nm
Transmission: CVT
Fuel Economy: 6.3 L/100km
Load Space: 452 L
Own a Toyota? Tell us about your experience here.
SERIOUS ABOUT BUYING?
What is it?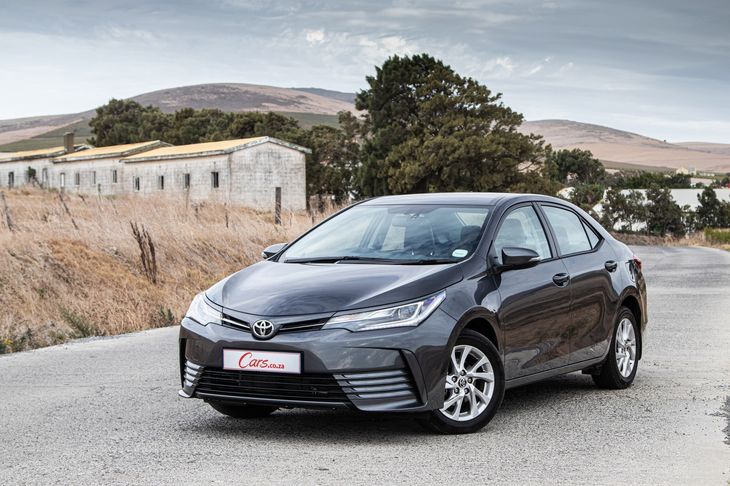 Stylish and purposeful, the Corolla Quest is certainly one of the better-looking sedans in its segment.

Those who have been following the new vehicle market for a while – even if just casually – will know that a model will either be replaced with an all-new, next-generation version or discontinued when it reaches the end of its lifecycle...
However, Toyota has a history of producing older-generation Corolla variants as value-proposition (or legacy) models; the model that most will remember is the Tazz, which was based on the E90-series Corolla that debuted in the late '80s, yet the plucky Tazz remained in production until 2006! Then, in 2014, Toyota launched the first Corolla Quest, a locally-built, more-affordable sedan based on the then outgoing 10th-generation Corolla. Toyota South Africa sold the 11th-generation Corolla and 1st-generation Corolla Quest in tandem and achieved great success; the Prospecton-based firm sold 137 000 Corollas and the latter accounted for almost 64 000 of those sales. That's good business!
The outgoing 11th-generation sedan now forms the basis for the new Corolla Quest. The newcomer goes on sale this month (March 2020) and will soon be joined by the 12th-generation Corolla, for which we already have specs & prices.
Despite sedan models' declining sales numbers (and not just in the compact segment) due to the growing popularity crossovers and SUVs, the Corolla remains a notable success story on local soil. With the 2nd-generation Corolla Quest, Toyota aims to continue its domination of the compact sedan segment (it holds 70%-plus market share). On test here is the range-topping Corolla Quest 1.8 Executive automatic. Let's see if it deserves your attention…
How it performs in terms of…
Performance and economy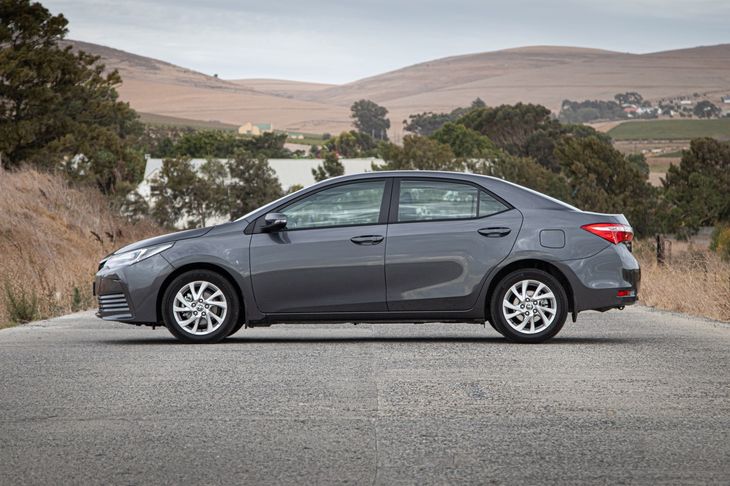 More powerful and more refined, the new Corolla Quest represents a marked improvement over its predecessor.
For this latest iteration of the Corolla Quest, Toyota has done away with the previous model's 1.6-litre petrol engine and fitted the sedan with a naturally-aspirated 1.8-litre petrol engine, which offers peak outputs of 103 kW and 173 Nm, compared with the 90 kW and 154 Nm produced by its predecessor.
That additional torque, which is also produced earlier in the rev range compared with the previous 1.6, definitely makes its presence felt on the road; there's noticeably more urgency in how the Corolla Quest reaches the national speed limit. The engine is paired with a continuously-variable automatic transmission (CVT), but before you jump on the CVT-bashing bandwagon: the transmission is actually well-matched to this engine. Engine noise and transmission drone only become mildly annoying when you drive the Corolla Quest hard, which is silly and, to be honest, unnecessary. That said, most buyers will find the Corolla Quest's performance quite adequate on the daily commute.
Due to the lack of near-instantaneous punch that a turbocharged engine provides, the Corolla Quest accelerates in a more linear manner, therefore overtaking manoeuvres require some forethought. Strangely though, there's a Sport button and while it does sharpen throttle response somewhat, that dreaded CVT drone becomes very invasive. We feel there is no benefit to having a Sport button in a sedan that prioritises comfort and efficiency over sportiness.
Toyota claims a combined fuel consumption figure of 6.3 L/100 km, but during its tenure in our fleet, we saw figures between 8- and 8.5 L/100 km. We do, however, concede that lower figures are achievable if you drive conservatively.
Ride and Handling

The Corolla Quest delivers a very premium ride at this price point.
To its credit, the Corolla Quest's ride quality belies its budget-oriented price point. In combination with a more powerful engine, the pliant – but not soggy – suspension is probably the trait that deserves the most praise in this package. Indeed, the Corolla Quest delivers a wonderfully comfortable ride courtesy of its proven front McPherson strut and rear torsion beam suspension setup, which was, of course, carried over from the 11th-generation Corolla.
Apart from its superb ride quality, the Corolla Quest has a nicely-weighted steering setup and it exhibits predictable and sure-footed handling ability. Although the made-to-a-cost Corolla Quest must surely have less sound insulation than the sedan on which it is based, road- and wind noise entering the cabin is impressively muted, which increases refinement and ultimately the quality of the driving experience.
Interior execution, features and practicality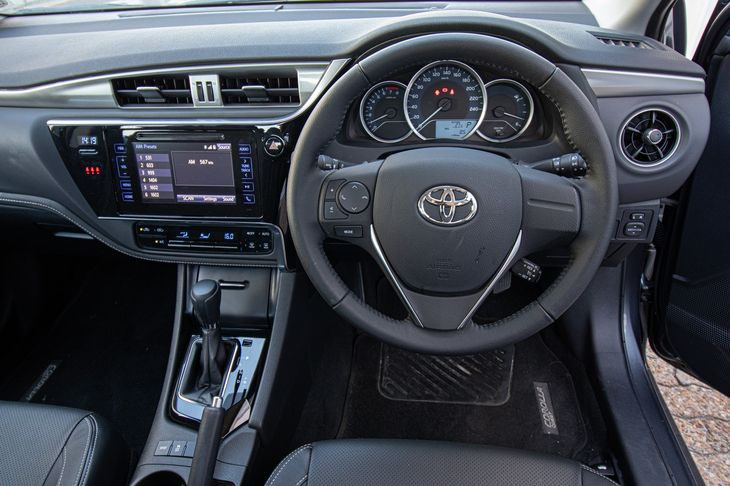 Interior build quality is very good as is the standard specification. It just needs Apple CarPlay and Android Auto!
There's much to like about the interior of this Corolla Quest. Yes, it may not be particularly exciting in terms of design, but it's functional and importantly, perceived build quality is very good. The interior is solidly made and squeak free!
The leather seats, in particular, are comfortable by virtue of their shape and more-than-sufficient cushioning; the steering wheel has mounted audio and Bluetooth controls and is adjustable for rake as well as reach; the infotainment system is familiar (sourced from sister products such as the Hilux and Fortuner) and while it covers the basics, it lacks connectivity features such as Android Auto and Apple CarPaly. There is also a USB port for charging devices.
Other nice-to-have features in this top-spec derivative include rain-sensing wipers, keyless access and start, dual-zone climate control (automatic aircon), cruise control, rear park distance control with a reverse-view camera and electric windows. On the safety front, the Corolla Quest is fitted with 5 airbags, ABS with EBD, brake assist and electronic stability control.
In terms of practicality, the Corolla Quest has a large boot with a substantial claimed capacity of 452 litres. Also, this range-topper has 60:40 split rear seats, which is great, because you can load longer items through into the cabin. Rear passenger legroom is more than adequate and there's ample storage space in the door mouldings, centre bin, and ahead of the transmission lever. The 2 cupholders up front are handy for storing your coffee/s on the morning commute…
Price and warranty
The Toyota Corolla Quest 1.8 Exclusive automatic is priced from R317 700 and is sold with a 3-year/100 000 km warranty and a 3-services/45 000 km service plan.
Buy a Toyota Corolla Quest on Cars.co.za
Verdict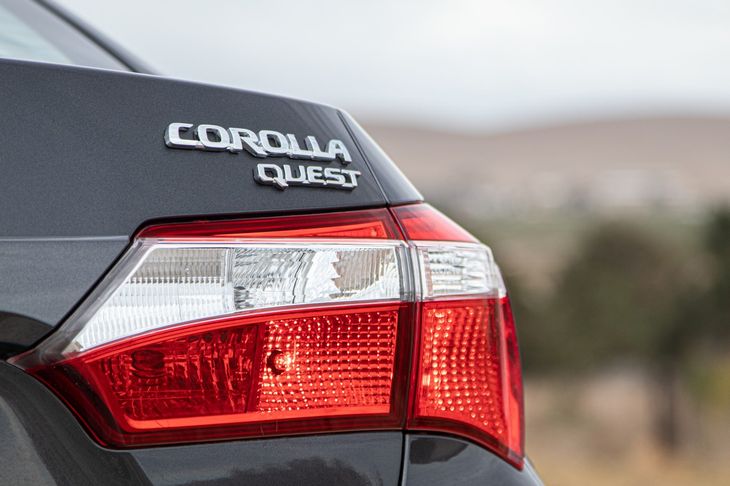 The Corolla Quest is easy to recommend in this segment. It's a quality product that's definitely worth considering.
This 2nd-generation Corolla Quest is a great product overall; it's easy to understand why it has been such a success story for Toyota South Africa: it exudes quality and value for money. Not only is this latest version more powerful than before but it's also more refined and offers higher levels of comfort, while being well-equipped with convenience features. This engine and CVT combination will suit its intended target market well; it strikes a reasonable balance between performance and economy. However, while we feel that the lack of Apple CarPlay and Android Auto is somewhat disappointing, we don't think it's a deal-breaker in this segment. Hopefully, Toyota will institute updates later this year.
When stacked up against rivals such as the ageing and pricier Honda Ballade, Hyundai Accent, Volkswagen Polo sedan and less-premium Suzuki Ciaz, the Corolla Quest makes a very strong value case for itself – yes, it is a legacy model, but it is based on a product that was only recently superseded. It does not feel stripped out and basic – quite the opposite. With the imminent arrival of the all-new Corolla on local soil, we suspect that the Corolla and Corolla Quest tag team will continue to dominate the (admittedly shrinking) segment. Should you consider this Corolla Quest? You'd be silly not to... It's a shining example of a locally-produced product that outshines its imported rivals with aplomb.
Related content:
Toyota Corolla Quest (2020) Launch Review
Toyota Corolla sedan (2020) Specs & Price