Hyundai has released its first official images of the forthcoming i20 N testing in Arjeplog, Sweden.
Exciting developments are taking place at Hyundai's N division as more performance-orientated products are expected to come to market in the very near future. The next N model to follow on from the i30 N, i30 N Fastback and Veloster N is the compact i20 N hatchback which has been cold-weather testing in Sweden.
A Hyundai Elantra N is also in the making, here's what we know about it
Apart from releasing official images of the i20 N prototype testing in the snow, Hyundai has also released 2 videos which not only feature the i20 N prototype, but also the i20 WRC rally car and the awesome RM19 with Hyundai WRC driver, Thierry Neuville, behind the wheel.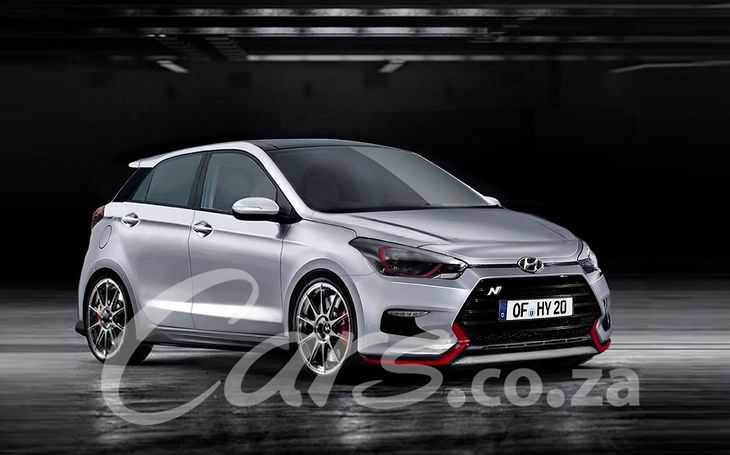 Is this what the production version of the i20 N could look like? Render by Duwyne Aspeling, Cars.co.za
Engine and transmission details for the i20 N have yet to be officially confirmed but a 1.6-litre turbopetrol engine with at least 150 kW and 300 Nm is expected and a 6-speed manual transmission sending power to the front wheels is likely. It's worth noting that Hyundai has developed a new 8-speed N Dual-Clutch Transmission (DCT) which will be offered on the Veloster N and i30 N, is also a possibility for the i20 N.
The Hyundai i20 N will rival products such as the new Toyota Yaris GR, Volkswagen Polo GTI and Renault Clio RS, to name a few.
Thierry Neuville had this to say about the i20 N prototype, "Very interesting car. Very precise. Very easy handling. The engine is revving nicely and the noise is very interesting as well. I'm looking forward to get this one to drive in WRC!"
Watch the videos below!
Related Content
Hyundai i30 N (2020) Launch Review
Hyundai Veloster N with DCT Teased
Is Hyundai N Testing Bigger Engines?