We've had to wait nearly 3 long years since the unveiling of the i30 N, but Hyundai has finally managed to launch its acclaimed hot hatch in South Africa. Was it worth the wait? Gero Lilleike attended the local launch in Cape Town to bring you this report…
When the i30 N was first shown in 2017, local hot-hatch enthusiasts were clamouring for Hyundai to introduce the N Division's firebrand in the South African market, but at the time, almost every unit that rolled off the production line in the Korean firm's plant in the Czech Republic was destined to supply the considerable demand for the potent newcomer in Europe and elsewhere. In the meantime, Hyundai has had to build a business case for the i30 N on local soil, where it would need to be positioned competitively against established front-wheel-drive hot hatches such the Volkswagen Golf GTI (and its imminent TCR derivative), the Renault Megane RS Cup and the Honda Civic Type R.
Well, the wait is over, South Africa – the i30 N has finally arrived! The i30 N is the first pukka performance hatchback to come from Hyundai's N Division under Albert Biermann, who is tasked with driving the N brand into the future as president and head of Hyundai's Vehicle Performance Division. Imbued with Hyundai's motorsport experience, the i30 N was developed to demonstrate that Hyundai can indeed produce an exciting performance car that stands in stark contrast to the rest of its more "ordinary" car offerings.
How does it look and feel?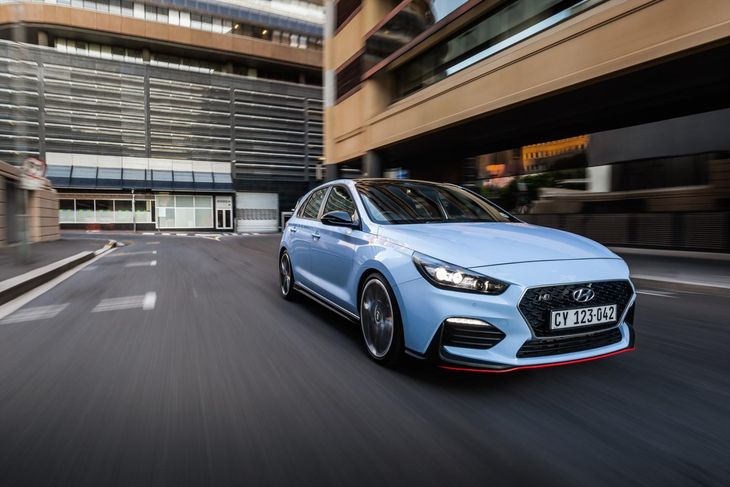 Understated but decisively sporty, the i30 N is neither flashy nor boring. It's a looker for sure...
Based on the i30 compact hatchback (which was discontinued in South Africa in 2018), the i30 N looks positively purposeful, especially in the Performance Blue paint finish. While the front-end may be perceived as being conservatively sporty, the standard Performance Package boosts the Hyundai's appearance appreciably with 19-inch alloys shod with Pirelli P-Zero rubber (note the red N brake callipers), plus a pair of large-bore exhaust ends aided by a variable-valve system. Under the sheet metal is, of course, the star of the show – a potent 202 kW/353 Nm 2.0-litre turbopetrol engine mated with a 6-speed manual gearbox and an electronically controlled limited-slip diff. More on that shortly…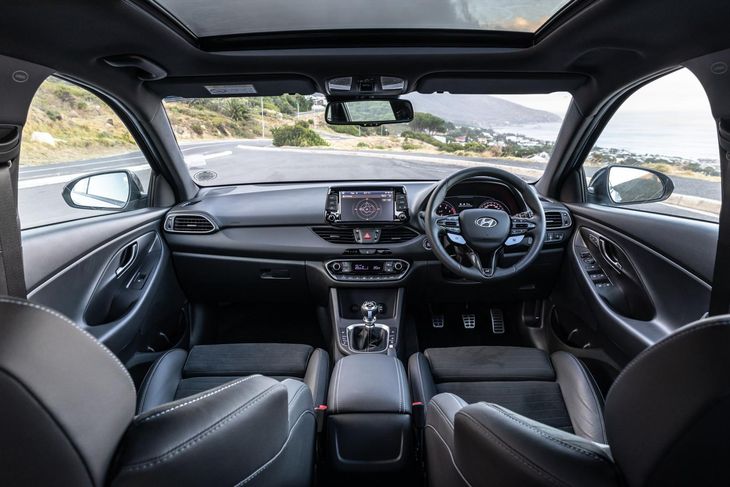 Build quality is very good and standard specification is generous, but the i30 N's interior lacks some wow factor in our opinion.
Once I stepped inside the i30 N's cabin, however, I couldn't help but feel a little underwhelmed... Apart from the chunky, leather steering wheel with blue drive-mode controls and the superbly comfortable leather/suede combination sports seats with contrasting stitching, the interior still somehow lacks a sense of occasion…
It might look largely derivative inside, but there is no shortage of standard features. Some of the nice-to-haves include a panoramic sunroof, heated electric seats and heated steering wheel, a wireless charging pad, an Android Auto/Apple CarPlay-compatible 8-inch infotainment system and performance-related readouts such as lap timing and a G-force meter.
There's certainly a lot to like about the i30 N, but how does it perform?
What's it like to drive?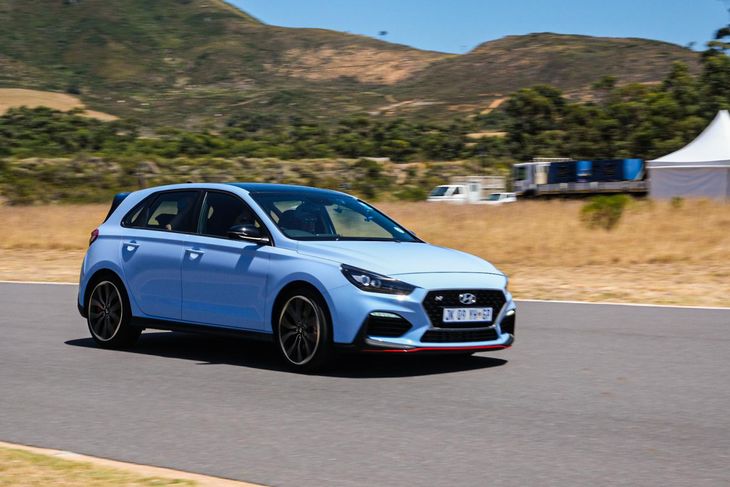 The i30 N flexed its muscle on a tight and twisty track. It's definitely very competent in the corners.
The media launch programme for the i30 N began with a slalom test and a braking test. The slalom exercise highlighted the newcomer's nimbleness when changing direction at speed; the noticeably stiffer chassis effectively translates into less body roll and the vehicle remains notably stable under hard cornering. The brakes are nice and sharp too.
Hyundai was keen to further showcase the i30 N's breadth of talent and afforded us the opportunity to put the newcomer through its paces on a private performance track in Franschhoek... There are 5 drive modes to choose from in the i30 N, including Normal, Eco, Sport, N and Custom and I did my first fast lap in the former setting.
As I "opened the taps", I immediately noticed how smoothly the i30 N accelerated to 120 kph and beyond. The 6-speed manual 'box is an absolute delight with a confident short-throw action that's complemented by a rev-matching function that gets every gear change just right. An engaging manual 'box is a rarity these days, which heightens its appeal.
Another aspect of the i30 N that impressed me was its steering configuration. It's very direct and responsive to inputs, which facilitates pinpoint cornering. As I flung the i30 N through some tight corners, the tyres gripped the hot tar as the hot hatchback catapulted out of corners while remaining perfectly-planted; it instantly instilled driver confidence.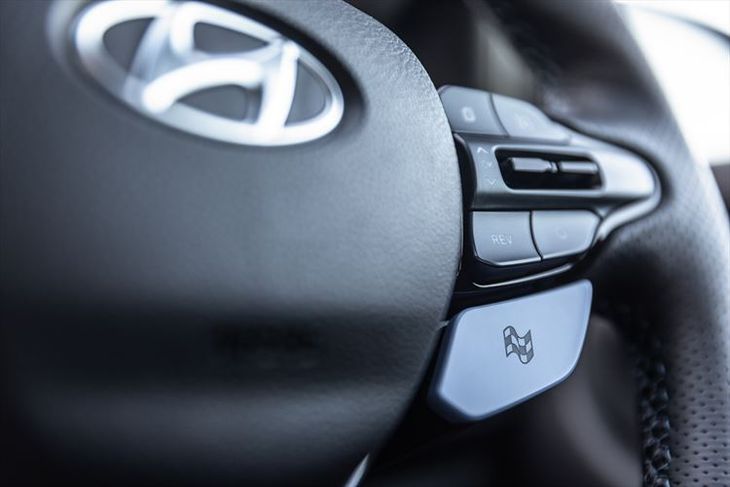 This button engages N Mode, unleashing the i30N's full potential.
The exhaust note is mostly muted in Normal mode and I was keen to go full throttle in N mode. The blue button on the right side of the steering wheel gives the driver access to N mode and in this setting, the i30 N's steering, suspension and throttle response are at their sharpest to ensure maximum sporty performance.
With N mode engaged, "I put my big-boy pants on" (as the saying goes) and drove the i30 N as quickly as I dared! It was wonderful to finally hear the raucous crackle-and-pop soundtrack from the exhausts on lift-off as the i30 N barreled through the corners. Hyundai says that an overboost function increases torque output by 8% to 378 Nm for a period of 18 seconds under full-bore acceleration. There's no doubt about it, the i30 N is fast and very capable on track, but how would it perform on public roads?
A 100-km drive through Du Toitskloof Pass, Villiersdorp and Franschhoek Pass revealed that the i30 N's suspension is quite firm (which is exacerbated by poor road surfaces, of course), but even so, the ride quality was never excessively uncomfortable. It's also worth noting that the build quality of the i30 N's cabin is excellent, but road-noise intrusion is integral to the driving experience – we attribute that to the low-profile tyres wrapped on those 19-inch rims. Hyundai claims an average fuel consumption figure of 8.5 L/100 km.
Overall, we came away impressed with Hyundai's first stab at a fully-fledged, dyed-in-the-wool hot hatch. The only question left to answer is whether it's worth its price tag?
Is it worth it?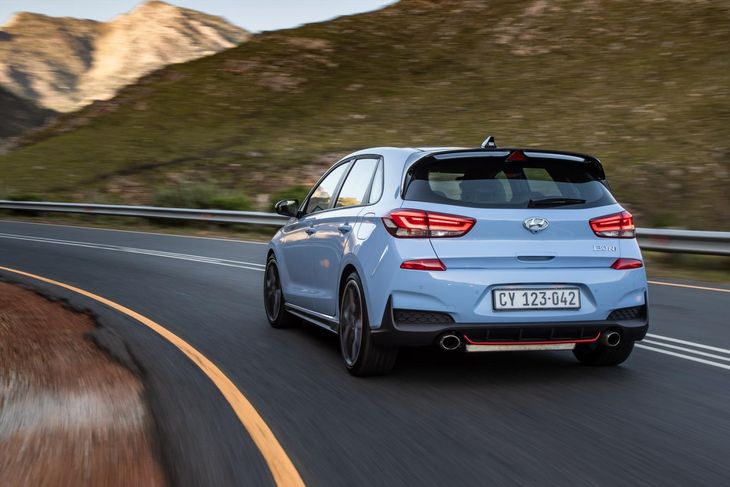 The i30 N is an impressive and capable hot-hatch that will appeal to those looking for an alternative to the hum-drum in this segment.
The answer to that question largely depends on how you consider the i30 N in relation to its rivals. On the one hand, the i30N's price tag of R679 900 is a tough pill to swallow, especially when you consider that cars such the Renault Megane RS Cup can be had for R589 900, which seems great value for money by comparison. The Honda Civic Type R is pricey too (R699 900), but in our opinion, it's both a sharper and more powerful weapon, even its styling remains polarly divisive. The forthcoming Volkswagen Golf GTI TCR, the swansong of the current-generation Golf (7.5), is expected to be priced at just under R700 000 when it arrives, which is also a very pricey proposition if you consider that the new Golf 8 GTI is coming at the end of the year. Whichever way you cut this cake, it's a lot of money to pay for any of these front-wheel-drive performance hatchbacks.
On the other hand, the i30 N is packed with a plethora of standard features (which increases its value proposition) and it definitely has enough character, performance and kerb appeal all of its own to warrant a closer look, especially if you are keen on a solid left-field hot-hatch that's different from the norm. Not only will it perform ably and eagerly when you need it to (it should cream the Golf GTI in a robot-to-robot showdown, which is a tantalising selling proposition in itself), but it also easily passes as a stylish daily runner.
We have to applaud Hyundai South Africa for bringing a car of such high calibre to the local market. It's by far the most exciting Hyundai we have ever driven. The cherry on top is that the i30N is backed by a 7-year/200 000 km warranty, 5-year/75 000 km service plan and 7 years' roadside assistance, which adds significant peace of mind.
Hyundai plans on selling between 5 and 10 units per month in South Africa and we wouldn't be surprised if the Korean firm sells every single unit it can procure.
The i30 N is now on sale at Hyundai i30 N dealerships around the country and these include Belville, Somerset West, Port Elizabeth, Durban South, Pinetown, Umhlanga, Richard's Bay, East Rand, The Glen, Sandton, Roodepoort, Centurion, Wonderboom and Polokwane.
Hyundai i30 N (2020) Price in SA
Hyundai i30N - R679 900
Buy a Hyundai i30 N on Cars.co.za
Related Content
Hyundai i30 N (2018) International Launch Review
5 Hot Hatches to Rock SA in 2020