We have experienced the Hyundai i30 N but Hyundai is developing an i20 N. Our spy photographers have caught an i20 N prototype testing...
Picture credit: S. Baldauf/SB-Medien. We have paid for these photos and at the photographer's request, have watermarked them.​
Last year we saw spy shots of an i20 N test mule being put through its paces and more recently, Hyundai revealed a new and rather sporty-looking i20 hatchback. A fully-fledged i20 N just seems like a logical step for Hyundai's N Division which has a wealth of motorsport experience to draw upon considering its successful exploits with the i20 in the World Rally Championship (WRC).

Recent promotional i20 video content from Europe points to a sporty silhouette of what we think is an i20 N. Giveaway features include a chunky high-mounted spoiler, beefier wheels and red detailing seen along the side skirts.

You will recall that Toyota recently revealed its new Gazoo Racing Yaris and an i20 N would make for an exciting match-up. The i20 N will also take aim at the Volkswagen Polo GTI.
Now, a new batch of spy images has landed on our desk once again confirming that Hyundai is hard at work on a hot i20 N model. The prototype is heavily camouflaged but the twin-exhaust system is a clear sign of performance intent. You can also see the high-mounted spoiler visible beneath the camouflage.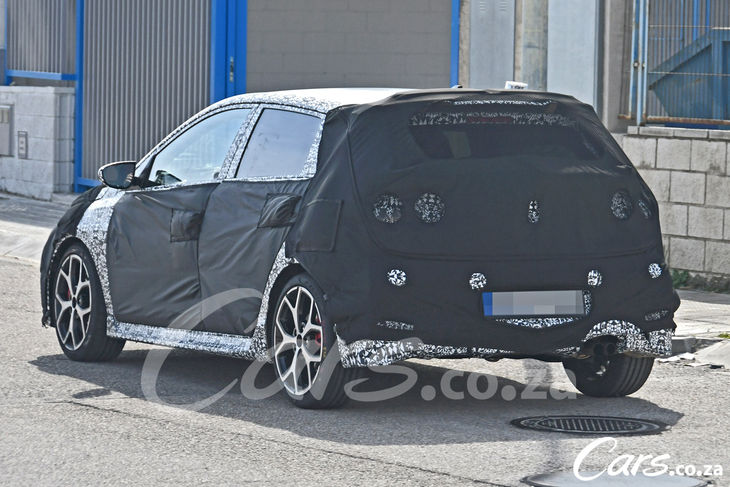 Dual-exhaust pipes and a high-mounted spoiler are signs of what's to come from Hyundai...
As for what will power the i20 N, that's up for debate, but if you consider that the Toyota Yaris GR offers 192 kW and 360 Nm of torque from a 3-cylinder, 1.6-litre turbopetrol engine, the i20 N will have to offer similar potency. We previously pointed to the possibility of Hyundai making use of a revised 1.6-litre turbopetrol engine, the same that powers products such as the Veloster Turbo, Tucson and Elantra Sport. Time will reveal all!
In terms of transmissions, a 6-speed manual is a strong possibility and should make enthusiasts happy but a dual-clutch transmission is not out of the question either. The i20 N is also likely to feature a stiffer and sportier suspension to complement its performance intentions.
We will keep you up to date as soon as Hyundai drops any more clues regarding the i20 N, so stay tuned!
Related Content
Hyundai i30N (2020) Launch Review
Hyundai plans i20 N: Will it Look Like This?
2021 Hyundai i20 Revealed with more Details