BMW gets serious about electric mobility with the X5 xDrive40e, the marque's first core-brand production vehicle to incorporate plug-in hybrid technology. We travelled to Johannesburg to get behind the wheel.
BMW is widely considered a "pioneering" brand. The Munich-based company has, in many ways, taken the lead in developing the EV (electric vehicle) market and its products, both here and globally. We all know its "i" cars, which have enjoyed relative success here (BMW sold 124 i8s and 114 i3s by the end of April 2016 and the latter won Design of the Year and Game changer of the Year in the inaugural Cars.co.za Consumer Awards), but the company is also actively engaged in the roll-out of a private and public charging infrastructure. The arrival of the X5 xDrive40e represents another milestone...
It's BMW's first PHEV (or plug-in hybrid electric vehicle), but the Bavarian brand is not the only premium manufacturer headed in this direction. Mercedes-Benz has recently introduced plug-in hybrid drives to its S-Class range and will be introducing the technology to other ranges, of which SUVs will undoubtedly form part. More specific to the X5, Volvo has also introduced a rivalling plug-in derivative of its XC90 SUV, the T8 Twin Engine,.
To use the X5 to "pioneer" this technology makes sense: The range makes up a significant proportion of BMW's sales and already caters to an exclusive clientele. That said, more models will follow: BMW AG's medium-term strategy is to offer PHEV-technology in its entire product line-up (known as i-Performance). We assume the same applies to SA, but we could only confirm that the next vehicle to join the "i-Performance" family will be a 7-Series derivative (October 2016) and perhaps a 3-Series example towards the end of the year.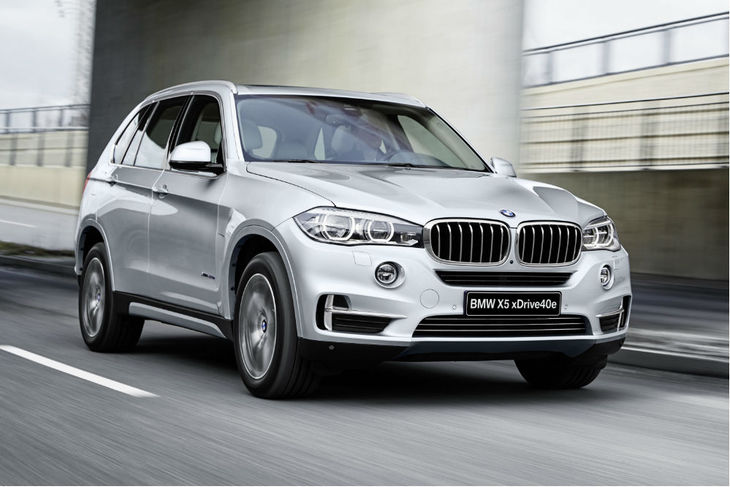 As opposed to its series of "i" models, BMW's xDrive40e has conventional X5 packaging, which will strengthen its appeal.
This is all very good and well, but bear in mind that this is not BMW's first soiree into hybrid technology. In 2008, the company introduced ActiveHybrid technology to a selected range of models, but they enjoyed little success locally. So, what makes i-Performance different from ActiveHybrid and what makes the company believe that it will succeed this time? We got behind the wheel of the X5 xDrive40e at BMW South Africa's HQ in Midrand to find out.
The "engine"
The X5 xDrive40e uses a conventional turbopetrol engine along with a synchronous electric motor, technologies first used in the i8 and i3. The 2.0-litre 4-cylinder engine produces 180 kW from 5 000 rpm and 350 Nm of torque from 1 250 rpm. The electric motor is coupled with a 96-cell lithium-ion high-voltage battery with a 9 kWh capacity. It is capable of delivering 83 kW at 3 170 rpm and 250 N.m of torque from 0 rpm.
Combined, the drivetrain delivers 230 kW and 450 Nm.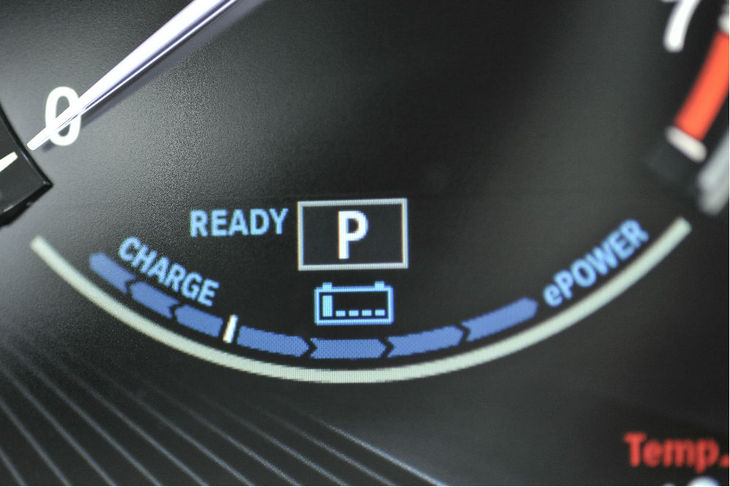 Something out of the ordinary... the BMW has a battery capacity reading on its rev counter
What does this mean? Well, the car has a claimed 0-100 kph acceleration time of 6.8 seconds and a top speed of 210 kph. On country roads, the Xdrive40e never felt compromised in terms of performance, far from it: the newcomer's acceleration is linear and brisk; overtaking acceleration is impressive.
But the true benefit lies in its fuel consumption (3.3-3.4 L/100 km) and emissions (77-78 g/km). The combined overall range of the xDrive40e is said to be approximately 830 km...
And herewith the crux: The xDrive40e is different to a pure hybrid (ActiveHybrid) as it offers greater flexibility in how battery power is used. It also has greater storage capacity and is able to better deliver what is expected from an EV: to significantly reduce fuel consumption and emissions.
"Engine" management
In fact, this "flexibility" is at the driver's command via an eDrive button (located on the transmission tunnel). It offers a choice between 3 "drive modes":
Auto eDrive is a default setting and uses the engine and electric motor in tandem. The electric motor will be used for take-offs and at speeds below 70 km/h or until the accelerator is pressed hard.
MAX eDrive allows for power exclusively by the electric motor, at speeds up to 120 kph and a maximum range of 31 km.
SAVE Battery allows the driver to save or build up the energy reserve in the batteries for later usage: For example, while driving on the highway the battery could be charged for the final leg of the journey in an urban area.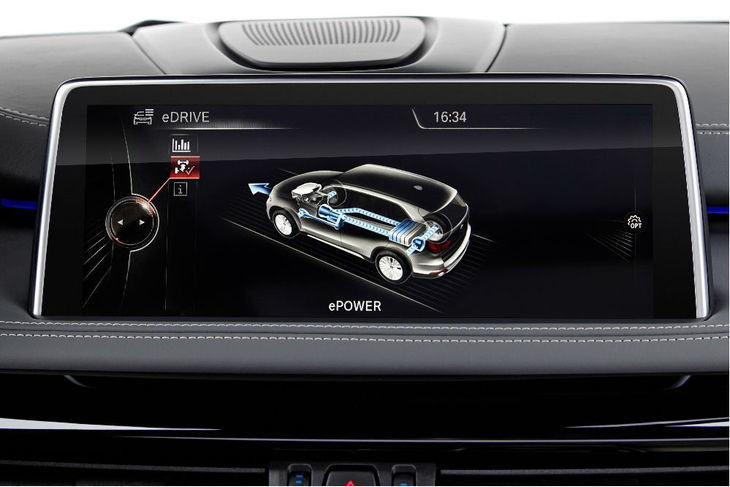 BMW's first production PHEV can travel up to 31 km on battery power alone, and at speeds of up to 120 kph.
Rather cleverly, this system can be linked to the navigation system, which will automatically select between the three modes relative to the route conditions.
Charging can be done either at a public station or by using a wall box once it has been installed at your home (R25 000). BMW hopes to have about 33 dealerships offering charging facilities by the end of 2016, with the aim of having national coverage soon. There are already some public stations at locations such as Melrose Arch in Johannesburg. At the moment, there is no electricity fee for charging at these stations (an attempt to incentivise the usage of EVs).
A plethora of features
Despite its sophisticated drivetrain, the xDrive40e remains an X5, which means that it comes with all the usual amenities. The interior is spacious and comfortable with ample applications of soft-touch panels and leather throughout the cabin. Auxiliary heating and ventilation and navigation also come as standard. The only compromise as a result of the bulky battery is a loss of about 150 litres of storage space in the luggage compartment.
Beyond the "standard" model, the X5 xDrive40e also comes with the option of three design packages, with both exterior and interior options, including a sporty M Sport package.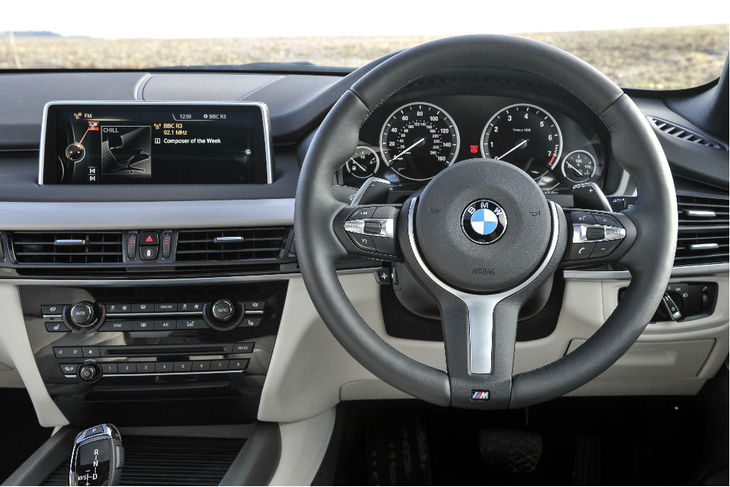 The layout of the xDrive40e is comfortably familiar, as its standard specification of onboard features.
How does it drive?
The X5 xDrive40e comes equipped as standard with auto-levelling rear air suspension, full-time all-wheel drive and dynamic damper control and, as expected, the vehicle dealt with inner-city driving with aplomb, bumpy country roads were evened out with ease and the newcomer's surefootedness allowed for confident high-speed cornering. Despite its mass and size the X5 remained nimble, stable and balanced.
In addition to the eDrive button, it also offers the usual driver modes: Comfort, Sport and Eco Pro that adjust the xDrive40e's throttle mapping, steering characteristics, damper control and responses of the 8-speed Steptronic transmission. Eco Pro triggers efficiency-optimised functions for functions such as the climate control system. Furthermore, the engine is shut off at coasting speeds in order to conserve fuel.
In short, the X5 xDrive40e represents the start of a long journey for BMW: A weak rand, a slow uptake of hybrid technology on the part of consumers, a huge expenditure in terms of charging infrastructure development and the arrival of more competitors are a few of the xDrive40e's challenges.
Overall, the vehicle is impressive. It loses little in the way of practicality, but gains a lot over its conventional counterparts. The clever use of plug-in technology promises a significant improvement in fuel consumption, but this should not come at the cost of performance, comfort or convenience. With a starting price of R1 097 500 it remains an exclusive vehicle... it is similarly priced to the xDrive40d, but its price premium could be justifiable if you are tech-savvy consumer who's concerned about emissions and want to save a few Rand at the pumps. What's more, it is similarly priced to the Volvo XC90 T8.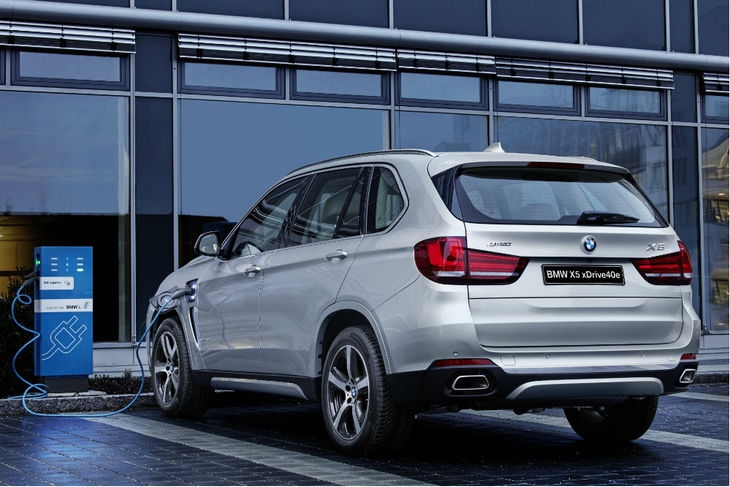 While its selection of EVs and hybrids increases, BMW South Africa is broadening charging infrastructure.
BMW X5 xDrive40e prices in South Africa
xDrive40e (standard model) R1 097 500
xDrive40e Design Pure Excellence R1 108 800
xDrive40e Design Pure Experience R1 115 000
xDrive40e M Sport R1 146 300
All models are sold with a 5-year/100 000 km maintenance plan and an 8-year/100 000 km high-voltage battery warranty.
Interested in buying a new/used BMW X5? Search for one on Cars.co.za