Volvo adds a plug-in hybrid model to its already solid XC90 line-up. How much of an impact can this plug-in model make, and perhaps more importantly, will it set a trend?
As a team, we at Cars.co.za rate the Volvo XC90 very highly. It's a well-equipped 7-seater SUV, packaged in a svelte, stylish package and is bristling with technology. Furthermore, the Swedish machine undercuts its rivals on price. That's why the XC90 is the Premium SUV of the Year in our Cars.co.za Consumer Awards.
As good as the XC90 is, our testers found that the 2.0-litre turbopetrol and turbodiesel motors had to be worked hard to get the big SUV moving and, as a result, the respective test units' fuel consumption figures suffered. Volvo has addressed this with the introduction of the XC90 T8 Twin Engine derivative, which is the halo model in the range. The theory is simple: the front axle is powered by a traditional petrol engine while the rear makes do with an electric motor. The result is a vehicle that offers all-wheel drive capability, but which can operate on petrol- or electric propulsion, or use a combination of both.
Petrol and electricity working in harmony
Let's talk numbers. Up front is a 2.0-litre turbo- and supercharged four-cylinder petrol engine that produces outputs of 235 kW and 400 Nm. The electric motor delivers 65 kW and 240 Nm, and together there's 300 kW and 640 Nm on tap, which sounds like quite a lot! Power reaches all four wheels through an eight-speed Geartronic automatic transmission. Performance is claimed to be swift, with zero to 100 kph being dispatched in 5.6 seconds. The real number to be interested in is the efficiency claim: the Volvo XC90 T8 is said to be able to sip just 2.1 L/100 km and emit just 49 g/km of CO2.
That claim of 2.1 L/100 km sounded incredibly optimistic, so we put it to the test on a short urban route. Climb in, seatbelt on and turn the engine start knob, and… there's nothing but eerie silence. The dials lit up and that was it. "Right, the car's on, engage drive and away you go", were the reassuring words of Volvo's local PR. With a gentle prod of the accelerator pedal, the Volvo XC90 T8 "slipped its moorings" and set off.
Volvo says that this XC90 can drive 40 km and at speeds up to 125 kph on electric power alone, and given the fact that we did the first 10 km on battery only, it certainly feels believable. Five driving modes are offered; AWD, Pure, Hybrid, Power and Off Road. Pure is electric-only mode, while hybrid is a nice blend of petrol and electric driving. If you select Power mode, both motors work hard in an effort to sling you towards to the horizon briskly.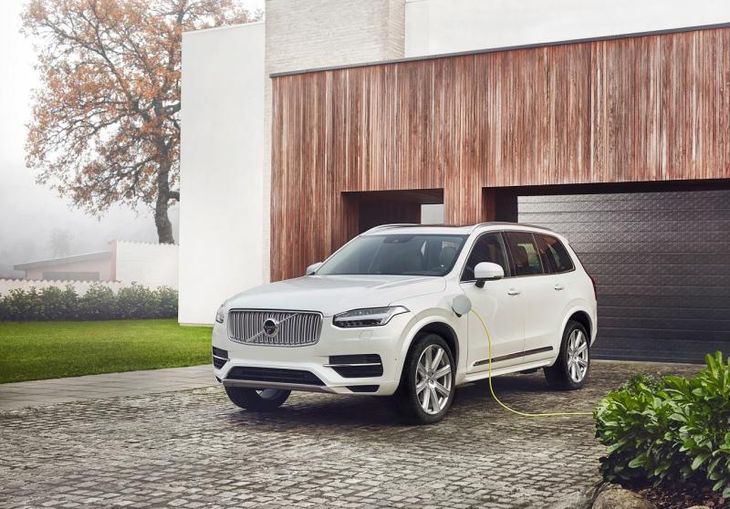 The Volvo XC90 T8 is easy to charge is it does not require a special cable adapter.
The vehicle captures braking energy anyway, but you can force the T8 to harvest more intensely by putting the vehicle into braking mode, which is done by moving the gear selector from Drive into Brake. If you then take your foot off the accelerator, the vehicle starts decelerating without brake pedal inputs.
While most hybrid vehicles have their batteries in the boot, which impacts load space, the Volvo XC90 T8's batteries have been placed in the area underneath the centre armrest. While this keeps the array safe and isolated from accidents, the real bonus is that the XC90 retains its seven-seat capability.
How to charge?
It'll take a keen eye to spot the differences between a conventional XC90 and this T8 plug-in hybrid version. There's a tiny T8 Twin Engine badge on the rear and there's the tell-tale electricity flap on the left flank for the plug-in charger. Speaking of which, the plug-in charging process is dead simple... You do not need a special adaptor fitted to your premises as the process requires just plugging the cable into a two-pin electrical adaptor. A built-in control unit ensures that there's no overheating or anything untoward. The vehicle will be fully charged in just three hours; it really is idiot proof to charge the Volvo XC90 T8. Cabling is supplied by Volvo and do not fret if you can't charge your vehicle as you simply revert to full petrol mode.
Quick summary
So, could the XC90 T8 succeed? There's no faulting the technology in the confines of a city where it seamlessly switches from electric to petrol without any hesitation. The launch route demonstrated that this is a brilliant car in heavy traffic and our fuel consumption figure of 3.9 L/100 km (achieved without too much effort) indicates just how economical this vehicle is. With some real focus (and less heavy-handedness on the accelerator pedal), you can achieve figures of below 3.5 L/100 km.
Our test route was a short urban one and we have further questions that can only be answered after a thorough road test. What is the fuel consumption if you spend the majority of time on the open road... and what's the XC90's performance like with the battery completely drained?
It's not the first luxury SUV hybrid to go on sale as Lexus has been at this game for quite some time now with its RX450h and Porsche has its Cayenne S e-hybrid, but it's the first plug-in hybrid on the market. Incidentally, BMW is about to join the fray with the X5 xDrive40e. Spec-for-spec, the Volvo XC90 T8 is the most affordable of the lot (of the current crop of SUV hybrids) and offers greater range, as well as more features.
Volvo XC90 T8 Price in South Africa
The T8 engine is available in three specification levels and comes standard with a 5-year/100 000 km warranty, 5-year/ 100 000 km Volvo Plan and Tracker Connect
Volvo XC90 T8 Twin Engine AWD Momentum R1 053 400
Volvo XC90 T8 Twin Engine AWD Inscription R1 092 100
Volvo XC90 T8 Twin Engine AWD R-Design R1 117 700
More Volvo XC90-related content:
Audi Q7 3.0TDI Quattro vs Volvo XC90 D5 Inscription (2016) Comparative Review (with Video)
Audi Q7 vs Volvo XC90 Video Review and Comparison
Opinion: Volvo XC90 vs The Hype
Interested in buying a Volvo XC90? Search for one on Cars.co.za