The introduction of a 5-speed automatic derivative of the Fiat Fullback – powered by an impressive new 2.4-litre turbodiesel motor – sees the Italian manufacturer offer a much stronger contender in the leisure double-cab category of the ultra-competitive bakkie market.
When the Mitsubishi Triton-based newcomer arrived on local soil in July 2016, the model's double-cab range consisted of just 2 derivatives and there was a lone, petrol-powered, single cab. Although the Fiat bakkie has not sold particularly well so far (its Japanese cousin has not fared much better), this may change thanks to the recent arrival of an automatic option.
By offering a "versatile and reliable" product to customers looking for a vehicle that can work and play in equal measure, Fiat is aiming to capture the imagination of leisure buyers (who might otherwise be considering a crossover/SUV to transport their families), while also tapping into the commercial market with a new turbodiesel-powered single-cab workhorse offering.
What's on offer?
The Fiat Fullback is offered in both single and double-cab guises. Single-cab Fullbacks are only available in 4x2 guise and is powered by either a 2.4-litre petrol engine offering 97 kW and 202 Nm of torque or a 2.5-litre turbodiesel with peak outputs of 100 kW and 324 N.m. These derivatives feature a 5-speed manual transmission that powers the bakkies' rear wheels.
The double cab line-up comprises one 4x2 and two 4x4 derivatives. The 4x2 SX version features the same powerplant as the aforementioned single-cab turbodiesel, whereas the 4x4 LX has higher outputs of 131 kW and 400 Nm respectively. Both are equipped with a 5-speed manual transmission.
The new top-of-the-range 2.4Di-D double cab 4x4 LX is powered by the same 133 kW/430 N.m motor (claimed to consume 7.8 L/100 km) as its Mitsubishi Triton cousin, in this case mated with a 5-speed automatic transmission equipped with a shift-on-the-fly Easy Select 2H/4H and 4L knob.
The Fullback is 5.204 metres long, 1.815 metres wide and stands 1.780 metres tall. The load bay measures 1.520 metres by 1.470 metres with a depth of 475 mm and a load-carrying capacity exceeding 1 tonne (braked towing capacity is 3 tonnes).
Standard features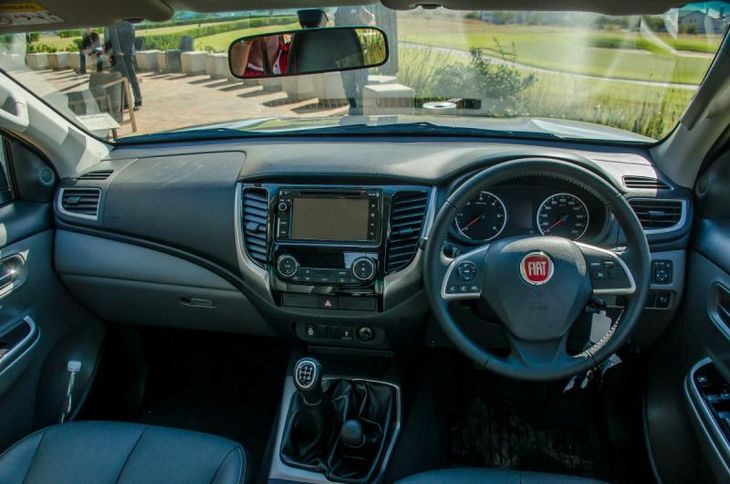 The interior of the Fullback is simple but comfortable and a touchscreen infotainment system is offered for double cab derivatives.
Standard features for the 97 kW Fullback 2.4-litre petrol 4x2 derivative includes power windows, manual air conditioning, central power locking, 16-inch steel wheels, cloth seats, ABS with EBD and a rubberised load bin.
As for the 100 kW 2.5-litre turbodiesel 4x2 SX derivative, leather seats, cruise control, electric windows, manual air conditioning, central locking, remote keyless entry, steering wheel controls, 17-inch alloy wheels, tow bar, rubberised load bin, two airbags and ABS with EBD are fitted as standard. To date, this is the best-selling derivative in the range (November 2017).
The LX trim builds on the specification of the SX derivative with the addition of bi-Xenon (auto-on) headlights, Bluetooth and USB capability, automatic conditioning, electric driver's seat adjustment and a reverse-view view camera. Two airbags and ABS with EBD are standard, while a satellite-navigation-equipped upgraded infotainment system is optional.
Moparise your Fullback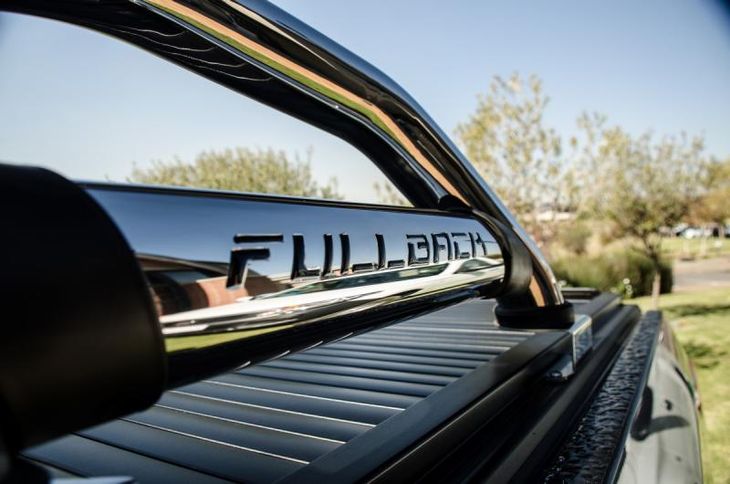 You can enhance the look of your Fullback with a wide range of accessories.
If you are looking beef up the look of your Fullback bakkie, there is a wide range of Mopar accessories available to you. Everything from nudge bars, side steps, rear sports bars and rear bumpers are on offer in either polished stainless steel or black powder coated stainless steel. Accessories can either be ordered with your Fullback or fitted as after-market additions by Fiat Professional dealerships.
For those with more active lifestyles, a Bosal towbar and a range of Thule roof bars will ensure that your sporting equipment is transported safely. Furthermore, various cosmetic and technical accessories are also available to customers including customised kick plates, chrome-plated side mouldings, chrome mirror housings, rear parking sensors, rubber and fabric mats, underbody protection, fog lights and special valve caps.
Fiat Fullback – prices in South Africa
Fiat Fullback 2.5Di-D double cab SX R402 900
Fiat Fullback 2.5Di-D double cab 4x4 LX R468 900
Fiat Fullback 2.4Di-D double cab 4x4 LX auto R499 000
The Fiat Fullback range comes standard with a 3-year/100 000 km warranty and a 5-year/100 000 km service plan.
More bakkie content:
Fiat Fullback Double-Cab 2.5 Di-D 4x4 LX (2017) Review
Mahindra Pik-Up 2.2CRDe Double Cab 4x4 S10 (2017) Review
Nissan Navara 2.3D 4x4 LE (2017) Review
Bakkie Comparison: Nissan Navara vs Ford Ranger Fx4 [with Video]
Nissan Navara vs Ford Ranger (2017) Comparative Review Video Part 2
In-Depth Comparison: New Hilux vs Ranger vs KB vs Amarok (video)

Toyota Hilux vs Ford Ranger vs Isuzu KB vs Volkswagen Amarok (2016) Comparative Review

Drag Race: Hilux vs Ranger vs Amarok vs KB
Interested in buying a Fiat Fullback?