Although the facelifted Mahindra Pik-Up doesn't look all that different on the outside, it is now a significantly improved product that is hard to beat at the price, as long as you can stomach the design.
We like: Refined and punchy engine, standard features, rugged feel
We don't like: Old-fashioned looks, lack of ESP, glare on touch-screen interface
Alternatives
More of a workhorse: GWM doesn't offer 4x4 versions of its more modern Steed 5E and Steed 6 pick-ups, and has downgraded the specification of the trusty Steed 5 derivatives to cater for a more workhorse-oriented market. Consequently, the Steed 5 2.0 VGT Double-Cab 4x4 SX can be had for around R70 000 less than this Mahindra, but is seriously outgunned in terms of features.
Chinese Ranger: The JMC Vigus 2.4 TDCi Double Cab AWD LX costs about R10 000 less than the Mahindra and, on paper at least, appears to be a solid rival. It is based on the current-generation Ford Ranger, but very much a rarity in SA. There aren't nearly as many JMC outlets as Mahindra dealerships, so back-up could be a concern for some potential owners.
A used alternative: For similar money you can get a diesel, double-cab 4x4 from Toyota or Ford, provided you are willing to go the used route and settle for a slightly older vehicle. In both cases we found 2016 examples of Toyota and Ford's entry-level 4x4s available at similar pricing. Have a look here.

Compare the Mahindra Pik Up with the GWM Steed 5 and JMC Vigus here
What's new?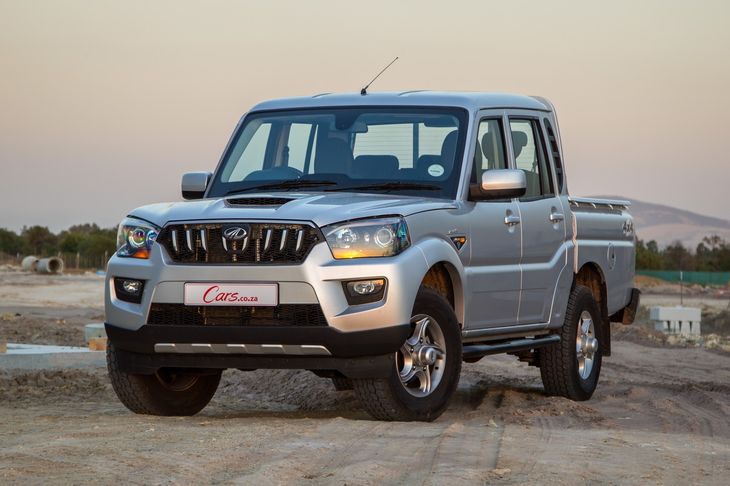 A somewhat more modern front-end can't hide the Pik-Up's otherwise old-fashioned design. It's not what one would describe as "stylish".
Indian brand Mahindra has built itself quite a solid name for trustworthy, rugged vehicles in South Africa, and our market currently ranks as one of the brand's most important export destinations. In fact, so important is Mzansi for Mahindra that it recently announced plans to build an assembly plant in South Africa. One of the products that the planned facility appears destined to assemble is the Pik-Up, recently launched in South Africa without the Scorpio moniker it carried before.
At first glance, however, the newcomer's updated looks can't hide its Scorpio legacy, leading to most test drivers expecting a vehicle that is also little changed under the skin. In reality, however, Mahindra appears to have carefully refined and improved nearly every facet of the Pik-Up, and the result is a bakkie that can now more confidently perform a dual-purpose role in the household – as a workhorse and weekend leisure vehicle.
How does it fare in terms of...
Design & Packaging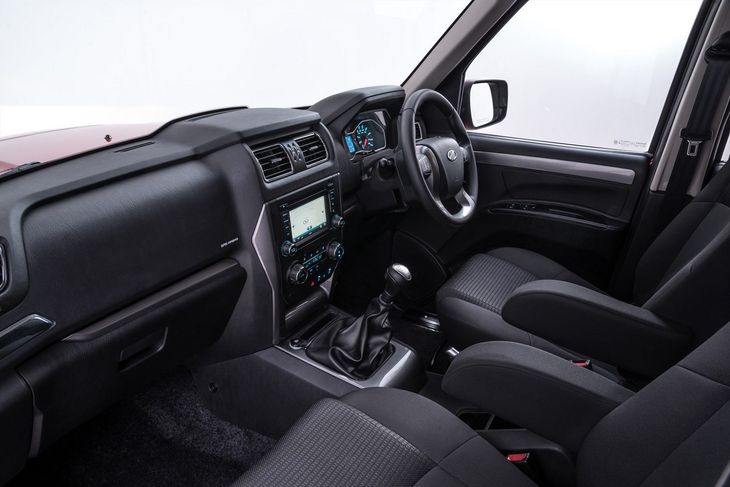 Redesigned facia is a vast improvement and general fit and finish is very good. Note standard navigation-capable touch-screen.
As this is not an all-new vehicle, it was always going to be difficult for Mahindra's designers to radically alter the appearance of the Pik-Up. After all, its Scorpio predecessor had a very unique, somewhat old-fashioned appearance. For the facelift, Mahindra focused its attention on the front-end, where you'll find a new grille, bumper and headlights. This S10-badged flagship even gets LED "eyebrows". 16-inch alloy wheels are standard and towards the rear Mahindra has improved the design of the cab protector. But that's it. With its relatively narrow track, upright cabin and ungainly rear-end, you can't get away from the fact that this is not a modern-looking bakkie, so if you want the neighbour's curtains to twitch with jealousy, the Pik-Up probably will fail that test.
Open the doors, however, and if you've experienced a Scorpio interior especially, you'll be quite pleasantly surprised by the improvements Mahindra has made to the cabin. Gone are the strangely textured and coloured plastics. Gone too, mostly, are the large panel gaps and ungainly design that characterised its predecessor. Instead, the new Pik-Up's cabin has a smart-looking charcoal black cabin with subtle subtle satin-silver accents here and there. Also impressing is the fit and finish – this could be the most promising sign yet of what's to come from Mahindra.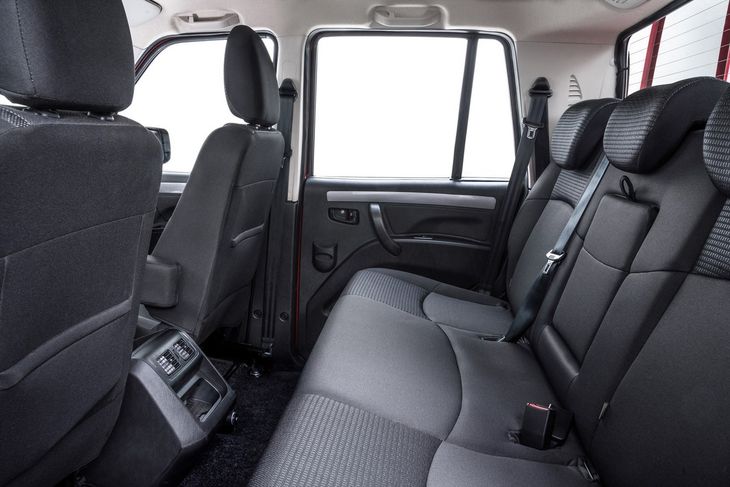 We'll come back to the standard features a bit later, but it's worth saying upfront that the refreshed design, much improved quality and generous standard features list do a lot to "hide" the vehicle's age from the driver and passengers. Nevertheless, the upright windows and the front occupants' proximity to the windscreen are obvious design throwbacks. Add a bad Cape crosswind and you'll also notice that the front side windows can occasionally pull away from the door frames, resulting in increased cabin noise.
Space is generous in the front, and both front chairs have fold-down armrests. In the rear, it's neither as spacious as some of the more modern offerings on the market, nor are the seats as comfortable, but you do get rear ventilation outlets and some oddments storage space. There are full safety belts and headrests for 3 rear occupants. It is also interesting to note that Mahindra has added rear Isofix anchorages to a safety package that also includes dual front airbags and ABS with EBD. Sadly there is no ESP.
In terms of load-carrying ability, Mahindra claims a payload rating of 995 kg for this model.
Engine characteristics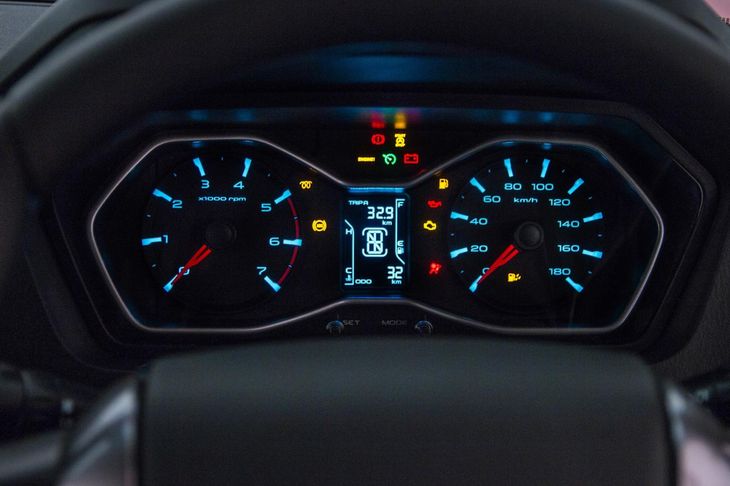 The S10 derivative gets a stylish instrument cluster. Engine revs smoothly and delivers good grunt.
The new Pik-Up is powered by an improved version of Mahindra's 2.2-litre mHawk turbodiesel engine that features variable gemoetry turbocharging. It develops 103 kW at 3 750 rpm and 320 Nm of torque from only 1 600 rpm (available until 2 800 rpm). The figures don't tell the full story. Mated with a new 6-speed manual transmission, this drivetrain has transformed the Pik-Up's driving characterstics... all for the better. There really isn't all that much turbolag, and the engine is both quiet and refined. Consequently, the Pik-Up is both pleasant and easy to drive around town, and a pretty decent cruiser as well, even at higher speeds. Mahindra claims a tow rating of 2 500 kg (braked) for this model.
Mahindra claims a combined cycle fuel consumption figure of 7.9L/100 km for this model, which compares well with similarly powerful engines from GWM and JMC. During our testing we achieved an average of around 9.4 L/100 km, which is pretty good for a large, heavy bakkie like this. A large 80-Litre tank ensures long distances can be covered without the need for refuelling.
On- and off-road ride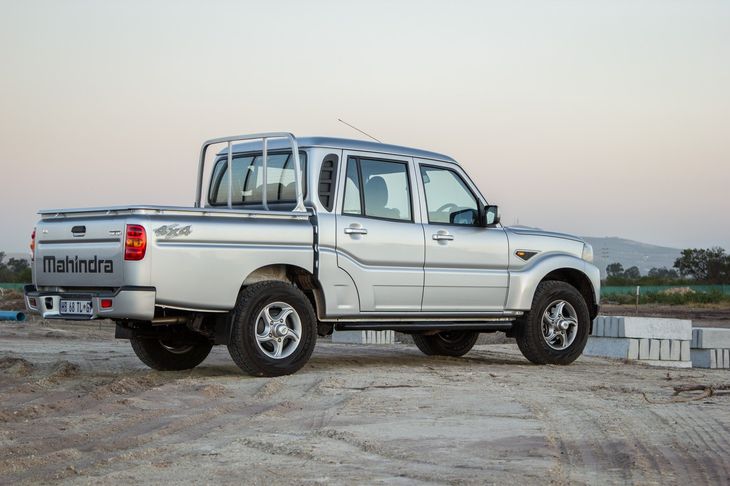 Various suspension enhancements and improved insulation have led to a much more enjoyable ride, on- and off-road.
Being one of the more, shall we say, "agricultural" offerings remaining on the market, the Pik-Up is likely to be subjected to use off the beaten track quite often. Thankfully, it feels well suited to such use, with its 245/75 16-inch tyres, generous 210 mm ground clearance and pliant suspension set-up making it a comfortable drive on poor road surfaces.
Mahindra says it has modified several suspension components significantly, and compared with the old Scorpio, it is definitely a much more settled, comfortable vehicle. A minor criticism raised by several testers, however, concerned maneuverability. The Pik-Up is a long vehicle (5 175mm) and the steering is comparatively heavy, which combined with the large turning circle can result in some frustration, especially around town.
This flagship 4x4 derivative is equipped with a low-range transfer box that allows for easy shifting between 2H, 4H and 4L using a rotary dial on the transmission tunnel. A mechanically locking rear differential is also standard. The Pik-Up seems pretty capable off-road, with low-range being sufficiently low enough to allow for strong crawling capability. It's also worth noting that during our off-road testing on particularly poor terrain the Pik-Up cabin's never emitted a squeak or a rattle.
Standard features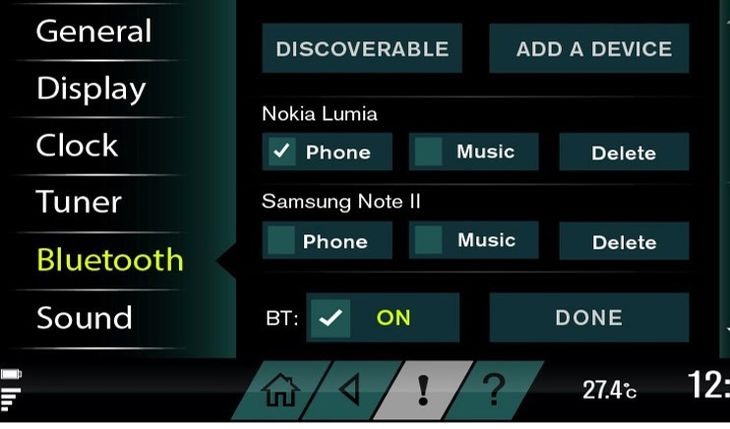 A standard touch-screen infotainment system (with navigation) is a real treat at this price level. Pity the screen isn't bright enough.

At the time of the new Pik-Up's launch Mahindra emphasised its desire to have the newcomer compete more effectively for the "leisure" shopper's money. In other words, the Mahindra Pik-Up is no longer pitched almost exclusively at the workhorse market, but needs to perform a dual purpose that includes weekend and lifestyle activities for families. As such, Mahindra has been rather generous with the standard specification.
Included are; climate control, remote audio controls, cruise control, auto lights and wipers and even a 6-inch touch-screen infotainment system with navigation – the system also includes USB/aux and Bluetooth support. While we appreciate the inclusion of a touch-screen at this price level, and the system generally works well, its positioning on the facia results in glare that often makes it difficult to use the system at all. And yes... we did turn the brightness all the way up.
Pricing & Warranty
The flagship derivative of the facelifted Mahindra Pik-Up sells for R354 995 (November 2017) and comes standard with a 4-years/120 000 km warranty and 5-years/90 000 km service plan. Services are conveniently staggered at 20 000 km (or 12 month) intervals. 4-years/120 000 km roadside assistance is also included.
Verdict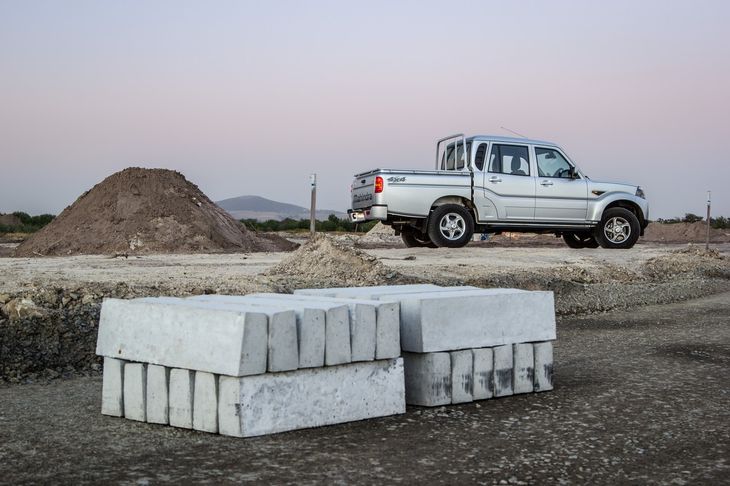 Appearances can be deceptive – similar in looks to its Scorpio predecessor, the Pik-Up has been transformed.
In many ways the Mahindra Pik-Up pleasantly surprised us. Yes, its appearance remains love/hate but there's an honesty about its design that, combined with a significantly improved overall offering, is quite alluring. At the price, there is nothing in the new-vehicle market that offers as comprehensive a package. The addition of a strong a warranty and service plan are further sweeteners to a deal that's already pretty appealing, given the big strides that have been made in terms of comfort and refinement. If you're in the market for a new bakkie that needs to work, but also perform a family role come the weekend, then this is well worth a test drive and serious consideration.
You may also be interested in;
Mahindra Pik-Up Double Cab launch review (2017)
Mahindra to build bakkies in SA
Extended Test: Foton Tunland Double-Cab 2.8 4x4 Luxury Review (2016)
Interested in buying a new / used Mahindra (Scorpio) Pik-Up?