It was only a matter of time before BMW joined the executive-class performance SUV melee. And, it's no surprise that with its all-new X3 M and X4 M models, the Bavarian marque stakes a bold claim for the summit of the segment. We sent Ciro De Siena to America to assess the mercurial (non-identical) twins on road and track.
BMW seems to enjoy sending its employees (and the media!) to the 'States. This could have something to do with the fact that the largest BMW plant in the world is based in Spartanburg, South Carolina. Around 10 000 people work there, and approximately 350 000 BMWs roll off the factory's assembly line every year – that's roughly 1 000 units per day. It takes about 10 hours to make a car and, like all large car plants around the world, BMW Plant Spartanburg is an astonishing feat of human ingenuity and consistent, round-the-clock management of parts and people.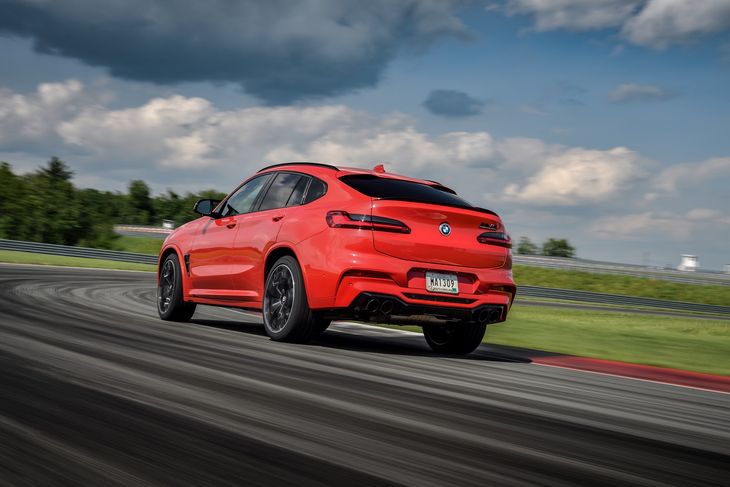 The choice between coupe SUV and an actual SUV is not as difficult this time around.
Last year, I drove the 2nd-generation X4 around BMW's own test circuit in Spartanburg. This year, we boarded flights bound for Newark, where we would be based and, where we would drive some incredible backroads to the rather magnificent Monticello Raceway in upstate New York.
Own a BMW? Tell us about your experience here.
Road trippin'
First up was an on-road drive in the new BMW X3 M. Personally, the X3 M just looks better than the X4 M, especially in profile. The former appears taut and purposeful. To put it bluntly: it looks fast. The X4 M, on the other hand, looks awkward; the design is less cohesive, although in the metal it is the more imposing-looking of the pair. Technically speaking, they are identical, however, the X4 M has a wider rear track and shoulders.
Outside of the big cities, America is a staggeringly large country connected by a network of dead-straight highways. But, if you venture off the interstates, at least in the area where we were driving, there are some rather magnificent twisty roads. I've always believed American cars "can't handle corners" because there aren't bends to "handle". But in my experiences of the US, it's not too hard at all to find a challenging driving road.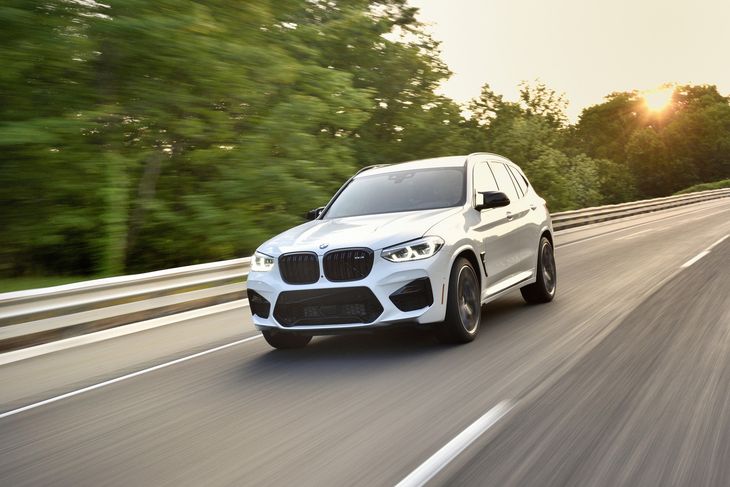 Great driving roads in America are marred by extreme speed limits. The M cars feel chained here.
However, it is difficult to enjoy them. The speed limit in most areas, even on deserted sections of tarmac with nothing but forest on either side of the road, is 35 mph (56 kph), which is a mere jog for the X3 M. And the state troopers are not very forgiving. That being said, it was a good opportunity to test if the stiffer, revised suspension, reinforced chassis and M differentials resulted in a less-comfortable ride quality than in a garden-variety X3.
And the answer is yes. It is harsher; there is more vibration and the effects of rougher road surfaces translate into the cabin more readily. But the difference is marginal; it's a compromise I suspect every M owner will happily make in exchange for sharper handling and better in-corner traction.
What makes an X3/4 an M car?
You may be asking yourself, what is the point of the X3 M and X4 M? Especially if, for a lot less money, you could tart up an X3 (that is to say pay BMW to slap an M suspension, -body kit and -badges on a lower-rung derivative), save a stack of money and call it a day.
I was curious about what really makes this X3 M special and fortunately, all 4 heads of the X3 M/X4 M project had been sent to America to handle questions from motoring journalists (and pretend to be interested in our dinner conversations – that's true professionalism for you!).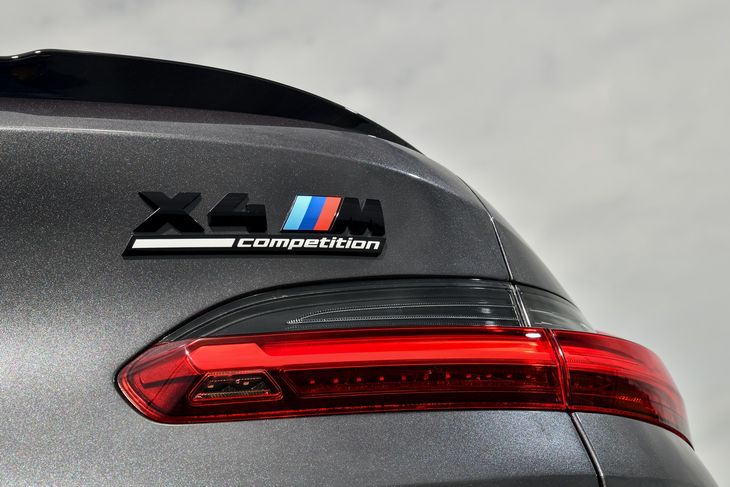 The Competition models have 22 kW more power than the standard M models.
The engineers I spent the most time with were the heads of powertrain and dynamic handling. And here, to the best of my memory and rudimentary note-taking, are all the changes that have gone into the X3 M and X4 M:
Both front and rear suspension linkages feature bespoke components, all beefier than those of the standard cars. The dampers are bespoke to the M models, as is the entire steering system. There are custom strut braces throughout the cars (see illustration) and key areas in their chassis have been strengthened (more on this later). Many of the components have been transplanted from the M5, including the entire front diff, the gearset in the transmission, the internals of the rear M diff and the prop shaft, the latter of which is built into a bespoke housing so that it fits snugly.
And then, of course, there is the engine. This is an all-new engine. I'm sure it has a code, but I honestly do not care about engine codes (apologies to the BMW aficionados who may be reading this). Here, however, is the most pertinent info you need to know:
The 3.0-litre, straight-6, twin-turbocharged motor has been developed from the ground up. It is cooled by 6 radiators – a pair of which feed coolant to an indirect intercooler mounted under the intake manifold. The twin turbos, which are identically sized, are nestled up against the block on the other side of the motor and feed charged air into the intercooler. This setup is beneficial because the charged air has less distance to travel to the intakes.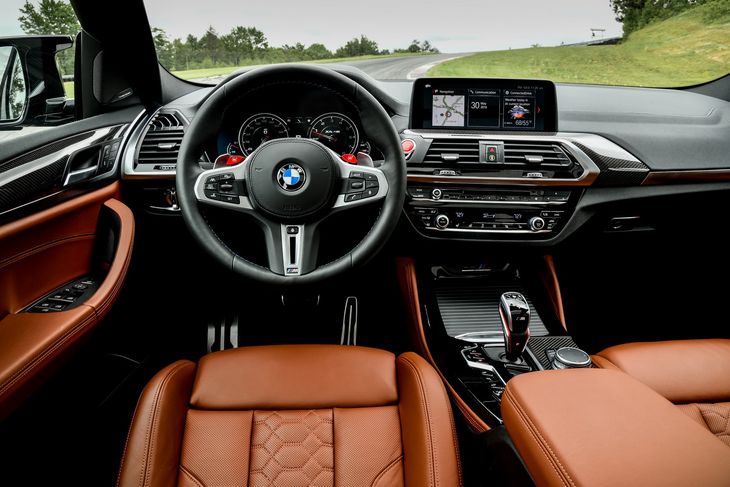 Red M1 and M2 buttons allow you to programme individual settings for quick access.
All of this results in outputs of 375 kW and 600 Nm for the Competition derivatives. If you're going through a strange time in your life and decide you'd like your X3 M with a bit less power, that's no problem, you can save a few Rand and live your life with 22 fewer kW, which seems rather daft.
The 0-100 kph benchmark for the X3 M- and X4 M Competition versions is a claimed 4.1 seconds, and um, non-Competition derivatives complete the sprint in a 10th of a second longer. To put that in context, this car's direct rival, the Mercedes-AMG GLC 63 S offers a smidge more power 380 kW, but pushes out an extra 100 Nm from its 4.0-litre twin turbo V8 engine, resulting in a 0-100 kph time of 3.8 seconds.
So, BMW hasn't gone balls-to-the-wall here in chasing its archrival's product in terms of outright power and torque, which is quite refreshing. The M Division has aimed for something else here, and I was hoping to discover what that is out on the racetrack...
Track time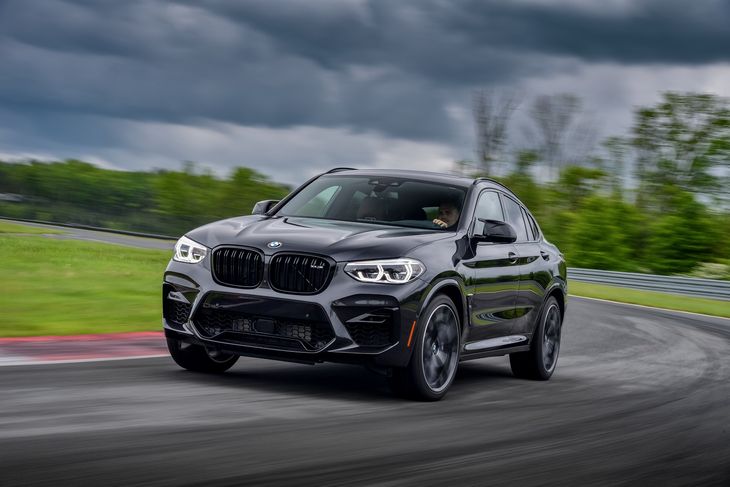 SUVs are becoming increasingly impressive in terms of their on-track prowess.
I have to say that I always appreciate it when manufacturers let us hammer their cars on a racetrack. After all, these are road cars and they have to endure savage beatings at the hands of self-styled driving enthusiasts on a circuit. On these launches, there is usually a huge tent or warehouse full of mechanics keeping the cars healthy (for the most part they change the demo vehicles' tyres and brakes, which take the brunt of the punishment).
We were to follow a pace-car for our hot laps and proceeded onto the circuit in twos. This presents a challenge for me: I have to present to camera while I'm out on track and I only have 1 opportunity to do so; the launch is full of other journalists and I can't mess with the day's schedule.
All that aside, BMW had obviously instructed the pace car driver not to spare the proverbial horses. After a few sighting laps, we applied maximum throttle... everywhere. The Monticello circuit has to be one of the best race tracks in the world: it's 5.8 km long with lots of elevation change, chicanes, long corners, tight corners, blind, off-camber exits... I was mightily relieved that it was dry and I was driving an all-wheel-drive car.
For a nearly 2-tonne SUV, the X4 M Competition impressed on this demanding North American circuit. The X-drive system has been tuned to be 100% rear-wheel drive until the system detects the front tyres need to step in and help out. If you'd like, you can select a mode to send all power to the rear all the time (if you really feel the need to drift the Bimmer). But, in various M modes, with various levels of traction control, you can quite carefully control how and when you'd like the system to apportion power to the front. Two M buttons enable customisation of 6 different parameters.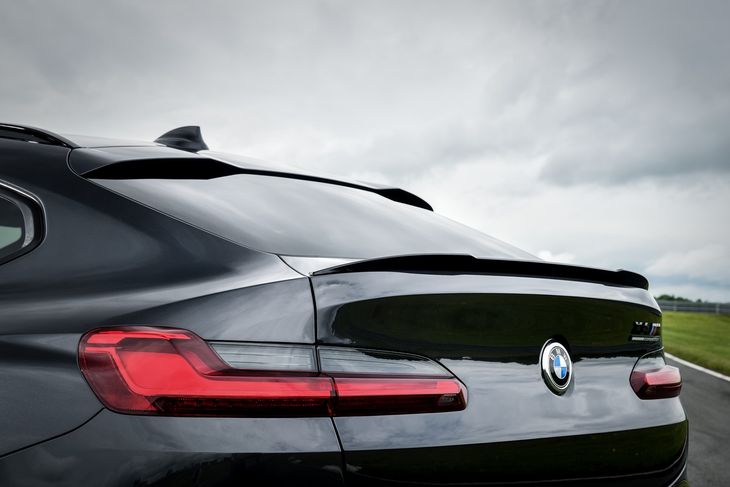 The X4 M gets a boot spoiler for added downforce.
Additionally, if the system detects understeer, it will send more power to the rear wheels, and using the M diff, push more torque to the outside wheel to help turn in the X4 M Competition's nose. Of course, all of this is happening relatively seamlessly underneath your backside.
What you experience in the driver's seat is a prolifically quick, yet very composed and eminently planted vehicle. The car feels very adjustable mid-corner and you can (sort of) steer it with your right foot, which I must admit is the first time I've felt that in an SUV.
Interestingly, the X4 M Competition is heavier than a standard X4 derivative and weighs 30 kg more than the Mercedes-AMG GLC 63 S (while developing 100 Nm less, remember). However, it feels properly punchy and it's certainly not a "momentum car" in which, if you make a mistake when entering a corner, you feel it bog down on exit. You can screw up your gear change, miss the apex, and then just drop 2 gears and plant your right foot, and the combination of low-down, readily available torque and the X-drive system will kick you in the back and blast you out of the corner.
There is some body roll – perhaps a bit more than I was expecting, but it's still impressive for what is a heavy, relatively tall car (compared to a sedan equivalent, owing to its relatively high centre of gravity).
How does it sound?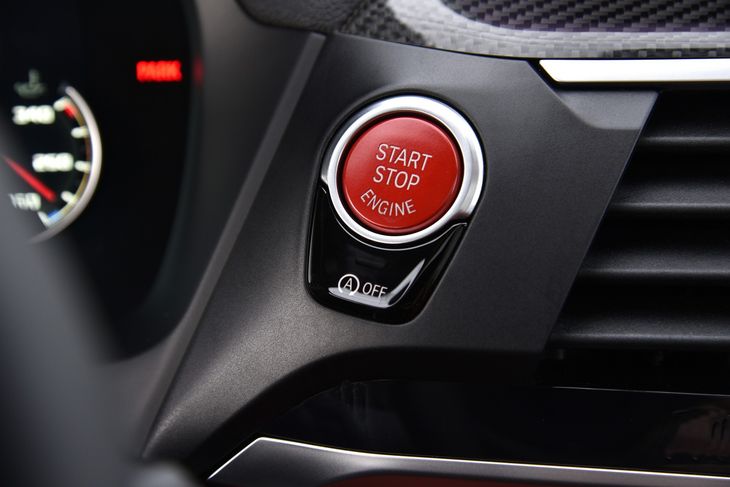 This engine sounds less fake and synthesised than other engines in the current BMW lineup.
The sound is pure BMW: a raspy inline-6 howl that is massively improved by valves that bypass the rear muffler. There's enough aural excitement on tap to keep you interested, but it's certainly conservative compared to the clatter and barks you'd get out of GLC 63 S or F-Pace SVR.
Much needs to be said of the engine. You might suspect that this will be the powerplant featured in the upcoming M3/M4, and I suspect you'd be correct. I asked the powertrain engineer directly about this and he said: "Well, we spent a lot of money on this engine. And I don't think the X3 M and X4M will be the only cars that will utilise it" (with a big smile on his face).
After my track experience, I reckon this engine actually feels totally under-stressed. I think it has plenty more to give and I suspect the next M3/M4 will have around 400 kW...
It's a peach of a motor. Power delivery is about as linear as you're likely to find in a contemporary twin-turbo motor. In fact, you'd be hardpressed to tell if it's turbocharged at all. You really do get the best of both worlds here; an engine that feels naturally aspirated, but has that massive whack of torque available at very low in the rev range (peak torque is available from 2 500 rpm). However, if you're looking for the elastic acceleration that most modern turbocharged engines provide – that whoosh feeling – you'll find more of it provided by the new V6 in the Audi RS4, for example.
Summary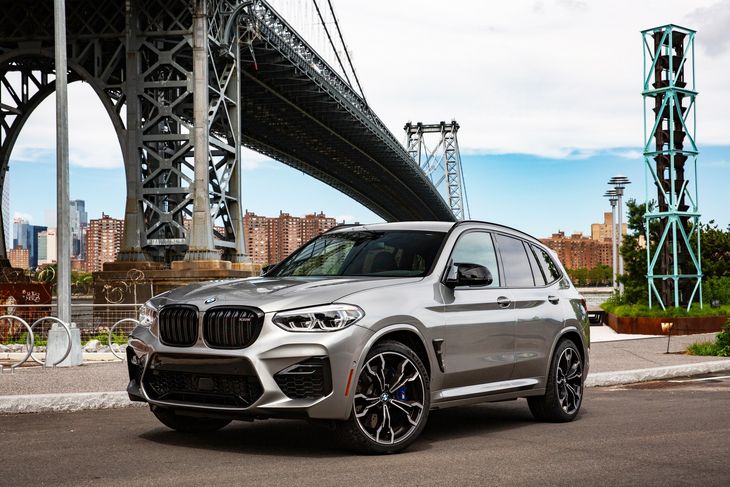 Ciro's choice would be the X3 M, in silver, like this.
I'm not too sure how I feel about these new Bimmers, or performance SUVs in general, for that matter. I get that the world has gone SUV-mad and I appreciate that South African motorists are particularly keen on the idea of owning a powerful (and rapid) SUV. And perhaps if you fancy a proper performance car, but need to tackle gravel roads every now and then, then a conventional performance sedan (or coupe) would just not be suitable.
The thing is: the sheer and simple physics at play here mean that the X3 M and X4 M will never be as good to drive, or offer as pure sportscar experiences as an equivalent-powered sedan or coupe, even with the same chassis, engine and transmission. They're just too tall and heavy.
It is remarkable that BMW has extracted such satisfying driving experiences out of these cars. But, I did come away wishing they were a bit more hardcore. They left me thinking that there was space in the BMW stable for even more focused, less compromised X3 M and X4 M models
The reality is that X3 M and X4 M owners are likely to spend 0% of their lives on racetracks in their cars. These cars needs to work in the real world; be excellent daily drivers. And in that respect, BMW has got the compromise right. I'll take an X3 M in silver thanks, with the bespoke 2-tone interior.
Related content:
BMW X3 M/X4 M Performance Parts Shown
Mercedes-AMG GLC 63 S Coupe (2019) International Launch Review
Jaguar F-Pace SVR (2019) Launch Review
Alfa Romeo Stelvio Quadrifoglio (2019) International Launch Review
Interested in buying a BMW X3 or X4?
Search for an X3 on Cars.co.za