Station wagons may be a dying breed in South Africa, but Audi continues to chase down that path with the estate-only RS4 Avant. It has no direct competitors, but does that make it the automatic choice... or the black sheep?
We like: Wagon styling, performance, accessible performance, practicality
We don't like: Not much. Is its estate shape a poisoned chalice?
Fast Facts
Price: R1 211 500 (May 2019, without options)
Engine: 2.9-litre V6 turbopetrol
Gearbox: 8-speed automatic
Fuel economy: 8.8 L/100 km (claimed)
Power/Torque: 331 kW/600 Nm
Own an Audi? Tell us about your experience here.
SERIOUS ABOUT BUYING?
What's new?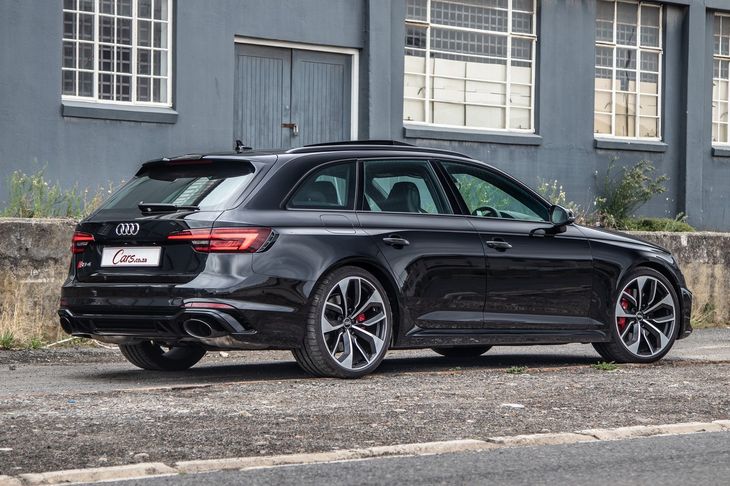 The last of a dying breed. The wagon, despite its immense visual appeal, does not sell particularly well in SA.
The RS4 has returned after a prolonged absence and again, it is only available in Avant guise. Not to worry though as the RS5 Sportback now fills the void for those who want a (subjectively) sexier shape. We reviewed that derivative recently; it utilises the same underpinnings as the RS4.
The sonorous, high-revving V8 that defined previous generations of the RS4 is no more: in its place is a smaller, lighter (by 30 kg), more powerful and torquier V6. Its capacity is reduced (from 4.2-litres to 2.9) and it gains a pair of turbochargers for improved performance and efficiency.
Compared with its predecessor, the 0-to-100 kph time drops by over half a second to just 4.1 seconds thanks to a mighty launch control system and a sports differential (optional) that can send up to 70% of the power to the rear wheels and up to 85% to the front, when required.
There's also a newer, fancy torque vectoring system that provides added turn-in via the machinations of the Audi's braking system.
The good
Menacing looks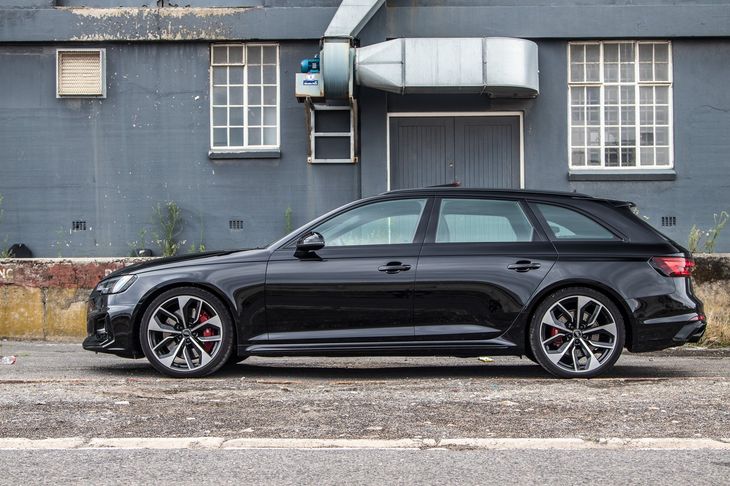 If you want something that people will notice, the RS4 ticks that box.
This car gets a lot of attention, more so than a normal sedan or coupe. Many people tend to appreciate a good-looking 'wagon, although (it seems) when it comes down to making purchasing decisions, they stick to ostensibly easier-to-resell standard designs. The performance 'wagon seems to attract a seasoned car enthusiast, not boy racers who are inclined to rev their cars' engines to high heaven in packed shopping-centre parking lots.
The Audi further sports defined, muscular wheel arches and a 30-mm drop (lowered ride height) that gives it natural stance and presence. Finished in Mythos Black with the gloss black styling package and blackened wheels, the RS4 wouldn't look out of place in Batman's cave.
It may be a little too "black-on-black-on-black" for some people's tastes, but the test unit kept getting compliments from onlookers, generating many thumbs up... and other real life-affirming emojis.
Undemanding and effortless
Audi has chosen not to chase BMW and Mercedes-AMG in the hunt for ultimate lap times – a quest that invariably leads to track-oriented (ergo compromised) cars. It seems Audi has found a sweetspot that blends ride comfort, performance and handling into a usable everyday package.
In Comfort mode, it's a capable everyday car that's not clunky, nor cumbersome on the daily commute and pleasant to stretch out on longer trips.
Lurking under all that (and just a click away) is the dynamic switch, which activates hair follicles on the back of your neck and initiates a noticeable upward adjustment of the exhaust volume. It doesn't growl like the V8, it's creamy and smooth with a burble off-throttle.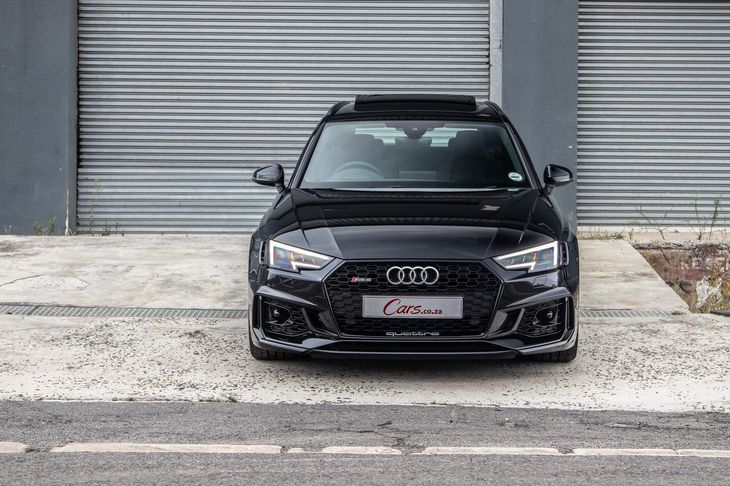 The RS4 forges its own path, remaining comfortable yet still rapid.
Of all the German performance cars in its rarefied segment, this has to be the easiest to get into and drive fast straight away. It's not daunting and the Quattro system always has your back, providing enough grip that you can safely push the limits of your (and your Audi's) capabilities.
The RS4's natural limit is well beyond the speeds that are safely attainable on a public road, so you should never run out of traction. The steering weighs up the more lock you add and although the Audi's tiller feels a bit unnatural, it's precise and easily adjustable. There's some give in the suspension, which means you have to pause for a second during quick direction changes for it to settle down... before you harass the RS4's throttle some more! Let's not forget, this is a 'wagon – not an outright sportscar – so it can be forgiven, even commended, for having a lenient ride quality.
Functional, classy and practical interior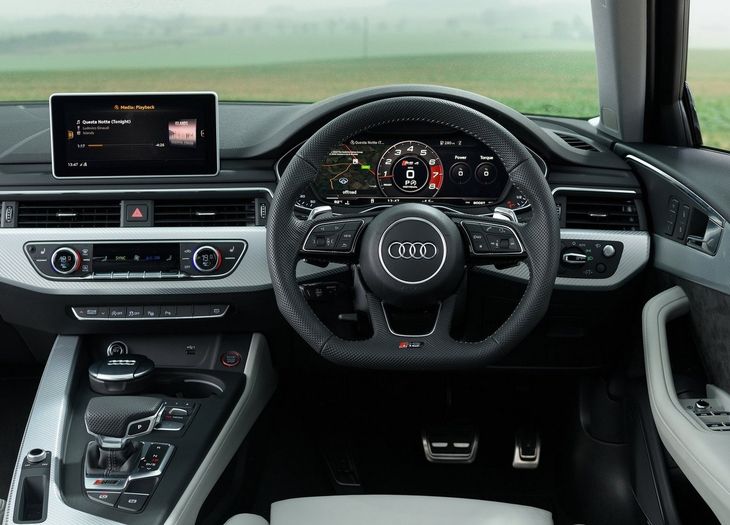 It's now an older-spec Audi interior, but it remains classy, well-built and stylish.
Audi continues to lead the pack in terms of interior appeal and build quality. The choice of materials are plush and the cabin exudes modernity and class. It's simple too; there are not a billion different colours around the instrument cluster or incandescent pink mood lighting options either.
The interior design feels homogeneous and familiar and seems to improve with every generation. The only gripe is that the drive select button sits way on the other side of the cabin and being a scroll system, you aren't always certain what mode is next, meaning you scroll through all the modes a few times before getting to the one you wanted in the first place.
Then there's the load bay, and what's not to love about a 'wagon's capacious back end? It's spacious, with a low sill, which makes it easy to load up luggage, bicycles and/or dogs. Some may find the carpeting a little too nice for a muddy family outing, but a few rubber mats would sort that out.
The not so good
Image-sensitive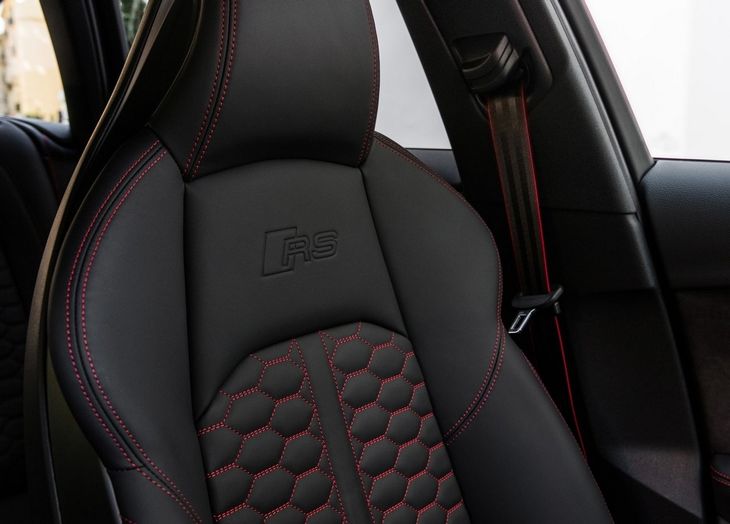 Comfortable bucket seats are available with optional heating.
Through no fault of its own, the RS4 falls into a dead spot in the market. We don't buy wagons anymore simply because if we want something with a lot of space, we buy SUVs "because they can go off-road too". That's just something the Avant can't match. In Europe, where every destination can be accessed 99% of the way on a tar road, the Avant makes a lot more sense, but with our larger dirt road network, higher ground clearance wins.
I suspect because of this, Mercedes-Benz and BMW have both dropped wagons from their local lineups and the RS5 Coupe will sell in greater numbers than the RS4 Avant. One thing is for sure, you'll certainly stand out as an individual in an RS4 Avant in SA...
Verdict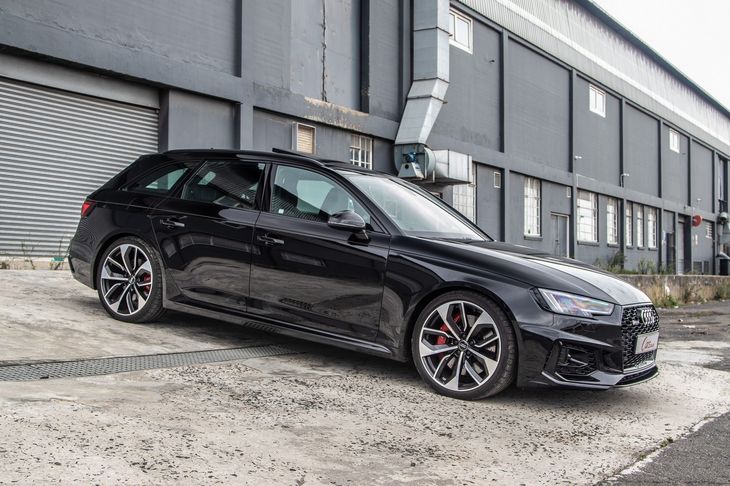 Mythos Black may not be for everyone, but it attracted a lot of attention.
Usually, when we review an Audi RS product, we would look at the long line of options and complain, however, even with R150k worth of options fitted to this RS4 Avant (R1 359 057 as tested) it's still less expensive than a Mercedes-AMG C63 S and an Alfa Romeo Giulia Quadrifoglio. BMW's M3 is no longer available as we wait for the new model to be introduced in the near future.
That leaves the RS4 Avant in a unique position, it's the only one of its kind left. It hasn't followed the crowd in trying to push on-the-limit handling and benchmark lap times and as a result, it's comfortable and composed over most surfaces. It's fast enough to get your adrenal glands pumping, but it's not going to bite you the second you lose concentration. Isn't that exactly how powerful family cars are supposed to behave?
Related content:
The new BMW M340i: Your budget-friendly M3