Mercedes-Benz has updated its GLC Coupe to keep it fighting fit in the face of fresh competition from BMW (and other marques in its segment). We've been to Frankfurt to find out whether the 380-kW 4.0-litre V8-engined 63 S version of Benz's hunchbacked executive SUV coupe still feels as good to drive as an AMG should…
How can an SUV be a coupe, anyway?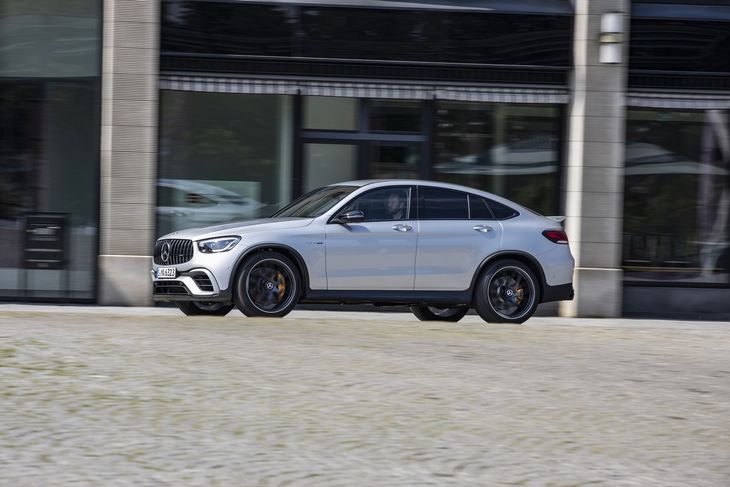 The GLC coupe looks lower and less like an SUV than the pre-facelift version.
Well, that's a good question, and there's no getting away from the fact that (a) this updated Mercedes-AMG looks rather awkward as a "Coupe" (quotation marks are the author's own) and that (b) the Three-pointed Star has really, really ripped off the BMW X4 in the styling department... it has a similar-looking abbreviated glasshouse and, like its Bavarian rival, looks slightly too chunky below the beltline.
Still, in AMG guise, the GLC Coupe looks a lot better. Quite apart from the bulging body kit, which bristles with more intricate bits of carbon-fibre than an F1 pitlane, there are the visual updates for this mid-life facelift of the executive SUV coupe range. That means you get new headlights and tail-lights (LEDs all-round this time, using a slimmer, slightly neater design); a new grille that is now wider at the bottom than the top, and, in AMG guise, uses a series of chunky vertical slats, meant to remind you of the classic SL racers that took on the Carrera Panamericana race in the Fifties. There are also new alloy wheels (now up to 21-inches in diameter), new exhaust-end trims and a new colour option — graphite grey.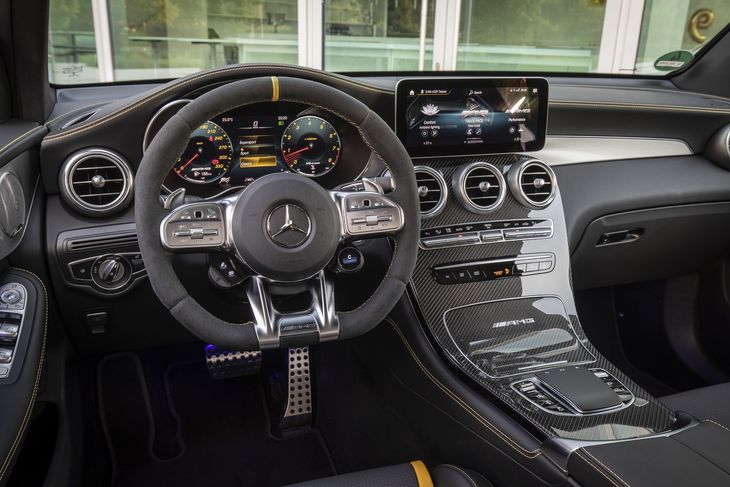 Facelifted GLC Coupe isn't equipped with the new MBUX design as seen in A and CLA.
Inside, the GLC Coupe (in standard form as well as this AMG version) gets new digital screens, lifted more or less directly from the C-Class sedan. There's a big 12-inch display in front of the driver, with multiple configurations and Avengers: Endgame levels of animation, complemented by a bigger central infotainment screen, which utilises the MBUX operating system. As with the C-Class, the separated displays don't look as instantly impressive nor as neat as those in the A-Class, CLA, nor GLE, but the system that runs on them is fundamentally impressive, not least the brilliant augmented-reality satnav, which paints a big blue arrow onto a live feed taken from the front-facing parking camera.
The AMG-fettled GLC Coupe also gets the same upgrades to safety and driver assistance systems as the rest of the GLC range (short version: smarter automated emergency braking and steering avoidance gizmos), but you want to know about the juicy AMG-specific stuff, right?
Own a Mercedes-Benz? Tell us about your experience here.
If an SUV can be a coupe, can it also be a sportscar?

With enough power and big V8 lump up front, has AMG made a real sportscar out of its SUV?
Well, it's going to have a darned good try! The 4.0-litre V8 twin-turbo engine (with both turbos mounted between the cylinders in a "hot-vee" formation) is basically carried over. Which is no bad thing — in S form it pumps out 380 kW and 700 Nm of torque. Combined with the 9G-Tronic 9-speed automatic transmission and 4Matic all-wheel drive (both come as standard) that's enough to post a 0-100 kph run of just 3.8 seconds. And then do it again. And again.
Indeed, the GLC 63 S Coupe's performance is of the sensory overload variety. Plant the throttle pedal hard and the juggernaut Benz leaps forward with venomous intent, squirrelling the back wheels with a touch of squeak and squeal if you're really aggressive. The new AMG-specific steering wheel — a multi-function device that's had a full set of buttons and touch-pads blunderbussed at it — contains a Porsche-style rotary switch for the Dynamic Select functions. These give you access to the usual Comfort and Sport modes, but also a Sport + setting and, better still, a Race mode.
There's a new F-Pace SVR that may prove stiff competition: read our launch driving impression here.
You're probably not supposed to engage Race mode on the public road, but we did anyway and the effect is dramatic. In Comfort, Sport, or Sport + the 63 S feels insanely fast, agile and chuckable. In the Race setting, it doesn't feel quicker – but a heap more aggressive. The sports exhaust opens up all its taps and begins to spit unused fuel down the pipes for optimal rumble. The gearchanges become snappier and the rear end feels a touch more mobile, thanks to the remapping of the software controlling the standard electronic rear locking differential. This car is not a drift tool in the manner of the C63 sedan or coupe (with their rear-drive-only layout), but more playful than you'd assume of a big four-wheel-drive SUV.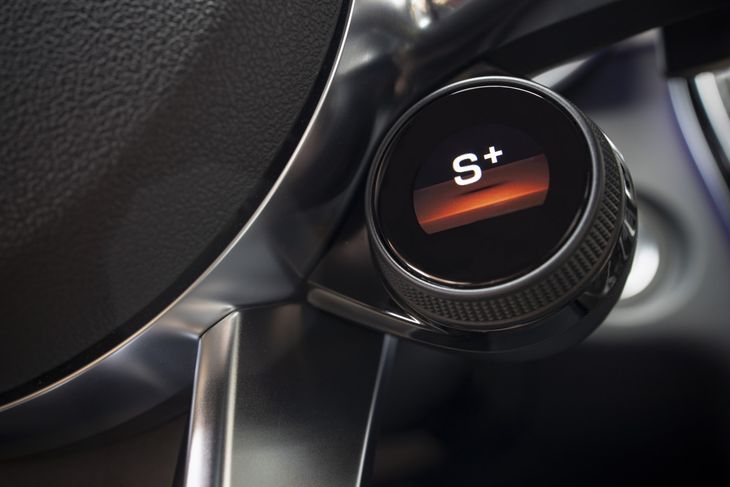 The new driving mode adjuster has moved to the steering wheel.
The adaptive air suspension is, obviously, pretty firm at all times (especially with the bigger wheels fitted), but tolerably comfortable in Comfort mode. Don't opt for Sport+ and Race modes unless the road-rollers have recently passed by, but you can tweak the individual settings if you dive into the various menus and buttons to have all the engine power and noise, but with softer damping.
Handling is similarly switchable, but never less than poised. Ideally, we'd like to see a little more feel and feedback from the electric power steering (it's not as addictively sharp as that of the Alfa Romeo Stelvio Quadrifoglio's, for example), but given the boundaries of the class, it's pretty good. The chassis is pliable and biddable, but with the tenacious levels of grip and traction, you do sense that if you ever get it wrong, it will be at very high speeds, ones at which I can pretty much guarantee that you won't enjoy what happens next! There's a sense of large mass on the move when the flagship GLC Coupe starts to wiggle its posterior, and at that point, backing off seems like a decent enough idea.
The Stelvio QV is for many, still the benchmark performance SUV: read our review.
It's an Autobahn monster, though, easily romping up to 250 kph when the traffic clears and seemingly easily capable of hitting its official v-max of 280 kph (if only a pesky Skoda Superb hadn't pulled into the outside lane). Fuel economy? Emissions? Probably best not to ask. You may find that a claimed consumption figure of 12.4 L/100 km causes offence... and if you drive it with gay abandon, you'll struggle to achieve anything near that.
Anything else?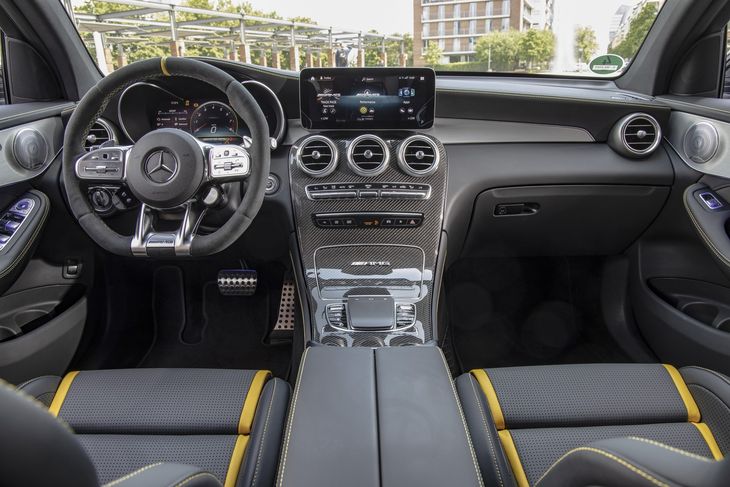 Alcantara, braided leather and faux carbon fibre, all the necessary equipment for a performance SUV.
If you can stomach the bills (and speeding fines), this is still a pretty practical car. The chop in the roofline comes above the limit for the load bay, so that's still got 500 litres of luggage space with the rear seats in place. Space in the back is good, albeit with a little less headroom than you get with the standard GLC (and you can have the AMG in that guise too, of course). Up front, the big, high-backed bucket seats are far more cosseting than they look, overall quality is excellent and, once you stop playing silly buggers with the throttle, it's a refined and comfortable long-haul cruiser.
Coupe or regular?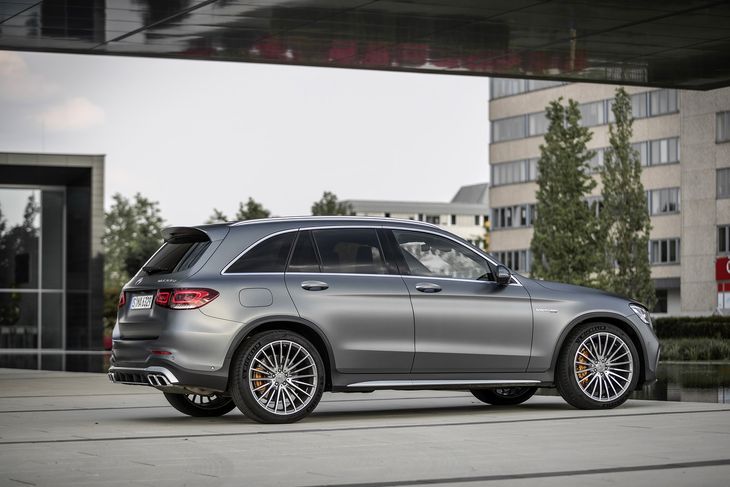 Compare the coupe to this, regular GLC 63 S... decisions, decisions.
If it were us, we'd go for the regular, high-back bodyshell. The style of these SUV-coupes has never held universal appeal, and the standard GLC is a pretty handsome vehicle, to begin with. That said, if you must have the GLC as a Coupe, then the AMG 63 S is the one to have, from a style point of view — the pumped-up body and extra spoilers give much needed visual focus to a shape that can otherwise look blobby and indistinct.
Summary
No-one needs a family-friendly SUV that can obliterate all other traffic in the outside lane, and do a tolerable impression of a supercar on stilts when the road turns. No-one actually needs that, but even so, we're glad this 1 exists. The GLC AMG 63 S Coupe is profligate in price and consumption, and a bit daft if you think about it seriously, but massively good fun, and suitably rip-roaring, all the same.
Interested in buying a Mercedes-Benz GLC/GLC Coupe?