In the fiercely competitive double-cab bakkie segment, a newcomer has a mountain to climb if it's to win the hearts and minds of the buying public. Mitsubishi's new Triton has already won us over in automatic guise, but how does the cheaper manual gearbox-equipped derivative fare?
We like: Extensive list of standard features, ride quality, off-road capability, good rear space, great engine
We don't like: The automatic offers more comfort and convenience
Alternatives
The staple: The Toyota Hilux is still South Africa's best-selling vehicle. Buyers flock to this long-established bakkie due to its reputation for reliability and excellent resale value. The top-spec Hilux 2.8 GD-6 double cab 4x4 Raider is priced from R554 600 (June 2017).
The Hilux's archrival: The Ford Ranger has led a strong charge against the Hilux and occasionally edged its Toyota rival in the monthly new vehicle sales statistics. Muscular looks, strong engines and advanced infotainment are the drawcards here and the Ranger 3.2 double cab XLT is priced from R578 900 (June 2017).
The beast: Volkswagen's Amarok has proved itself a strong competitor in the double-cab bakkie market. With an SUV-like interior and ride, flashy good looks and a huge load bay, it has won over more than a few buyers. The facelifted Amarok 2.0 BiTDI double cab Comfortline 4Motion automatic is priced from R544 900 (June 2017).
See how the Mitsubishi Triton compares with the Toyota Hilux and Ford Ranger
Facts & Figures
Price: R539 900 (June 2017)
Engine: 2.4-litre turbodiesel
Power: 133 kW
Torque: 430 Nm
Transmission: 6-speed manual
Fuel Consumption: 7.3 L/100 km (claimed)
Performance (0-100 kph): 10.4s
What is it?
When we reviewed the Triton 2.4DI-D Double Cab 4x4 Auto in April 2017, it made a positive first impression. We praised its good ride quality, engine refinement and generous list of standard features. However, we had not yet experienced the manual version of the Japanese bakkie. With a list price of R20 000 less than the Auto version, is this Triton the better buy?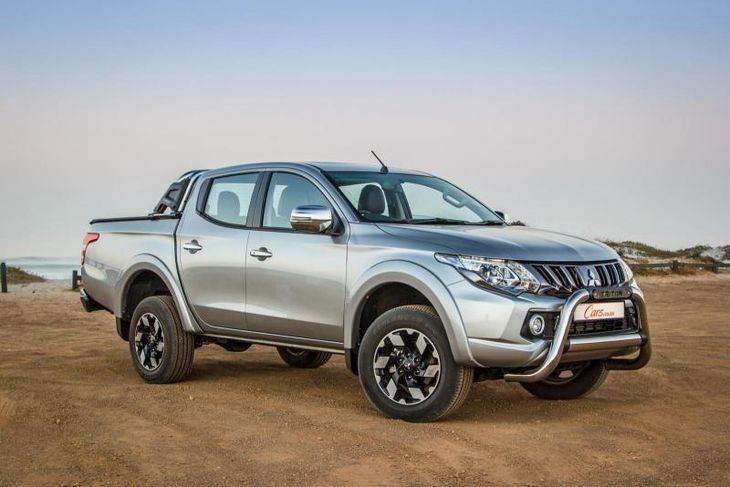 Although aesthetic appeal used to almost inconsequential in the bakkie market, kerb appeal is a must-have attribute these days!
The good
Solid performance
Mitsubishi's all-new 2.4-litre turbodiesel has been quite the revelation. With peak outputs of 133 kW and 430 Nm, it provides good tractability; we've been impressed with its refinement and economy. Mitsubishi claims the Triton will consume 7.3 L/100 km and during the bakkie's tenure in our fleet (during which time it did a lot of commuting), we saw an indicated 8.5 L/100 km. Meanwhile, the 6-speed manual transmission has a light clutch pedal action, but the gearshift throw feels like that of most other bakkies: long and a tad vague, at least compared with other passenger vehicles/family cars. Thanks to the flexible engine, however, you won't need to constantly work the gear knob to keep up with the flow of traffic.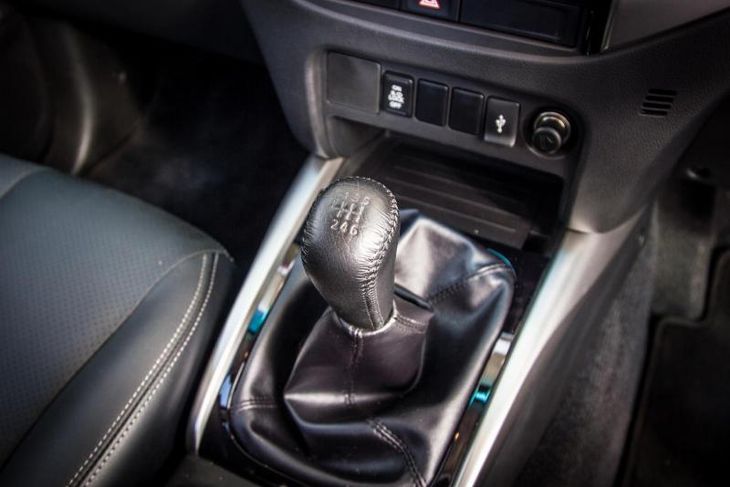 Six-speed manual gearbox is pleasant and simple enough to operate, but we'd advocate the automatic for ease of use.
Off-road skills
Seeing that the test unit had an all-wheel-drive configuration, we'd be remiss if we failed to mention the Mitsubishi's quartet of Super Select drive modes (2H, 4H, 4Hlc and 4LLc), which include low range and the ability to lock both centre and rear differentials. It's an easy system to operate as you simply come to a stop, engage neutral and select your driving mode. Once you're in the desired offroad mode, you can carry on driving and the Triton will impress if you take if on a serious trail. Remember not to ride the clutch!
In terms of the numbers, the Mitsubishi Triton has a claimed ground clearance of 215 mm, an approach angle of 28 degrees, a departure angle of 22 degrees and a break-over angle of 25 degrees, which are credible numbers.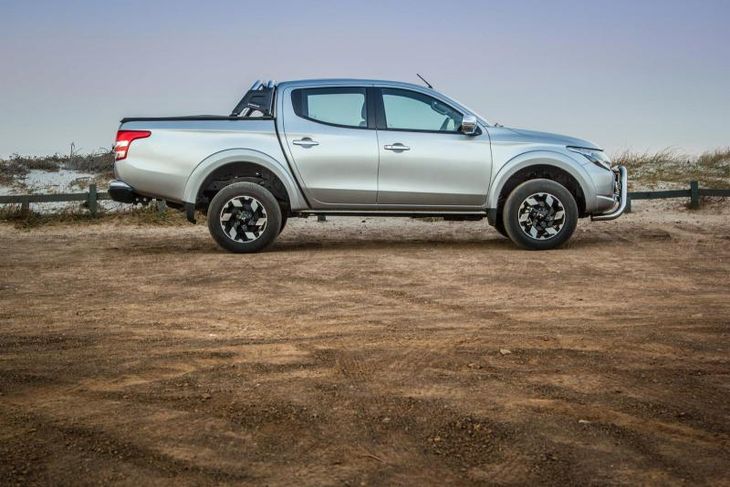 New Triton is a handsome and capable double-cab bakkie
Standard specification
At this price point of R500 000, you should be getting a fair whack of standard features. The Mitsubishi Triton does not disappoint in this regard as the vehicle comes standard with dual-zone climate control, comprehensive entertainment system, park assist with reverse camera, and leather seats, but strangely there was no cruise control.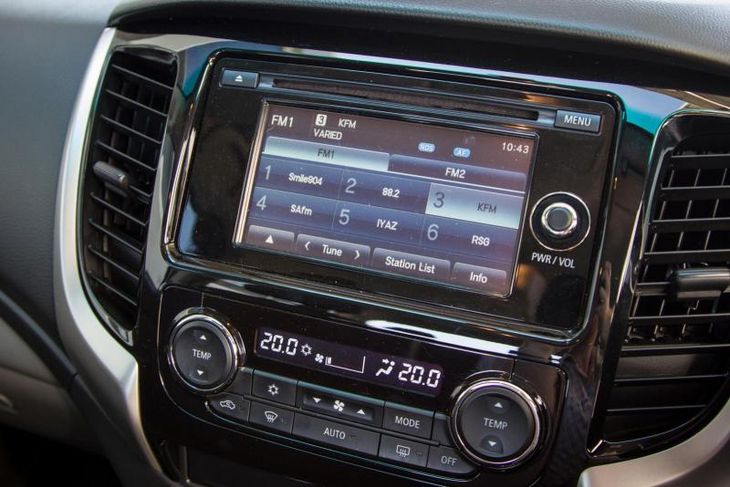 Mitsubishi Triton touchscreen infotainment system is straightforward to use
The bad
Not enough safety
These days there's a massive focus on safety when it comes to vehicles and we find it strange that the new Mitsubishi Triton can only muster just a driver and passenger airbag. All of its rivals offer up to 6 airbags, and in some cases, 7.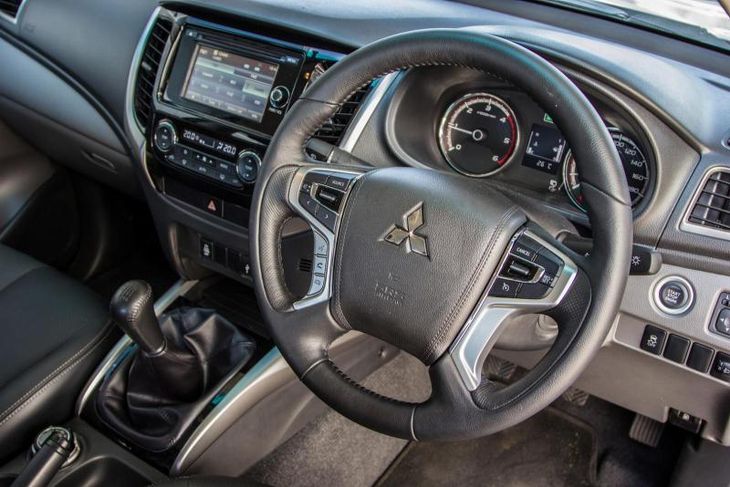 Manual gearboxes are dying out
Given how far we've come with the automatic and dual-clutch gearboxes, manual transmissions feel like old technology. The automatic sibling may only have five ratios, but it offers a far more relaxing drive. We'd be happy to pay that bit extra for the automatic as it'll be less effort and wear-and-tear.
Verdict
The Mitsubishi Triton, now in its 5th generation, has proven to be a surprisingly good bakkie in terms of offroad skillset and day-to-day comfort. In manual guise it's pleasant enough, but given how user-friendly the 5-speed automatic gearbox is, we'd advise people to fork out that bit extra for the clutchless option.
There's definitely enough kit and gadgets given its asking price and we felt that the cabin was spacious and comfortable, despite the vehicle's size which is fractionally smaller than its rivals. It drives well and certainly looks the part, and you're going to be brimming with confidence if you decide to head offroad, knowing that it's going to take a lot to get a Triton stuck. We were impressed with its handling traits on both gravel and tarmac.
With that in mind, we feel that the Triton is arguably the best product that Mitsubishi produces right now, but we're surprised that its Italian sibling, the Fiat Fullback, is matching it on sales. As a newcomer, we feel it offers enough to convince a good few South African motorists to consider it instead of the ever popular Toyota and Ford offerings.
Related content:
Most Powerful Double-Cab Bakkies in SA

Mitsubishi Triton (2017) – Meet its Rivals

Nissan Navara (2017) First Drive

What People Think of the New Nissan Navara

Extended Test: Ford Ranger 3.2 4x4 Wildtrak [with Video]

Ford Ranger 3.2 4x4 Wildtrak (2016) Review

The World's Most Badass Toyota Hilux [with Video]

Toyota Hilux 2.8GD-6 DC 4x4 Raider Auto (2016) Review
Want to buy a Mitsubishi Triton?