The initial model line-up of the third-generation Audi TT left some driving enthusiasts wanting more. So, does the hotter, faster TTS elevate the Ingolstadt-based brand into "Cayman territory"?
We like: A faster Audi TT – yes, please! Handsome looks, good build quality and refinement and adequate performance
We don't like: Has to be driven hard to be fully appreciated, overly hard ride quality when in Dynamic mode, steep price
Also consider: BMW M235i, Porsche Cayman, Nissan 370Z
The Audi TT lineup was recently extended to three models: the front-wheel drive and quattro TT, followed by this fiery TTS. The TTS promises extra kerb appeal, thrills and entertainment. It's not that lesser TT models are dull... We at Cars.co.za appreciate the merits of the Audi TT – it walked away with the Fun Car title in the inaugural Cars.co.za Consumer Awards.
What's new?
The Audi TTS cannot be mistaken for any of its brethren: it's got bigger wheels, TTS badging on the front and rear, as well as a quartet of exhaust tips. This particular test unit was specced with a Vegas yellow paint job (a R2 500 option), which is highly eye-catching. It certainly looks racy with its rear spoiler extended; it's sleek and purposeful, as these pictures attest.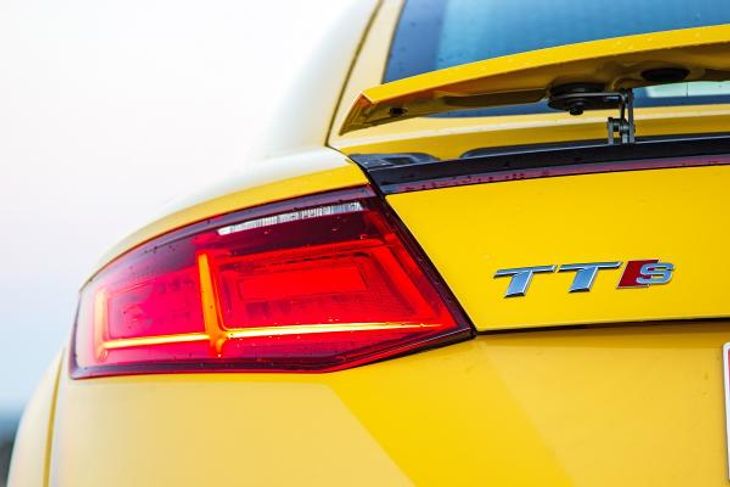 There's a substantial power hike too. Although the displacement of the engine has remained the same as the 2.0T models, the power and torque outputs have increased to 210 kW and 380 Nm respectively. These gains (of 41 kW and 10 Nm) seem moderate (especially in terms of torque), but the TTS feels noticeably more eager and faster than standard Audi TTs.
How does it fare in…
Features and technology?
The minimalist interior of the Audi TTS is nothing if not a class act. The build quality is excellent and it can be argued that the Audi Virtual Cockpit and the climate controller ventilation pods have set a precedent for forward-thinking sportscar dashboards and instrument binnacles. In the TTS' application, the rev counter dominates the display, which adds to the sporty character of the car. There's a satellite navigation function built into the Audi Virtual Cockpit too, and the system is very user-friendly. The seats are well-bolstered and although body-hugging, offer admirable comfort on the daily commute.
This TTS press unit was equipped with Audi's Matrix LED headlights. While they cost R12 800 extra, they're very effective.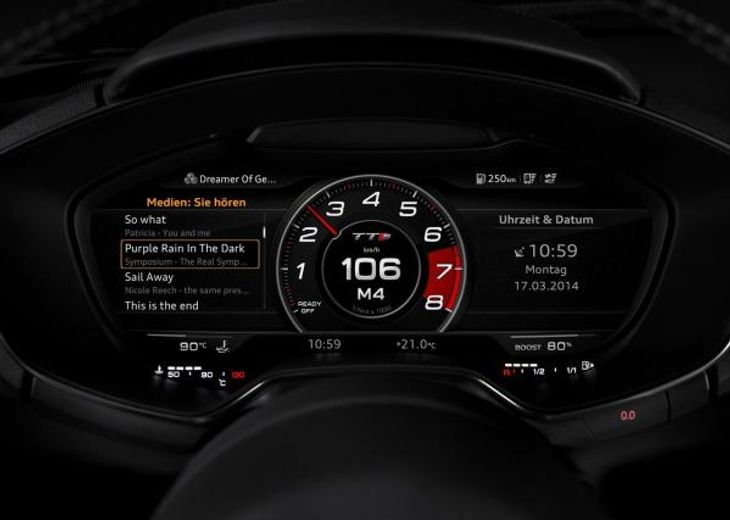 Performance?
As the TTS is a hotter version of an already sporty vehicle, its performance has to hit the mark. Audi claims a sub 5-second run from 0 to 100kph and with launch control activated, the all-wheel drive machine positively vaults off the line (it'll go on to a limited top speed of 250 kph). Some team members remarked that a driver needs to push the TTS closer to its limits to really unearth its extra performance cachet and, other than the generic exhaust pop that accompanies up changes through the slick dual-clutch transmission, there's very little in terms of extra aural drama. The upcoming TTRS will certainly address that...
The six-speed twin-clutch S tronic transmission is very well calibrated to the engine's performance characteristics –you can either leave the 'box to its own devices or actuate manual shifts by utilising the steering-wheel mounted paddles. It's a superb transmission and effortlessly shifts cogs without any hesitation or jerkiness.
Ride and handling?
The Audi TTS is a fine-handling machine. Despite a relatively heavy kerb weight of around 1 400 kg (for such a compact car), it's effortlessly agile and the quattro setup encourages novice drivers to press on with confidence. The TTS is forgiving in that it remains composed when a driver makes a mistake and particularly sure-footed in slippery conditions, but ultimately rewarding to drive with precision and zeal. The thick-rimmed steering wheel is a joy to use too; it's not overly light in feel and appropriately responsive. The all-wheel drive system cleverly balances power delivery between the front and rear axles, and if you time your throttle inputs correctly, 100% power can be sent to the rear, giving the TTS that proper "driver's car feel".
The Audi TTS' driving modes are worth mentioning: you can change from Comfort to Eco (when you want to optimise efficiency while you're travelling in peak-hour traffic conditions) and when you're in the mood to drive enthusiastically, Dynamic. Your best bet is to select Individual and customise the settings in the Drive Select settings... We found that selecting Dynamic (to sharpen up engine and transmission behaviour), but Comfort (to make the suspension more supple) was the best balance. Herein lies one of the Audi TTS' shortcomings. The adaptive suspension is a treat, but when you activate Dynamic mode, it's simply too firm for South African back roads and the jarring, which seems to emanate from the rear suspension, can induce winces over bigger bumps. In Comfort, the ride's pliant enough for most road conditions.
Value for money?
Whereas the TTS offers enough to justify its price premium over its lesser siblings, it's priced in a bracket where customers want a bit more, not only in terms of performance, but also snob appeal. A well-specced Audi TTS costs near the R800 000 mark, which is enough to bag you a Porsche Cayman PDK – a supremely accomplished sportscar. The Audi TTS would probably thump the Cayman in terms of straight-line performance, but there's no denying the prestige of the Porsche badge.
What's alarming is that outside of the Volkswagen Audi Group family lies a rival that boasts more power, but crucially, comes in at under R600 000. Admittedly, when the BMW M235i DCT is specced up to the Audi TTS' level, it will cost about the same. The BMW M235i is a proper hands-on driving machine and rear-wheel driven, which some purists prefer. It outguns the Audi TTS in terms of power outputs too, with 240 kW/450 Nm as opposed to 210 kW/380 Nm.
Verdict
While the Audi TTS is unquestionably a fast, stylish and composed sportscar, it ultimately suffers because it is "a sportier", as opposed to "the sportiest", TT (given that a TTRS is in the pipeline). It would have benefitted from a more aggressive exhaust note and then there's that price. As mentioned above, it sits in an awkward place in the German hierarchy of small performance coupes. A Porsche Cayman is definitely in the ballpark, and the BMW M235i promises more thrills for less.
What the TTS does well is provide a multitude of driving experiences, as well as the smartest, well-built interior in its class. The Audi's willing to offer up a hard-edged experience and carve up mountain passes without breaking a sweat, but will happily creep through bumper to bumper traffic ever morning. It's an all-rounder TT, which is its forte, as well as its drawback.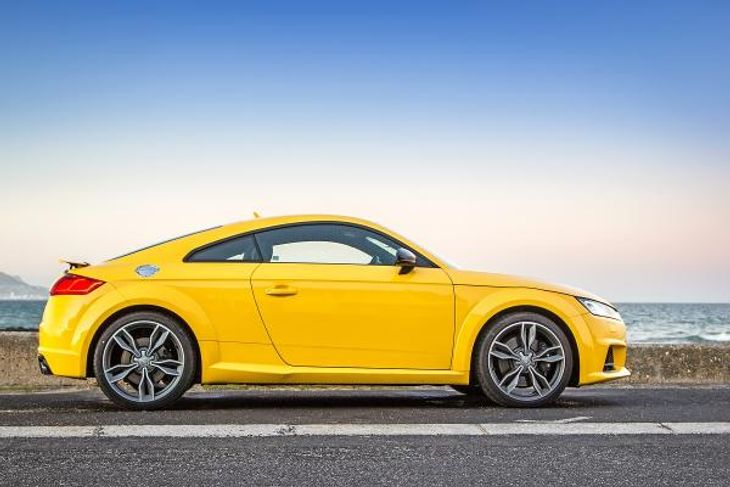 Audi TTS price in South Africa
The Audi TTS is priced from R728 500, with this particular unit costing R757 820. It had three optional extras fitted: Matrix LED headlights R12 800, Fine Nappa leather-trimmed seats R9 520 and a Black styling package R7 000.
Team opinions
"Although Audi S models never get the credit they deserve, they arguably offer the best balance of performance and comfort at the higher end of their ranges. Those who regard the TTS as a moderate step above the 2.0T models, as opposed to a flagship model, won't be disappointed, but they'll have to be willing to make peace with its firm ride quality." Mike Fourie