BMW's adoption of turbocharging technology ushered in a new era for the brand's M cars, but not everybody, not least aficionados, is a fan of the new wave of forced-induction motors. As the spiritual successor to the incomparable 1M Coupe, the M2 aims to present a performance BMW in its most distilled, nimblest form. It has many expectations to live up to — and, as we found, exceeds them with ease.
We like: Driver involvement, distinctive engine sound, forgiving handling, searing pace
We don't like: much more expensive than new M240i, unimaginative interior detailing, thirst
Alternatives:
For the ultimate small sportscar pedigree: Although we've yet to test it, judging by its lineage, the Porsche 718 Cayman S PDK might be pricey, but is unlikely to disappoint.
For explosive performance, with 4 doors: The Mercedes-AMG CLA45 may not be as visceral as the M2, but the Benz's extra pair of doors on this "coupe" are a boon.
For more practicality: Although the Mercedes-AMG A45 certainly has more kerb appeal than the Audi RS3, the latter is more than quick enough... and suitably family friendly.
For similar looks, but better affordability: BMW is about to replace the M235i, with the 250 kW M240i, which, in top-spec, will cost (only) R653 002 when it becomes available.
A considered second-hand option: This M2 derivative, as tested, costs more than R900k... you could buy a barely-used BMW M4 for that money.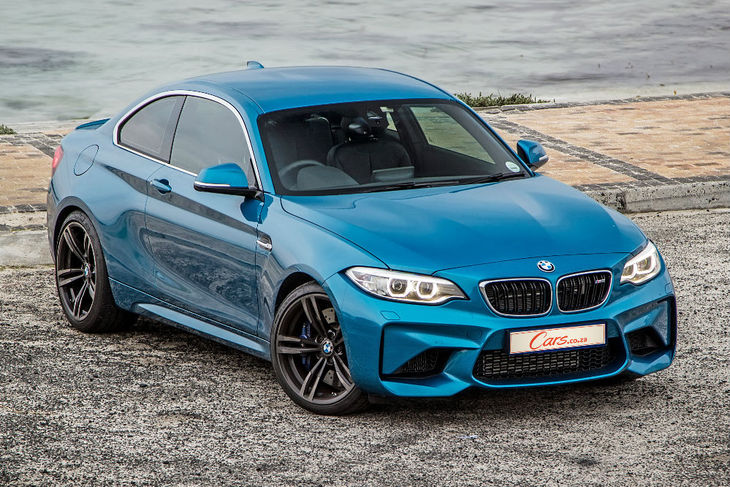 Ever since the BMW 1M Coupe made its brief appearance, enthusiasts have eagerly awaited the M2.
What is it?
Following the introduction of the limited-run 1M (it was not called the M1 because that was BMW's first and only supercar) and after the production run of the first-generation 1 Series had ended, the Munich-based manufacturer opted to rename the coupe, MPV and convertible variants of the current hatchback the 2 Series. Until recently, the M235i (soon-to-be M240i) was the top-of-the-range 2 Series Coupe derivative, offering 240 kW (250 kW) fed to the rear wheels via an electronic limited slip differential. It certainly has its fans, but given the enthusiastic response received by the 1M, it stood to reason that there would eventually be a double-cream M version of the 2 Series.
This time, it would be a series production car. With a 3.0-litre straight-6 motor that churns out 272 kW and 500 N.m, the M2 incorporates elements that helped establish BMW at the forefront of the compact sportscar market. So now that the M3 is a sedan and costs in excess of R1 million (and its M4 Coupe sibling is even more expensive), is this the M car that informed driving enthusiasts should reasonably aspire to own? Does it deliver a visceral and involving driving experience that does an M car justice? Does it make the all-wheel-driven hot hatch brigade seem as if they're trying just too darn hard? And, lastly, will it make Porsche regret fitting 4-cylinder motors in its 718 Cayman range?*
How does it fare in terms of…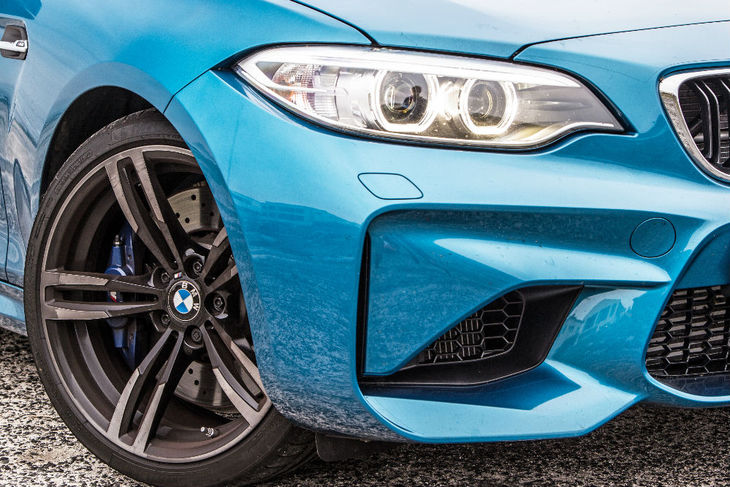 The detailing of the M2 is relatively subtle. Note the fins in the bumper and the 19-inch double-spoke wheels.
Design & Packaging?
Given that the M235i set the bar for a pint-sized two-door performance machine pretty high (there is nothing apart from a Kia Koup(!), Porsche Cayman and Mercedes-Benz CLA to compare it with), the M2's exterior treatment is musclebound and handsome (it's particularly good-looking in profile and the aerodynamic addenda are eminently tasteful), but the Bimmer falls short of being a classical beauty… Its compact dimensions just don't lend themselves to expanses of svelte sheet metal.
Having said that, the Long Beach Blue paint finish (one of only four colour options) lends the M2 a sense of theatre, which is helped by those eye-catching 10-spoke two-tone 19-inch rims and the quartet of burbling exhaust ends. It's a pity, then, that the interior is very derivative of the 1 Series/2 Series cabin, with "carbon-weave" trim, dashes of Alcantara (on the door cards) and contrast stitching being the most obvious supplementary adornments, apart from strategic M lettering.
The M2 comes well equipped, but an automatic anti-dazzle function for the rear-view mirror, rear PDC and electric seat adjustment are somewhat irksome optional extras. The driving position is excellent, it must be noted, and testers universally praised the circumference and thickness of the wheel. In the interests of overall comfort, BMW resisted the urge to fit seats with chunky bolsters; we think it's a worthwhile compromise, there's always the M Performance parts and accessories catalogue…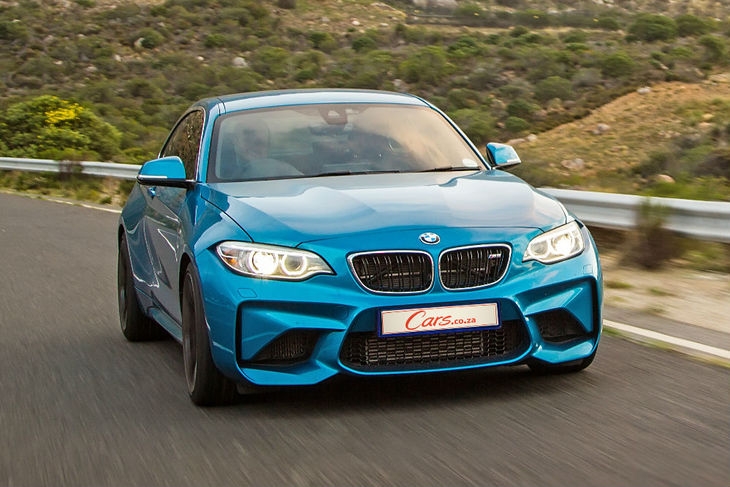 The lush sound of the M2's quad pipes reverberated on Cape Town's Boyes Drive during our photoshoot.
Performance & drama?
BMW M engines owe much of their reputations to tractable powerplants that deliver their peak outputs linearly and in crescendos at higher revs. The advent of turbocharging (with the current M5/M6, from around 2011, more recently the X5 M and X6 M) and M3/M4 changed all that; force-fed motors deliver maximum torque in a wide band from low revs, but aren't as free-revving, nor as sonorous as their predecessors' V8s and straight sixes (as detractors of BMW's Active Sound engine-note enhancement technology on the aforementioned models will quickly point out).
The M2 proves that you can, as the saying goes, have your cake and… devour it. It might be based on the M235i's single-turbo N55 engine, but updated internal components borrowed from the S55 (in the M3/M4) make the newcomer's motor nothing short of a revelation. Not only does the powerplant emit a marvellously memorable straight-6 baritone right from start-up, but the revolutions cascade seamlessly to the redline (you can hear the M2's exhaust note in the post below).
Full torque of 500 Nm is available from 1 400 to 5 560 rpm (less than 1 000 rpm before peak power of 272 Nm is availed) and if ever the hair-trigger 7-speed dual clutch transmission seems tantamount to offering trays of delectable desserts to otherwise stuffed banqueters, the M2 M-DCT makes a case for its driver simply selecting a challenging piece of road, setting the 'box in Sport Plus mode, and focusing their concentration on steering and pedal inputs. That's tractability for you.

Ride quality & handling ability?
If you haven't reviewed Cars.co.za road test editor Ashley Oldfield's expert opinion on the M2's on-track prowess (be sure to watch his video commentary as well), please do so now, because for the purposes of this review, we will focus on the car's performance as an everyday driving machine.
A popular opinion of recent M and M-fettled cars is that to find an optimal balance between dynamic damping and overall ride comfort an adaptive active suspension is a must-have option, but, it can be argued the M2 demonstrates that, forgive us, less can be more. Sure, expert pilots can toggle the steering settings and throttle sensitivity to their tastes – and even set the stability control system to facilitate indulgent (but-not-too-leery) tail-slide action – but, as a budding enthusiast's driving tool, the M2 seems docile, as if well confident within its (sizeable) performance envelope. By contrast, the M3/M4 can startle an uninitiated driver by dishing out its torque quite abruptly…
One would expect that the relatively truncated wheelbase would make the M2 feel slightly on edge near the limits of adhesion, but its chassis palpably inhibits twitchiness. That, or perhaps the Bimmer communicates the interplay between its front/rear ends and terra firma so articulately (through the rim of the steering wheel and the base of the driver's seat) that well-judged braking and steering inputs become almost instinctive to an absorbed M2 pilot. Whatever the root of this trait, the newcomer lays down its power with alacrity; it's tailor-made for the age of instant gratification.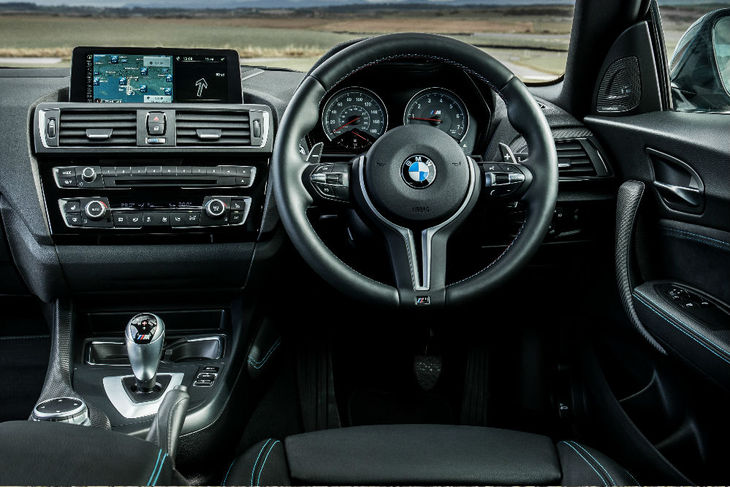 A superb driving position and grippy, 3-spoke steering wheel are the biggest highlights of the M2's interior.
Value for money?
With an asking price of just over R900 000 (in self-shifting M-DCT guise), the reasonably comprehensively specced BMW M2 is somewhat expensive compared with the sub-R800 000 Mercedes-AMG A45 and Audi RS3, but better matched with the Mercedes-AMG CLA45 (R838 714) and more affordable than the Porsche 718 Cayman S PDK (R984 000 with 5-year maintenance plan).
Even though the CLA45 offers the advantage of an extra pair of doors (plus the most powerful 2.0-litre engine in series production) and the Cayman S could prove to be a more scalpel-like precision sportscar than the M2*, one fact is indisputable: Neither offer a characterful and soul-stirring straight-6 motor, nor, by virtue of the path laid by its predecessor, the BMW's "Son of 1M" status.
In many ways, the M2's biggest competitors hail from within the BMW stable. Can the M2 M-DCT (R913 910) justify its price difference over an M240i M-Sport AT (R653 002)? Is the extra 22 kW (the cars' torque outputs are the same) worth it? If you cannot afford an M2 and see an elemental driving experience as secondary in importance to performance, luxury and a marquee image, then no. Also consider that, given that the first consignment of M2s were sold even before they landed in South Africa, an M2-level of performance can only be procured (in the BMW stable) by way of a used M3 or M4 – but for a similar price (or perhaps less) and there are many examples available.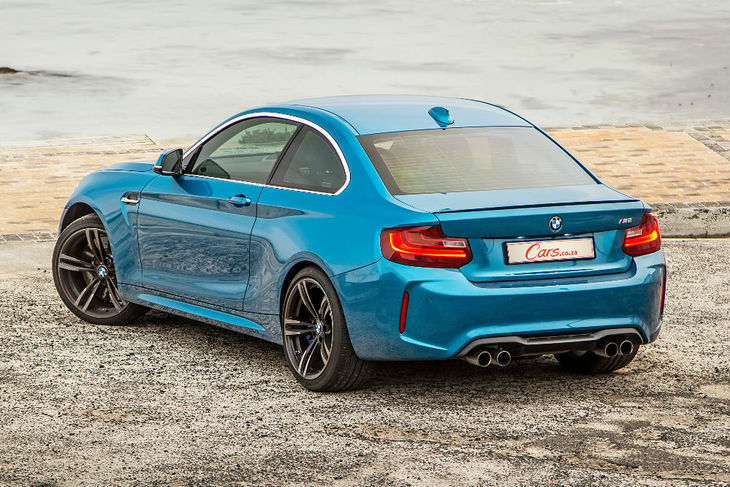 The M2 is provisionally sold out (only 50 were availed to SA in 2016), but there will be another shipment next year.
BMW M2 M-DCT price in South Africa
The model costs R913 910 (including CO2 emissions tax). A 5-year/100 000 km maintenance plan is standard.
Verdict
Motoring scribes and BMW brand enthusiasts (who claim to know their M cars better than their spouses), have bemoaned the fact that the reputation of the "M3" nameplate, once synonymous with BMW's most elemental and involving sportscar, has been steadily eroded by recent products that seem defined by "electronic complexity" and "newfangled powertrain technology". "The latest M3 is a sedan" is a moan we've often overheard.
Be that as it may, the facts are thus: the automotive world has moved on and BMW has its reasons for its latest model-naming strategy and product positioning. Whereas the 1M was a visceral, eleventh-hour 1 Series Coupe stuffed full of E90/E92/E93 M3 bits that thrilled and delighted, it was a limited-run Frankensteinian masterpiece that merely set the scene for the introduction of the M2.
And what an entrance! Compared with the M2, the Mercedes-AMG A45/CLA45 siblings, meteoric as they are, stop short of offering utter driver involvement because they seem too tightly wound, from their suspension settings to their engine/transmission calibrations and their exterior appointments. Then there's the Audi RS3, which offers accessible and abundant all-wheel-driven performance, but its understated hatchback body seems to blend with the scenery… it cannot match the M2's moxie.

That leaves us with the question: has the BMW M2 superseded the BMW M3 and M4? In terms of interior packaging, the M2 has its limitations and, arguably, in terms of dynamic ability, the latter cars' bigger outputs, wider tracks and longer wheelbases make them ultimately superior. But, the biggest compliment we can pay the little M is that in terms of a "just get in and give it a go" driving experience, replete with that unfiltered straight-6 wail, it makes its brothers blush.
The M3 and M4 remain accomplished products, if not as characterful as previous M3s, but if you are looking for a provocative sportscar that offers oodles of driver involvement in an easily-accessible package, one that's docile enough to instil confidence in novices but offer plenty in reserve for driving purists, the M2 is superb: rapid, but deft, pin-sharp, but forgiving, soulful, sonorous and utterly desirable.
Yes, it costs as much as a low-mileage second-hand M3 or M4 and due to a tiny initial allocation of units, is as scarce as hen's teeth, its interior is a trifle plain and it's not nearly as fuel efficient as BMW claims (the firm suggests 7.9 L/100 km; we averaged well over 10.0 L/100 km, unsurprisingly), but If you want to know which BMW M car is the purest/best, count down from 6 and stop at 2. The M2 redefines what a BMW sportscar should be.
* We can't tell you that yet, but we're dying to find out. We'll bring you a Review of a 718 Cayman/Cayman S as soon as we can.
Quick facts of the BMW M2 Coupe Auto: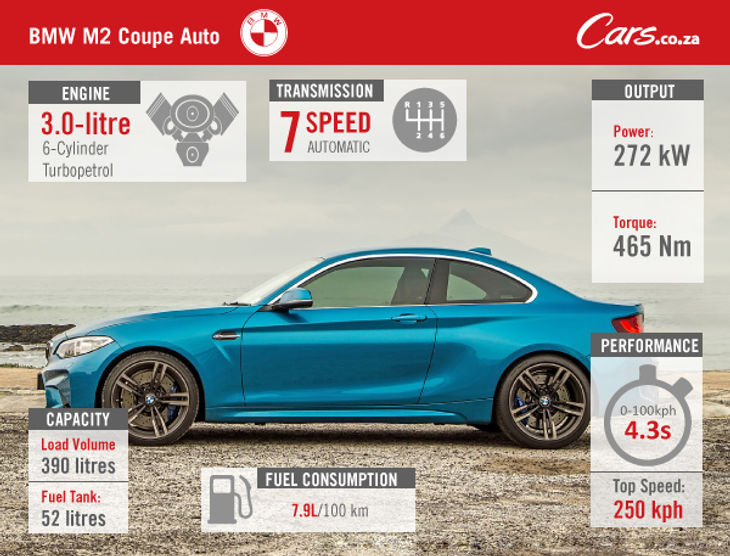 Related articles:
BMW M2 vs Mercedes-AMG A45 vs Audi RS3 vs Honda Civic Type-R: On-track analysis (Video)
Track Race: Audi RS3 vs Merc-AMG A45 vs Honda Civic Type R vs BMW M2 [Video]
Drag Race: BMW M2 vs Mercedes A45 AMG [Video]
5 Things We Learned about the BMW M2
BMW M2 Coupe (2016) First Drive
Interested in buying an M2, M235i or M4?
Click here to enquire from a dealer
Search for a used M235i on Cars.co.za