The eagerly awaited RS version of Audi's desirable TT sportscar was launched in South Africa in November 2017 (with a price tag of R963 000), to compete with acclaimed sports coupes such as the BMW M2 and Porsche 918 Cayman. The TT RS is powered by a characterful and potent 2.5-litre 5-cylinder motor mated with Quattro all-wheel drive and our correspondent Nic Cackett drove it in Spain late in 2016...
Sentence three of the TT RS's press pack finds Audi in an uncompromising mood. "Driving pleasure guaranteed!" it proclaims, having teed off with the model's increasingly lofty power output. The exclamation mark is meant as playful confirmation of what ought to be obvious to the reader, but it's possible to take it as huffy Germanic consternation, too: "You must like it now, surely?"

The previous TT RS did appeal to some of us, in a chin-jutting, brazenly pushy kind of way. But that contingent of fans was in the minority. Mostly we thought it was prodigiously fast and fabulous sounding but still overtly lacking in the dynamic subtlety that made the Porsche Cayman probably the most agreeable sports car of its generation. Its engine – the indubitably splendid 2.5-litre throwback 5-pot turbo – was categorically not the issue. Yet characteristically it is here where Audi has invested a good deal of time, extracting more power from an identical displacement while at the same time reducing its overall mass by 26 kg (exchanging a steel crankcase for an aluminium one accounts for most of that saving).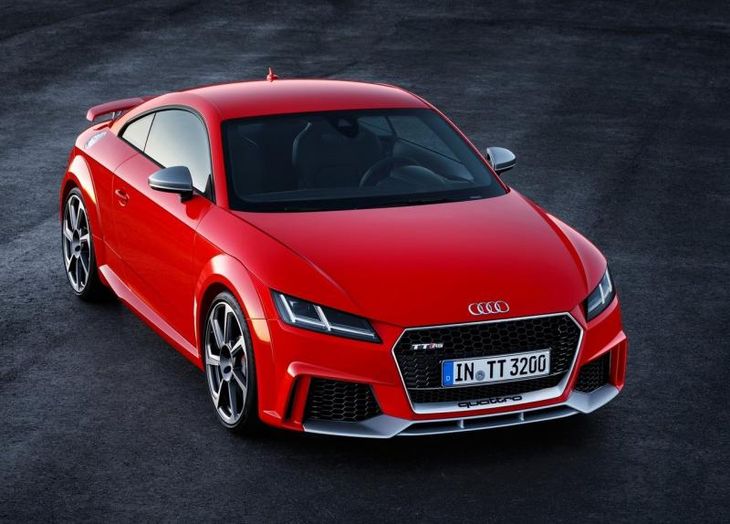 There's no mistaking the Aud TT RS for lesser models. The big grille, wheels and fixed rear wing add considerable presence.
Performance
With peak silliness now at 294 kW and 480 Nm, the coupé version (there's a roadster, too) is rated at 3.7 sec to 100 kph, which is almost a second quicker than the manual 718 Cayman S and only a few tenths slower than the current R8. The chassis, meanwhile, is a familiar reworking of the existing TT's. The RS gets the quicker-reacting evolution of the current electro-hydraulic all-wheel drive system to go with model-specific tuning of the suspension, ESC and steering rack.
Compared with the TTS, it sits 10 mm lower on firmer springs, which remain passive unless you upgrade to the magnetic dampers, and wears stiffer bushes. The quattro drivetrain is carried over from the RS3, although this time much less is made of the supposed back-axle playfulness attributed to that car. Audi is keener to emphasise the RS's established appeal as flagbearer for the TT line-up, a role for which the car has been visibly bulked up. The enlarged air intakes and fixed rear spoiler serve to assist a more efficient intercooler and lustier aero, but their aggressive appearance pays greater dividends when it comes to the model's market position.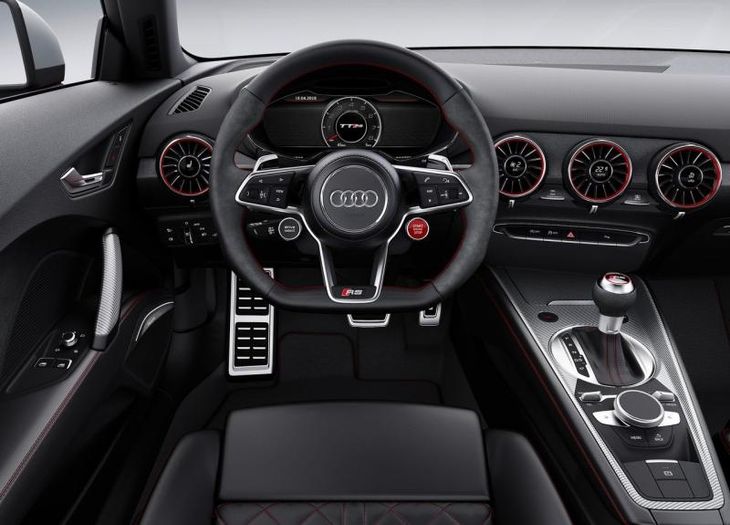 Audi's Virtual Cockpit is standard and features buttons lifted straight from the current Audi R8 V10.
Ditto the cabin, which, like all variants of the TT, is a wall-to-wall triumph. Audi's easy-on-the-eye Virtual Cockpit is standard, as are plush sports seats and an RS steering wheel that, for the first time, features satellite controls in addition to the S tronic dual-clutch automatic gearbox's paddles: one to toggle through the Drive Select system, the other to thumb the engine into life.
That red starter button is the same as the one used in the R8 to spark the V10, and while the TT RS's in-line powerplant is literally half of the R8's lump, it generates an outsized charisma from its idiosyncratic 1-2-4-5-3 firing sequence. While it is no surprise to find the raggedy, wonderfully corrupted heartbeat familiar (helpfully embellished by an optional sports exhaust), the initially faithful replication of its predecessor's performance is a little more unexpected.
Clearly, 480 Nm from 1 700 rpm is sufficient to have the Audi rolling readily forward, but the RS's warbling mid-range (where you'll spend most time) feels no more productive than it did the last time around – a consequence of only a very modest rise in peak torque, not to mention a carried-over tendency to feel a bit stodgy when the dual-clutch automatic transmission is left to its own fuel-saving devices.
Neck-wringing, then, is required to have the RS flinging out demonstratively greater speed than before. Its advantage resides in the new engine's final 1 150 rpm, a greased slither of forcefulness that, while endearing, is rarely encountered on the road beyond the first three of the seven gears. Stretch its legs all the way to the redline and appreciate the hard work that's gone into this powerplant.
Ride and handling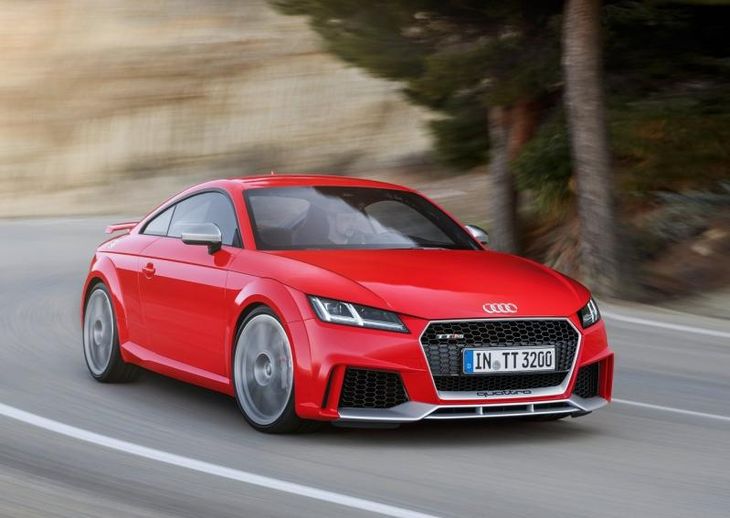 Our scribe found the Audi TT RS fast, yet sane and manageable thanks to quattro.
Naturally, that has more to do with adhering to (or otherwise) national speed limits than upsetting the drivetrain, which deadpans the extra grunt with the usual sticky aplomb. But it is the palpable absence of squirm and squirrel to which Audi is referring when it uses the word "precision" to describe the quattro system's ground-covering abilities, and the TT RS evinces this failsafe quality from start to finish.
To its credit, the RS's marginal enhancements do add up to an incremental improvement. Slightly lighter over the nose, endowed with additional camber on tailored Pirelli PZero rubber and wearing, in this case, optional 20-inch wheels, the car turns in a little more sharply ("agility" being another quattro watchword) and, courtesy of a torque vectoring system that works hard enough to eventually overheat the put-upon brakes, grips even more tenaciously than its predecessor managed.
Even the passive ride, an inevitably very firm, but not meanly damped washboard, was generally acceptable on our test route in Spain (more so, in fact, than the oddly inconsistent magnetic-ride alternative). Nevertheless, once again, Audi's concepts of "precise" and "agile" don't seek to include an ounce of real, teeth-sinkable fun beyond the physicality of either naked speed or blunt adhesiveness.
So while it may be technically capable of dispensing 100% of its available torque to the hind quarters, the RS rarely seems inclined to do so, and nor does it permit a morsel of genuine clarity to ascend the apparently mighty sinew that is its steering column. As with the RS3, coaxing a gently enlivening sense of neutrality from the otherwise front-end-preoccupied drivetrain is too often the best a keen driver can hope for – and a pale shadow of the nuanced relationship a Cayman owner can expect to forge with the 718's cultivated chassis.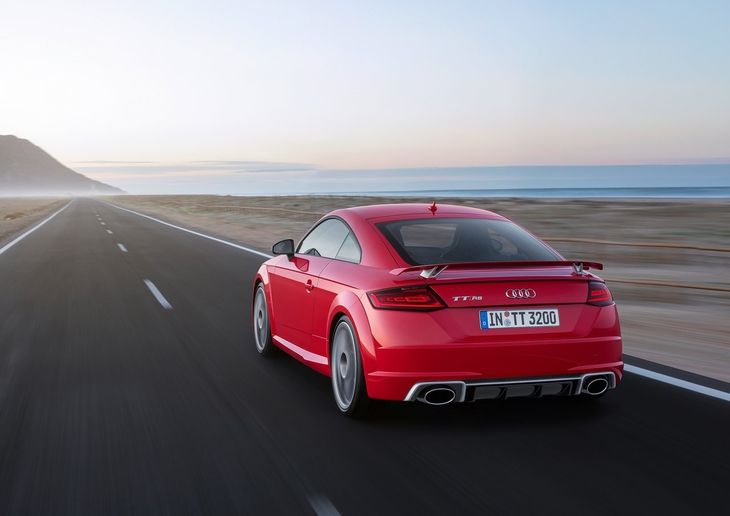 While the TT RS is technically capable of dispensing 100% of its torque to the rear wheels, it rarely seems inclined to do.
Summary
Whereas a comparative lack of indulgence was more easily forgiven in the RS's hatchback sibling, in a coupé, one specifically intended to compete with a raft of adjustable, rear-wheel-driven sports cars, the failure to deliver a properly rounded handling experience serves only to highlight just how two-dimensional the remainder really is.
Which isn't to deny the likeability, thrashability and motley soundtrack of the quirkily brilliant 5-pot engine, nor, indeed, the straight line speed, handsome looks, badge kudos and superior interior of the TT RS itself. Let's not forget this car's hard-charging, stability-happy style will be much appreciated on a drive from the office to home on a rainy evening too.
But for it to not particularly appeal in sun-starched rural Spain, with both B-roads and an empty Circuito del Jarama laid on, goes to show just how far out of reach the slower, worse-sounding and recently humbled Porsche 718 Cayman still is.
Further reading
Audi TT 2,0T S tronic - Best Fun Car

Audi TTS 2.0T FSI quattro (2016) Review

Porsche 718 Cayman (2016) First Drive

BMW M2 Coupe Auto (2016) Review

BMW M2 vs Mercedes-AMG A45 vs Audi RS3 vs Honda Civic Type-R: On-track analysis [Video]

Track Race: Audi RS3 vs Merc-AMG A45 vs Honda Civic Type R vs BMW M2 [Video]
Watch and listen to the Audi TT RS in action:
Interested in buying an Audi TT?