Audi has expanded its Q3 premium family car range by introducing a couple of Sportback derivatives to the local market. The Q3 Sportback promises fresher and more interesting looks for a slightly higher financial outlay than its Q3 sibling, but does it differentiate itself enough to justify its existence? We spent a few days with the newcomer.
We like: Stylish and interesting looks, upmarket and modern interior, refined drive
We don't like: Reduced rear cabin and luggage space, uninvolving powertrain, pricey.
Fast Facts:
Price: R737 000 before options (December 2020)
Model tested: Q3 Sportback 40 TFSI quattro S Line
Engine: 2.0-litre turbocharged 4-cylinder
Power/Torque: 140 kW/320 Nm
Transmission: 7-speed automatic
Fuel consumption: 8.3 L/100 km (claimed)
Top speed: 220 kph
​Performance: 0-100 kph in 7.8 sec
What is it?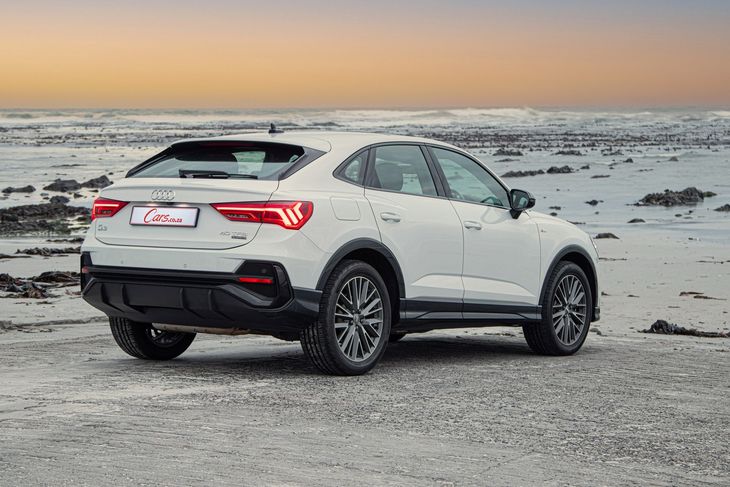 With the SUV segment well and truly in its pomp, the motor industry's attention has turned to making the (now mainstream) high-riding offerings more interesting. BMW was quickest out the blocks with its X6, essentially an SUV in a sleeker body with a sloping rear roof. While the design purists cringed, the car was an instant sales success – based mostly on its looks, we'd purport. Mercedes-Benz countered with the GLE Coupe, while Audi eventually launched its Q8. Those are the big-league models though, but naturally, every Teutonic manufacturer just had to create a model for this niche's niche. We now have the BMW X4 and Mercedes-Benz GLC coupe, with an Audi Q5 Sportback due in SA in 2021.
The Q3 Sportback is essentially a sleeker and more interesting-looking Audi Q3. We're big fans of the standard Q3 as it is... With futuristic looks as well as enough creature comforts and practicality to satisfy most premium-market consumers, it should come as no surprise we'd prefer it over its Q5 brother. It was a deserving recipient of a #CarsAwards – powered by WesBank win in the Crossover category, seeing off solid opposition from the Volvo XC40 and Jaguar E-Pace. As far as other alternatives go, you could consider the Range Rover Evoque and BMW X2.
The premise behind the Q3 Sportback is simple. It still retains all the lovely traits of the Q3, while sacrificing some outright luggage space and rear headroom in favour of a stylish exterior execution. From some angles, it resembles the delectable Q8 – which is one of the most striking vehicles on the road at the moment. Audi is offering the Q3 Sportback with a choice of 2 petrol engines: a 1.4-litre turbocharged petrol driving the front wheels, and a 2.0-litre turbocharged petrol engine with quattro all-wheel drive. This test unit is the flagship 40 TFSI quattro S Line.

One of the best angles of the Audi Q3 Sportback, because it shows off the sloping rear roofline.
How it performs in terms of...
Exterior design & Packaging
At first glance (and particularly when viewed from head-on), the Audi Q3 Sportback looks quite generic, but in profile and from a rear 3-quarter aspect the newcomer appears notably more interesting. The newcomer really looks the part (one tester remarked it resembles a shrunken Q8), despite its plain white finish. Granted, our test car came with the optional black styling package over and above the standard S line body kit, plus eye-catching 19-inch alloy rims. If finished in one of the more exciting hues on Audi's palette (such as Turbo Blue) it would be a showstopper.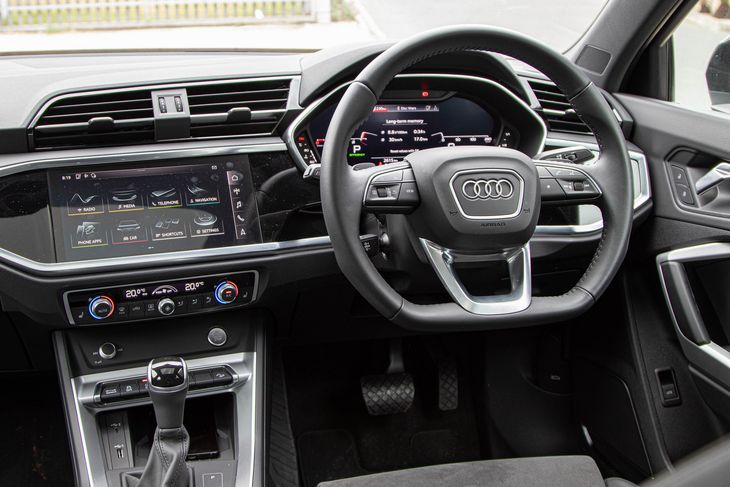 The latest generation of Audi cabins are exceptional, both in terms of quality and to look at.
Inside, the cabin gains the new MMI infotainment setup from the latest generation of Audi's offerings, as well as a sleek new all-digital instrument cluster. While the interface with its quirky graphics may not be to everyone's taste, there's no denying it's unique and modern.
In terms of packaging, the Q3 Sportback's physical shape is notably different to that of the standard Q3. The sportier variant is 16 mm longer, 29 mm flatter, and 6 mm thinner by comparison, but they share a 2 680-mm wheelbase. What does this mean for practicality, though?
Aud claims its Q3 has a luggage capacity of 550 to 1 525 litres, while the Sportback variant offers 410 to 1 280 litres. The figures don't lie and it's immediately evident the load bay is smaller on the new car. It's a pity, as the standard Q3's practicality (aided by a sliding rear bench) is one of its best features. That sloping roof may look good, but rear passengers will find headroom a bit tight if they're taller than, say, 1.8 metres.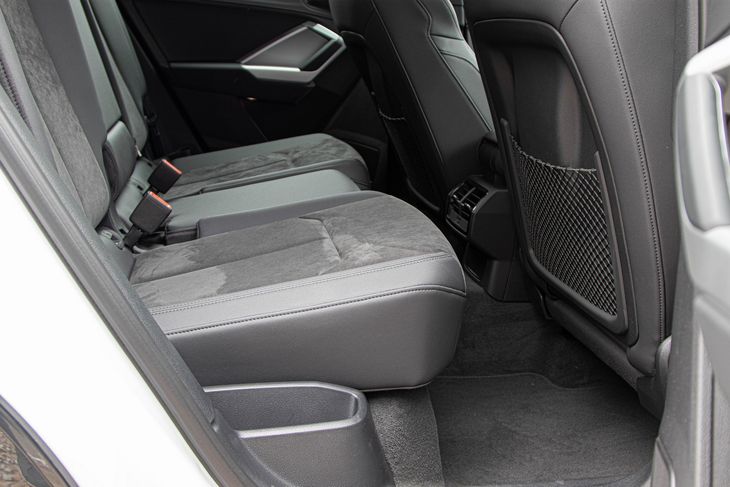 Rear legroom is adequate for average-sized adults. Headroom is an issue.
Performance and ride/handling
The Q3 Sportback 40 TFSI quattro S line is powered by a 2.0-litre 4-cylinder turbopetrol motor. It produces peak outputs of 140 kW and 320 Nm, which is directed to all wheels via a 7-speed automatic transmission. A smaller 1.4-litre turbopetrol option is available, which is obviously less punchy and doesn't offer all-wheel drive. However, unless quattro is a must-have, you're not going to feel short-changed with the 35TFSI S line. Why? Well, the VW Group's MQB platform underpins the Q3 Sportback as well as a variety of Volkswagens (such as the Polo, Golf and Tiguan), as well as numerous Audis, including performance derivatives. With this in mind, we were expecting an engaging and spirited driving experience...
However, the Q3 Sportback feels bland to pilot. Granted, the newcomer gets down the road in an unflustered manner; exterior noises are all but dialled out and the mechanical refinement is suitably premium, but we were hoping that the Audi would offer a level of dynamism befitting its sporty appearance. It features steering wheel-mounted shift paddles and a punchy engine, yet we didn't feel engaged with the test unit. This is the fastest Q3 Sportback derivative, but it doesn't feel fast. Audi claims a sub-8-second 0-to-100 kph time, but the benchmark sprint is a bit of a non-event.
Furthermore, the transmission's not perfectly calibrated with the motor. Shift responses are not as prompt as we hoped; the 'box is seemingly mapped to remain in the highest gear as often as possible, which is not always a good thing. At times, when we needed a burst of acceleration while driving in 7th, the gearbox would stumble to engage 4th to deliver some in-gear shove. As a result, executing reactive overtaking maneuvres is less than effortless in the Q3 Sportback, but at least you can take matters into your own hands and shift gears using the steering-wheel paddles.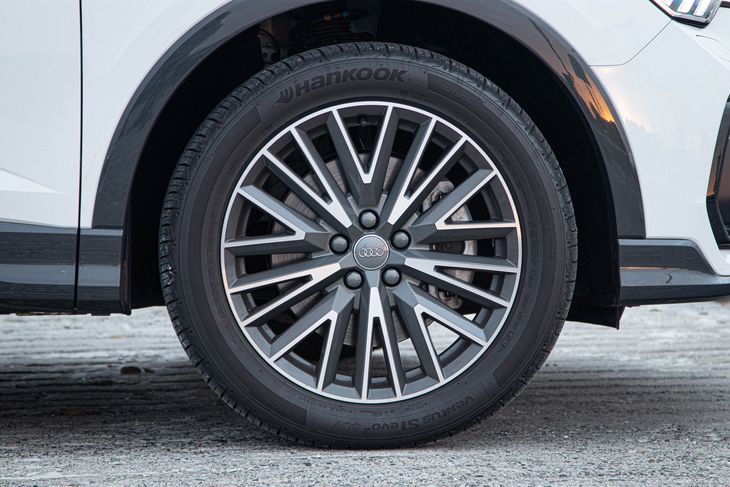 These 19-inch alloy wheels look great, but despite the relative profile of the tyre, the ride quality remains on the firmer side.
Given the larger wheels and the vehicle's stance on the road, the Q3 Sportback's ride quality is on the firmer side of pliant. It's not too harsh, but you will feel ruts and bumps in the road through the suspension. However, we appreciated the test unit's steering feel. It is light, yes, but when you're piloting a substantial vehicle in a confined environment, a quick, easy-to-wield 'wheel is a boon. The 40 TFSI quattro S line feels eminently nimble, but you can't pitch it into slow corners in the hope it'll handle like an S3 quattro, because you'll invariably encounter substantial body roll.
As for the quattro setup, it's more applicable for the frosty European winter than mostly-sunny-and-mild South Africa, but we're also convinced that many customers who decide to go this route will find comfort in the additional stability that an all-wheel drivetrain offers on gravel or wet roads.
Interior execution and features
For the always-connected generation (undoubtedly the Q3 Sportback's target market), the Audi comes equipped with USB-A and USB-C ports, as well as Android Auto and Apple CarPlay connectivity. Streaming Spotify through the optional Bang & Olufsen audio system is what it's all about!
Audi's interiors are still some of the best in the business, in terms of visual appeal, tactile quality and, of course, ergonomic efficiency. The cabin features a plethora of premium finishes and soft-touch materials and you get the sense that it's all immaculately put together. At this price point, Audi has all the bells and whistles covered, but you can dive into the options to further enhance what's on offer...
Consider the Audi phone box, which introduces wireless charging, as well as the Matrix LED headlights, which offer smart anti-dazzle tech. The new MMI infotainment system offers a slick user experience; the only downside is that it's a magnet for tacky fingerprints. Keep a cloth handy!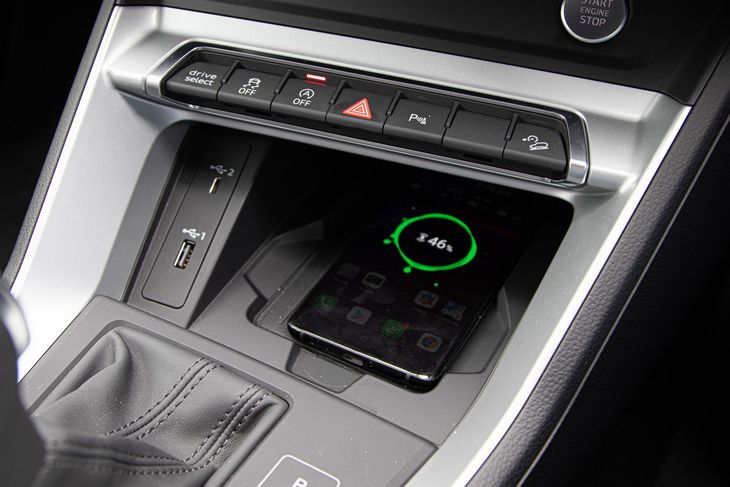 Wireless charging and two types of USB ports.
Price and after-sales service
The Audi Q3 Sportback 40 TFSI quattro S Line costs R737 000, which includes a 5-year/100 000 km maintenance plan. Our test unit was positively festooned with options, which increased the asking price to an eye-watering R929 790. The reason behind this R192 790 difference is that this demonstration unit was specified with the Technology package (R35k), Comfort package (R22k) and Sports package (R30k). Other noteworthy options that helped bump the price up was the panoramic sunroof (R20k), electric towbar (R11k) and the Bang & Olufsen audio system (R9k).
Browse for a new or used Audi Q3 on Cars.co.za
Verdict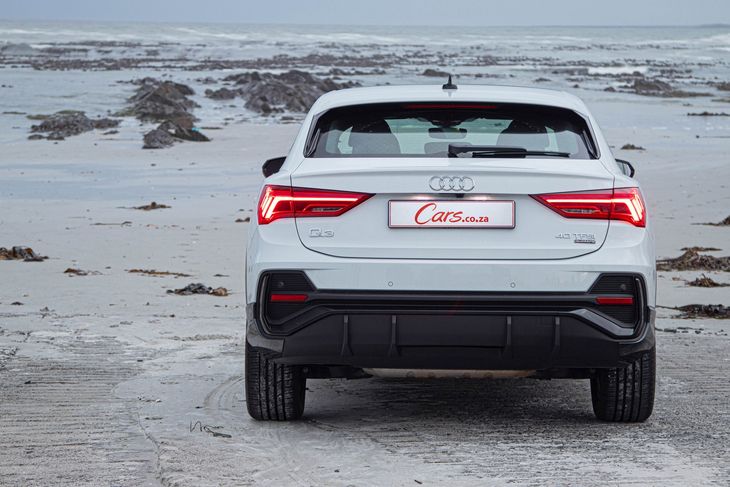 It's unique looks give it a slight advantage over its mainstream sibling, but can you do without some practicality?
The Q3 Sportback is an impressive offering, but so is the perfectly-good standard Q3. Does the newcomer's attractive styling justify a higher asking price than its SUV sibling? As a champion of motoring consumers, we don't think so, but, on the other hand, in an era where cars have become so generic-looking and predictably packaged, some buyers crave variety. A model that stands out (and in a good way) deserves to be recognised.
Should you buy one? If getting behind the 'wheel of a 'premium family car is a priority for you and you don't have grown children to cart around or require a big load bay to fill to the brim with all manner of detritus, this newcomer may very well be of interest. It may be a niche product, but we suspect Audi will capitalise on slow-selling segments where products such the TT sportscar and the A5 Coupe are arguably on borrowed time.
We can imagine that a long-time TT owner, who knows the once-popular sportscar won't be replaced, could switch to a Q3 Sportback. It may not handle like a TT, of course, but it'll match the little sportscar's style while offering a bit more space as well as all the latest gadgets and gizmos. If you want something with a bit more go (and can afford it), then look to the Audi RS Q3 Sportback, which will arrive in Mzansi during 2021.
Related content:
Audi Q3 Sportback (2020) Launch Review
Audi Q3 Sportback (2020) Specs & Price
Audi S3 Sportback (2021) International Launch Review