Audi's 2nd-generation premium family car is raring to remind buyers why its predecessor was such a success, but it faces substantially stronger competition than it used to. We spent a few weeks with the new Q3 to see what it offers.
We like: Smooth drive, more spacious than you think, great interior tech.
We don't like: Plain design.
Fast Facts
Price: R585 000 (R748 050 as tested October 2019)
Engine: 1.4-litre turbopetrol
Power/Torque: 110 kW/250 Nm
Transmission: 6-speed automatic (S tronic)
Fuel consumption: 5.9 L/100 km (claimed)
​Load capacity: 530/675-1 525 litres
Own an Audi? Tell us about your experience here.
SERIOUS ABOUT BUYING?
Where does it fit in?
Up until the local introduction of the Q2 in 2017, the 1st-generation Q3 was the entry point to Audi's SUV lineup in South Africa. Now in its 2nd iteration, the Q3 fulfils the role of a premium compact SUV with a bent towards practicality and inoffensive/try-to-please-everyone styling. It can be argued the Q2 is more of a quirky, design-oriented crossover, whereas the Q3 is positioned as a "family-focused, easy on the eye" entry-level SUV.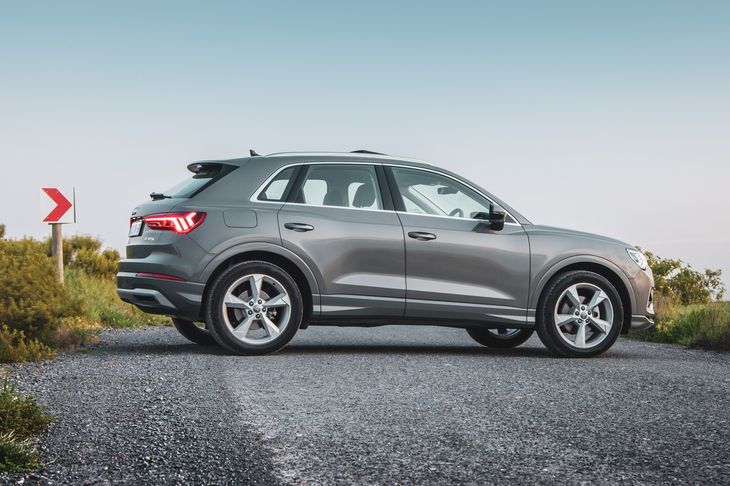 New Q3 is currently only available as a 1.4-turbo.
The multitude of Q3 rivals includes the Volvo XC40, Range Rover Evoque, BMW X1, Mercedes-Benz GLC, Jaguar e-Pace and the Lexus UX. And.. those are just the direct rivals; volume manufacturers weigh in with the upmarket Volkswagen Tiguan, Mazda CX-5 and Peugeot 3008 etc.
For now, there is a single (1.4-litre turbopetrol) derivative available and Audi has reduced the number of options to choose from by combining extra-cost features into packs to offer better value (and make it easier for buyers to understand what they're buying, no doubt). What we have here is the Advanced Line with the Comfort and Technology package, but more on that later.
How it fares in terms of…
Kerb appeal
In a segment where you have to drop a wad of cash to make (at least a bit of) a statement, the Audi Q3 seems a little, well, conventional. It's not ugly and when compared with the previous version doesn't look as frumpy and offers more utility space. Those looking to show off are more likely to lean towards the XC40 or the more expensive Evoque. Against its German rivals, it's much of a muchness, but the Audi seems a bit more modern.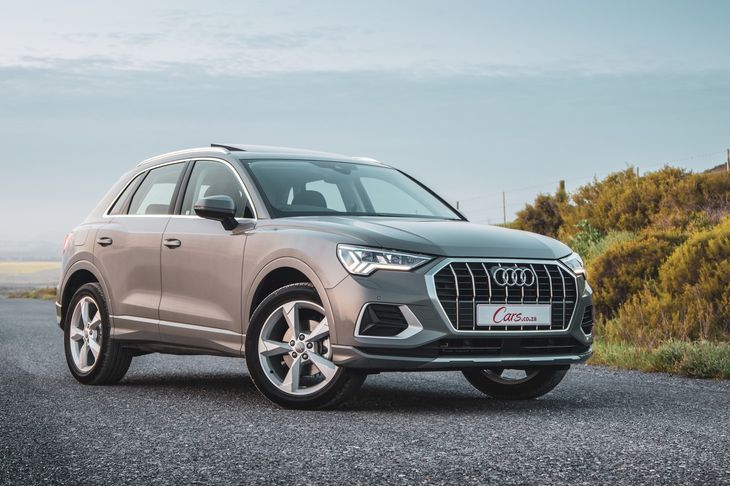 Looks-wise, the Q3 is probably not the most desirable in the segment, but it's an improvement over the original Q3.
Our test unit came specced with optional 19-inch five-spoke wheels (sizes range from 17- to 19-inches). The colour palette of the new Q3 goes some way towards livening up its road presence and while this 35 TFSI S Tronic is finished in Chronos Grey, if you want your Q3 to pop a bit more, you can specify Pulse Orange or even personalise your own colour at an optional cost of R38 000.
Performance
There's a theory that goes something along the lines of "having too much choice leads to no choice". Audi is steering well clear of that in the case of the Q3. If you want to buy one today, you can only have a 1.4-litre turbopetrol automatic version. It's a familiar engine, which is carried over from the previous Q3, but this time fitted with a 6-speed self-shifting 'box (S tronic). With peak outputs of 110 kW and 250 Nm, it sounds like it might be a little light on that premium power you expect when paying over half-a-mill. But it isn't; the engine is capable in traffic, on the freeway and when loaded up. It's languid power delivery hardly inspires driving engagement, but there's enough shove for what'll likely be the future entry point to the Q3 lineup.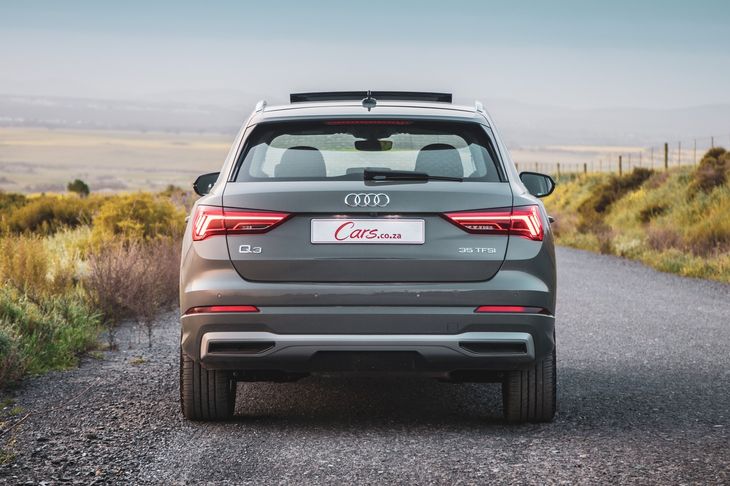 The 35 TFSI badge refers to the range of power (110 - 120 kW).
Having said that, the 6-speed transmission mated to this 1.4-litre turbopetrol motor is one of the best we've sampled to date. Its shifts are nearly imperceptible and aside from occasionally choosing a fuel-saving high gear in a hurry, it makes the best use of the power and torque available. As a front-wheel-drive only model (currently), the Q3 feels light on its, um, wheels and returns excellent fuel economy for a petrol-engined family car. On long trips, 35 TFSI S Tronic dipped into the 6L/100 km range, while in the confines of the city it stabilised around the high 7L/100 km mark...
Ride and comfort
The Q3's is based on the much-lauded MQB architecture, which underpins so many VW Group compact cars. Everything from a Polo, to a TT and a Tiguan, makes use of the platform and there are almost no complaints about "MQB cars'" ride quality. The Q3 is no exception – its ride quality is supple, even if on the firmer side (by virtue of rolling on 19-inch wheels)... It's comfortable enough on our country's "mixed" road conditions.
What's more, the newcomer is responsive enough to brisk steering inputs; it feels more agile than an XC40 or Evoque. It has a small city car feel about it when you hustle the Audi on urban routes, but the measuring tape confirms it's spacious enough – at least for a moderately-sized family.
From inside, it's supremely well insulated – at cruising speeds the cabin is largely bereft of road noise or irritating tyre roar. We tackled a few farm roads during the Q3's tenure in our test fleet and it handled unsealed surfaces easily, even if the going was a little on the firm side.
Interior design and practicality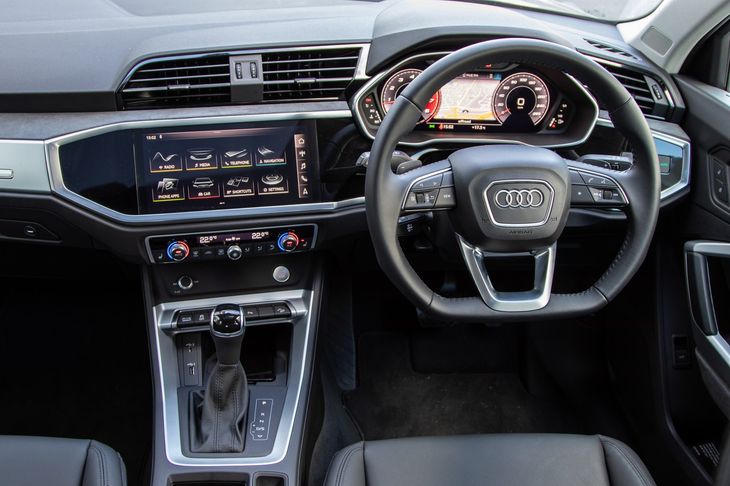 Upmarket interior with lots of equipment from more expensive Audis installed.
Audi's contemporary interiors incorporate a specific set of components from a shared parts bin with a few touches here and there to give each model its own identity. The layout is easy to understand and the touchscreen interface is slick and intuitive to operate.
It's encouraging to see a German manufacturer (especially one of the premium-marque variety) adding more standard features to its offerings. Rear PDC, auto lights and wipers, cruise control and Virtual cockpit (Audi's digital instrument cluster) are all standard, to give a few examples. The Phone Box option (R5 500) is a must-have – it includes a wireless charging bay, dual USB ports and Apple Carplay and Android Auto compatibility.
If you want an interior upgrade, then the Comfort Package (R27 500) offers a good selection of kit, including electrically-adjustable seats, a powered tailgate, seat heating, lumbar support and parking aid plus (front and rear parking sensors).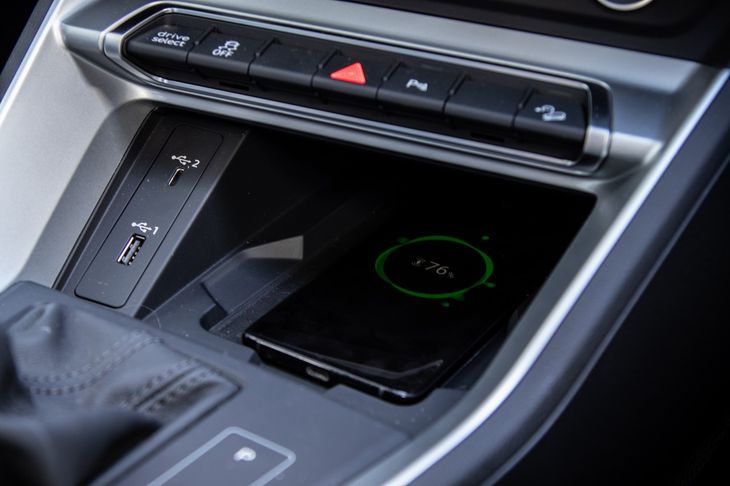 The Audi Phone Box option includes a wireless charging bay and dual USB ports up front.
As for how the new Q3 fares as a family car, it's spacious in the front and rear; the back seats can slide fore and aft, as well as recline for added comfort. The load bay is large: the minimum capacity is a claimed 530 litres, but with the rear bench pushed as far forward as it will go, it increases to 675 litres. With all the seats down you get 1 525 litres of utility space, making it one of the more practical models in its segment.
Price and warranty
As standard, the Q3 35 TFSI S Tronic Advanced Line costs R585 000 (October 2019). By virtue of being specified with almost all the options available in Audi's premium family car, the test unit's asking price totalled a hefty R748 050. A 1-year/unlimited km warranty and a 5-year/100 000 km maintenance plan are included.
Verdict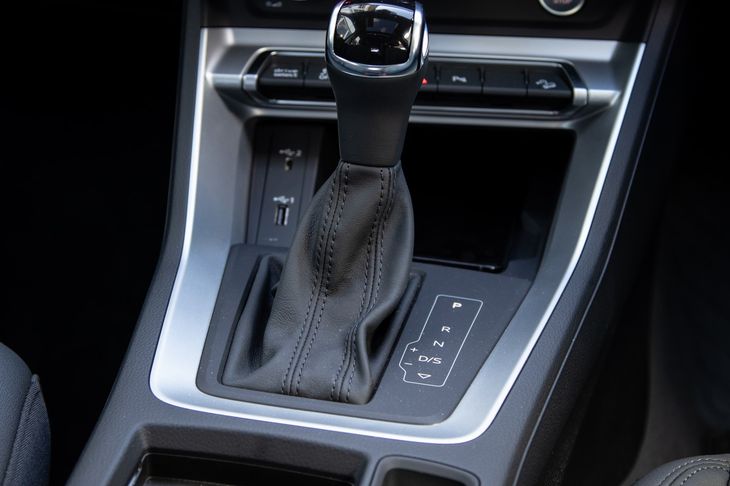 Audi 6-speed auto is one of the best on the market.
The new Q3 plays it safe in terms of design. Audi's newcomer is more angular and sporty-looking than its predecessor, but it's obvious the 2nd-gen Q3 is not meant to be "a stunner". That role may be fulfilled by the upcoming Q3 Sportback; the Q3 is tailored for practically-minded buyers.
In spite of only being available with 1 engine at present, it performs well (even when loaded up) and its 6-speed S tronic 'box is one of the best on the market. Inside, it's quiet, uncluttered and typically well-made. The increased standard specification is welcome and the available in-car tech is on-trend and comprehensive. It's also bigger and more practical than you expect; it offers similar levels of packing space to the "bigger" Q5!
The Q3 is a very competent and well-built premium family car, but does it stand out enough in a (very) big crowd? Perhaps not.