Audi's new S3 packs 228 kW and is spoiling for a fight with the BMW M135i xDrive and Mercedes-AMG A35 4Matic. Our international correspondent, Simon Davis, gets to grips with the all-wheel-drive newcomer, which will arrive in South Africa next year.
Back in 1999, the bright folks over at (what was then known as) Quattro GmbH lit something of a small fire when they launched the original Audi S3. Just as the regular A3, on which that car was based, is now widely regarded as the new vehicle market's first premium compact hatchback, the original S3 is arguably the car that properly kick-started an entirely different and slightly wilder automotive genre: the mega-hatch.
Replete with four-wheel traction and a 155-kW mator mated with a manual 'box, the original S3 was a rapid compact hatchback steeped in Audi's motorsport heritage – it stoked the embers lit by the likes of the Lancia Delta Integrale and handful of other niche, low-volume rally-bred road cars.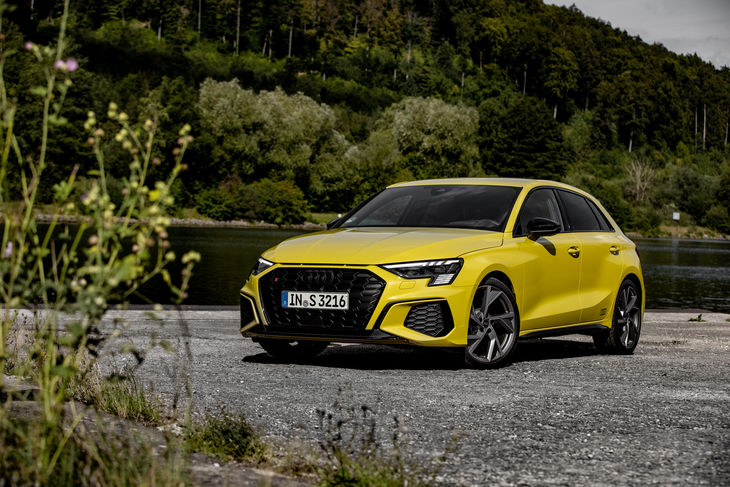 New A3 has taken an already pleasing shape and given it some light modern touches that improve it without making it fussy.
In the years following the S3's launch, a raft of compact, high-performance hatchbacks began to emerge with ever-increasing levels of performance and capability. The current Mercedes-AMG A45 S, with its 310 kW 2.0-litre 4-pot, is the most extreme example of the breed we've had so far and it's mad to think that a power output in excess of 300 kW can be squeezed from an engine displacing so few cubic centimetres.
The next RS3 will no doubt present Audi's Neckarsulm-based performance division with a chance to give the aforementioned headline-grabber from Benz's Affalterbach-based division a bloody nose, but until then, this new S3 sits pretty at the top of Audi's A3 range of derivatives. Regardless, it would seem the small fire started by Audi more than 20 years ago has turned into a full-on inferno.
What's new?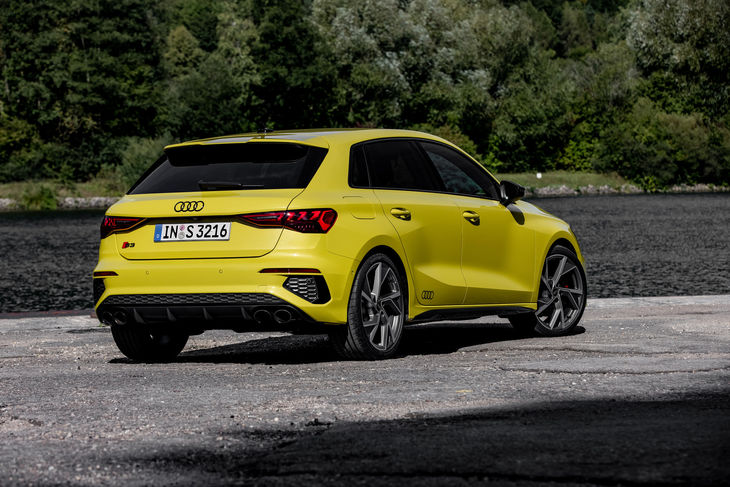 The S3 has subtle styling enhancements that are enhanced by this Python Yellow colour scheme.
But anyway, much is familiar about this new, 4th-generation S3 – even down to its lightly revised exterior styling, which looks rather fantastic beneath that frankly retina-searing Python Yellow exterior finish. As ever, the newcomer makes use of an electrohydraulic clutch-based quattro all-wheel-drive system driven by a 4-cylinder turbopetrol motor.
Unsurprisingly, it's the 2.0-litre EA888 powerplant that sits underneath the Audi's sculpted bonnet; it appears in everything from the previous S3 to the Volkswagen T-Roc R to the Golf 8 GTI. As before, the peak power output has been dialled up to 228 kW to give the rapid Audi a bit of an edge over its Volkswagen Group cousins, while maximum torque remains at 400 Nm. The option of a manual gearbox has long been done away with, so the only transmission available on this latest S3 is Audi's 7-speed S tronic dual-clutch automatic... but not that that's a bad thing.
As with the latest versions of the Volkswagen Golf, the S3 is based on an evolved version of the VW Group's MQB architecture. The Audi's front suspension is comprised of MacPherson struts with a multi-link arrangement doing duty at the rear. Passive dampers are standard fare, and compared with the regular A3, the S3 sits 15 mm closer to the deck. Adaptive dampers are optionally available and were fitted to our test car.
What's it like to drive?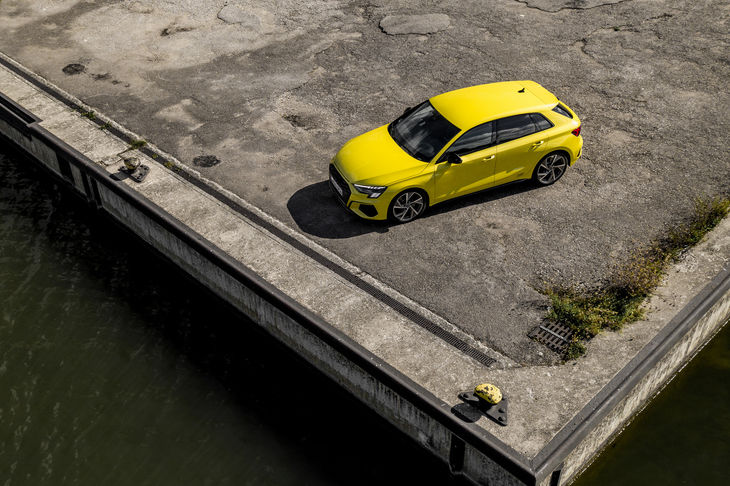 Power and torque remain the same but the S3 is slightly lighter thanks to the updated MQB platform.
Hmm, that particular technical specification all sounds pretty familiar, doesn't it? Based on the above, you'd be forgiven for wondering exactly what is new about this "new" S3. Well, for starters, the quattro system has been very lightly revised and those adaptive dampers are now based around a more traditional hydraulic set-up rather than the Magnetic Ride system that was employed by the previous S3.
The story goes that this change was made to make the S3 a bit easier to live with every day, as the previous Magnetic Ride set-up, which was honed in the likes of the R8 supercar, was deemed a "bit too sporty" (Audi's words, not mine) for what is still essentially a premium compact hatch.
Hmm, that smacks of potential cost-cutting to me but, hey, that's the party line. Those adaptive dampers, along with the all-wheel-drive and torque-vectoring-by-braking systems, are now governed by a central control unit as opposed to being left to their own devices like they were in this car's predecessor. This, Audi says, facilitates a handling balance that is "even more sporty and nimble".
It all seems to work rather nicely, too, because the S3 remains a car that's incredibly easy to drive, well, incredibly quickly. And, yes, there is more than one way you could interpret that description, but they all seem to apply.
For starters, the engine has more than enough punch to make its claimed 4.8 second 0-100 kph time feel entirely credible. Once you've worked through an initially brief bout of lag and the crank is spinning at 2 500 rpm, the S3 propels itself with serious urgency.
Its mid-range performance is impressively strong and it keeps pulling tenaciously right up to the point that you hit the redline and snatch the next cog in the swift-acting transmission. Its buzzy soundtrack still isn't much to get excited about, but there's an appealing muscularity to its timbre.

The EA888 2.0-litre turbocharged petrol engine does duty in the S3 and many other VW Group vehicles.
In any case, it's very easy to get up to speed, and once you're there, the S3's chassis makes maintaining that pace a cinch, too. With the dampers in their firmest setting, lateral and vertical body movements are kept smartly in check, plus there's an abundance of grip on tap.
The steering perhaps isn't quite as quick in its responses just off centre as you might like, but it weights up in a really predictable way and gives you a surprisingly clear idea of how the outside tyres are loading up beneath you. It's lacking a bit of grizzly edge to its dynamic character that fans of more engaging hot hatches might really want, but the level of confidence it instils in its driver (right from the get-go) will be a huge draw for many.
And when you want to calm everything down and fall into a more relaxed rate of progress? Well, it's tricky to say definitively because the roads on our test route were freakishly smooth. Suffice to say when you knock the S3's adaptive dampers all the way back to the Comfort setting, the car stops sucking in its gut so tightly and, as a result, rides undulations with a degree more sponginess and a smidge less control. As for bump absorption, I deliberately drove over the few ruts I could find and the car's suspension reacted with reasonable pliancy. There certainly wasn't any uncouth crashing or shunting to speak of. Hopefully, it'll perform the same in SA, but we'll need to try it on local asphalt before we can be sure.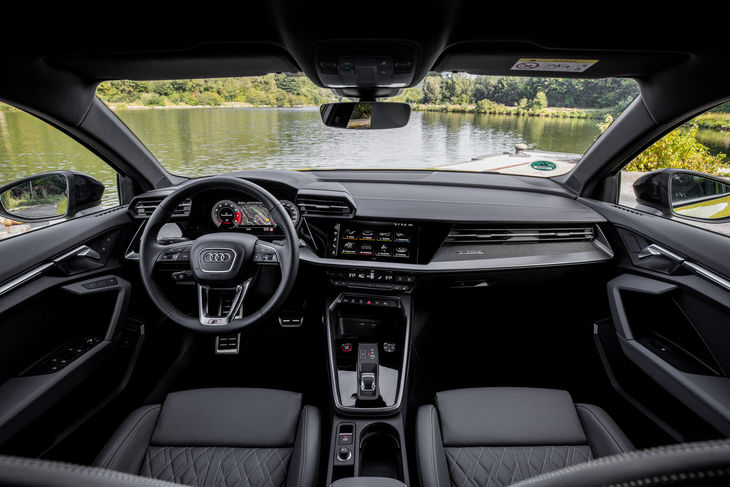 The interior is classy but not the clear class-leader it once was.
But while we have yet to directly compare the Audi's performance with that of the BMW and Mercedes-AMG, it's worth noting that its cabin isn't quite as resolved as those of its fellow Teutons. The Benz packs a good deal more superficial wow factor and the BMW has a sense of solidity and sturdiness about its construction that's disappointingly absent in the S3's interior. That's a shame, because it's one area where the old car really towered above the rest. Still, passenger space is good – although the all-wheel-drive system does mean that luggage space shrinks to 325 litres.
Final thoughts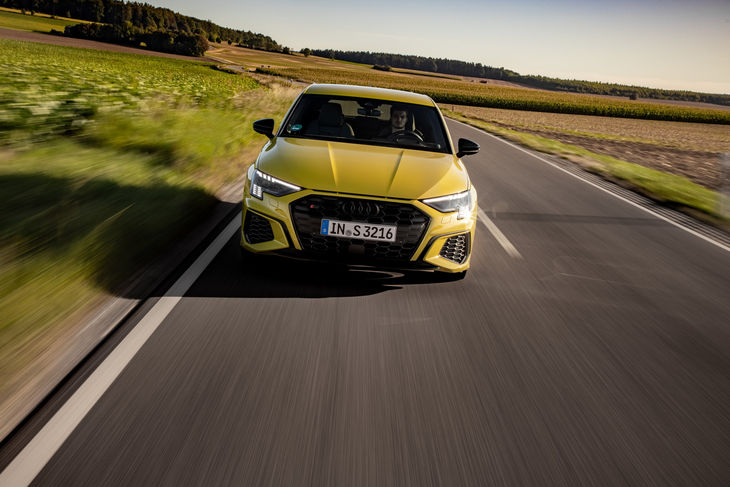 While we wait for the RS3, this is Audi's hot hatch champion.
Still, the Audi S3 remains really quite likeable for the almost blasé manner in which it makes such short work of what you'd normally consider to be fairly hard driving. That said, it does leave you wondering just where Audi Sport will go with the next iteration of the RS3... Aside from that mad-dog 5-cylinder engine, some more material plushness about the cabin and a fraction more grit about its overall dynamic character wouldn't go amiss.
Related content
2021 Audi A3: SA Details Emerge