The facelifted Audi A3 Sportback forges ahead where its predecessor left off by providing luxury, comfort and refinement in a compact premium hatchback package. We get to grips with the 2017-spec A3 Sportback, tested here in 2.0T automatic guise.
We like: Premium feel, superb build quality, ride quality and refinement.
We don't like: Pricey, confusing number of extras and options.
Alternatives:
Compare the Audi A3 to its immediate rivals here.
What is it?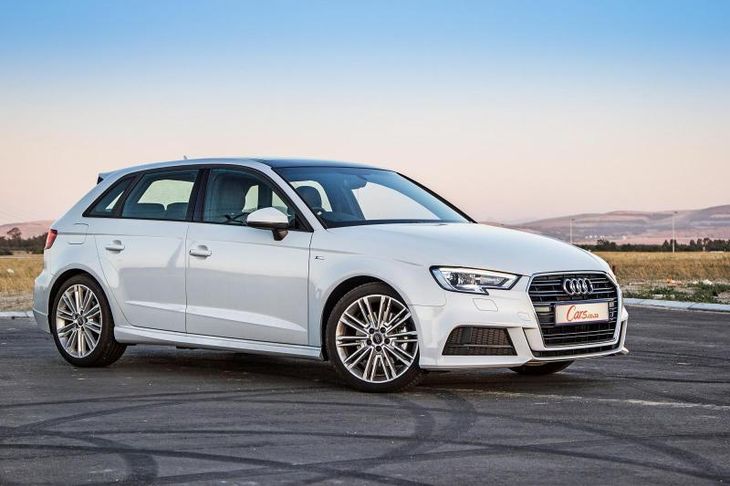 The Audi A3 Sportback is a premium compact hatchback that has won many accolades over the years. Recently refreshed with a mildly-revised look, some engine updates and the addition of new technology, we were anxious to see if this popular model can carry on where the outgoing model left off. The pre-facelift A3 Sportback set the bar high and its rivals, despite their best efforts, just couldn't beat the Ingolstadt hatchback's levels of comfort and refinement.
For this new model, Audi introduced some small exterior styling changes, but you'd only notice these if you were to view the old and the new A3 Sportback side by side. The new-look headlights now feature matrix LED headlights as an option, while the front grille has been subtly redesigned. The design has not changed dramatically, and you'll find most revisions under the bonnet and in the level of standard specification.
Our media evaluation unit came with optional alloy wheels and a sportier S Line exterior package, enhancing the visual appeal of the vehicle. At R20 500 and R20 000 respectively, they make the car look more purposeful, but also inflate the price tag significantly!
How does it fare in terms of...
Performance?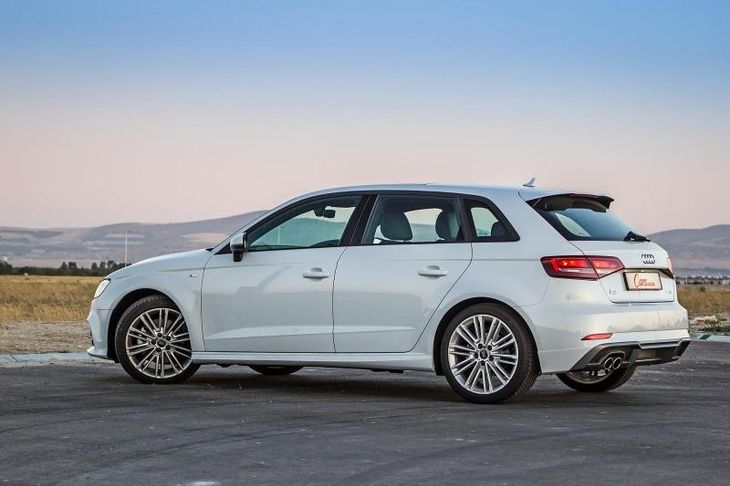 The headline news for the new-look Audi A3 is in terms of the variety of powerplants on offer. There's a 1.0-litre 3-cylinder turbocharged petrol engine that kicks off the range, followed by a 1.4-litre 4-cylinder turbocharged petrol and the engine you see here, the 2.0-litre turbocharged 4-cylinder petrol. Other notable engines include the S3's mighty 2.0-litre turbopetrol engine, which produces 228 kW and 440 Nm of torque, as well as a 2.0-litre turbodiesel motor.
This 2.0-litre engine is mated with a 7-speed dual-clutch transmission. With outputs of 140 kW and 320 Nm, this Audi A3 certainly has a performance bent to it. This "hint" becomes apparent upon completion of a 0-100 kph sprint, which will be dispatched in approximately 7.0 seconds. Gear shifts are effortless and smooth, and you have the option of tipping the transmission selector into manual mode, where you can actuate shift by yourself. We would have appreciated steering-wheel-mounted shifters, but those are optional nice-to-haves.
With the car set in comfort driving mode, shifts are geared towards fuel efficiency and providing you're not the kind to treat the accelerator pedal like an on/off switch, credible returns are possible. While Audi claims an optimistic 5.7 L/100 km, a more realistic figure of around 7.5 L/100 km is more likely.
Ride and refinement?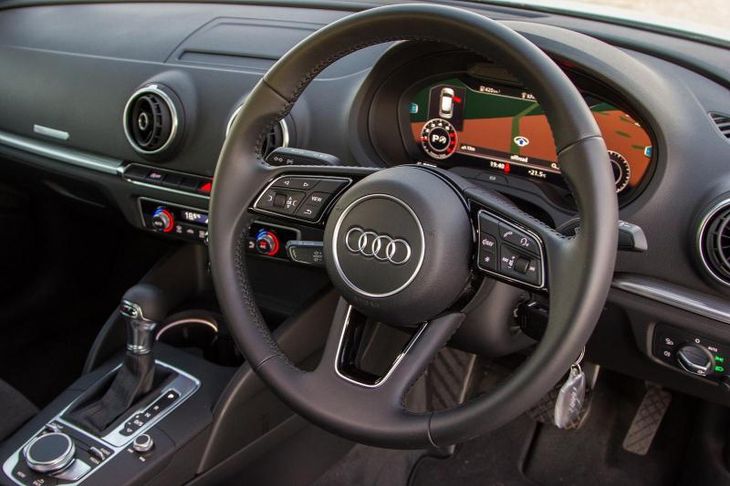 This is an area where the outgoing Audi A3 excelled, and the good news is that the new model is just as good. While there's just a smidge of turbo lag from the spritely motor, it'd take a considerable amount of effort to find it as the responsive, dynamic transmission does an admirable job of keeping the motor in its sweet spot, thus masking slight boost hesitations.
Make use of Audi's Drive Select and the S-Line sports suspension (both optional) and the Audi A3 delivers a composed, if slightly firm, ride. On smooth stretches of tarmac, the ride is comfortable and fair, but the moment there are rough patches and bumps, you'll start to feel and hear them reverberating in the cabin. By switching from Eco to Comfort to Sport, you can feel the car's attitude change.
Sport mode does "what it says on the tin" (as the saying goes) and induces some sharper throttle responsiveness from the engine and quicker shifts from the already lightning-quick transmission. We found that Comfort was the best mode for general use because it prioritised a relaxed driving style with a slant towards economy. The Individual mode is one of those that owners will appreciate in the long run as it allows them to set the car up to suit their needs. We found a sportier throttle response, with a pliant ride quality was a good compromise.
The drive experience is excellent, courtesy of a relaxed driving position and the optional S sports leather seats (R9 000) as they are of superb quality. The rear passenger space, especially legroom, will only suit smaller people. It's adequate for children, but tall adults won't be comfortable on longer journeys. However, the luggage bay is generously sized at a claimed 380 litres and the rear seatbacks can be folded down in a 60:40 arrangement to free up utility space.
Technology and features?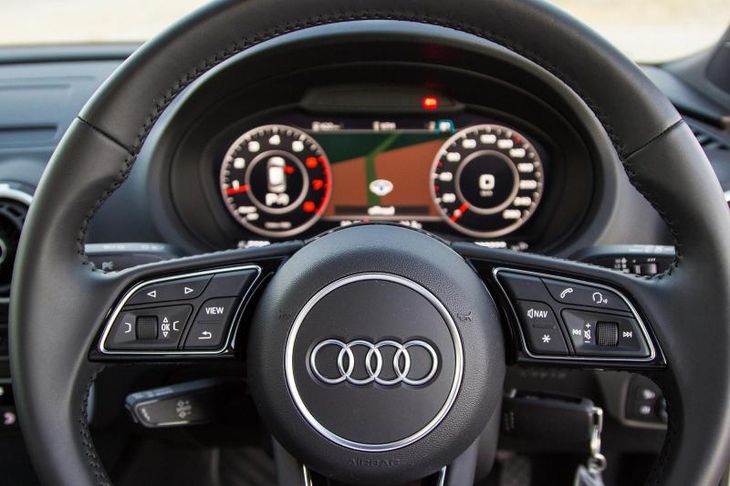 The cabin is another area where the new Audi A3 shines. The fully digital instrument cluster (Virtual Cockpit) has made its debut in the new Audi A3 Sportback and you can specify it as an option. However, there's a catch. It must be selected in conjunction with the Audi MMI satellite navigation, which is fair enough as the two systems work hand-in-hand. It offers a level of customisation such as making the speedometer and rev counter different sizes, overlaying the GPS map and it can even display the car's system menus.
Despite its complexity and intricacy, it's an intuitive technology to use and although the A3 Sportback comes with a dashboard-mounted display screen, the car could easily function without it. During the Audi's tenure in Cars.co.za's test fleet, we found ourselves regularly pushing the button to make the central screen disappear gracefully into the dashboard.
Pricing
The Audi A3 Sportback 2.0T FSI S tronic retails for R455 500, with our particular test unit coming with extras bringing the price to R588 760. The vehicle comes with a 1-year/unlimited km warranty and a 5-year/100 000 km maintenance plan.
Verdict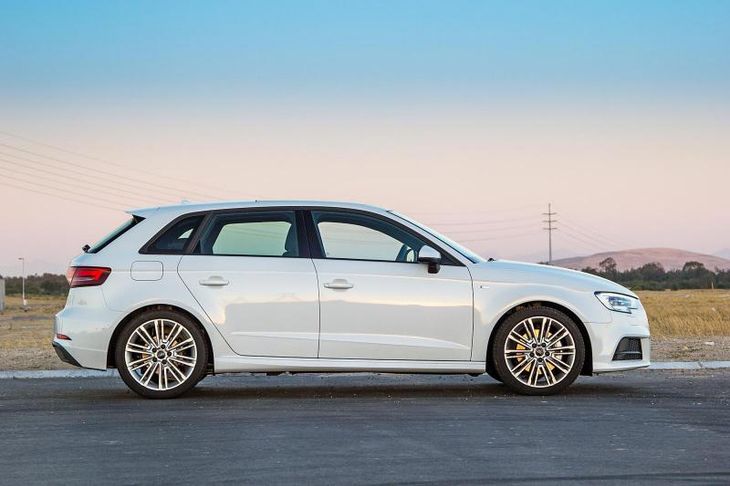 The Audi A3 Sportback is one of those cars, where we as testers wonder how the next-generation model is going to turn out, given that the predecessor is just so good. How does a manufacturer make something so accomplished even better? Somehow, Audi has done just that with the new A3. It is a shame that this model's introduction date did not coincide with the second iteration of the Cars.co.za Consumer Awards - powered by WesBank. While that particular category was won by the Volkswagen Golf GTI for the second year running (the 2016/17 programme), we believe that this Audi A3 would probably have run the best-of-the-best close in that particular segment.
The changes are barely headline-grabbing, but the Audi A3 continues to be one of those premium offerings that continue to impress. Not only does it feel like money well-spent thanks to exquisite build quality and refinement, but the driving experience it offers pushes the segment forward considerably. Despite recent updates to the BMW 1 Series, Mercedes-Benz A-Class and Volvo V40 ranges, the Audi A3 Sportback seems to have its nose in front. The next-generation Volkswagen Golf, which is imminent, might have something to say about that.
Related articles:
Audi A3 First Drive. Meet the entire model range here.
Read about the power upgrade to the facelifted Audi S3 here
Best Premium Hatchback in South Africa
Comparative Review: Opel Astra vs Volkswagen Golf 7
Mercedes-Benz A-Class A220d (2016) Review
Peugeot 308 1.2 GT Line Auto (2016) Review
Interested in buying an Audi A3?