Audi has refreshed its premium hatchback by introducing a few small styling tweaks and more technological features. There's more standard kit on offer, too. We took it for a quick drive through the Winelands to get reacquainted with the A3...
Exterior updates
The extent of Audi's exterior facelifts is usually quite minor and the upgraded A3 Sportback is no exception. The small tweaks to the exterior subtly enhance the hatchback's look, but you'd still be hard-pressed to circle all the changes in a game of Spot The Difference. Here are a few clues: the front grille has been slightly widened and its framing enhanced to give the frontal view more of a 3D effect.
The headlights have also been redesigned and the Matrix LED units are now available as an option. Audi has launched its facelift model as a 3-door hatch, 5-door Sportback, Sedan and Cabriolet all in one go so there's a whole new lineup to choose from as of November 2016.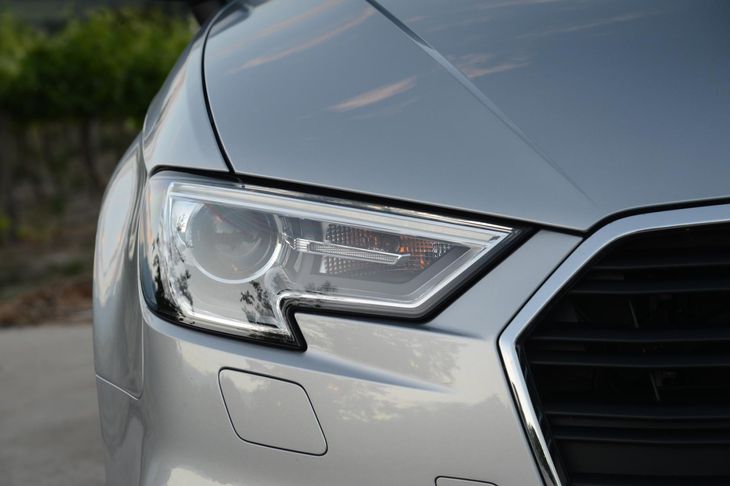 New headlight design on the facelifted A3
Interior Updates
The interior's infrastructure has been upgraded so that it can handle more of the modern tech that Audi has to offer. That means you can specify Virtual Cockpit, which turns the whole instrument cluster into a digital screen where you can pick and choose what you want to have displayed. It's great to see some of the tech from Audi's marquee products trickling down into the smaller models. The final visual tweaks to the interior include a frameless mirror, 3-spoke steering wheel and interior door lighting. Rear legroom appears tight for taller passenger but overall, the A3 has a very refined, comfortable interior.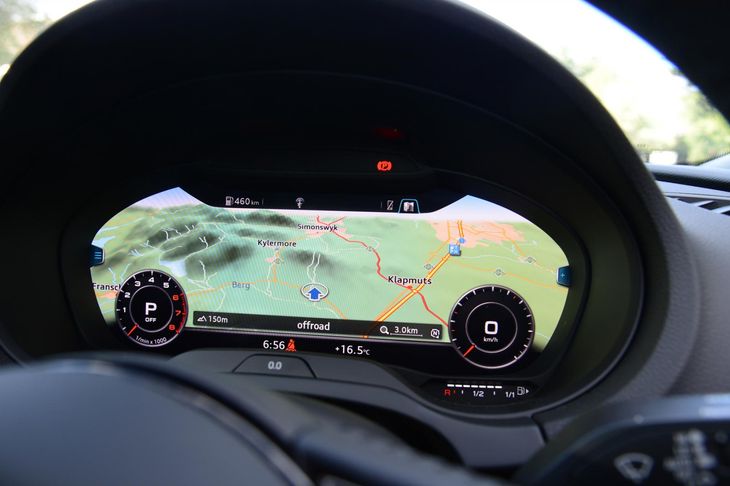 Audi's Virtual Cockpit now available as an option on the A3 range.
Engine range
The biggest news for the engine range is the introduction of a 1.0-litre 3-cylinder turbopetrol motor. It produces 85 kW and 200 Nm of torque and is said to accelerate from 0-100 kph in 9.7 seconds. We drove it in manual guise and it felt very capable in terms of overtaking capability (round town as well as on the open road). It may only be a 3-pot unit, but it manages to feel like a refined engine that belongs in an Audi. It's also available with an S tronic gearbox and it will be interesting to see how the smaller engine will combine with the self-shifting transmission.
The rest of the engine lineup is made up of the 1.4 TFSI with 110 kW and 250 Nm, the 2.0 TFSI with 140 kW and 320 Nm and the lone turbodiesel, which is a 2.0 TDI with peak outputs of 105 kW and 340 Nm of torque. The TDI is only available in S tronic guise, whereas the rest of the derivatives can be ordered with either a manual or S tronic 'box.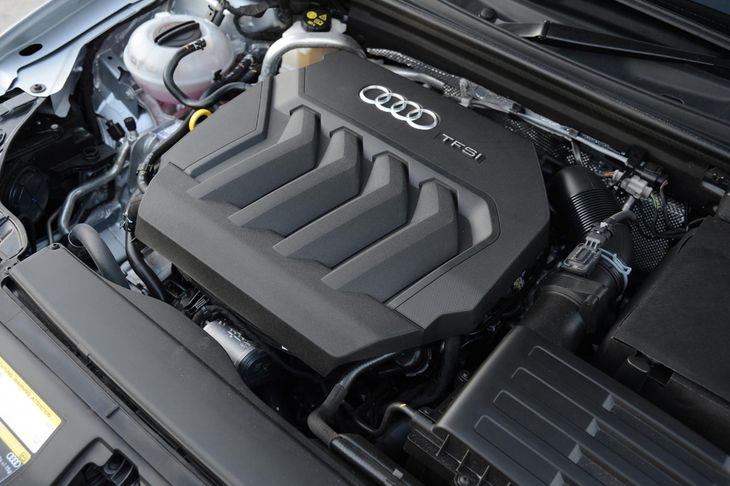 The A3 engine line-up comprises 3- or 4-cylinder turbopetrols as well as a 2.0-litre turbodiesel motor.
The S3
Audi South Africa has managed to convince the decision-makers in Germany that South Africa is not as hot as they think and should allow us to have all the power available from the S3's engine. That means instead of the 206 kW version that we had before, we now get 228 kW and 440 Nm of torque. We will certainly be looking forward to driving that in the future.
How does it drive?
The A3 still delivers a comfortable and luxurious driving experience. The optional Audi Drive Select, which allows you to adjust the behaviour of the car with multiple modes including Eco, Dynamic, Comfort and Individual, is well worth considering... The adaptive suspension affords a smoother ride on bumpier roads where the standard suspension can feel a little too sporty and firm for comfort. Otherwise, the A3 feels planted and confidence-inspiring when you conduct it through a set of bends. There's plenty of grip from the chassis and the tyres hang on without yelping in agony when you push on in the twisties.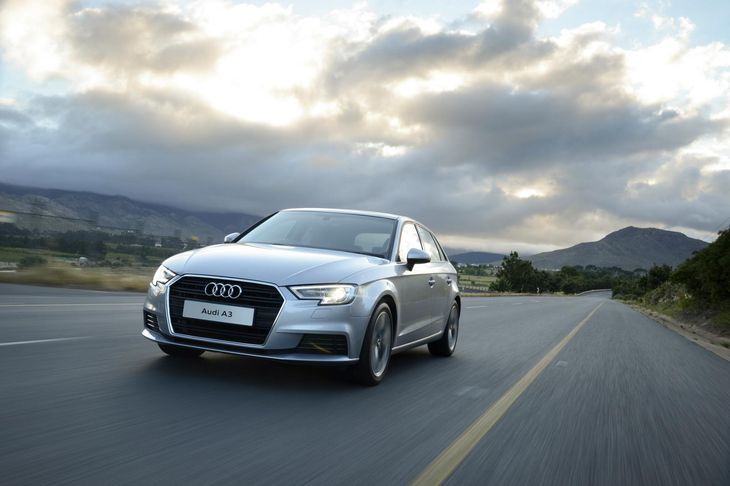 A3 feels premium and refined, would add Drive Select for a comfier ride.
More standard equipment
The German luxury brands are known for skimping a little on standard equipment and Audi has added a few things that some customers felt should have been standard fare on its predecessor. Now, the A3 is standard with 2 USB ports, 16-inch wheels and cruise control. There's are many new extras to choose from with Audi, such as safety features: rear cross traffic alert, Matrix LED lights and Audi connect that allows for internet access and Google search.
How does it fare?
Summing up the A3's segment pits it against its German rivals from Mercedes-Benz and BMW and to a certain extent Volkswagen and Peugeot (308). The A3 feels more premium than the BMW and Merc but maybe doesn't quite have the funky style that the A-Class has. To drive, it's just as good as the BMW and certainly more comfortable on our roads than an A-Class without adaptive damping. Pricing seems to be comparable with the other 2 but, if you're looking for a value for money option, you might want to seek out something from Opel, Peugeot, VW or Renault.
Pricing
The pricing has gone up, but that's just the way things are for South Africans at the moment so the starting price for a 1.0-litre A3 is nearly R400k. An S3 is also North of R630k.
| | |
| --- | --- |
| A3 1.0T FSI Manual | R391 000 |
| A3 1.0T FSI S tronic | R409 500 |
| A3 1.4T FSI Manual | R412 000 |
| A3 1.4T FSI S tronic | R430 500 |
| A3 2.0 TDI S tronic | R481 500 |
| A3 2.0T FSI Manual | R429 500 |
| A3 2.0T FSI S tronic | R448 000 |
| S3 quattro S tronic | R638 500 |
Audi A3 Sportback:
| | |
| --- | --- |
| A3 Sportback 1.0T FSI Manual | R398 500 |
| A3 Sportback 1.0T FSI S tronic | R417 000 |
| A3 Sportback 1.4T FSI Manual | R419 500 |
| A3 Sportback 1.4T FSI S tronic | R438 000 |
| A3 Sportback 2.0 TDI S tronic | R489 000 |
| A3 Sportback 2.0T FSI Manual | R437 000 |
| A3 Sportback 2.0T FSI S tronic | R455 500 |
| S3 Sportback quattro S tronic | R646 000 |
Audi A3 Sedan:
| | |
| --- | --- |
| A3 Sedan 1.0T FSI Manual | R408 500 |
| A3 Sedan 1.0T FSI S tronic | R427 000 |
| A3 Sedan 1.4T FSI Manual | R429 500 |
| A3 Sedan 1.4T FSI S tronic | R448 000 |
| A3 Sedan 2.0 TDI S tronic | R499 000 |
| A3 Sedan 2.0T FSI Manual | R447 000 |
| A3 Sedan 2.0T FSI S tronic | R465 500 |
| S3 Sedan quattro S tronic | R656 000 |
Audi A3 Cabriolet:
| | |
| --- | --- |
| A3 Cabriolet 2.0T FSI S tronic | R566 500 |
| S3 Cabriolet quattro S tronic | R758 000 |
Further Reading
Read about the power upgrade to the facelifted Audi S3 here
Best Premium Hatchback in South Africa
Comparative Review: Opel Astra vs Volkswagen Golf 7
Mercedes-Benz A-Class A220d (2016) Review
Peugeot 308 1.2 GT Line Auto (2016) Review
Interested in buying an Audi A3?