Peugeot's accomplished 308 compact hatchback has gained an automatic transmission. Does the self-shifting derivative improve the 308 as an ownership proposition?
We like: Smooth transmission, comfy ride, upmarket feel
We don't like: Pricey, simple functions require too many prods at the touchscreen
Alternatives
For a more generic choice: Volkswagen Golf 1.4TSI Comfortline – it's the go-to car in the segment, well-built, spacious and comfortable.
For a bit more grunt: Opel Astra 1.4T Sport Auto – the new Astra is feature-packed and the 1.4 turbo packs a decent punch.
For another stylish option: Volvo V40 T3 Momentum Automatic – it's due to be facelifted soon, but the V40 remains the most stylish hatchback in the segment.
For something less expensive: Ford Focus 1.5T Trend Automatic – the Focus is impressively priced and offers the best value for money.
For something not turbocharged: Mazda3 2.0 Astina – reliable, naturally aspirated engine delivers steady motoring in a very capable chassis.
What is it?
The Peugeot 308 has claimed multiple international awards, including European car of the year 2015. However, it hasn't made much of an impact on the South African market and it's hard to tell why. The new automatic option has just hit the market and the French marque hopes that the newcomer will garner a few more sales in the local market.
How does it fare in terms of…
Refinement?
To put in bluntly: by virtue of its automatic gearbox, this is the best example of the 308 to date. Unlike some small-engined autos, the Peugeot maintains its smooth and refined nature whether it is trundling around town or dealing with traffic at freeway speeds. There is a tendency with small-engined auto boxes to be quite clunky between shifts and impede cut-and-thrust performance, but the 308 auto is surprisingly smooth, even when pushing on. There's a separate button next to the gear lever for Sports Mode in which cog swaps are delayed until higher engine revolutions and downshifts are engaged earlier. Normal mode was more than a match for a variety of driving conditions and it saves fuel in the long run.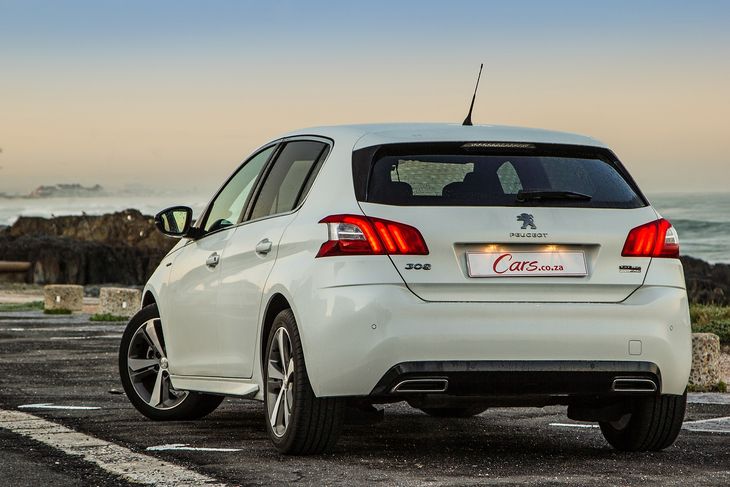 Good looks and comfortable ride make the 308 a solid choice
As far as the ride quality is concerned, there's more praise to be heaped on the Pug. The 17-inch wheels with 225/45 profile tyres combine a sleek look with impressive levels of comfort over all road surfaces. Just when you think there's going to be a loud thud or clunk from the suspension, the dampers quietly absorb them and the 308 shrugs it off calmly. In spite of having just a 1.2-litre turbopetrol motor the 308 feels like it has substantial power and premium acceleration delivery. Like the manual model, there's 96 kW and 230 Nm available.
Economy?
There's no point to downsizing engine capacity if it's not going to realise better fuel economy... Peugeot claims the 1.2-litre auto will average 5.2 L/100 km, making it one of the most fuel-efficient cars in its class. We weren't able to match the claimed figure – and our test culminated in a 7.8L/100 km readout, which is very similar to the figure we achieved with the Opel Astra we had on test in May 2016 .
Practicality?
The Peugeot 308's dimensions are smaller than the competition's, but not by much. The effects aren't noticeable in terms of luggage capacity, which, at 370 litres, is bang on class standard, but rear passengers have to endure a little less legroom. The seats are trimmed in leather and suede and look and feel more comfortable than those of its rival compact hatchbacks. The contoured seats do make loading car seats (child seats) in the back a bit harder and the headrest needs to be removed.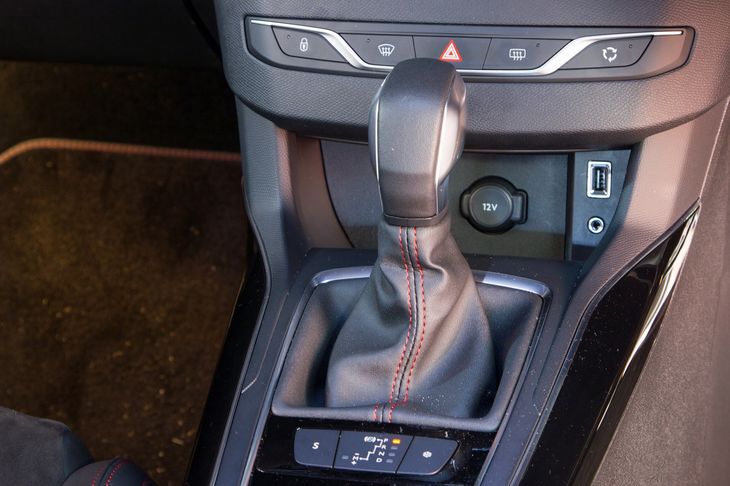 There should be more space to store oddments in the cabin considering the lack of buttons on the dashboard.
Despite almost all of the dashboard buttons being moved to the touchscreen system, Peugeot has missed a trick by not creating more hidey-holes in the cabin. There's only one cupholder and not nearly enough space to throw house keys and other bits and bobs. With few buttons taking up space on the fascia, Peugeot could have offered a more practical cabin.
Specification and safety?
In GT Line specification the 308 is just about fully loaded with all the modern conveniences. The touchscreen takes care of all functions, including climate control – which is a bit of a hassle and would be easier to operate via a set of buttons on the dashboard. Bluetooth, USB and auxiliary connectivity are standard as are front and rear parking sensors.
There's no reverse-view camera option, but the sensors are good enough. Cruise control gets the nod as well as hill-assist and automatic wipers and lights. We would probably choose a heating- over the massage function for the seats if there was a choice, but Peugeot doesn't offer the former in SA. You will be hard-pressed to find a comparable compact hatchback with a better standard specification on the market and once you spec up the competition, the Peugeot's price is competitive. Navigation is the only optional extra available at R10 000.
On the safety front, the 308 scored 5 stars on the EuroNCAP crash test rating, scoring particularly highly in adult and child occupancy safety. There are 6 airbags installed as standard and the passive safety list includes ABS, EBD and traction control, including stability control.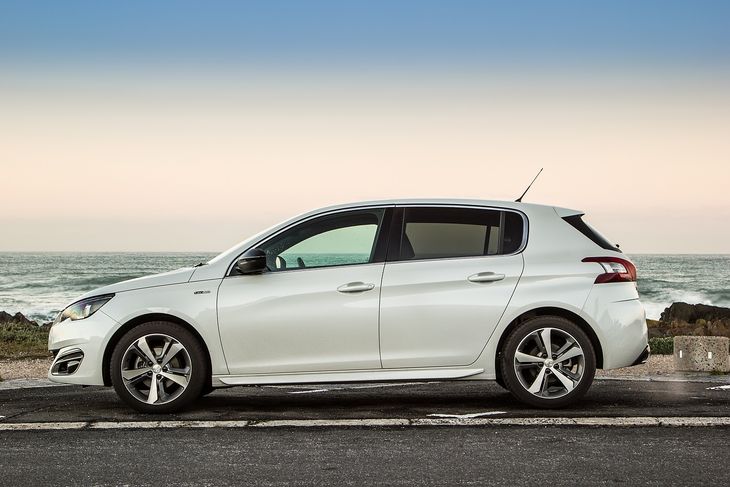 The 308 remains underrated in SA despite selling well in Europe.
Pricing and service plan
The Peugeot 308 1.2 GT Line auto is currently available for R371 900, which includes a 3-year/100 000 km warranty and a 4-year/60 000 km service plan.
Verdict
It's still hard to understand why the 308 isn't more popular. It offers a smooth and comfortable ride quality paired with a hassle-free automatic box that's a match for Volkswagen and Audi's class-leading dual-clutch transmissions. There's adequate space for passengers and the interior finish, attention to detail and material quality is top-drawer. It's an underrated vehicle that certainly deserves more success than current sales figures suggest. Regrettably, the stigma of bad resale value and poor reliability, which pertains to a generation of Peugeots that precede the 308 by several years, appears to hamper the brand to this day. Based on the merits of the 308, at the very least, that stigma no longer seems justified.
Quick specs of the Peugeot 308 1.2T GT Line auto: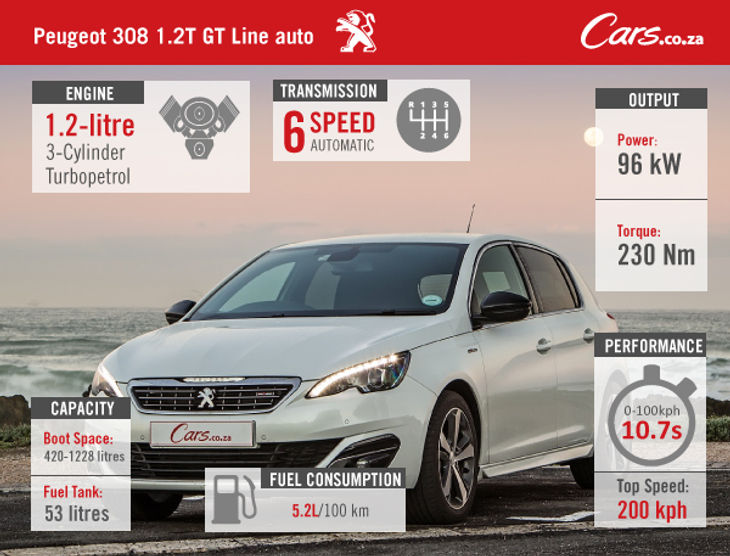 Related content:
Buying advice: Peugeot 308 pricing and rivals video