The default choice in Audi's new Q5 executive SUV range is the turbodiesel auto. We tested the new model's mettle with a trip into the Overberg. Is it the perfect all-rounder?
We like: Smooth ride on all surfaces, splendid interior, fuel consumption.
We don't like: Not as good looking as rivals, how much?
Alternatives
Something more dynamic: Jaguar F-Pace has proved particularly good to drive but interior finish and build quality is no match for the Audi.
Bring on the glamour: The Mercedes-Benz GLC stands out in a crowd, especially when the AMG Line kit is added but falls just short of the Q5 in terms of ride and refinement.
If you're willing to wait: The BMW X3 will be on sale in 2018 and as is the way with the Germans, newer models tend to raise the bar.
Compare the Audi to the Jaguar and Mercedes here
What is it?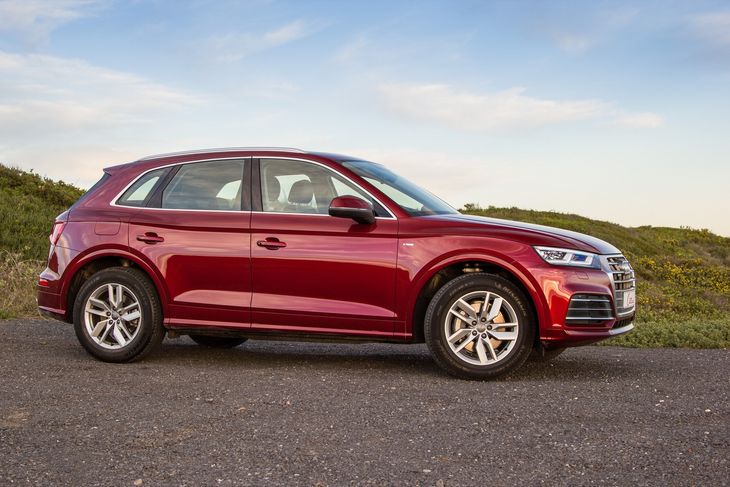 The new Q5 doesn't shout much from an external point of view, but its internals are exceptional.
The Audi Q5 is an all-new version of what was one of Audi's best products of the last decade. It sold well globally and seemed to perform admirably as both stylish SUV and practical family car. The new model is based on the current A4 platform, something that in our experience has particularly good footing and composure on the road.
As for the design of the new Q5, Audi appears to have opted for a "what worked before will work again" approach. The front grille follows the style template set by the Q7 with a very prominent hexagonal design. The lights, both front and rear, have distinctive LED signatures but, other than that, there aren't too many easily distinguishable features on this new model.
The Good
Quality drivetrain
Powered by another masterful 2.0-litre turbodiesel engine from Audi, the Q5 feels more than adequately propelled and extremely efficient. Peak outputs of 140 kW and 400 Nm provide sufficient power and torque to overtake from just about any legal speed while the 7-speed dual-clutch transmission engages cogs with silky precision. Power delivery feels particularly linear for a diesel with only the upper end of the rev range showing a distinct tapering down of shove. Fuel consumption is claimed at 4.9L/100 km but we recorded around 6.6L/100 km. That's pretty good considering most of the turbodiesel SUVs we test of this capacity – such as the Mazda CX-5, Kia Sportage and Mercedes-Benz GLC – average in the high 7s.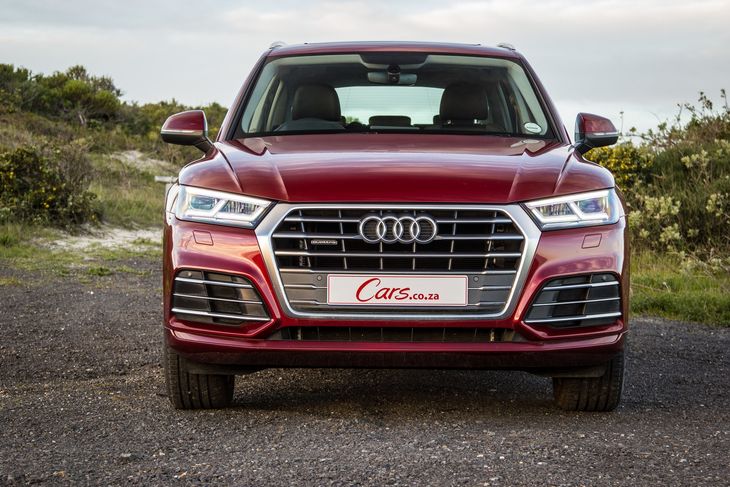 The turbodiesel engine under the bonnet is refined, quiet and has plenty of power in reserve for overtaking.
Ride refinement
The Q5 is unlikely to spend much time trudging through muddy tracks or loose-surface dirt roads, but it's nice to know that with quattro all-wheel-drive and an off-road specific driving mode that raises the suspension some 45 mm, the Q5 has a leg to stand on if things get slightly tricky. A 20 km dirt road stint near Robertson revealed that our Q5 TDI smoothes out gravel supremely and that's down to the car's standard 235/60 18-inch wheels being combined with optional adaptive air suspension (R27 150).The extra sidewall rubber endows the Q5 with a slightly more forgiving ride, while the air suspension negates much of the roll and reduces the hard knocks that you might feel with a steel setup. It has to be the best riding of the mid-size SUV bunch thanks to this combination, even the GLC, with its air suspension never feels as well planted or as comfortable as the Q5.
Seductive interior
Audi minimalism at its best. From the infotainment system to the climate control buttons and the Virtual Cockpit instrument display, everything in the Q5 is simple to operate. Virtual Cockpit is R7 000 extra, but in terms of options, it's one of the cheaper ones and transforms the instrument cluster into something very special to look at and also very functional.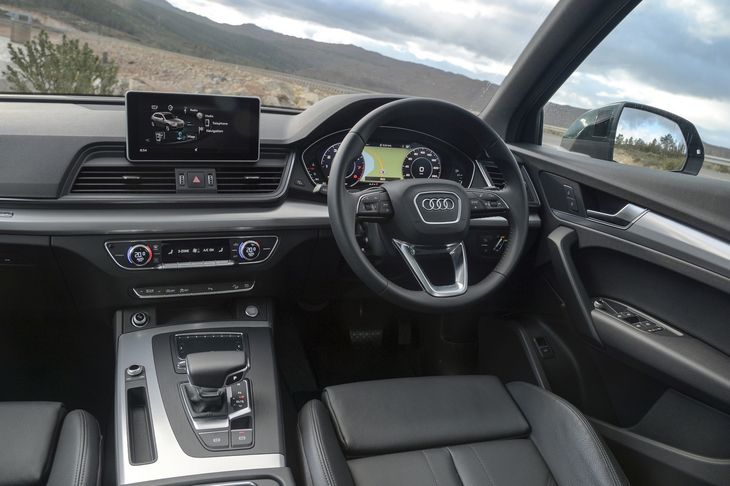 Simple design and lack of a daunting button count make the Q5 a pleasure to use and explore. Apple Carplay and Android Auto are available.
The surfaces are all of a high quality and the fit and finish is as tight as ever. Rear passengers benefit from plenty of legroom and a separate set of air vents. The boot is large too, at 550-litres, and the seats fold down in a 40/20/40 split to offer up a large, and wide loading space. There are neat storage nets in the corners of the boot to secure loose items and shopping hooks for added practicality.
The Not-So-Good
Understated
Audi hasn't really let its designers get particularly creative with the new Q5. Park it alongside a GLC, F-Pace or even a new Mazda CX-5 and it will fade into the background, even in sporty S-Line guise. However, fashion can be fickle, and as always, styling is subjective. Besides, Audi knows how to make a winning SUV.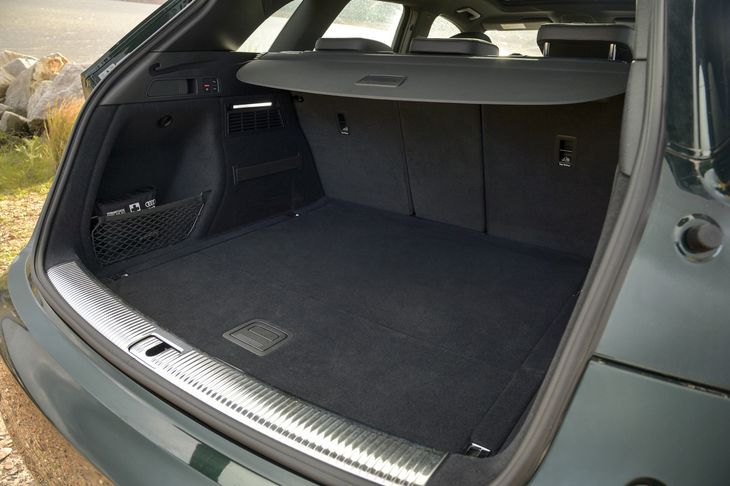 Large boot with lots of hooks and straps aid practicality. Electric towbar buttons are an optional extra.
Price tag
The base price for this 2.0TDI quattro S tronic Sport is R748 000, and that's a lot. Tick a few boxes on the options list, as with this press unit, and you're at R887 930. That's knocking on the door of Volvo XC90 and Audi Q7 money – much larger and even more practical cars.
Verdict
The new Q5 continues to be a top-class performer in its segment. The ride and comfort levels for passengers and driver alike are brilliant – you'll struggle to find a more refined car across all surfaces. The engine and gearbox are perfectly matched and turbodiesel technology has moved beyond clunky startups and bottom-end lag.
Other than an unimaginative exterior design, it's hard to fault the Q5 as a product. But factor in the before-options price of R750k and it's tantalisingly close to the Q7. As such it feels expensive and you might be easily swayed by the idea of saving a little longer for a Q7.
Related content:
Audi SQ5 quattro (2017) Review
World Car of Year (2017) Jaguar F-PACE [Review]
Mercedes-Benz GLC 300 (2015) Review
Searching for a used Audi Q5?