In terms of market share, Lexus South Africa does not have a big share of the market, even compared with other luxury marques. Yet, its products are well-made and -specced. Can a refreshed NX offer enough to make a bigger impact in the executive SUV market?
We like: Striking looks, improved spaciousness, commendable ride quality, excellent build and finish
We don't like: Poor ergonomics, difficult-to-use infotainment system
Alternatives:
Benchmark from Audi: The Q5 is a top-selling SUV in the Ingolstadt-based brand's stable and the latest version impresses as a well-finished product that exudes refinement.
Jaguar on the prowl: The F-Pace has reinvigorated the Coventrian brand's product offering and apart from its fashionable garb, the 30d version offers more power and torque than the Bimmer, although selecting a comparable R-Sport specification will push the asking price past a million.
The award-winning Mercedes-Benz: The GLC 250d 4Matic AMG Line won the 2017/18 #CarsAwards Executive SUV title courtesy of its prestigious image, smart interior and willing performance.
Passion anyone? The Alfa Romeo Stelvio 2.0T First Edition Q4 (206 kW/400 Nm) and Porsche Macan S (350 kW/460 Nm) offer spirited 2.0- and 3.0-litre powerplants respectively and captivating dynamics.
Compare the Lexus NX300 to its rivals here
What is it?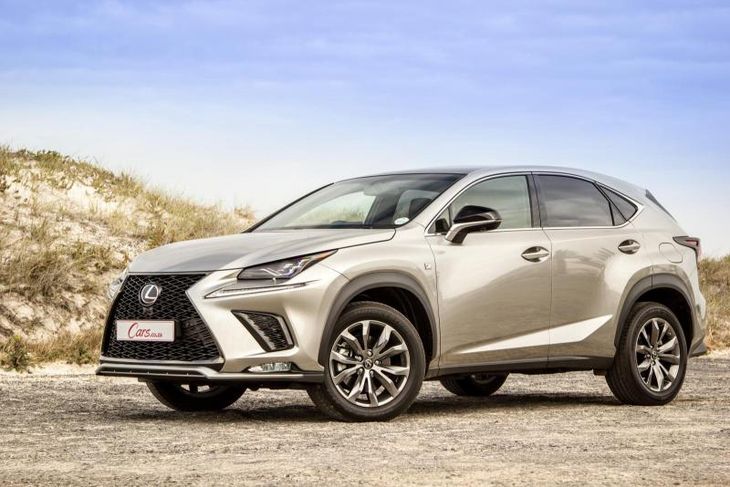 It may not look like but the facelifted Lexus NX has received a slight visual upgrade with new headlights and a redesigned grille
Lexus is a strong brand globally and its portfolio offers credible products to rival the big Germans. However, in South Africa, the brand isn't as popular which means the products really need to be commendable if they're to stand any chance of making a dent in the sales. Given how popular the luxury SUV market is right now, it makes perfect sense to facelift older models and roll out new versions. Lexus has just globally announced the UX - an entry-level baby SUV, while we get a facelifted NX locally.
The Lexus NX is a mid-size luxury SUV which is available in turbo petrol and hybrid application. All models except the entry-level derivative feature all-wheel drive and tested here is the NX300 F Sport. Previously this derivative carried a 200t badging, but Lexus dropped it in favour of badges referencing equivalent power outputs. In this case, 300 means that it produces power equivalent to a 3.0-litre engine.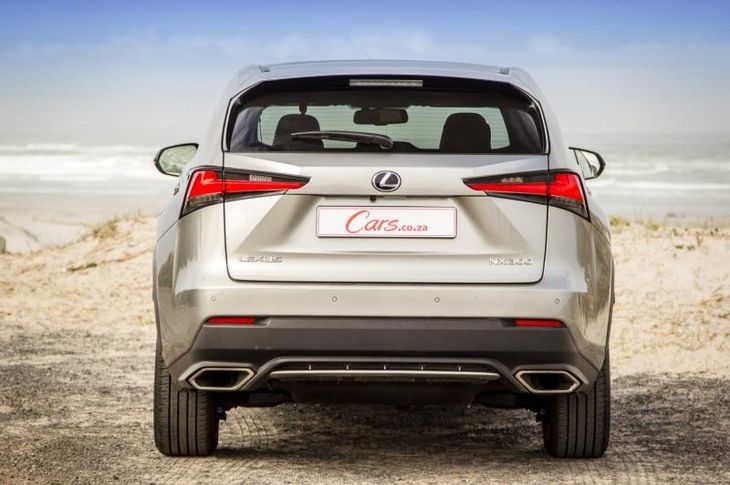 The Lexus NX300 F-Sport comes with an automatic tailgate
How does it fare in terms of…
Kerb appeal?
The previous generation Lexus NX was a mixed bag when it came to styling. Our previous test unit was in a military-style dark gunmetal grey and someone in the office said the paint/styling combination reminded them of the F22 Raptor fighter jet. Roll onto 2018 and the facelifted model we have here is clad in a beautiful Sonic Titanium. The F-Sport kit adds some macho elements to the package. At first glance, it's difficult to see what's exactly changed with the new car, but if you look closely, there are new headlights, a redesigned front grille and tweaks to the bumpers. If there was a word to describe the Lexus NX styling, it would be fussy. On the other side the coin with car design becoming more challenging by the day, it's refreshing to see a manufacturer doing something radically different in an effort to stand out.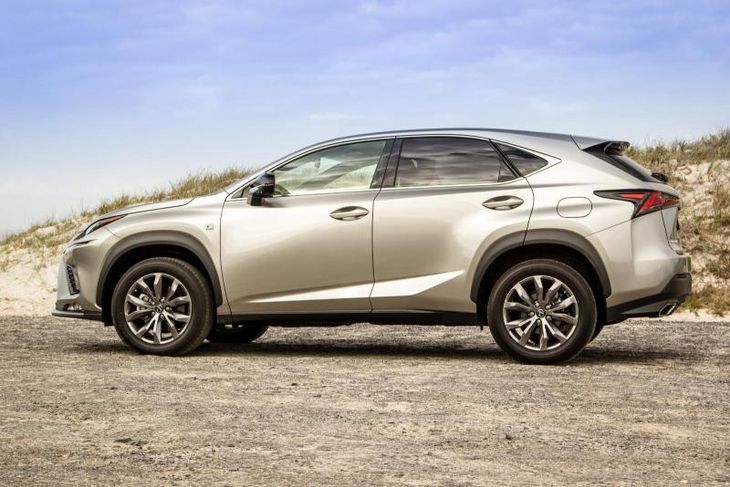 The facelifted Lexus NX loses its 200t badging and gains a 300 nomenclature on the rump
Packaging?
One department where Lexus stands out is cabin quality. There's an all-new 10-3-inch digital screen with excellent resolution, the seats are reassuringly supportive and comfortable and you feel like you're in something that can justify its pricetag. We loved the airconditioned and heated seats - the cooling effect is terrific on a hot summer's day and heated seats in winter are never unwelcome.
There are plenty of little-hiding holes for storage and a wireless charging pad for devices was appreciated. The luaggage bay (with a section of seatback folded down) is cavernous enough to swallow a mountain bike whole. The Lexus, therefore, nails the practicality aspect of things nicely and it was one of its redeeming features.
Things go awry when it comes to ergonomics and actually trying to use the infotainment system. It uses a haptic feedback-enabled touchpad system, much like that of a laptop and it doesn't quite have the slick user experience we've come to expect from infotainment systems in modern premium cars. There's no denying the features and quality of the screen is very good, but trying to select a different source of media via the controller was a frustrating experience. On the other side of the coin, if you do land up buying a Lexus NX, you're likely to eventually get the hang of the system.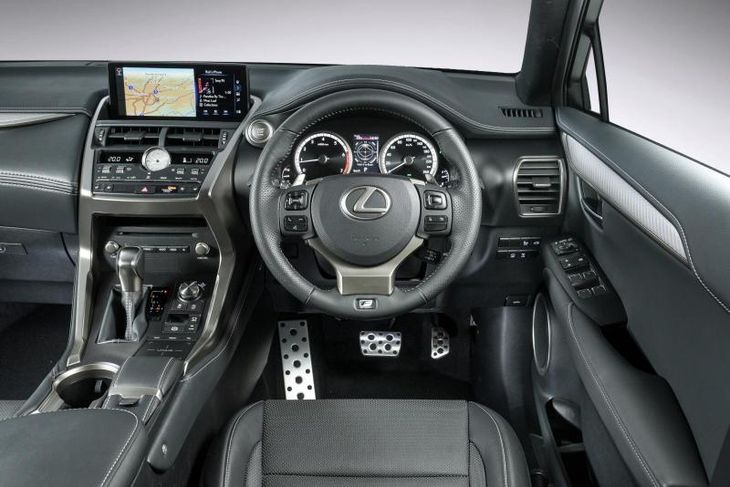 The cabin of the Lexus NX is well assembled but struggles in terms of ergonomics.
Performance, ride and handling?
Despite the negativity around the strangely-designed middle console and complications with the infotainment system, the Lexus NX300 actually happens to ride and drive well. While it may come from the factory with a sporty bodykit and big 18-inch alloy wheels, it doesn't actually feel like it's trying to be a performance hatchback. The ride quality is firm, yes, but hardly unbearable and when the tarmac switches from potholed B-roads to the national highway, you'll appreciate how quiet, smooth and refined the Lexus NX is. Lexus claims that the suspension setup has been recalibrated to reduced body roll and improve comfort, but we couldn't notice anything different.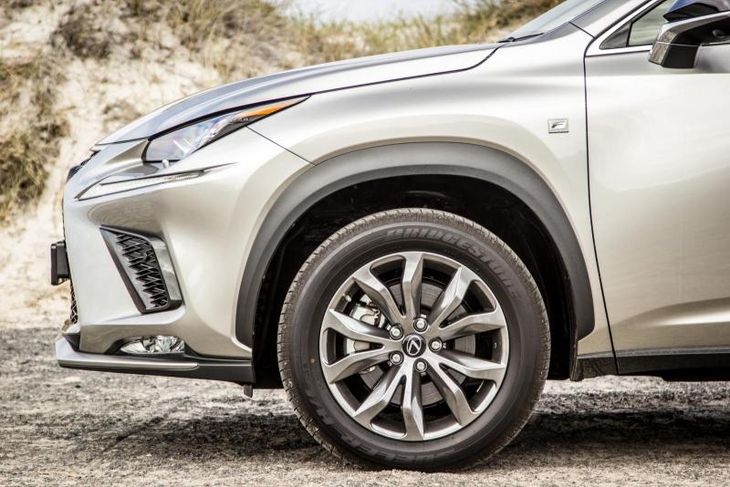 Despite riding on big 18-inch alloy wheels, the ride quality is firm but not uncomfortable. All-wheel drive is a bonus on slippery surfaces.
We tested the Lexus NX across multiple surfaces and thanks to its all-wheel drive capability, we ventured onto some sand. While it's not marketed as a pukka 4x4, the all-wheel drive is a welcome reassurance for driving on sand or even a wet road. There are some driving modes fitted and they alter the character of the car at the twist of a knob. If you're doing the commute, then we suggest Eco, which dulls the responsiveness of the throttle and optimises the car for economy. Normal is self-explanatory, while Sport and Sport+ set the car up for enthusiastic high-speed driving. The throttle becomes extra sensitive and the gearbox more eager to change down a cog or 2.
The engine on duty has been carried over from the previous model and we don't have any complaints about its performance. It's a 2.0-litre turbocharged 4-cylinder petrol mill and with peak outputs of 175 kW and 350 Nm; it has enough shove to keep most people happy. The transmission on duty is a 6-speed automatic and it features shift paddles located behind the steering wheel. These weren't the greatest in terms of prompt responses to inputs and we preferred to leave the 'box to its own devices.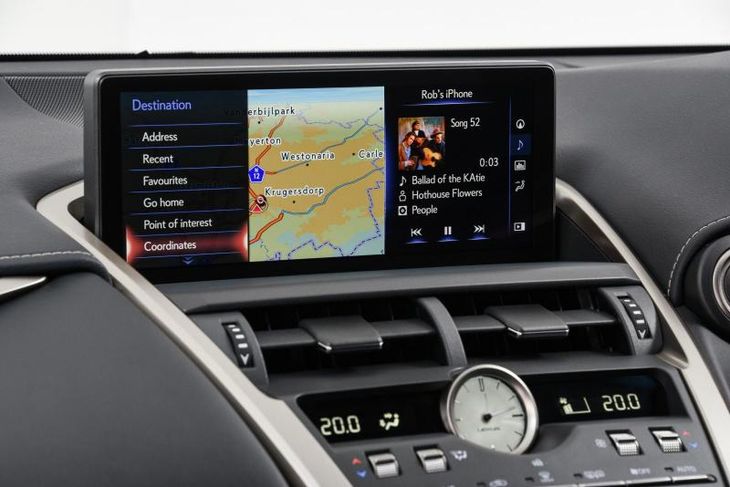 The new infotainment screen is larger than before and the resolution is high enough for excellent clarity
Technology and features?
If there is one redeeming trait that Lexus deserves to be heartily commended for, it's the lofty level of specification of its vehicles. Every Lexus product is packed with features and the facelifted NX is no exception. The vehicle comes standard with climate control, cruise control, tyre pressure monitoring, wireless charging, smart entry, heated & ventilated leather seats, 10-speaker sound system, satellite navigation, automated tailgate and LED headlamps, to name but a few.
In terms of safety, the NX is equipped with ABS with EBD, Brake Assist, Traction Control, Enhanced VSC, Hill-start Assist and Trailer Sway Control. The F-Sport derivative adds bonus features such as a Blind Spot Monitor (BSM) and Rear Cross Traffic Alert (RCTA). RCTA is particularly useful when pulling out of shopping mall parking bays and you can't see oncoming cars.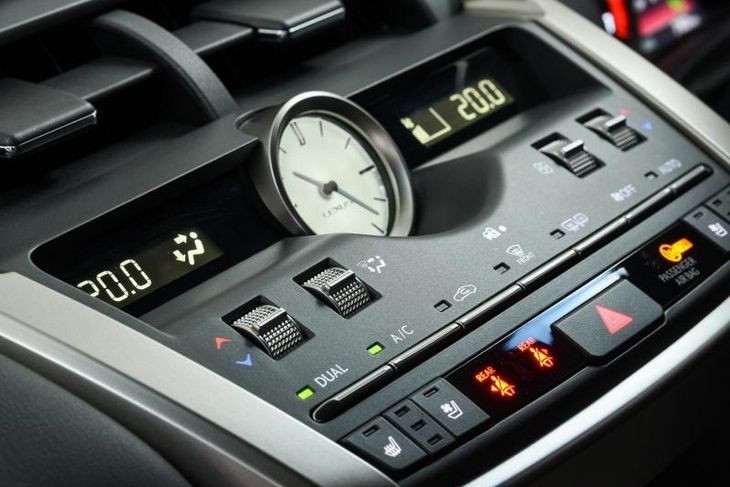 Heated and cooled leather seats are lovely. The materials used in the cabin are of high quality, but the layout and ergonomics are a letdown
Lexus NX - Price in South Africa
NX300 E - R599 900
NX300 EX - R677 300
NX300 F Sport - R789 700
NX300h EX - R746 700
The Lexus NX is sold with a 3-year/100 000 km warranty. E-grade versions receive a Lexus Distance Plan service plan, EX models - Distance Plan Plus (includes brake components) and F Sport – Distance Plan Complete (full maintenance plan). In addition, customers can upgrade or extend their service/maintenance plan packages via the Lexus dealer network.
Verdict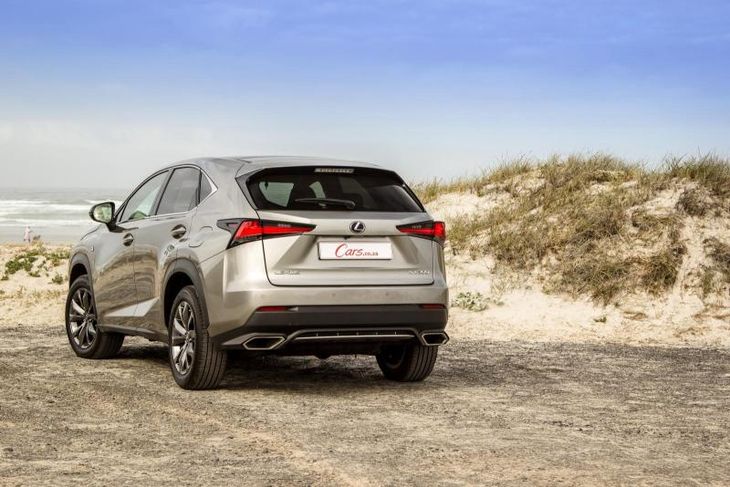 It's a decent offering from Lexus, but with the competition being so stiff and rivals so many, we can't say the facelifted NX is the new segment leader
The new bits and changes to the Lexus NX300 are incremental, but you're left feeling that not much has changed in comparison to the model we drove back in 2015. The powertrain and all-wheel driveability are good, but the issues we had with the cabin ergonomics weren't addressed and ease of use is average. The Lexus NX does offer the best standard specification in class, but the cabin doesn't quite have that wow factor to match up to the competition. However, it is solidly-built and kudos to the manufacturer are due: the test unit's cabin exhibited no rattles or squeaks.
It's a good executive SUV and if you land up going down this road, it's unlikely you'll be disappointed with the ownership experience. However, this segment is the flavour of the month right now and everyone brand is building a luxury SUV. Jaguar has expanded and built a smaller E-Pace, BMW has introduced the new X3 (and is about to launch the X2 locally) and we suspect that yet another Mercedes-Benz SUV is about to roll out of Stuttgart. Even the passionate Italians at Alfa Romeo have had a go and created the Stelvio and it's a solid product.The competition in this segment is inordinately tough and the Lexus doesn't quite have what it takes to be a segment leader. Is it the worst of the bunch? No, not at all – it just requires a test drive... and leap of faith. With some strategic thinking, the forthcoming UX baby SUV could be a winner.
Related Content
Facelifted Lexus NX Shown in Shanghai
Lexus NX 200t F-Sport (2015) Review
Lexus RX L Coming to SA with 7 Seats
Lexus LC 500 (2017) Launch Review