BMW's X models are hugely popular, but the X3, of which the new generation is produced in South Africa, has suffered from middle-child syndrome in previous iterations. Does the newcomer offer enough personality and all-round prowess to match the lauded Audi Q5, award-winning Mercedes-Benz GLC, underrated Lexus NX, sporty Jaguar F-PACE and alluring Alfa Romeo Stelvio? Read on.
We like: Eye-catching looks, improved spaciousness, smart interior, ride/handling balance
We don't like: Looks a little bulky from some angles, lower-dash plastics, expensive options
Alternatives:
One of Audi's finest: The Q5 is a top-selling SUV in the Ingolstadt-based brand's stable and the latest version impresses as a well-finished product that exudes refinement. Sadly a limited line-up of derivatives in SA sees Audi offer no direct rival to the 3.0-litre turbodiesel under the X3's bonnet.
Sinuous feline: The Jaguar F-PACE has reinvigorated the Coventrian brand's product offering and apart from its fashionable garb, the 30d version offers more power and torque than the Bimmer, although selecting a comparable R-Sport specification will push the asking price past a million.
The award-winner: The Mercedes-Benz GLC 250d 4Matic AMG Line won the 2017/18 #CarsAwards Executive SUV title courtesy of its prestigious image, smart interior and willing performance. Price wise, the 350d GLC350d 4Matic AMG Line is a close match for the xDrive30d M Sport.
Petrol-powered rivals: The Alfa Romeo Stelvio 2.0T First Edition Q4 (206 kW/400 Nm) and Porsche Macan S (350 kW/460 Nm) offer spirited 2.0- and 3.0-litre powerplants and captivating dynamics, even though neither can match the BMW's for on-board technology. The Lexus NX 300 F-Sport is well specified and looks good value by comparison, but perhaps lacks the requisite star appeal.
Compare the xDrive 30d M Sport sports-auto with rivals from Mercedes-Benz and Jaguar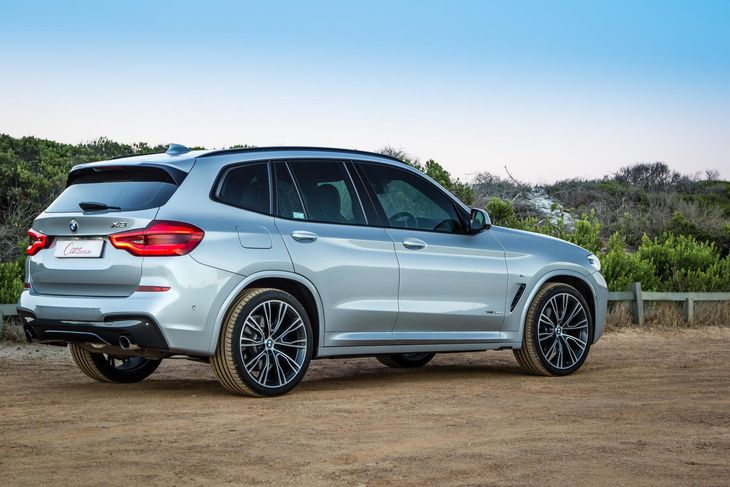 Given the abundance of sheetmetal to the rear of the X3, the M Sport aerodynamic kit added just enough contrast and visual balance.
What is it?
On the face of it, BMW has not changed much with its X3 recipe, but Munich's Executive SUV is now notably based on the scalable lighter and stiffer CLAR platform (first introduced on the 7 Series, followed by the 5 Series and 6 Series GT), its wheelbase has grown by 54 mm and the entire car is 78 mm longer than before. The range's engine lineup consists 2.0-litre four- and 3.0-litre straight six turbopetrol and turbodiesel powerplants, with an xDrive 20i derivative in the pipeline too.
BMW realised a weight saving of 55 kg through the introduction of aluminium doors/bonnet and the utilisation of high-tensile in the floorpan and the newcomer's extra dimensions bear out in the long bonnet, increased rear accommodation and sizeable luggage area. As a mid-sized luxury family car, the X3 appears to have come of age.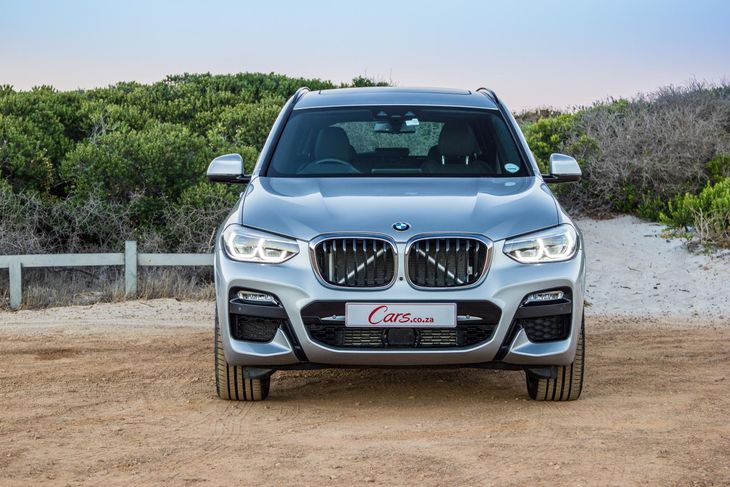 The jury is still out on the aesthetic success of the large kidney grilles or "flared nostrils". The X3 nose is anything but non-descript...
How does it fare in terms of…
Kerb appeal?
Whereas most people would agree that the previous-generation X3 looked more or less agreeable following its mid product cycle facelift, its predecessors were all awkwardly styled – shall we say – "acquired tastes". Helped by additionally specified sporty M Aerodynamic kit, wheel-arch-filling 21-inch V-Spoke rims, BMW Individual roof rails and high-gloss Shadow Line trim, the latest xDrive30d M Sport looks every bit the suave and sophisticated medium-sized urban family car. The elaborate sections of black mesh in the front bumper lessen the visual assault of the oversized kidney grilles and although the rear three-quarter view still looks a little plump, the anthracite back bumper garnish and shapely LED rear-light clusters make the X3's tail seem less bluff by visually widening the newcomer's stance.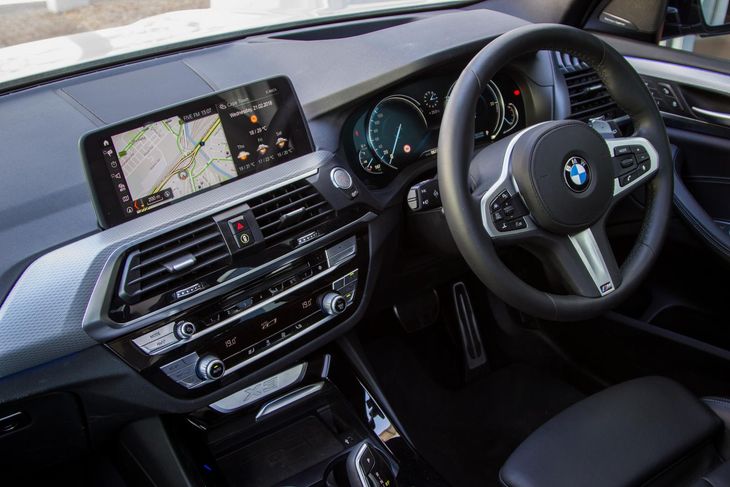 BMW's executive SUV strikes a good visual balance between brightwork and electronic surfaces, plus it's ergonomically sound.
Packaging?
The interior of the X3 will be instantly recognisable to those who've experienced the 5 Series' memorable interior, but there is nevertheless a distinct sense of occasion to the new executive SUV's cabin, not least on account of the X3 badging in the inner doors and atop the lidded oddments compartment, just below the fascia.
A tasteful melange of piano black and Aluminium Rhombicle inlays, Pearl Chrome strips and Galvanic embellisher (metallic finishes) to the switchgear add tactile luxury to the X3's leather-trimmed cockpit, which feels thoroughly contemporary (technologically speaking) thanks to the sizeable infotainment display, which is sensitive both to touch- and Gesture Control inputs (plus Apple CarPlay-enabled), an all-digital instrument cluster and the head-up display; a Harman/kardon Surround Sound system, meanwhile, provides a sonorous entertainment. Note that the latter features and the specific trim finishes are listed as optional extras, the total of which will be revealed later. The general quality of fit and finish is upmarket, although the dark grey lower half (also soft-touch) plastic was a little too prone to scuffing for some testers' liking.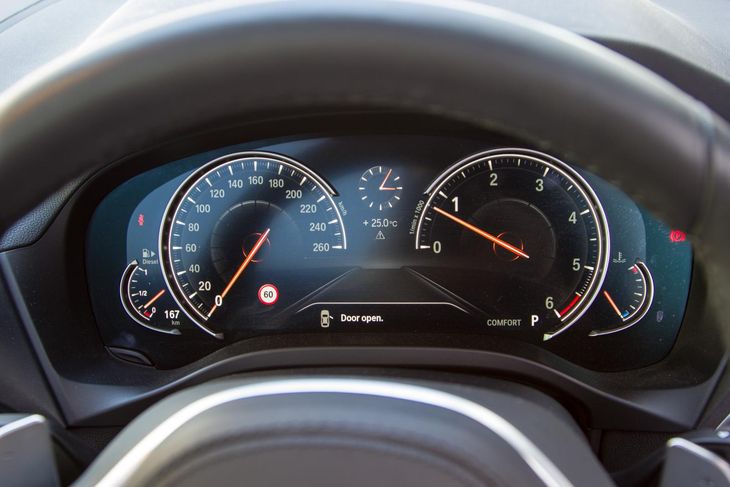 Regrettably, the customisable multifunctional instrument display is an extra-cost item, but we believe it's well worth the additional outlay.
The electrically adjustable front sports seats (with memory function for the driver, also optional) are well bolstered and form-hugging, yet remarkably comfortable on longer trips. The smart leather-trimmed M steering wheel feels well-sized, but most testers still preferred to favour a hiked-up commanding driving position over the low, semi-reclined one most drivers would favour when driving sedans or hatchbacks. The aforementioned lidded compartment directly ahead of the transmission lever/iDrive/Drive Mode console features sizeable cupholders and a wireless charging pad. The large bottle holders in the front doors recesses were particularly handy.
Performance, ride and handling?
Suffice to say that thanks to the weight-saving measures and further enhancements to its drivetrain, the xDrive30d offers more than sufficient performance. In fact, the peak torque of 620 Nm, which is available from 2 000-2 500 rpm (a slightly narrower band than its chief rivals), results in pleasingly punchy overtaking acceleration… it's worthwhile to slip off the main freeways and exploit a quiet back road. The Drive Modes do affect the throttle response/shift pattern perceptibly, in normal mode brisk acceleration requires firmer prods to accelerator than expected, but not alarmingly so. The 8-speed transmission remains one of the best aspects of larger BMWs.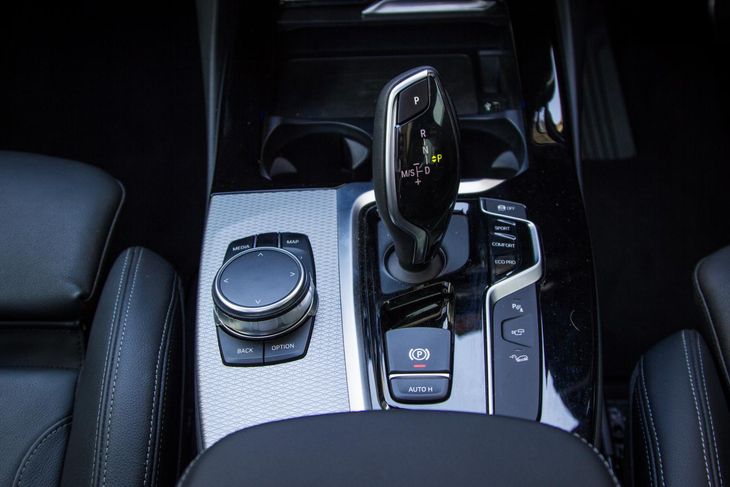 The transmission tunnel/centre console is beautifully designed and super-functional. Toggling between Drive Modes is a cinch.
As for general body control and road holding, the X3 feels poised and grippy (aided, no doubt, by those wide 21-inch tyres) and although the steering is largely bereft of feel, turn-in is crisp. It's only when dipping into a corner at a careless pace that the executive SUV can feel slightly top heavy – as if the stability control needs to quietly settle the car. These characteristics are perfectly in keeping with a car in this segment of the market (it is a comfort-oriented luxury mid-sized family car, after all).
The ride quality, however, was a pleasant surprise. We tested the xDrive30d on a variety of surfaces, including dirt road sections, and were thoroughly impressed with how pliantly the BMW absorbed imperfections relative to its rather extreme (21-inch) wheels and tyres. Road and wind noise insulation was good, although dust insulation was comparatively fair, and the test unit only felt a bit bouncy when traversing major bumps at higher speeds. Could this be the most comfortably-sprung BMW SUV to date?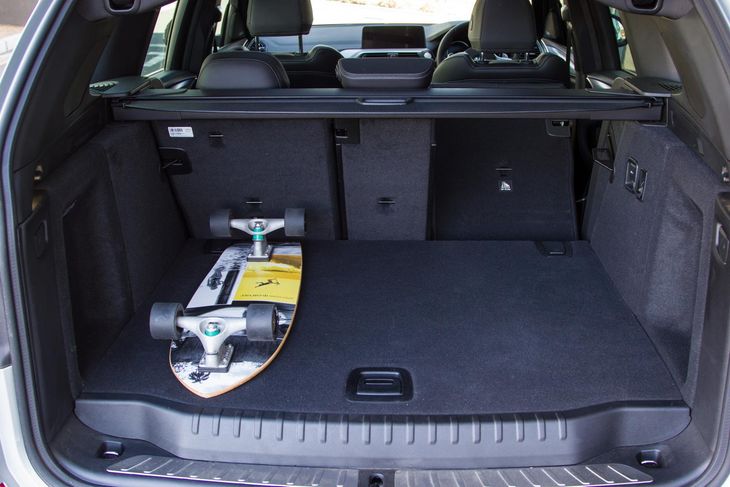 Apart from the fact that the 3-way-split rear backrest can fold forward, it can also recline for added rear passenger comfort.
Practicality?
As we alluded earlier in the review, the more spacious X3 shell avails roomier levels of accommodation especially for rear occupants, who are afforded more than reasonable leg-, shoulder- and headroom (and a rear-zone climate control function, should you choose to specify it). The loading height is comfortably low, the tailgate electrically operated (the opening height can be set in the iDrive menu) and, overall, luggage capacity should be perfectly adequate (550 litres) for most buyers.
We found it simple to access the X3's utility space by flipping forward the rear 40/20/40 backrest at the pull of a pair of levers located on the sides of the X3's rear bay, where an additional power outlet is provided too. Granted, the luggage area would have benefited from more tie hooks and loops, but pundits will be impressed to know that the X3 features a space saver spare wheel (it explains the slight lip to the floorboard just behind the edge of the metal loading sill), for added peace of mind.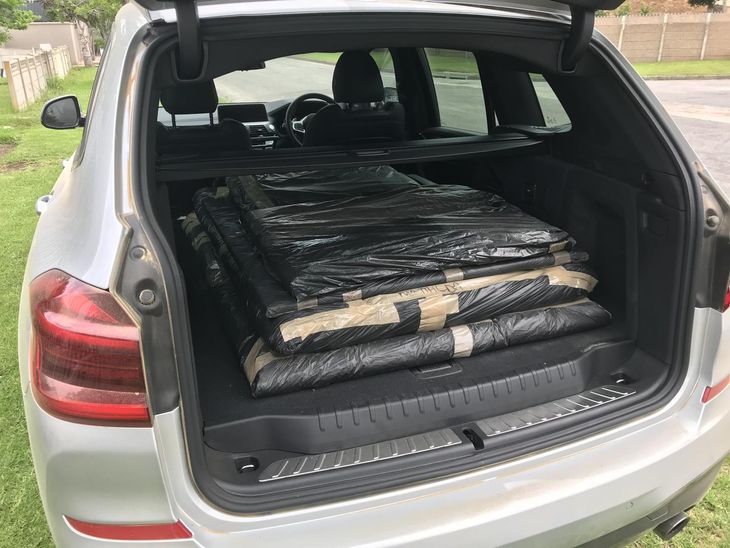 The X3 test unit was effectively utilised to cart a cachet of large oil paintings from George to Cape Town. A good test of practicality.
Technology?
Okay, now take a deep breath. According to the spec sheet for the test unit (supplied by BMW SA) the xDrive30d M Sport sports-auto was kitted out with more than R280k worth of extras. Setting aside the added features we've already mentioned, these included adaptive LED headlamps with high-beam assist, an electric trailer hitch, exterior mirrors with anti-dazzle function, panoramic sunroof, Active Protection (emergency braking), Driving Assist Plus (adaptive cruise control with braking and steering assistance), Parking Assist Plus (self-parking feature aided by surround-view cameras, Variable Sports steering, BMW Display Key, as well as Professional navigation.
Of these functions, we appreciated the high-end look of the multifunctional instrument display, enjoyed the detailed surround view function and, although the system could sometimes be too eager to make myriad minor steering adjustments and get confused by variable road markings (depending on the conditions of road maintenance one may encounter on a cross-country trip, which is not the BMW's fault, to be fair), Driving Assist Plus takes much stress out of long-haul trips. Oh, and in terms of efficiency, we saw an indicated average fuel consumption of 7.8 L/100 km (which is not too far from the quoted 6.2 L/100 km), which is another benefit of the latter system.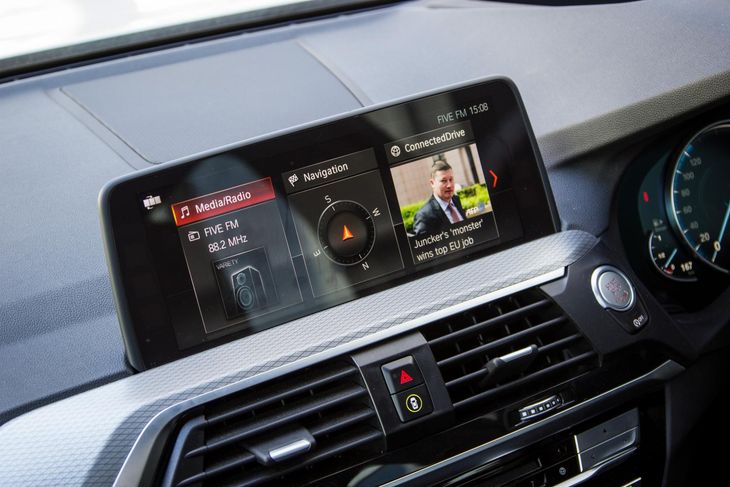 The customisable infotainment system can be operated via iDrive inputs, finger touches and swipes, and even Gesture Control!
Price & after-sales support
BMW lists the xDrive30d M Sport sports-auto's list price as R925 888, which includes a 2-year unlimited mileage warranty and 5 years/100 000 km maintenance plan.
Verdict
Whereas the competition in the business class sedan segment (BMW 3 Series, Audi A4 and Mercedes-Benz C-Class et al.) was once thought to be so close that it was almost impossible to pick a winner, the same can now be said of the executive SUV segment, if not more so. The X3 and its peers, all of which offer such delicate balances between luxuriousness, sportiness, occupant comfort and everyday practicality, have made executive sedans and some premium SUVs seem... superfluous. The Bavarian's executive SUV's first task was to improve on its predecessor; in terms of sophistication, build quality, space and utility it succeeded on all fronts.
What's more, the best attributes of the 5 Series are available in the X3, which is packaged in such a way that it appeals equally as a luxury family car and a sheer ego-driven premium purchasing proposition. Stacked up against the opposition, the BMW feels markedly newer and slicker than the Mercedes-Benz GLC or Porsche Macan, it's almost as well finished as the virtually impeccable Q5 (but more characterful and engaging to drive than the Audi), and although the Bavarian might not quite feel as trendy, cool or instantly fun-to-drive as the Jaguar F-Pace or Alfa Romeo Stelvio, it's more resolved (and, in general terms, talented) than its British and Italian rivals.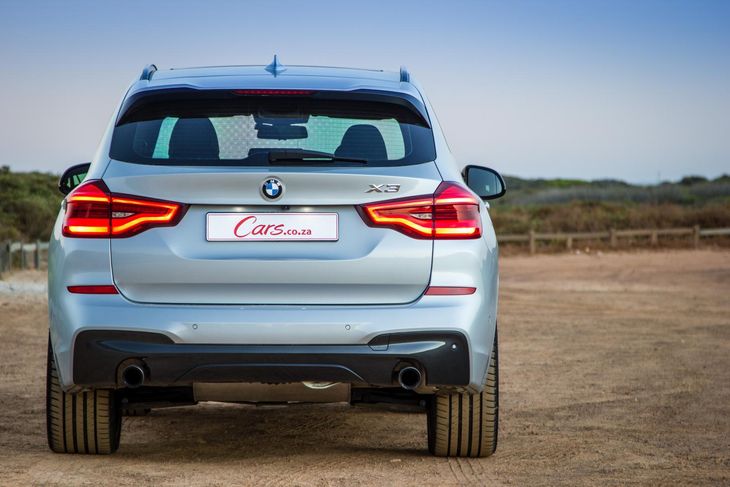 Given all the improvements in critical areas, the X3 can lay claim to being a superb all-rounder. Is this perhaps BMW's best X car?
And yet, the X3 does not quite barge to the front of the queue in the way that one might expect, given the multitude of platitudes we (and many publications in the automotive media) have bestowed on the 3rd-generation executive SUV. It's difficult to explain why. By BMW's standards, the X3's styling is safe and predictable, it does make a statement, yes, but draws nods of approval instead of gawks of amazement. What's more, it feels satisfying to drive (and be driven in) but in the way it might feel when you order your favourite dish at your favourite restaurant safe in the knowledge you're unlikely to be disappointed. When we add up its competencies in several areas of its package, the X3 could be, on balance, one of the best BMW products currently available in the new vehicle market. It has hardly any flaws worth noting.
Ultimately, the Bavarian newcomer is a product designed to "out-all-round" a battalion of excellent all-rounders in its market segment, which is somewhat of a departure from BMW's usual play book. As is often the case, the X3 xDrive 30d as supplied by BMW for the purposes of this review, was laced with a plethora of nice-to-haves, which at times, threatened to steal the show. Without them (and thoughtfully specified interior accoutrements), the newcomer may have been less memorable. Having said all that, the X3 would probably still be an impressive product without the myriad of on-board toys, but we feel a more prudently specced, smaller-engined and therefore better-priced X3 would better represent the best value the range can offer the broadest spectrum of potential buyers. We look forward to having another go...
Watch our Video Review of this derivative below:

Related content:
BMW X3 xDrive30d (2018) Video Review
BMW X3 (2017) Launch Review Video
Mercedes-Benz GLC 300 (2015) Review
Audi Q5 2.0 TDI quattro (2017) Video Review
Mercedes-Benz GLC 300 (2015) Review
Volvo XC60 (2017) Launch Review Video
Searching for a used X3?