The hot-hatch market is dominated by models with dual-clutch transmissions; by launching its Veloster N with an 8-speed dual-clutch automatic and an i30 N manual-beating 377 Nm of torque, Hyundai is widening the appeal of its N derivatives.
It seemed everyone but Honda (Civic Type R) and Hyundai (i30 N) got the memo… A dual-clutch (or direct-shift) automatic is the transmission of choice in the hot-hatch market; in fact, Volkswagen no longer offers its iconic Golf GTI model with a 6-speed manual in South Africa; the 8th generation (scheduled to arrive here before the end of 2020) probably won't be available with a "stick-shift" either.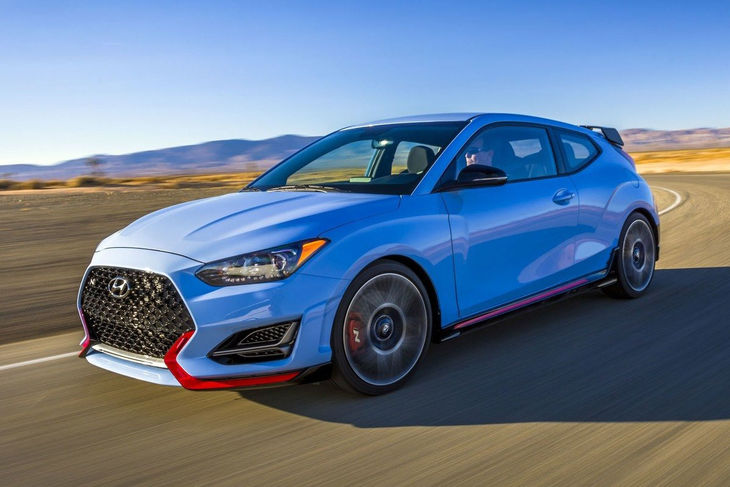 As opposed to its i30 sibling, the Veloster N was introduced at the same as the rest of the derivatives in the 2nd-generation range.
Hyundai offered the previous generation of the Veloster in South Africa (in naturally aspirated and turbocharged 1.6-litre guises) and the current (2nd-generation) Veloster remains under consideration for the local market. However, the N derivative is not produced for right-hand-drive markets, but even if it was, it's not as strong a proposition as its i30 N sibling due to its quirky 4-door packaging.
What is significant about the self-shifting Veloster N, however, is the fact that it comes equipped with Hyundai's new N DCT – an 8-speed dual-clutch automatic transmission with a wet (oil-lubricated) configuration – as opposed to the 7-speed dual-clutch setup of the now discontinued Elantra 1.6 Turbo Elite Sport. And, of course, the i30 N will ultimately be available with that transmission as well.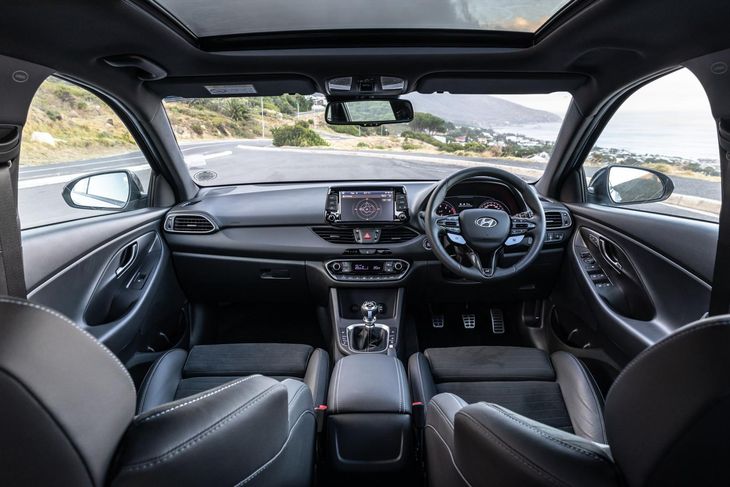 The i30 N has only been available as a 6-speed manual thus far, which has pleased traditionalists, but arguably limited its appeal.
Like its (thus far manual-equipped) i30 N sibling, the Veloster N produces peak power of 205 kW (okay, the local model is rated at 202 kW, but that's close enough), but its peak torque figure is 377 Nm, which is notably higher than the former's 353 Nm (claimed).
The cars have the same 2.0-litre 4-cylinder turbopetrol motor, so where does the newcomer's extra 24 Nm come from? Well, as a demonstration that super-serious Hyundai's burgeoning N Division is now trying its hand at hot-hatch marketing ballyhoo (to be fair, as so many other manufacturers have – and still do) the answer is: N Grin Shift (NGS).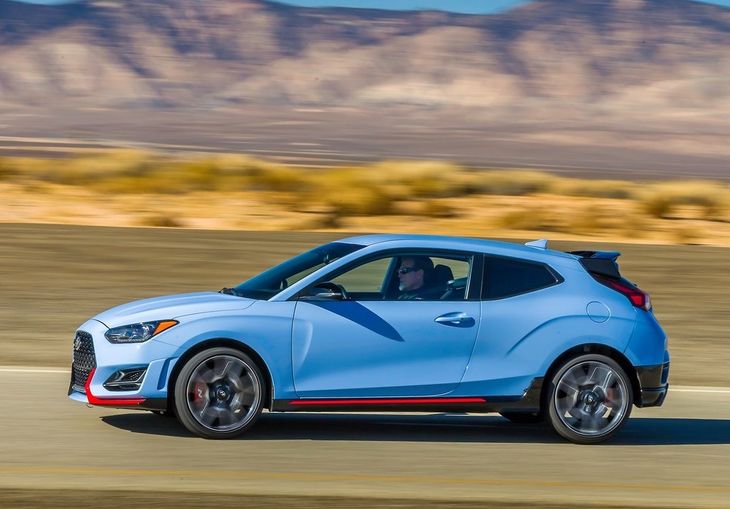 The Veloster N is said to charge from 0 to 100 kph in 5.5 seconds in manual guise, so the N DCT version should be slightly faster.
That's right, apart from being additionally equipped with N Power Shift (NPS) and N Track Sense Shift (NTS) modes, the new transmission's NGS technology allows the Veloster N's engine to deliver an extra 24 Nm on overboost in 20-second bursts.
The newcomer further features an 8-inch infotainment system, a premium JBL audio setup and optional N Light Sports Bucket Seats. Apart from being 2 kilograms lighter, each N seat features an illuminated logo built into the aluminium-trimmed backrest.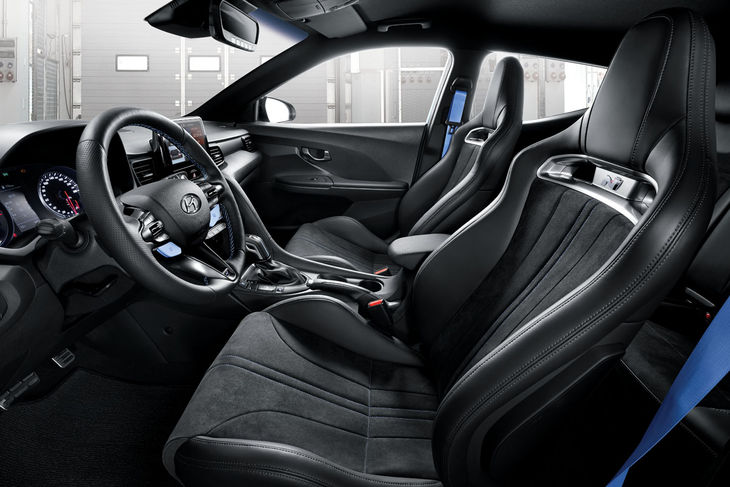 Although it is difficult to tell from this image, the Veloster N comes equipped with steering-wheel-mounted shift paddles.
We don't believe there is much chance of the Veloster N coming to South Africa (even if Hyundai changes its mind about LHD-only production, it's a very niche offering and in a very price-sensitive segment). What's more, Hyundai SA has not officially committed to the (now pre-facelift) i30 N's sustained availability beyond the first consignment of cars that arrived here a couple of months ago.
However, should circumstances change regarding the i30 N on the local market, given the market's preference for dual-clutch-equipped hot hatchbacks, an 8-speed DCT-equipped i30 N derivative would certainly be well received by local hot-hatch aficionados. Watch this space.
In conclusion, also bear in mind that a wet-clutch setup allows for much higher torque delivery and resistance to punishment (such as sustained hard driving or track excursions, for example). Hyundai has been testing a 2.5-litre motor in its Veloster, so if the N Division plans to introduce a higher output motor in one or several of Hyundai's models, this 'box would be well suited to that application.
Related content:
Is Hyundai N Testing Bigger Engines?
Hyundai i30 N (2020) Launch Review