The Hyundai Elantra has been one of the brand's sensible sedan offerings for some time, but now the Koreans have attempted to move its product into a premium and sportier niche. Can a sporty Hyundai Elantra succeed at a premium price point? We get behind the wheel of Hyundai's flagship Elantra, known as the 1.6 Turbo Elite Sport.
We like: Impressive powertrain, refinement, standard features, spacious cabin
We don't like: ride may be too stiffly-sprung for some, clunky infotainment system
Alternatives:
A segment stalwart: The Volkswagen Jetta 1.4 TSI finds itself in a position where space, premium-ness and value for money come together nicely. It's down on power and doesn't offer as much as the Hyundai Elantra in terms of standard specification.
For premium brand appeal: In the compact sedan market, the Audi A3 4-door is at the top of the pile. However, you pay dearly for this privilege as its far more expensive than its Korean rival and at this price point you can only opt for a 1.0-litre turbo triple cylinder.
Honda Civic 1.5T Sport: The offering from the Far East brings exceptional styling and a peppy powertrain. Sadly, the cabin design and finish are woeful and far behind that of its Korean rival.

Compare the specifications of the Hyundai Elantra to the Volkswagen Jetta, Audi A3 sedan and Honda Civic sedan here.

The new Hyundai Elantra in 1.6 Turbo Elite Sport guise is a handsome vehicle. Note sporty wheels and discrete turbo badge on the grille
Facts & figures
Price: R399 900 (August 2017)
Engine: 1.6-litre, 4-cylinder turbopetrol
Transmission: 6-speed dual clutch
Power: 150 kW (combined)
Torque: 265 Nm (combined)
Fuel consumption: 7.9 L/100 km (claimed)
0-100 kph: 7.7 seconds (claimed)
Top speed: 210 kph (claimed)
What's special about it?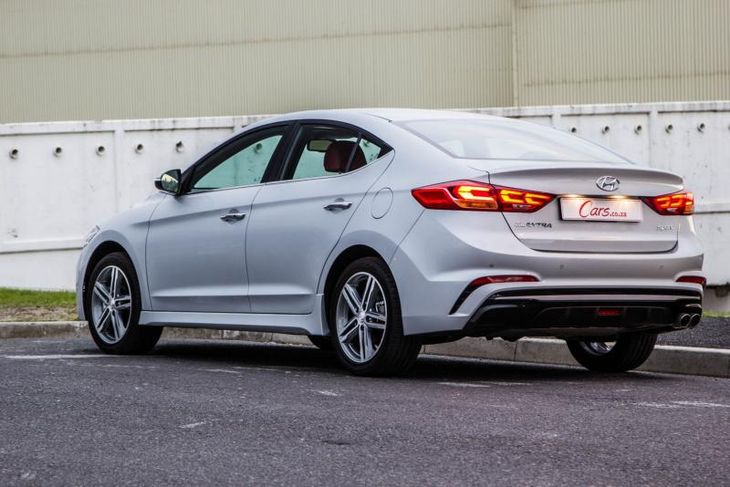 Despite its sporty demeanour, the Hyundai Elantra still retains its sensible and practical capability.
Generally speaking, previous versions of the Hyundai Elantra were regarded alternatives to Japanese compact sedans such as the Honda Civic and Toyota Corolla. For this all-new model, Hyundai looks to go upmarket by introducing a sporty derivative. This is not a cosmetic touch up (with a set of sportier big alloys here and a boot spoiler there), but rather a purpose-built warm (as opposed to hot) performance sedan. What's this all about, then?
Well, the newcomer's sporty exterior execution speaks for itself: the Sport represents a deliberate overture to premium compact- and business class sedan buyers. Yes, there are more soberly specced Elantras that rival the likes of the Toyota Corolla, Kia Cerato, Mazda3 and the Ford Focus, but this is a completely different animal. Hyundai has lifted the engine and gearbox straight from a Veloster Turbo and bolted into this family sedan. Factor in the sporty visual addenda, both inside and out, and we have a Korean sedan nipping at the heels of some of the more premium players.
The good
Powertrain combination
Not everyone was delighted by the Hyundai Veloster Turbo's engine-transmission combo. It all sounded great in theory: a punchy 1.6-litre turbopetrol mated with a quick-shifting 6-speed dual-clutch gearbox, but it didn't gel... the auto 'box wasn't ideally calibrated to the motor's performance characteristics. However, for the Elantra Sport, Hyundai has installed a 7-speed transmission and optimised the mapping software.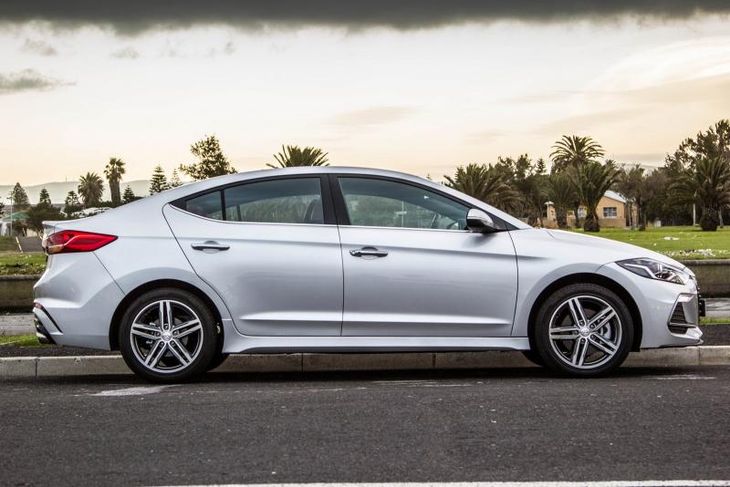 The Elantra is easily the sportiest-looking sedan that Hyundai has launched in South Africa.
The engine pushes out 150 kW and 265 Nm, which admittedly won't trouble the hot hatches of this world, but is enough to give the sedan urgent in-gear shove. Power goes to the front wheels via the aforementioned 7-speed dual clutch 'box and there are shift paddles located behind the steering wheel. What's more, there's a purposeful engine note to the Sport; while it's hardly noticeable in the cabin, its prominent (at full throttle) from outside.
Sporty upgrades
As mentioned above, the powertrain has already imbued the vehicle with a substantial sporty edge, but it'll take a keen-eyed enthusiast to appreciate the real details. Sure, a "Turbo" badge here and a "Sport" badge there aren't enough to make the Elantra a performance car, but bigger brakes and a substantially reworked sports suspension certainly help. Sports suspensions really prove their worth on billiard table-smooth sections of tarmac (or race tracks, for example), but, on the downside, they tend to convey bone-jarring thumps when dealing with cracks or bumps on public roads.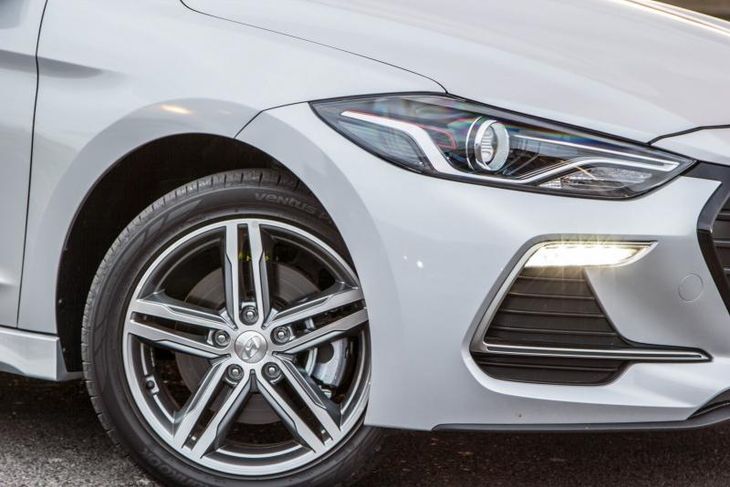 These attractive alloy wheels round off the package nicely
However, Hyundai appears to have struck a good balance between handling prowess and suspension pliancy with the Elantra Sport. During its tenure in the Cars.co.za test fleet, the Korean sedan's damping soaked up most of the road imperfections it encountered with relative poise. We'd say it's firm-but-fair for the daily drive/commute, but it's vastly better than its siblings when you just want to make the most of a sweeping section of road. Power delivery is good, with fun really beginning when the rev needle sits around the 3 000 rpm mark. Make sure you bang the next gear promptly for two reasons. Firstly, there's a bit of a power drop off and secondly, the engine's note becomes coarse as it approaches the limiter.
The Elantra Sport is brisk, as opposed to fast, in a straight line, and when you commit the sedan to corners with gusto, there's enough in terms of front end grip and prompt turn-in to entertain you. Sure, some work could be done on the steering feedback, which is disconcertingly light for a performance car, and pronounced understeer will intrude in extremis, but remember this is Hyundai's first real go at a performance sedan. Imagine what will happen when Albert Biermann (formerly of BMW's M division) and his team at Hyundai Motorsport get hold of the next-generation model?
Sensible at heart
While the sportiness and entertaining driving characteristics of this new Hyundai are praiseworthy, its core role is still to provide comfortable and safe transport for 4 people and their luggage. Does it do this? Yes, absolutely. Occupants remarked on the good head- and legroom availed by the cabin (even at the rear) and the boot was big enough to swallow a 29-inch mountain bike with the rear seats folded down. So, while the Elantra Sport appeals to people who want a bit more go and show from their middle-of-the-road family sedan, it was able to deliver the basics with aplomb.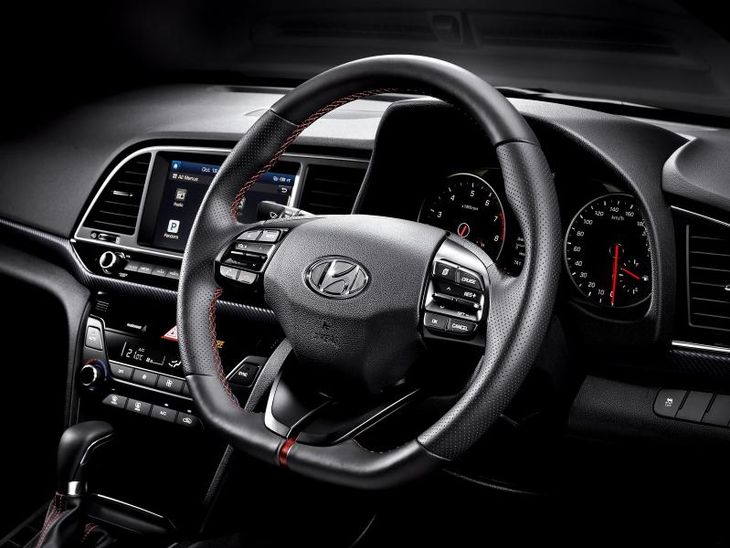 The sporty theme has been carried through to the interior with red stitching on the steering wheel and gear selector boot
The not so good
The infotainment system
Perhaps we're being a bit harsh here as the standard 8-inch infotainment touchscreen setup does cover all the bases, including a satellite navigation function, USB/HDMI connectivity, Bluetooth telephony and music streaming and so forth, but it's just not very intuitive or user-friendly to use. Sure, owners will get used to the interface/become accustomed to its functionality, but it was even a challenge to find and tune certain radio stations.
Red upholstery is an acquired taste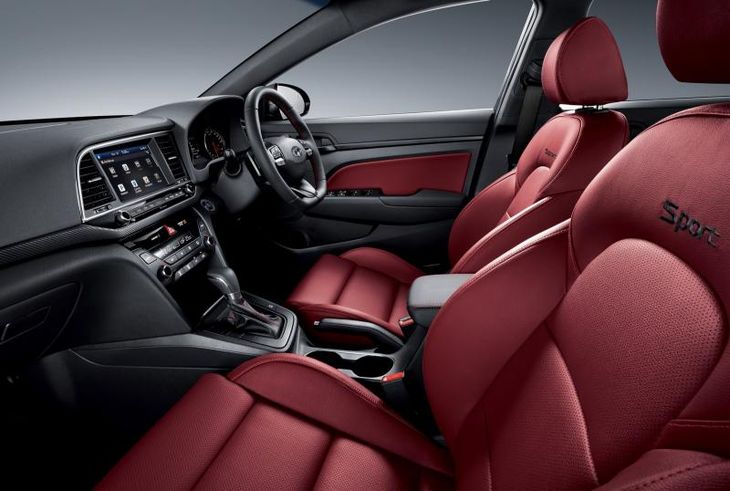 Unless you like red seats, this trim colour takes some time getting used to. Colour aside, they're comfortable but lack proper side bolstering
Do you like red? If yes, skip this section. If not, you're in for a spot of bother as the standard cabin trim is swathes of red leather. The red seats divided the opinions of our testers right down the middle. International spec Hyundai Elantra Sports offer black seats with red stitching, a classier touch. The red stitching is on SA spec vehicles and can be found on the steering wheel and boot of the gear selector. While there's nothing fundamentally wrong with the cabin, we anticipate that it might be a little too much for a typically conservative audience.
Pricing & Warranty
The Hyundai Elantra range starts with the 1.6 Executive manual at R299 900, with this flagship derivative coming in at R399 900. The price includes a 5-year/150 000 km manufacturer's warranty (with an additional 2-year/50 000 km powertrain warranty), 5 years' worth of roadside assistance and a 5-year/90 000 km service plan. Hyundai South Africa has pegped the service intervals at 5 000 km, 15 000 km and thereafter every 15 000 km.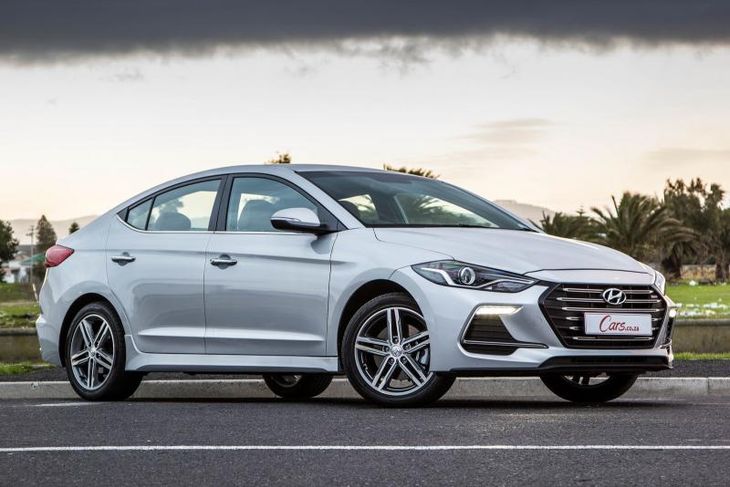 This new Hyundai Elantra feels reassuringly solid and composed; its one of the few sporty sedans that remains relatively affordable.
Verdict
To put it simply, there is no compact sedan in the new vehicle market that can, for around the R400 000 mark, match the performance and luxury of the Hyundai Sport. Whether the market wants performance derivatives of value-oriented 4-door family cars is a moot point, but a brand that is better known for its sensible family SUVs and compact cars has somehow transformed its middle-of-the-road sedan into something engaging, which is far more than its rivals can say. Granted, there is an Audi S3 sedan, but that's in a different league in terms of performance and price. This new Hyundai Elantra feels reassuringly solid and composed, and we're happy to say its one of the few sporty sedans which is actually relatively affordable.
Sure, the Elantra Sport is not a fully resolved performance sedan per se, but it's definitely a signal of intent by Hyundai. If the hype around the fiery i30 N hatchback is anything to go by, then we predict the next Elantra Sport will be a more rounded product with even more performance. As for this particular product, it's a pleasant reminder that you can find some fun and enjoyment from a sedan without breaking the half-million-Rand barrier.
Watch a Hyundai Elantra Turbo video review:

You may also be interested in:
Hyundai Finally Showcases GTI-Rival [with Video]

Hyundai Tucson (2017) Specs & Price

Hyundai i20 Range Expands in SA

Hyundai Kona SUV Teased

Hyundai Creta & Toyota C-HR (2017) Video Reviews

Hyundai Creta (2017) Video Review

Hyundai Elantra (2017): 5 Things To Know

Hyundai Tucson 1.7 CRDi Executive (2017) Review
Looking for a new/used Hyundai Elantra to buy?