Nissan will introduce its new 5th-generation Micra in the local market in June 2018. In contrast with the previous generation budget-oriented Micra Active, which remains on sale, the newcomer will be positioned at the upper end of the compact hatchback segment. Our UK correspondent drove the newcomer last year and here's what he thought of it (now includes some local specification)...
What is it?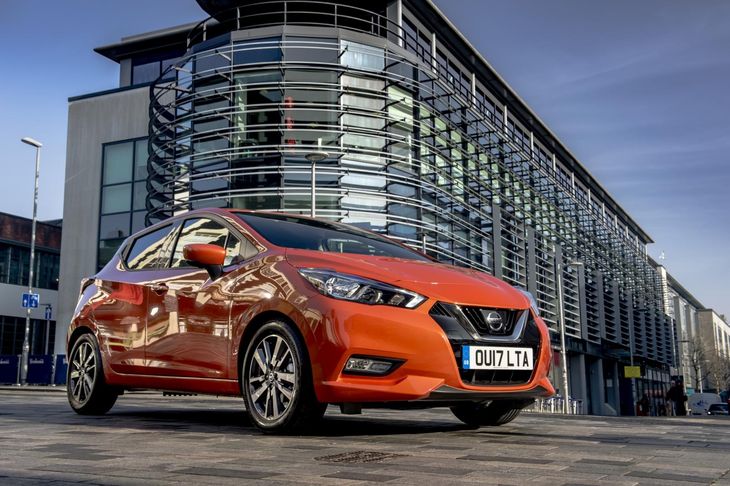 The latest Micra aims to break new ground by offering attractive styling and a wide range of tech that will appeal to the younger buyer.
In a trend-bucking move away from mass-production of affordable "world" cars (a practice that may now be left to its Datsun sub-brand), Nissan primarily designed and developed its new Micra specifically for the EU, the world's largest small hatchback market. This version is produced in France as well as Thailand, the latter of which is the most likely source of the units that will be launched in the South African market in the near future.
Worldwide sales of the Micra have dwindled in recent years while its competitors have long since moved on in terms of design and technology. Nissan is hoping for a revitalisation of sales for a car whose ageing, blobby design appears only to attract an ever-diminishing number of bridge club members and retired librarians.
A bit harsh? Perhaps, but not entirely untrue. Something radical was needed if the Micra name was to continue.
The exterior
The new Micra is uninhibitedly styled to turn heads and targets an altogether younger demographic. It is lower, wider and longer than its predecessor and its chiselled exterior offers considerably more space inside. Now riding on an agile, re-engineered chassis, the newcomer can pack extensive safety kit and connective technology.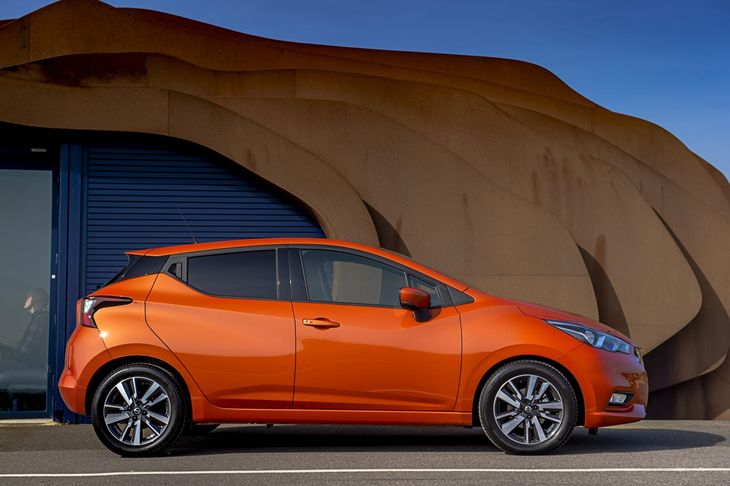 Lower, wider and longer, the new Micra is more spacious than it's predecessor.
Its design incorporates many of the current Nissan design cues including the distinctive V-grille, from where sharp crease lines run through to the rear ends boomerang-shaped lights. The floating roof effect of the C-pillar creates an airy feeling. The rear door handles are hidden in the trailing edge of the C-pillars and an extended roofline culminates in a spoiler.
The interior
Inside, the new Micra is a huge step forward. The drab interior has been replaced by something more stylish and modern. But most crucial is the quality. This is a far better-finished car than before with more soft-touch plastics and modern fittings. The driving position is lower and the extended width and wheelbase translate into more cabin space and the new "gliding wing" shaped dashboard imparts the feeling of greater cabin width.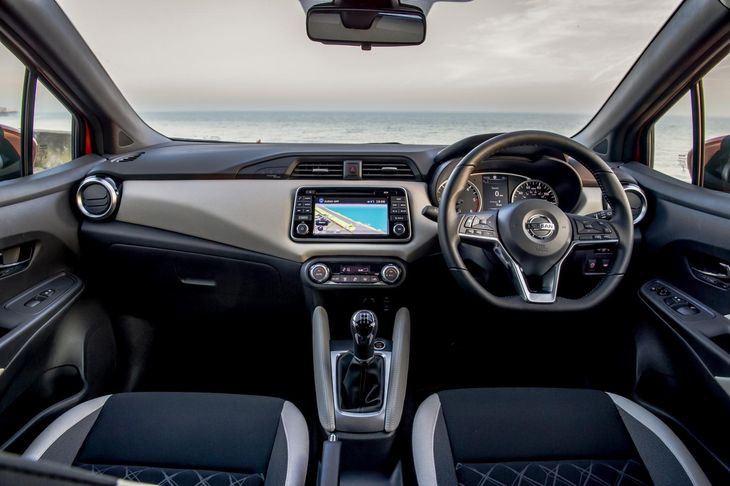 The interior represents a major improvement over its predecessor, featuring a new cabin design and enhanced perceived interior quality.
Room for those in the back is about standard for a hatchback in this class and the generous 300-litre luggage bay is deep, which does mean you have to lift heavy things out over a substantial lip. The Micra does, however, come with a proper spare wheel as standard. Oddly, the rear windows across the range only have manual winders (UK specification).
Technology
In many "firsts" in its segment, the new Micra sees the trickling down of on-board technology from larger more luxurious cars in the upper echelons of Nissan's current international line-up. In Europe, new tech includes lane departure warning, emergency city braking with pedestrian recognition as well as Nissan's around-view monitor, traffic sign recognition, high beam assist and blind spot warning. There's a seven-inch full-colour central display providing access to the audio system, navigation, mobile phone, downloadable apps and Siri voice control via Apple CarPlay.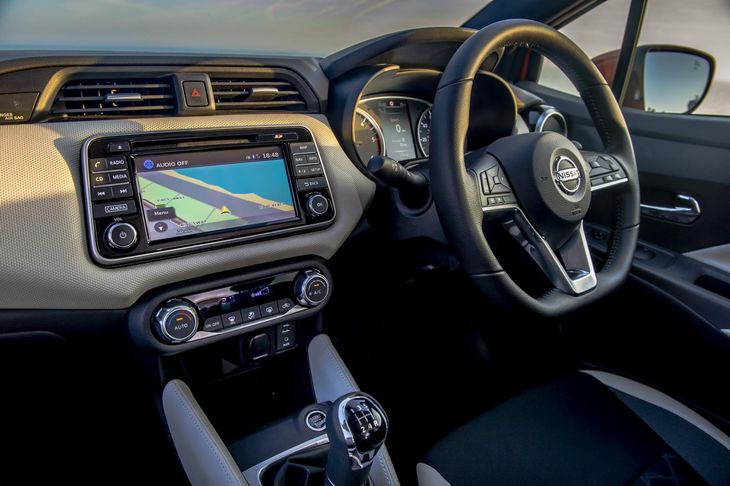 The new Micra is packed with useful features, but Nissan SA is yet to confirm local specification for the local market. Let's hope it's generous!
With due deference again shown to its younger target market, there's an all-new 6-speaker 'Bose Personal' sound system, developed through close collaboration with Nissan. Although the complete local specification will only be revealed at the Micra's media launch, Nissan South Africa has revealed that cars in our market will feature at least "a modern infotainment system that includes Apple CarPlay, 6 airbags, an anti-lock braking system (ABS) and electronic brakeforce distribution (EBD)".
Engine and transmission
Meanwhile, Nissan SA has further revealed that Micra will be powered by 0.9-litre, 3-cylinder turbopetrol unit, which develops 66 kW/140 Nm and is mated with a 5-speed manual gearbox. In my experience, when driven with sense, the engine consumes only 4.4L/100 km and emits just 99g/km of CO2. But fortunately, it has the longest legs of any 3-pot I've driven in quite some time and is enormous fun to drive with dollops of enthusiasm.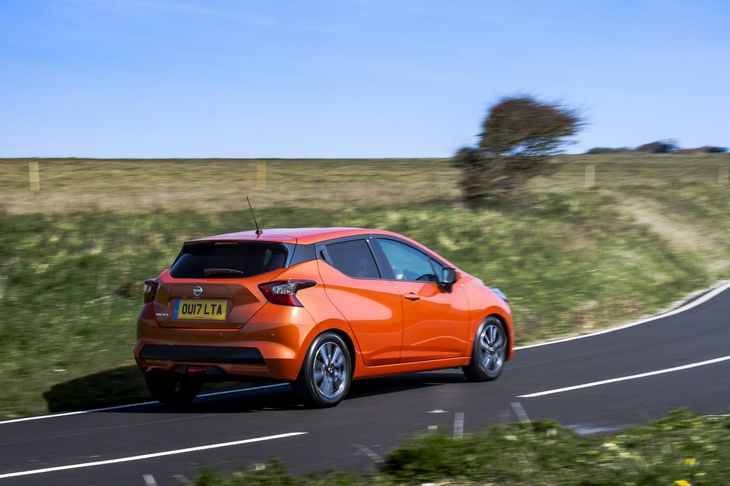 The new Micra is a frugal daily runner, and depending on the engine, performance is decent too.
Ride and handling
The car now sits lower and wider than the outgoing model and thanks to some clever tech borrowed from the more expensive crossover range, the Micra is really good to drive.
Around town, the car feels nice and small enough to navigate easily through traffic. After a short drive, you'll be impressed by the combination of abilities that the Micra exhibits. On a twisty road, the direct steering lets you place the car with confidence and the car offers plenty of grip.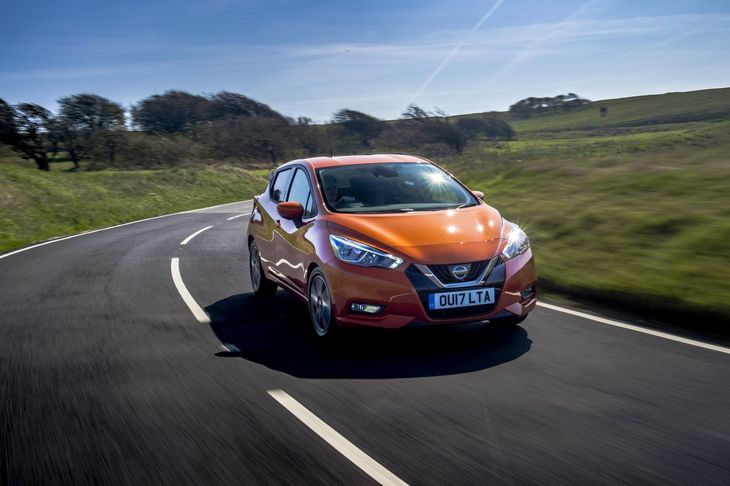 Ride quality is good and the new Micra could quite possibly lead the segment locally provided that specification and engine choice is favourable.
Out on the motorway, the aerodynamic body of the Micra makes road and wind noise a faint hum which is really impressive in this class. The chassis and suspension setup works best here – it eliminates the high-frequency bumps from expansion joints in the road and you end up wondering why the car in front is fidgeting around while you barely feel a thing.
Prices
There aren't prices available for local Micra derivatives yet, but in the UK the range starts from an appealing £11,995, which translates to around R200 000, which would be a decent starting point. It is known, however, that the Micra will have a 3-year/90 000 km service plan, 6-year/150 000 km warranty and 24-hour roadside assist.
Summary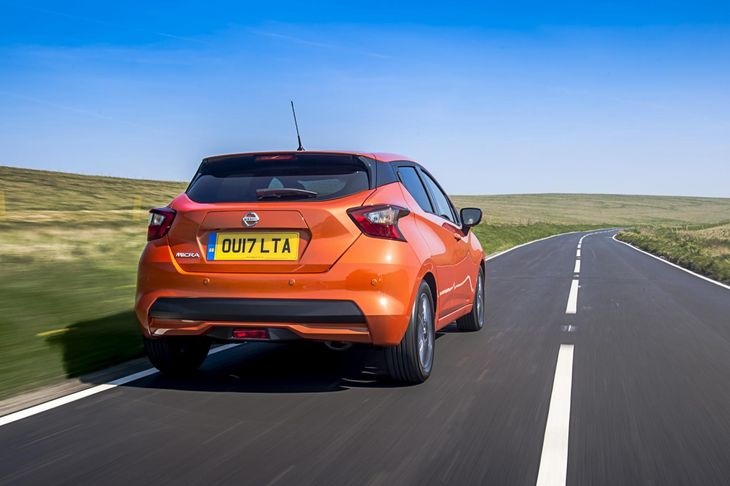 Out with the boring, fuddy-duddy image and in with a dramatically more appealing design. Micra is so different it needs a new name?
The Micra is a huge leap forward over the previous models and that is partly thanks to how successful Nissan crossovers have been lately. That success has let some of their tech filter down to the Micra, making it a really accomplished rival to the established competition. It faces a greater challenge than some of its small car rivals, from the premium go-kart experience of the Mini, to the very capable Ford Fiesta and the panache of the Fiat 500, as it has to overcome the stigma of being a historically boring car. Nissan has redefined the character of the Micra in the 2017 model to make it a sportier and more exciting car than it's ever been in the past, which is all evident when you get behind the wheel.
Overall, the new Micra is a great little car. If Nissan SA positions it smartly, it might disrupt the segment (in a good way), it certainly deserves every chance to succeed.
Related content:
Nissan Micra Active (2017) Launch Review
Nissan Micra Active Launches in SA (2017) Specs & Pricing
Volkswagen Polo 1.0 R-Line (2017) Quick Review (w/Video)
All-new Ford Fiesta ST Revealed [with Video]
Fiat 500C 0.9 TwinAir Lounge Auto (2017) Review
Facelifted Renault Clio (2016) First Drive
Looking for a used Nissan Micra?