We recently spent some time with the Fiat 500C. While it's not an all-new model, the recently introduced 2-cylinder TwinAir engine piqued our interest and we just had to have a go in the Italian cabriolet. Here's what we found after a week-long adventure with the little yellow car.
We Like: Dripping in retro charm and chic, tiny engine performs well, decent specification, clever roof
We Don't Like: Automated gearbox blunts the car's performance/driving comfort severely, price
Alternatives
For something similar: With the Adam Rocks, Opel has tried to tap the Mini/Fiat 500 lifestyle market. To its credit, the Adam is a good little car. The Rocks derivative adds a sunroof, which works in the same manner as the Fiat's, and the 1.0-litre engine is terrific, but there's no automatic option. It's also more expensive than the 500C.
Be sensible: Volkswagen Up! Beats – an excellent city car that's deceptively spacious inside. The engine is down on power in comparison with the Fiat and it gets knocked out the park in terms of the cool and fashionable factor.
Stretch that budget: The Mini Cooper is the original fashion accessory. You can get a Mini One hatchback for R286k, but it won't have as many features as the Fiat. Want a convertible Mini? Brace yourself as it retails for R399 000.
Compare the Fiat 500C to the Opel Adam and Mini One hatchback here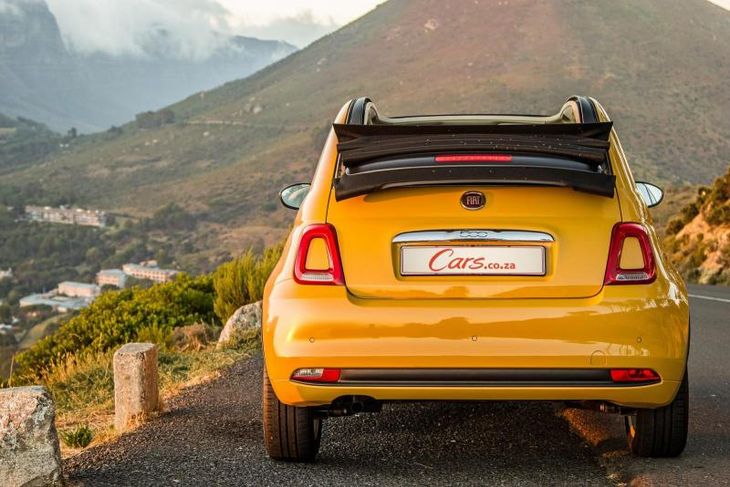 The Fiat 500 in its natural environment. Note that the roof obstructs the rearview mirror when fully opened
Where does it fit in?
The Fiat 500 has been around for quite some time and was recently facelifted, with a new engine making a welcome introduction. The lower end of the new vehicle market used to be all about value for money, but there a number of fashionable city car offerings that offer style, at the cost of some practicality, for the sake of boutique appeal. The likes of the Mini Cooper, Smart ForTwo and ForFour, Opel Adam and Volkswagen Up! are popular with upwardly mobile urbanites, who value the cars' combination of compact size, generous specification as well as commendable safety features. What's more, they're easy to park, affordable to run and, for what it's worth... cute. The Fiat 500 has been at this game for many years, has steadily grown in popularity and we finally had the chance to evaluate one of the new-engined models, tested here in Convertible automatic guise.
How does it fare in terms of...
City slicker appeal?
The 500C wins the charm game. Just look at it... with a combination of an Ultra Mel custard yellow paint finish and maroon canvas roof, the little Fiat is the quintessential city car fashion icon. In this sub-segment, a car is often (but not always) treated like a style accessory, as opposed to a means of getting from A to B, yet the Fiat's compact size makes it very practical; it can easily slot into the notoriously tight Sea Point side roads, while parallel parking is effortless. Mind you, when the roof is fully extended, rear visibility is hindered by the folded up canvas roof obstructing the rear-view mirror.
As for the roof, it's not a cabriolet setup in the conventional sense and, as expected, its mode of operation is different. Instead of detaching away from the A-pillar and folding up and backwards into the luggage compartment, the 500C's fabric top slides along the roof line of the car and settles in a folded heap on top of the rear hatch. The best way to think of it is opening a sardine can, where the metal lid peels back, but more on that later.
Interior and features?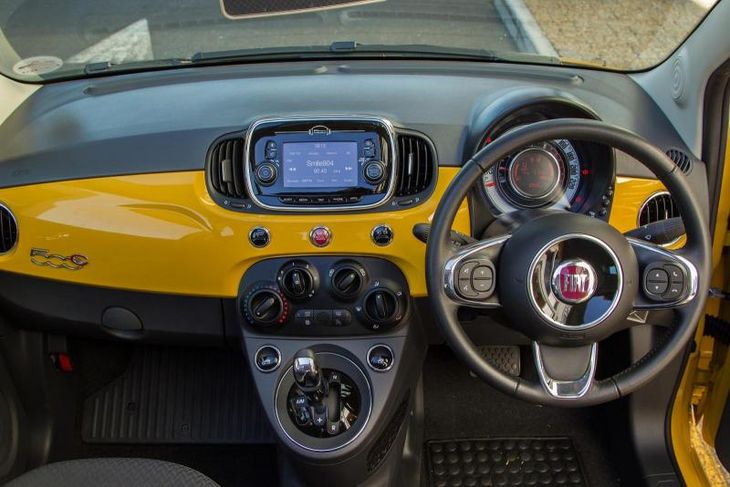 Colourful interior with a simple layout. Central odometor/speedometer is retro.
There is a brace of trim levels for the 500C (it's the Lounge derivative on test here). The standard specification is comprehensive for this segment – as we guess it should be for a vehicle costing close to R300 000. A height-adjustable steering wheel and -driver's seat afford a generous degree of adjustment and the vehicle further features alloy wheels, daytime running lights, electric windows, and in this spec; leather steering wheel with audio controls, rear parking sensors and a rather smart 5-inch touchscreen infotainment system with Bluetooth connectivity, USB and auxiliary inputs.
A clever touch is that these aforementioned ports are illuminated so you don't have to fumble about with your peripherals at night. In terms of safety features, the Fiat 500C fares okay, having scored five stars for adult occupancy. It comes with 7 airbags, anti-lock brakes and stability control.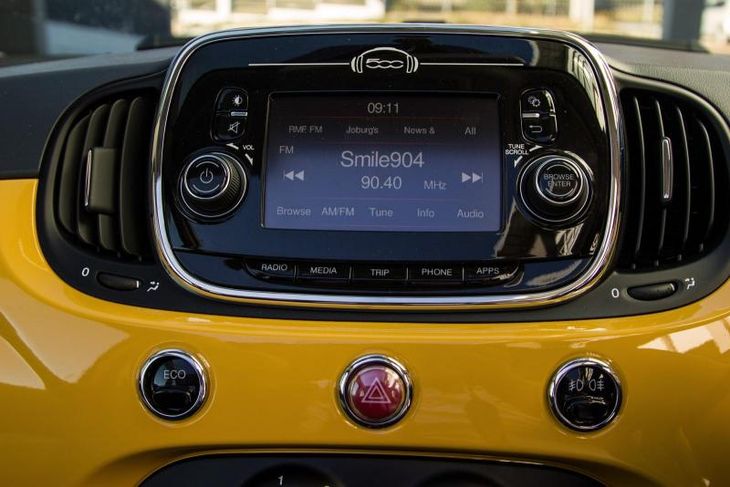 Touchscreen infotainment system is cleanly designed and easy to use
Performance and efficiency?
We're all aware of the engine downsizing trend, but Fiat took it one step further when it launched this 2-cylinder(!) turbopetrol Twinair motor, which has won a few accolades (including the Best Engine Under 1 Litre Award in 2011). It pushes out 63 kW and 145 Nm, which is fair for a vehicle tipping the scales around the 1-tonne mark. Fiat claims a combined consumption figure of under 4.0 L/100 km, but during the test period we found the car's trip computer never read under 5.0 L/ 100km.
The powerplant has enough shove to make it a spritely performer, but the small engine begins to reach its limit when you join a freeway. It can reach the national limit alright, but overtaking requires some planning and you'll find yourself mashing the accelerator through the floor trying to coax every last kW out of it. But when you look at the 500C from an urban-commuting-solution point of view and remember that it was designed for the narrow side streets of a continental European town, it's perfectly adequate.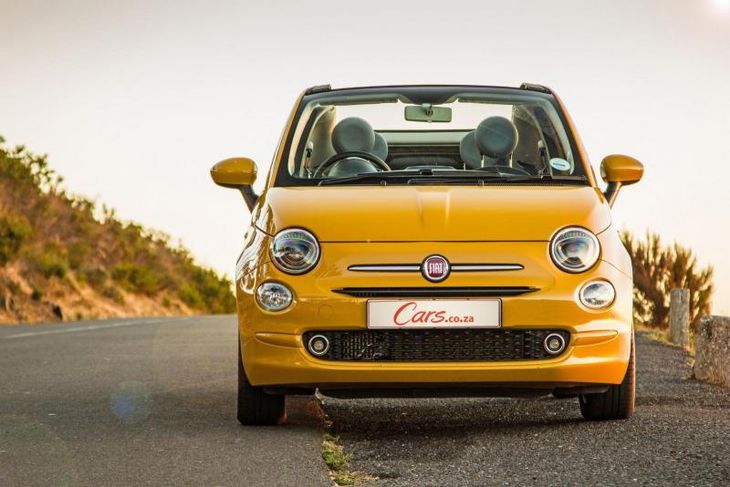 Small car, small engine. Fortunately, the TwinAir engine has credible power outputs, but opt for the manual transmission if you can.
So the performance of the Fiat 500 is okay, then? Well, yes, but the biggest gripe about this car is coming... You can throw in every cliche here: the chink in the armour, the Achilles Heel, the major shortcoming and weakest link, but it is the car's transmission.
Conceived as a 5-speed semi-automatic 'box, this Dualogic unit attempts to offer drivers a clutchless manual driving experience. You can drive it in fully automatic mode, of course, but gear changes can be executed sequentially via the transmission lever. It sounds fine in theory, but we're in the age of the dual-clutch transmission, an invention that can shift gears in milliseconds and the changes are eminently smooth. The Fiat's aren't.
The Dualogic's shift behaviour is acceptable around town and when you're not liberal with accelerator inputs, but when you're driving in freeway conditions, for example, the shifts are long and drawn out. There's enough time to say "cappucino" between 2nd and 3rd, and there's a motion-sickness-inducing rocking horse effect that accompanies a hard shift. Again, if you drive the 500C slowly in town, the box feels okay.
But why should your driving comfort be limited to the confines of the city? We get that Fiat is trying to cater for all needs (there is high demand for automatic city cars), but in this case you're strongly advised to take the manual gearbox, which is wonderfully slick by comparison.
If an automatic is what you require and you're deadset on the cute 500/500C, then you're going to need to adjust your driving style. Try to anticipate the gear changes and then lift slightly off the accelerator, which will smooth out the jerking motion.
Ride and handling?
A soft suspension and light steering action make the 500C a lovely little thing to pilot around town. The fabric roof does tend to let some extra wind noise in once the car's travelling in excess of 60 kph, but, in general, the Fiat's a quiet and refined city slicker. It rides fairly well, but due to its short wheelbase it's never going to be completely smooth, but it's acceptable for this class of car.
The steering makes the car entertaining to drive around slow bends and it's effortless to take gaps in the traffic that normal-sized cars dare not consider. Another big plus is an impressively small turning circle. No really, the Fiat 500C felt like it could a full 360-degree turn on a R5 coin!
Open-sky fun?
Let's talk about the roof. It's a fabric setup and, as we explained earlier, operates a bit like "peeling back the lid of a sardine can". We are quite fond of this cabriolet arrangement as you don't feel as exposed when from a security point of view.
We also liked that we could adjust the degree of openness: want a sunroof for just the front passengers? Easy. Want the occupants in the rear to get some sun too? Easy, open the top a little further. Nice summer morning? Fold all the roof. We found the best solution was to have the roof open in the middle, which would give you that convertible sensation, without losing the rear visibility. As always with convertibles, pack a hat and sunscreen.
Watch the roof in action below:
Pricing and warranty (March 2017)
The Fiat 500 range starts from R233 900, with this top-spec 500C Lounge auto costing R273 900. The price includes a 3-year/100 000 km service plan and a 3-year/100 000 km warranty. Intervals are every 15 000 km.
Verdict
We loved looking at the 500C and we liked driving it too, but we were not happy with its semi-automatic transmission. Simply put, when you're not in a hurry and casually driving around, it's acceptable. But upon hard throttle applications, the gearshift lurches detract from what's otherwise a really charming little car, which is unfortunate. The Italian ragtop has become quite pricey too. One could argue that no boutique cars in this segment are that affordable, but the Fiat 500C struggles to make a strong business case when you consider the manual hard-topped 500 is almost fifty grand more affordable. Simply, stick with what we think (and what you'd suspect): go for the cheaper and better-to-do drive manual hatchback.
It'll win many fans thanks to its retro charm and style, and, as you would have noted in the list of cars that we mentioned as alternatives, the next most affordable small cabriolet is the Mini Convertible that costs in excess of R120k more than the ragtop Fiat. For most logically-minded consumers, the Fiat 500C won't be on their radar; we'd suggest that prospective city car owners look at something like a Volkswagen Up! as a sensible alternative. However, as good as something like a top-spec Up! is, it has nowhere near the passion, charm and cool factor as a Fiat 500C.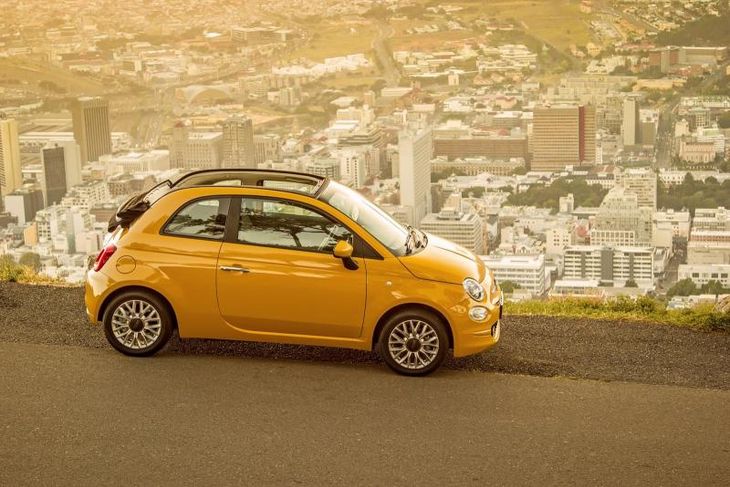 You may also be interested in;
Want a faster and hotter Fiat 500? Meet the Abarth 595
Read all about the Fiat Abarth 124 here
Compare the Volkswagen Up to the Smart ForFour here
Check out a review of the Mini ONE
Looking for a new/used Fiat 500 to buy?