This is not the new Nissan Micra. Rather the Micra Active. Yes it looks awfully familiar, but before you sharpen your pitchforks let me explain.
The (actual) new Nissan Micra, the one that you're waiting for is indeed imminent. You'll have the opportunity of buying one in March, which coincidentally, is its name in many other lands. But where that car will compete with the likes of the Ford Fiesta and VW Polo, this car, the Micra Active will battle the likes of the Figo and Vivo. In short, it relies on the tried and tested formula of reengineering (in this case, in India) the outgoing model with a raft of upgrades, albeit mostly of the aesthetic variety. Wrap that up in a good value prospect and it's hard to ignore the Active for what it is. Pure simple motoring. No fuss. Yes, it still looks like a boiled sweet, but it's cute and endearing and that is the Japanese way.
The launch Active-ity
Well this is new. We haven't been whisked to the coast to navigate some asphalt spaghetti to fortify the validity of the Micra Active's sporty bodykit. Nor have we roughed it in a wood or desert because someone in a boardroom thought they'd project a rough demeanour onto a most urbane of B segment debutantes. Instead, we're invited to experience the fun side of Micra Active ownership in the parking lot of the Gold Reef City theme park. Here we'd be encouraged to drop the clutch and tango with an array of bollards with the gusto of Ken Block, albeit with the coordination of Mr Bean.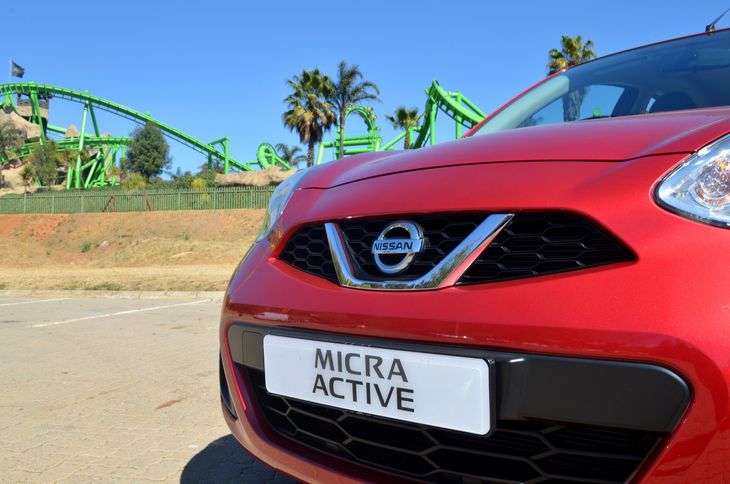 A 1.2-litre naturally aspirated engine lives under the bonnet of the Micra Active.
I personally got to wring the neck of the 1.2-litre engine, wrestling from it the full reserves of 54 kW and twisting from its lungs the 105 Newton metres it said on the brochure. I left black lines on the asphalt to the dismay of our instructor and rendered the air noisy and smoky with burnt offerings of rubber until we were all encouraged to leave. This is where things began to get interesting because, and this is the best kind of shocking, we were unleashed onto the roads of Soweto to take in the sights while getting better reacquainted with the Nissan Micra Active. The route was short but provided enough city and town commute to experience the little car's handling prowess beyond the gymkhana course. The South West Townships are not exactly flat either, providing a fair challenge for the 1.2-litre mill under the bonnet plus it steers like a peach. It always has. Entry-level?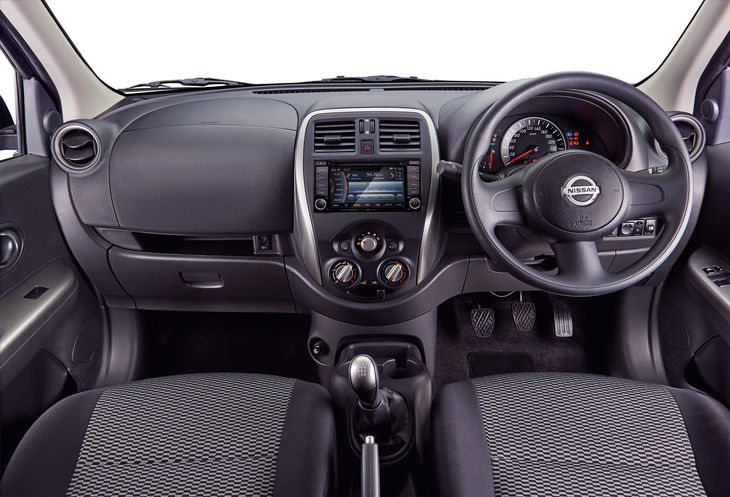 Active feature the touchscreen infotainment system pulled from the Navara.
Don't use the C word
It's cheap. Sorry. Affordable. At R159 900 the Micra Active represents great value for money but refreshingly our hosts didn't insist on drumming this into our heads. Sure, there were gentle (and favourable) reminders of Nissan's respectable warranty and service plan, and we were enlightened with the extended standard spec list, as well as tickled with the options list; two items, specifically a 7-inch touchscreen multimedia audio system and that groovy styling upgrade dubbed the Trendsetter pack, comprising black alloy hoops and a roof spoiler. It's not for everyone, but I wouldn't have it any other way.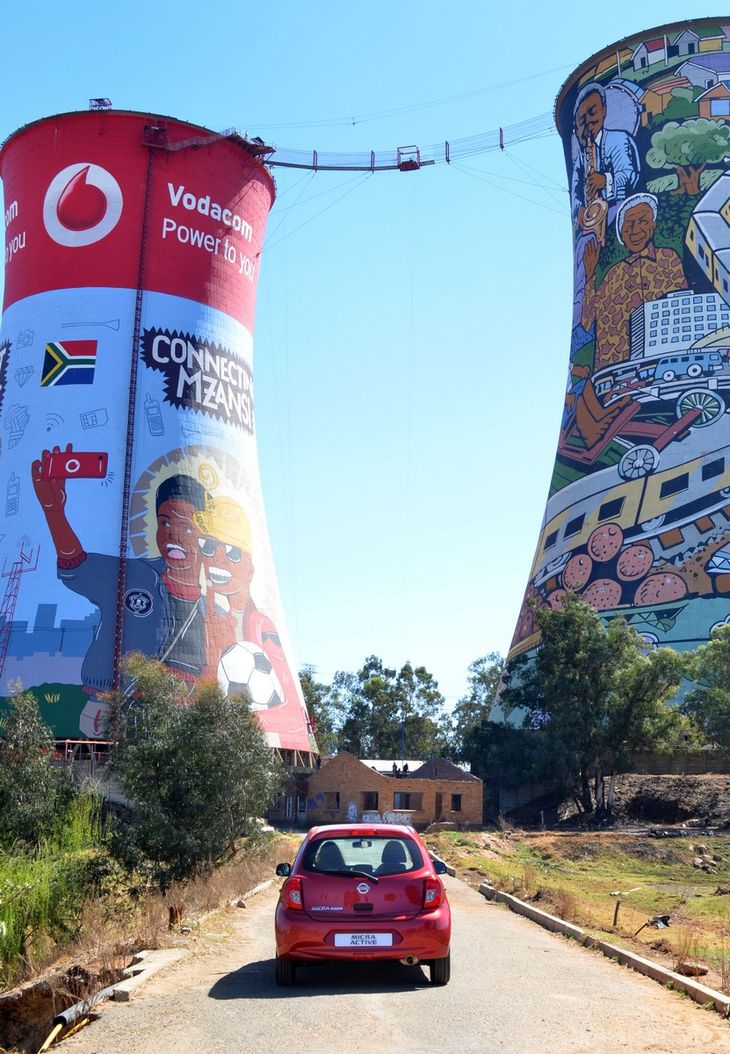 Launch route took us from Soweto through to the bungee jump towers.
The new audio system complete with touchscreen navigation is comparable to the unit in the new Navara and really raises the Micra's game in terms of the living space, especially when it comes to connectivity. Better still you'll get one gratis if you buy a new Micra Active within its launch window (approx. 3 months). Outside of the launch offer, it will set you back around R8500, as will the bodykit. Bells and whistles aside, the cabin is an ergonomic example of Japanese design and that means functional and serviceable with good tactility throughout.
Verdict
We've seen this formula work at VW, Ford and even Renault with their range of Sanderos. Nissan's take on it is not by any means unique, but get past the back story and the Micra Active is a flawless small car. It could have bigger engines but nobody on our test drive bemoaned the little 1.2 doing service here. Its design is painfully similar to the donor car, but the new stuff is good stuff.
Kitted out with black wheels and roof spoiler, it looks every bit the urban runabout for someone who needs to be very mobile, and takes pride in their appearance. It isn't the new Micra but it's a sharp substitute till that arrives. And when you consider how well equipped it is, well you might not feel the need to upgrade in a hurry. Add to that a 3 year / 90 000km service plan and 6 year / 150 000km warranty and a variety of safety implements such as ABS, EBD and BA, remote central locking and airbags and the Micra Active even delivers on peace of mind too.
Nissan Micra Active 1.2 Visia
Price: R159 900
Power: 54 kW / 105 Nm
Fuel Economy: 5.2 litres per 100km
Service Intervals: 15 000km
Warranty: 6yr/150 000km
Service Plan: 3yr/90 000km
Related content
Nissan Micra (2017) International First Drive
Volkswagen Polo Vivo (2014) Review
Volkswagen Polo Vivo GTS (2016) Review
Toyota Etios 1.5 Sprint (2017) Quick Review
Juliet McGuire tests a trio of budget cars
Searching for a used Nissan Micra?