Volkswagen's current struggles in big markets such as China and North America are partly due to a lack of new product momentum. That's all set to change...
Things are rather topsy-turvy in the world of Volkswagen at present. There's been good news (major new investment in South Africa) but other markets (such as North America and China) have proven more problematic. Seeing as those are two rather large markets, the company is working very hard behind the scenes to define an effective business and product strategy. But matters are made trickier by boardroom struggles. The legendary Ferdinand Piech resigned as chairman in April 2015 after a reported dispute with CEO Martin Winterkorn, and until a permanent replacement is found interim boss Berthold Huber will have to keep the hot seat, er… warm. The latest reports suggest Dieter Poetsch, VW finance chief since 2003, could be the frontrunner.
One of the reasons analysts say Volkswagen sales are suffering in China is a lack of new product. Well… there's certainly plenty of new product on the way including, very importantly, a number of new SUVs and crossovers.
Note that this report excludes some models that are very unlikely to be SA-bound, including the rumoured four-seater spin-off of the XL1 "one-litre" car, the electric versions of the Golf and other models, as well as region-specific products from China and Brazil.
HIGHLIGHTS
VOLKSWAGEN PASSAT  - October 2015 (SA)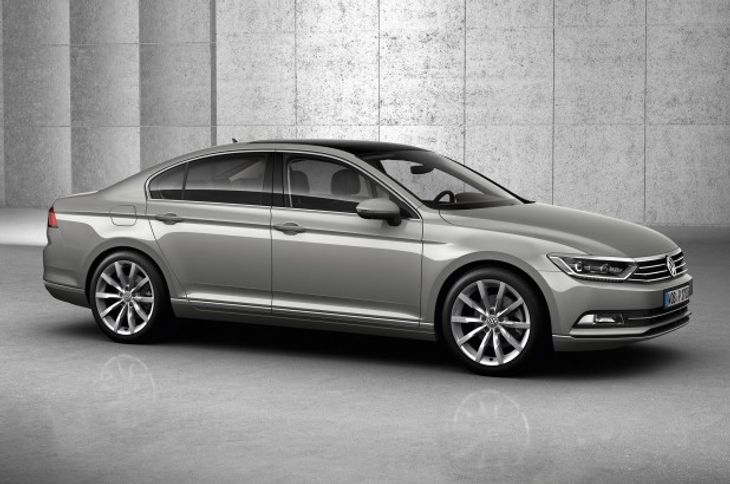 Although sedan sales are under serious pressure in South Africa, the bodyshape remains popular elsewhere and the previous iterations of the Passat large sedan have done well for Volkswagen. The eighth-generation model reaches South African soon, but the model line-up is not going to be nearly as extensive as it is in Europe, where up to ten different engine options are offered, as well as the option of a station wagon body. Whether the very powerful new twin-turbodiesel 2,0-litre diesel will be offered in South Africa remains to be seen. It offers 176 kW and 500 Nm of torque.
The newcomer boasts far more coherent styling, with a simple and elegant overall look with just enough brightwork to lift it upmarket. Volkswagen claims the newcomer is up to 20 per cent more efficient than before and also significantly lighter. Inside, it gets a very smart Audi TT-like virtual instrumentation cluster.
Read more about the new Passat here
VOLKSWAGEN T6 - November 2015 (SA)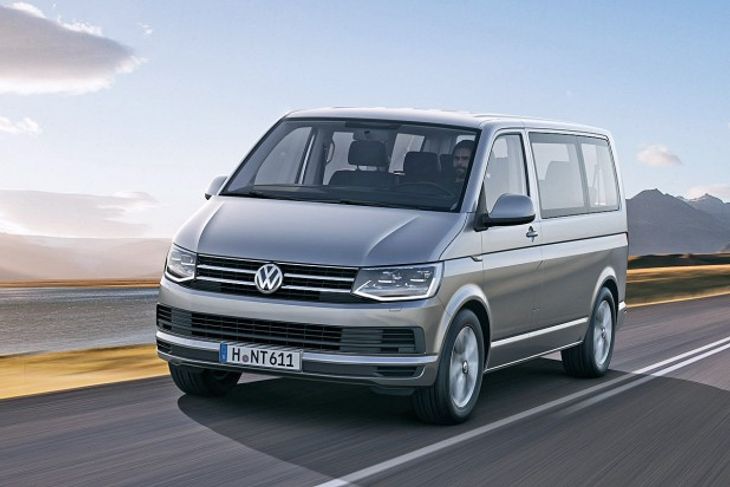 In recent years the venerable Volkswagen "Kombi" has moved far beyond its utilitarian beginnings to occupy a near-premium positioning in the local minibus market. The sixth-generation model (T6) arrives in South Africa very soon and will further heighten the upmarket leisure appeal.
At first glance the newcomer is very similar to its predecessor and also the same size. Of course, when it comes to a boxy vehicle such as this, design flair is very difficult to display, but Volkswagen has done well through the addition of LED-infused head/taillamps, and a generally crisper, horizontally themed design language to give the T6 its own character.
Inside, the materials are certainly of a higher quality and most of the switchgear will be familiar to VW owners, as much of it is borrowed. This is not a bad thing.
The local line-up will largely mirror the current T5's, with Caravelle and Kombi models on offer. Even the engine range is likely to be the same. The utility market will again be serviced by the Crew Bus, panel van and pick-up derivatives.
VOLKSWAGEN CADDY- Very soon (SA)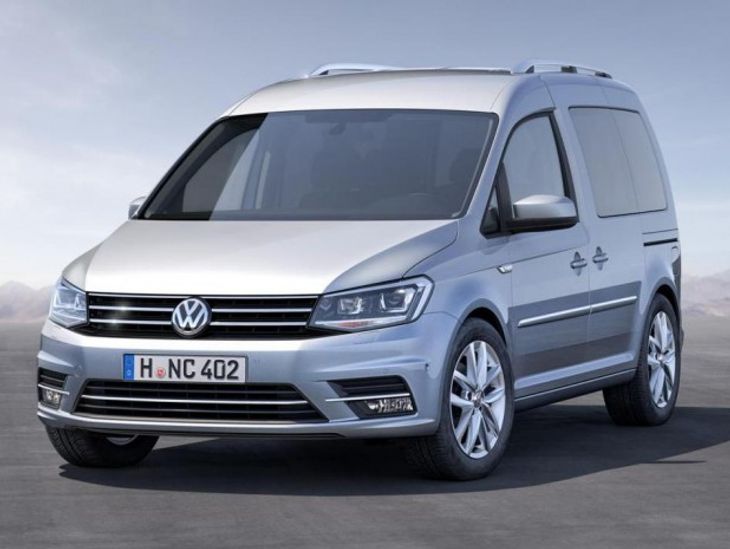 The new Caddy line-up has already been launched internationally and arrives in South Africa very soon. Similar in design to the outgoing model, the new version introduces a far less utilitarian interior with some surprisingly upmarket finishes. Flagship models even boast some personalisation options.
You can read more about the likely engine line-up and other details here.
VOLKSWAGEN TOURAN - 2nd Half of 2016 (SA)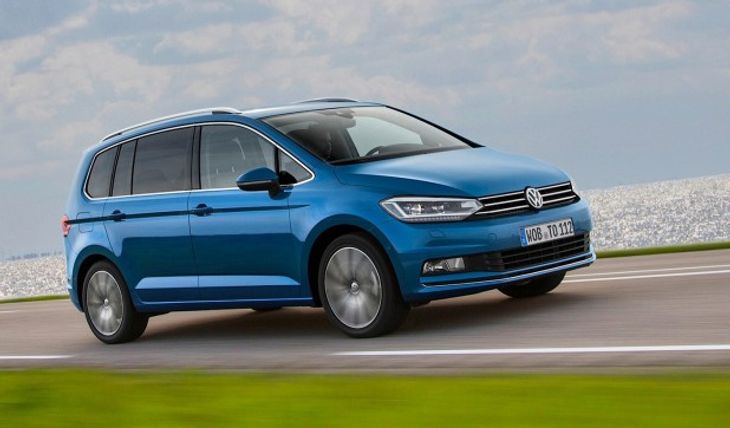 Already revealed to the world earlier this year, the new Touran MPV will make its debut in South Africa later in 2016.
Now riding on the Golf 7's acclaimed MQB platform, the Touran also boasts crisper, cleaner styling and an interior that brings premium car finishes to the MPV segment. Key to its appeal is the interior packaging. Available as a five- or seven-seater, the Touran's second row of seats can be individually folded or slid to allow for more legroom/packing space as required. The boot is very big at a claimed 743 litres.
There is also a strong focus on safety features, with up to nine airbags on offer. Sadly some of the advanced features, such as automated city braking and adaptive cruise control are not coming to SA.
A model that is likely to do well in South Africa is the version powered by the Volkswagen group's punchy 1,4-litre turbopetrol engine (110 kW/250 Nm) coupled with the well-known seven-speed DSG transmission. Diesel versions will also be offered but the final line-up has not yet been confirmed.
VOLKSWAGEN GOLF 7 R400 - World Launch 2016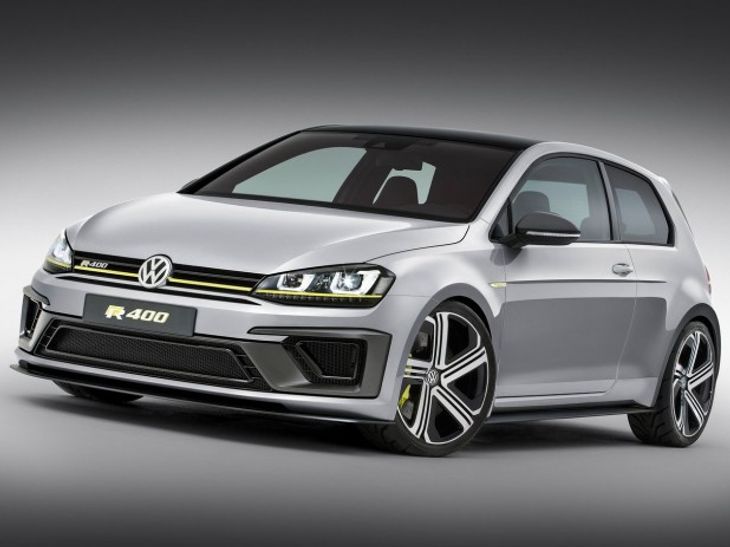 Reports that the Golf R400 has been green-lighted for production nearly broke the internet, such has been the interest in this hot Golf. It will be unveiled at the upcoming Frankfurt Motor Show and is likely to be powered by a new 2,0-litre turbocharged four-cylinder engine that delivers no less than 309 kW and 450 Nm of torque. It will use all-wheel drive to put all that power on the road effectively.
Volkswagen South Africa says this model has not yet been confirmed for local introduction, but given the interest we'd be very surprised if it didn't arrive.
You can read more and watch a video of the Golf R400 here.
VOLKSWAGEN TIGUAN  - World Launch 2016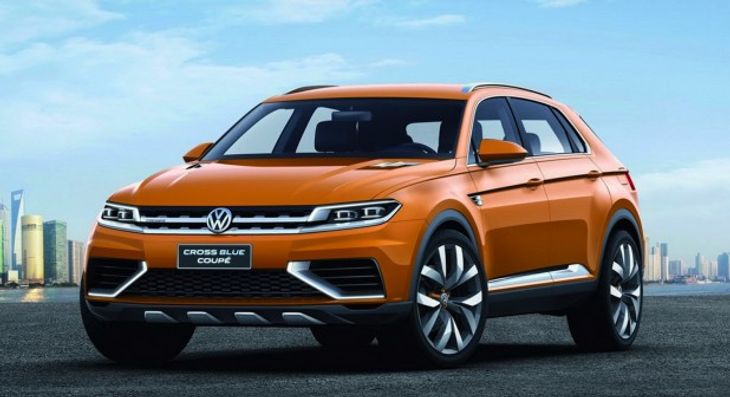 Originally launched in 2007, the Tiguan has done well for Volkswagen but an all-new model is urgently required to stave off competition from just about every other carmaker.
Perhaps it is the importance of the expanding and relentlessly growing SUV/crossover market that has delayed the Tiguan, but rumours suggest Volkswagen is planning to attack this market from multiple angles. There will, apparently, be a standard five-door version, as well as an extended wheelbase seven-seater and possibly even a quasi-coupe BMW X4-like derivative.
Also utilising the brand's MQB platform, the Tiguan's design is said to resemble the Cross Blue Coupe concept (pictured above) from the 2013 Shanghai Motor Show. This new design language favours crisp, horizontal lines and simplicity.
The powertrain line-up is likely to remain pretty much as it is today (especially with regards to the South African line-up), so that means 1,4-litre turbopetrols and 2,0-litre turbodiesels. Nothing official has been announced, but Volkswagen could add a plug-in hybrid model for some markets.
The new Tiguan will likely reach South African shores late in 2016.
VOLKSWAGEN TAIGUN  - World Launch 2016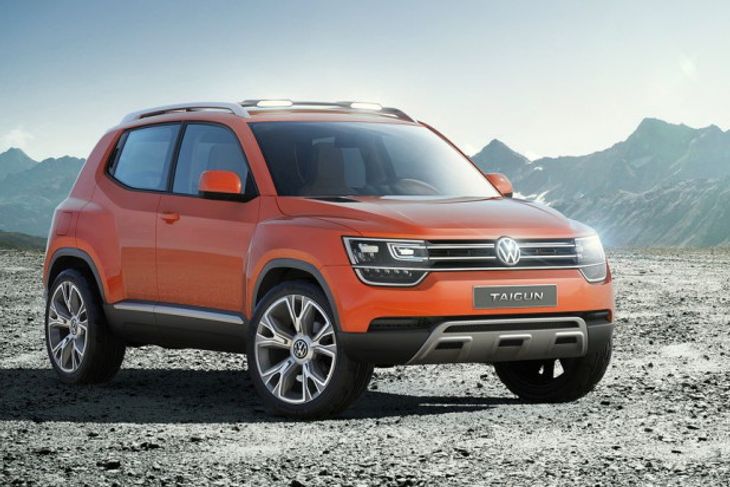 Already shown in concept form, the very small up!-based Taigun compact SUV arrives on world markets in 2016. It will target vehicles such as the Renault Captur and Ford Ecosport. This funky little city bruiser stands about 80 mm wider and taller than the up! it is based upon and will be powered by a similar range of engines, including the 1,0-litre, three-cylinder TSI.
Inside, the cabin layout is minimalistic and youthful, and dominated by an integrated info-tainment screen.
According to Volkswagen South Africa the Taigun is not yet confirmed for local market introduction, but given the popularity of this type of vehicle at present, we're confident of it being a matter of "when", not "if"...
VOLKSWAGEN "C COUPE GTE" - DUE 2016 (China)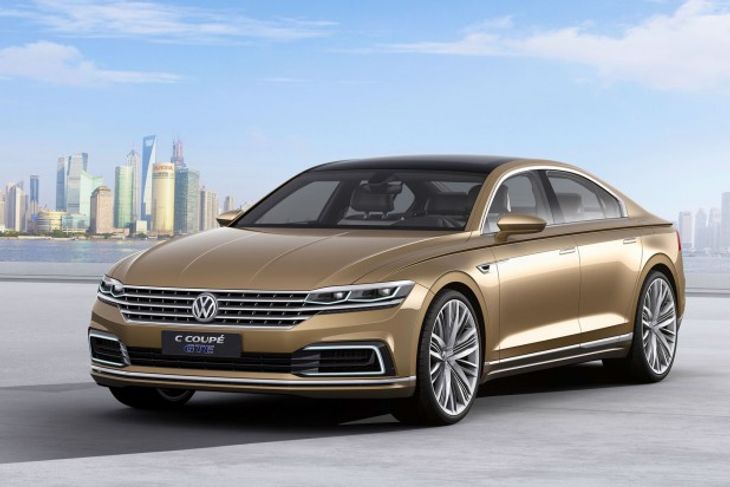 Although it looks likely that Volkswagen will develop an all-new Phaeton super-luxury car, it will add a different luxury sedan between the new Passat and the future Phaeton, seemingly exclusively for the Chinese market. This model will take the shape of a swoopy four-door "coupe" to battle the likes of the Audi A5 Sportback and Jaguar XF, and was previewed by the C Coupe GTE concept.
Closely related to the Audi A6L (long-wheelbase) offered in China, the C Coupe GTE it will be built in partnership with China's SAIC. A large number of powertrains are likely to be offered in China, including the concept's plug-in hybrid drivetrain.
The Chinese market still loves sedans, especially those with very large rear legroom. Many wealthy Chinese still preferred to be chauffeured around, rather than drive themselves. At the same time, bold "look-at-me" design is also a requirement for that market. The C Coupe GTE certainly answers both needs very well.
This model is not planned for South Africa.
VOLKSWAGEN TOUAREG  - World Launch 2016/17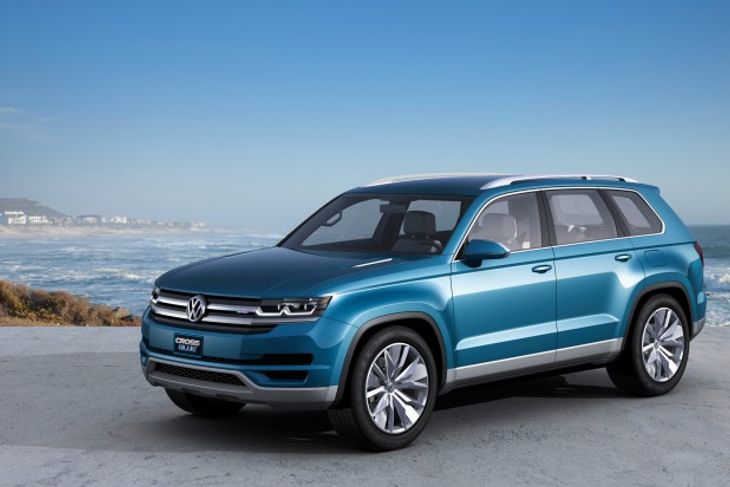 Inspired by the Cross Blue concept from the 2013 Detroit Motor Show and riding on the same platform as the new Audi Q7, the next Touareg will be a far more muscular, chunkier SUV than the curvy current model.
As is the case with the Q7, new Touareg will be bigger than before, but also significantly lighter and more fuel efficient. In fact, expect the powertrain line-up to closely resemble the Q7's so the most popular in South Africa is likely to be the 3,0-litre turbodiesel with around 180 kW/600 Nm. On the petrol side expect either a 2,0- or a 3,0-litre powerplant. A new 10-speed DSG transmission is rumoured.
New Touareg will become a seven-seater and the cabin will be jam-packed with tech features, including very likely the virtual cockpit from the Audi TT/new Passat and a host of connectivity systems that could stretch to the rear passengers as well.
Volkswagen South Africa launched a significantly updated version of the current Touareg last year, so it is too early to commit to launch details of its replacement just yet.
This very important newcomer could go into production early in 2017. Few details have been leaked thus far, but like the next Golf, expect a squatter, more sharply styled car with a longer wheelbase and very short overhangs. As is the case with all new Volkswagens, weight has been cut and efficiencies improved.
The bigger news is probably to be found in the interior, where the Audi TT and new Passat's virtual instrument cluster could make an appearance, along with the latest connectivity systems, including Apple CarPlay and Android Auto. The stretched wheelbase will also improve rear legroom and boot space.
A GTI derivative will follow shortly after, as well as a SUV/crossover variant (see T-Roc).
Volkswagen South Africa says it is too early to commit to timing and details of the local introduction of this crucial model.
VOLKSWAGEN T-ROC  - World Launch 2017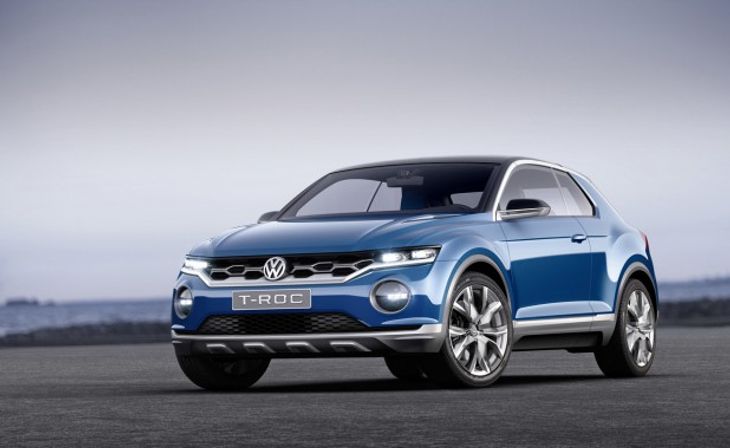 As you have noticed, Volkswagen's big product push in the coming years is to make sure it covers all the bases in the ever-expanding SUV/crossover market. Slotting in between the little Taigun and the next Tiguan (which grows), is the Polo-based T-Roc. This sporty crossover may even be offered in three-door form as the concept previewed, but five-door versions will be available too. It targets the likes of the Nissan Juke and Mini Countryman and will borrow its engines and gearboxes from the Polo. It may also be closely related to the upcoming Audi Q1. As is the case with the smaller Taigun, the interior design is likely to be more youthful than other, larger Volkswagen products.
Volkswagen South Africa says there is no confirmation yet of a production version of this model.
VOLKSWAGEN up! - World Launch 2017
The cute little up! may still be relatively new to South Africans but it was around in Europe for a good three years or so before reaching our shores. This means it is older than you think, and that a new model is due around 2017.
Little is known about the newcomer, except that it will ride on a stretched platform. A major issue with the current model is that the very short front-end prohibits Volkswagen from fitting certain engines and gearboxes from its parts bin. This will be addressed with the next derivative.
Volkswagen South Africa says the next up! is merely a facelift and that there is no indication yet of timing.
VOLKSWAGEN SCIROCCO - World Launch 2017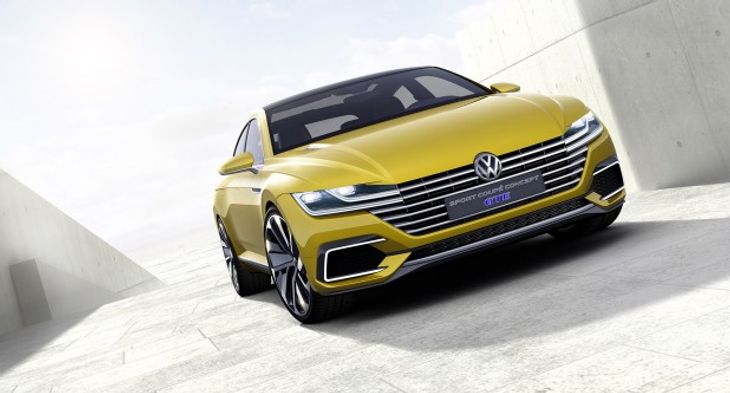 The current Scirocco coupe remains an attractive offering, but it is most certainly dating, especially in the cabin. An all-new model, based on the agile MQB platform is due for launch in 2017 and the big news is that it will reportedly ditch the current car's quasi shooting-brake design for a proper coupe shape. Word is that the new car's look will be heavily inspired by the Sport Coupe Concept GTE pictured above.
As is currently the case, the engines and gearboxes will be carried over from the Golf, and like most of the new Volkswagens due in the next five years, expect to see that attractive virtual cockpit and a host of connectivity solutions.
Performance fans will be delighted by the news that Volkswagen is plotting a very hardcore 250 kW RS version.
An updated version of the current Scirocco was launched recently, so Volkswagen South Africa is not in a position to comment on the next-generation model's local availability just yet.
VOLKSWAGEN JETTA  - World Launch 2017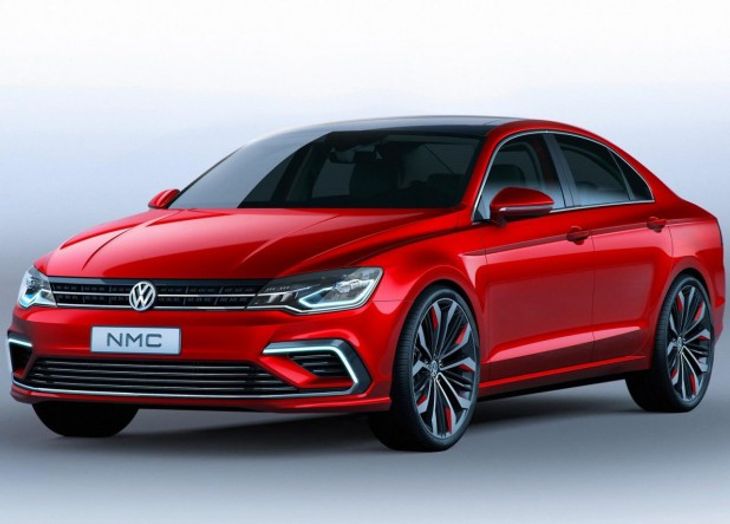 The next product to be based on the MQB platform is the all-new Jetta, due in 2017. With this model Volkswagen is likely to take an even bigger step in differentiating it from the Golf, so expect a longer wheelbase and a very upmarket interior, again with the virtual cockpit from the Audi TT and the latest connectivity. The reason why the car is likely to grow in length is not what you may think.
Volkswagen is keen to add a fourth derivative to the Jetta mix (in addition to sedan, estate and Alltrack), and the hot tip at the moment is for a svelte, but spacious coupe. This type of vehicle does well in a market such as America, but is unlikely to reach South Africa. The vehicle pictured above is the NMC (New Midsize Coupe) coupe, and is said to provide design clues.
Volkswagen South Africa says the next-generation Jetta isn't currently part of its plans.
VOLKSWAGEN BUDGET CAR FAMILY  - DUE 2018
Already confirmed as being high on the agenda is an all-new budget car range due for unveiling in 2018. Targeted at the Chinese market, but potentially also other nations, the new range of vehicles will spawn hatchback, sedan and SUV derivatives. Previously a tie-up with a Chinese manufacturer was mooted, as well as the establishment of a stand-alone brand. Volkswagen already has two Chinese partners in FAW and SAIC, but also rumoured recently is a collaboration with Great Wall Motors (GWM). However, Chinese law prohibits Volkswagen to partner with more than two companies, so the only way this could happen is if the joint venture is done through a sub-brand…
Either way, Volkswagen has done a lot to add capacity in China but arguably is yet to deliver the correct product mix for this market. More (and cheaper) SUVs are needed, and Volkswagen knows this all too well…
Official word from VW South Africa is that there are no plans for this model's introduction for South Africa.
The all-new Golf arrives in 2018 and will apparently be quite a radical departure from the still-new Golf 7. Efficiency has been prioritised, so expect significant weight reduction, advanced aerodynamics and even coasting technology to feature. Apparently the target weight is as low as s1 100 kg! You can read more here.
Inside, Volkswagen wants to retain its class-leading position in terms of perceived quality, but there will be a pronounced focus on in-car tech. A very large info-tainment screen supplemented with gesture control is very likely. Mobile connectivity through the likes of Apple CarPlay, Android Auto and Mirrorlink will be provided.
Volkswagen South Africa says it is too early to start talking about Golf 8.
VOLKSWAGEN GOLF 8 GTI  - DUE 2019
First rumours of the next-generation GTI suggest that it will arrive in 2019 and likely again run a 2,0-litre four-cylinder turbopetrol, but that power will be the same as today's Golf 7 R (just over 200 kW).
The next iteration of the MQB platform will be used as a base, and it is said to be even lighter and more rigid, both boding well for even better handling and performance. Good news for petrolheads is that a six-speed manual transmission will stay part of the offering (with seven-speed DSG as an option). In fact, it would appear as if the next-gen GTI may be quite a hardcore machine, with a model-specific sports suspension likely to also be offered, in addition to beefier brakes, an electronic limited slip-diff and adaptive dampers.
Volkswagen is traditionally very conservative with the Golf, but it would appear the next version could bring a more pronounced design step. The longer wheelbase, shorter overhangs and narrower side window glass area will make it look squat, hunkered-down.
VOLKSWAGEN AMAROK - END OF DECADE
With the imminent arrival of the new Toyota Hilux, Ford Ranger, Mitsubishi Triton and Nissan Navara, Volkswagen's Amarok will soon find itself the oldest pick-up on offer. Then there is also the new Mercedes-Benz bakkie to keep in mind. A new version of the Amarok is therefore called for.
At this stage there is very little information available on when this vehicle is likely to debut and what the biggest changes would be, but looking at VW's traditional life-cycles, we can't see them delaying the new model until much later than 2017. Indeed, Volkswagen South Africa says a facelift of the current model is due in 2017.
That said… there is another angle to consider, namely the all-important American market. It has been reported that Volkswagen would like to enter the lucrative pick-up market in the States but that the current Amarok is too small to compete. A rumour suggests that Volkswagen could push out the Amarok update until around 2019, to ensure that a larger variant could be spun off the same platform.