The XC40 – arguably the most eagerly anticipated new Volvo in quite a while – is finally in South Africa. Will Volvo's compact SUV be able to lift the Swedish marque's local sales figures to where they belong? We test the top-spec turbopetrol R-Design derivative.
We like: Styling, practicality, interior design and comfort, better priced than premium rivals.
We don't like: A few too many features relegated to the options list.
Alternatives
The sporty BMW: The BMW X2 is equally as new and blends a stylish exterior with a rather bland interior. If you like a sporty look, -ride and -feel to your premium compact SUV/crossover, the BMW delivers. It is priced rather dearly, however.

The sporty Jaguar: The flood of cars to this segment means prospective buyers are spoilt for choice. Jaguar's E-Pace is based upon a 10-year old Range Rover Evoque platform, but still feels racy despite weighing nearly 2-tonnes. It looks really good and offers better-than-expected space inside.

The family choice: The Volkswagen Tiguan 2.0TSI Highline is more practical than the competitors mentioned here, but perhaps lacks some of their look-at-me kerb appeal and upmarket feel. It's more reasonably priced than the BMW and Jaguar, but not enough so that the price premium is insurmountable.
Compare the specs of these rivals
What is it?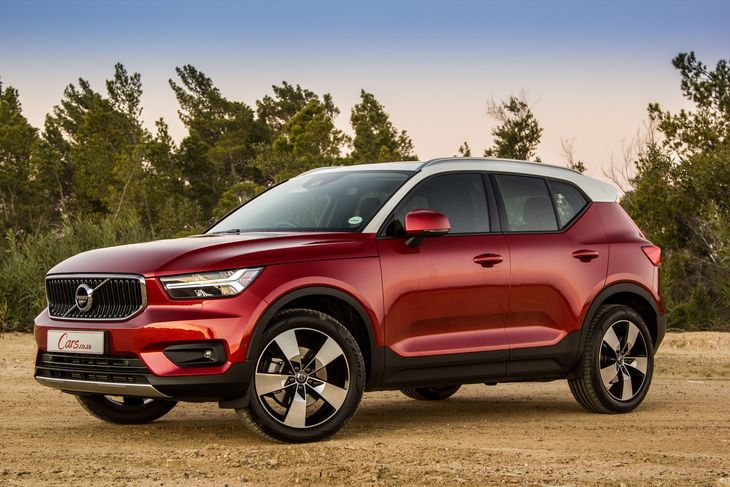 Pictures make it appear smaller than it actually is. The XC40 shows poise and assertiveness with its design.
Gothenburg-based marque Volvo continues to grow globally under the ownership of Chinese automotive powerhouse Geely: demand for the Swedish brand's cars is at an all-time high. This new XC40, in particular, is outperforming sales targets across the globe. It joins a popular segment that has seen astounding growth in the past year where premium brands like Audi, BMW and Jaguar are all trying to entice buyers with brand new wares.
Essentially it's a compact SUV, but with without the bland family-wagon tagline that comes with it. The XC40 looks purposeful and sits strongly on its haunches; the four wheels plotted out in each corner. The compact proportions play nicely to a tight, uncluttered design that shows off the Thor's Hammer headlights and vertical tail lamps.
It is the first car to ride on the new CMA platform, which is designed for smaller cars and utilises both petrol and turbodiesel engines. A hybrid model will likely follow as the model's lineup grows in the future.
How does it fare in terms of…
Blending luxury and practicality?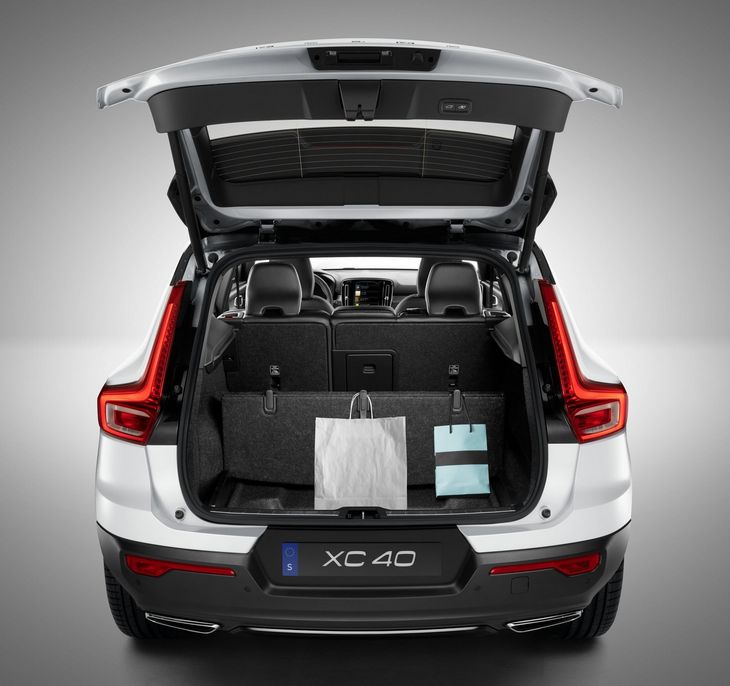 The optional grocery bag holder subdivides the luggage bay to hold things in place. The feature's more useful than you may think.
From the outside, the XC40 looks very desirable – a very nice thing, too nice maybe to deal with family life that involves things like discarded yoghurt tubs, errant chocolate crumbs and spilt fruit juice... not to mention all the luggage and paraphernalia that family members cart around with them. If practicality is a major priority, then the R-Design may not be the best choice, the leather/suede trim combination feels lovely, but may prove more difficult to keep clean/unmarked than standard leather.
The side pockets in the front doors are capacious by virtue of the speakers that have been moved elsewhere, which yielded more space. You can actually toss a smallish laptop in the door pocket if required. There are pockets and slots for keys and bits and bobs dotted around the cabin. Our test unit included a wireless charging pad too.
As for rear occupant space, the aft bench can accommodate 2 adults (or 3 children) with ease. The seating position in the rear does mean that your legs are a little higher than you'd usually want them to be, but there's enough legroom back there to facilitate comfortable passage on most journeys.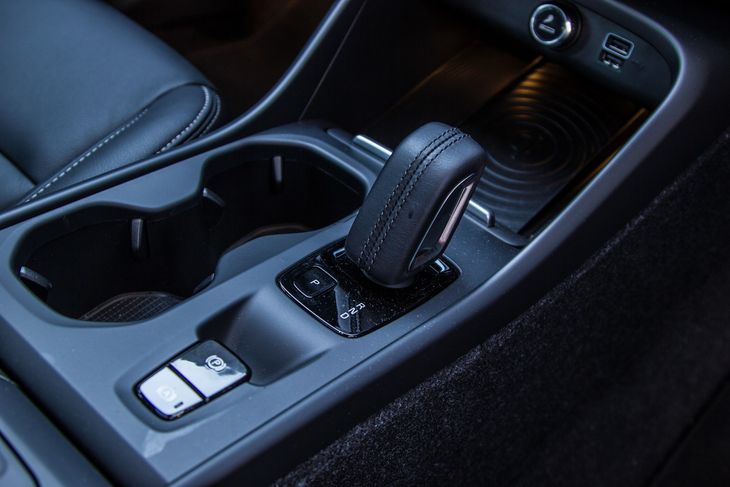 There is a wireless charging pad up front, plus a pair of USB ports and plenty of storage bins nearby.
The luggage bay officially measures 460 litres, which is a little smaller than some of the competition, but the loading area is nice and square, making it easy to load anything that will fit. You can also opt for the grocery bag holder (R1 400), which subdivides the bay into compartments, while providing extra shopping bag hooks.
The standardised mountain bike test was passed easily; as a matter of fact, the XC40's bay swallowed a pair of bikes whole, plus riding apparel, with relative ease.
Ride and handling?
Having spent time with the new CMA platform on the silky smooth roads surrounding Barcelona last year, we were keen to see if the XC40's ride was as good on our more potholed and generally courser tarmac.
The XC40's wheelbase is surprisingly long – it's 25 mm longer than a Tiguan's – but it feels particularly taut in the way a shorter car would. It's not sporty like an E-Pace or X2 (try to be), but corners steadily without excessive body lean. The steering is weighted acceptably; it's quick enough to swiftly manoeuvre the Volvo in a parking lot.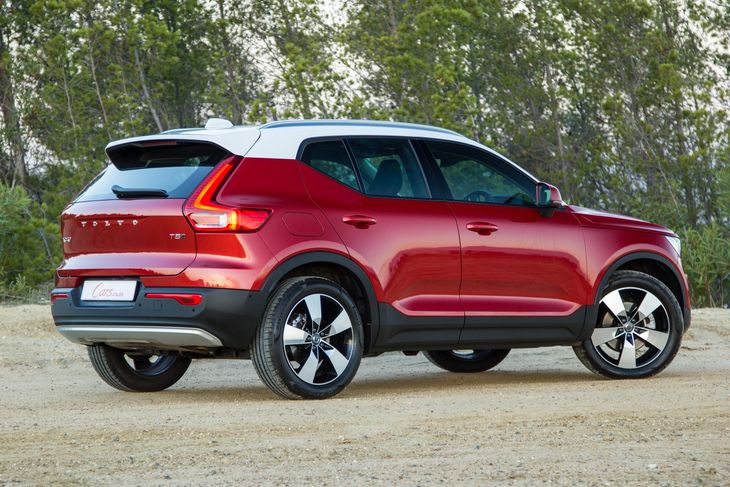 With 211 mm of ground clearance, the XC40 is a high-riding compact SUV.
The ride quality remains supple over bumps, even with the sportier R-Design suspension setup. The 19-inch wheels are the right choice, as the optional 20-inch might just transmit a few noticeable thumps through to passengers. The ride blends a balance of comfort, stability and lightness as the XC40 moves about nimbly when required to do so. The R-Design's additional stiffness is noticeable at slower speeds, where the suspension doesn't offer as much give when clambering onto a driveway or bumping down a dirt road. The Inscription and Momentum derivatives will, in all likelihood, be more plaint over harsher terrain.
Performance?
Under the bonnet of the XC40 R-Design sits a 2.0-litre turbopetrol engine with peak outputs of 185 kW and 350 Nm. That's a healthy dose of power for an SUV and it translates into a hot hatch-beating claimed 0-to-100 kph time of 6.4 seconds and top speed in the region of 230 kph.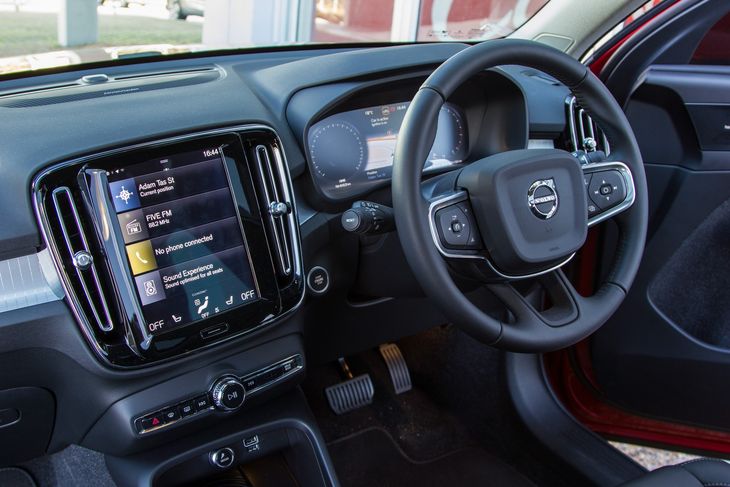 The 9-inch Sensus touchscreen takes centre stage in the cabin but it would be nice to have a button for climate control.
The all-wheel-drive helps to reign in some of the wheelspin that 185 kW would normally elicit from a front-wheel-drive car. Fuel economy is claimed at 7.7 litres/100 km, but we were seeing around 9.2 litres/100 km over mixed driving conditions, which included a decent 200 km haul out to the Overberg and back. The turbodiesel derivative is likely to return better numbers at the pumps while not compromising much on power or driveability.
Meanwhile, Volvo's 8-speed automatic transmission gets the job done with minimum fuss, quietly shifting up and down the 'box in the background.
Features?
There are some nice-to-haves in the XC40 that have been demoted to the options list. We calculate that to spec absolutely every available feature in an XC40 would add approximately R80-90k to the asking price. Standard fare on the R-Design is actually rather good with the 9-inch infotainment system up front fully stocked with navigation, Apple CarPlay and Android Auto compatibility. Spec the R-Design extra pack (on top of the R-Design model) for R37 000 and you get heated seats, an electrically-activated tailgate, park-assist and a reverse-view camera. It also improves the sound system and includes electric folding rear seats.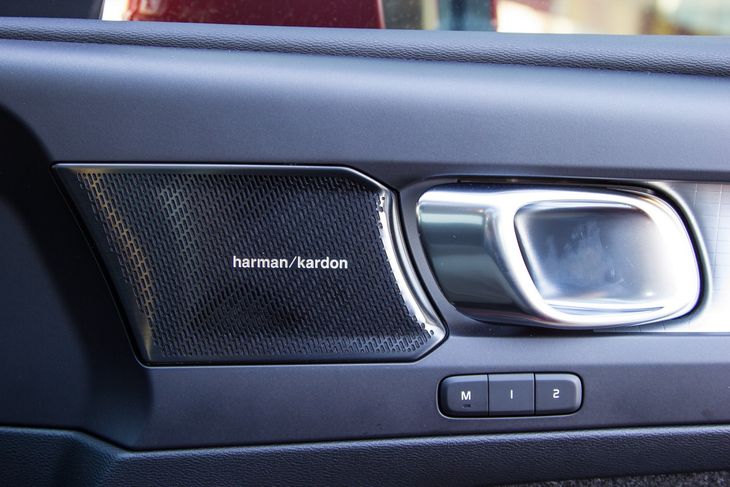 Part of the optional package, the harmon/kardon system is well worth the additional outlay.
The R-Design also features aluminium inlays in the dashboard that lift the level in the cabin nicely. The touch points are all soft/rubberised around the dashboard and feel sturdy when prodded. The steering wheel, armrest and gear lever are leather-trimmed and optional lava carpet inserts turn all the carpeted areas in the cabin red/orange.
Verdict
Volvo is struggling to make enough XC40s to satisfy demand; even South Africa's initial allotment of cars is running out. It proves Volvo is definitely on the right track: The XC40 doesn't lean too far towards the sporty-SUV side (so as not to deter practically-minded buyers) and stands out enough as a premium, well-thought-out choice.
It offers thoughtful practicality features in a cabin that's comfortable, ergonomically sound and well-styled. A few basic shortcut buttons for climate control would be nice additions, but overall, the infotainment system is easy to figure out for anyone au fait with a modern smartphone.
The new platform delivers a ride quility that's complementary to its SUV stature. It's comfortable on road and agile enough when in a hurry. The high-powered turbopetrol engine delivers plenty of grunt, but suffers a little more in terms of consumption than we expected. The 'diesel is always a good choice if you want to save in the long run.
Overall, the XC40 delivers a package that's hard to beat in this segment. It meets and exceeds expectations in every department. It feels like a high-end, premium packaged product that competes with Jaguar, Audi, and BMW, but dwarfs them on price. This looks like it could be the model that puts Volvo firmly back into play in SA.
Related content
Volvo XC40 (2018) Specs & Price
Volvo XC60 Price Announced for South Africa
Jaguar E-Pace (2018) Video Review
Mercedes-AMG GLC 63 S (2018) Launch Review
Interested in buying a Volvo?