When the Volkswagen Tiguan range was launched in 2016, its model line-up was limited... Where was the economical turbodiesel derivative? Well, the Wolfsburg-based company has now extended the range (2017) and we got to test the new flagship Tiguan, which is both diesel-powered and all-wheel driven. Is it the best-in-class family car in South Africa, or should you be considering cheaper alternatives in these cash-strapped times?
We Like: R-Line body kit adds striking visual presence, powertrain refinement, surprisingly competent offroad ability, exquisite build quality
We Don't Like: We'd like the European-spec engine, but SA diesel quality is not up to scratch. Pricey when compared to rivals. Firm ride.
Alternatives:
What can the Koreans muster: Hyundai's Tucson and Kia's Sportage are quality vehicles and have tallied up many sales. We'd favour the Tucson over its counterpart because it offers more value. However, the combination of diesel and all-wheel drive is not possible. If you want all-wheel drive, then look to the 1.6-litre turbopetrol version.
How about a sensible Mazda: The Mazda CX-5 is about to be replaced, but at the time of writing it offered a commendable driving experience, generous specifications and a powerful 2.2-litre turbodiesel engine.
The affordable choice: The Renault Kadjar is the cheapest vehicle in this list and it offers liberal specification as standard. It's comfortable to drive and its diesel engine is adequate. However, it lacks that premium solidity that the Tiguan offers in such abundance and the Koreans' interiors are just as well-assembled as the French offering.
Compare the specifications of the Hyundai Tucson, Mazda CX-5 and the Renault Kadjar here
Facts & figures
Price: R577 000 (May 2017)
Engine: 2.0-litre four-cylinder turbodiesel
Transmission: 7-speed automatic
Power: 130 kW
Torque: 380 Nm
Fuel Consumption: 6.4 L/100 km (claimed)
Top speed: 207 kph
0-100 kph: 8.3 sec
Read a previous review of the Volkswagen Tiguan here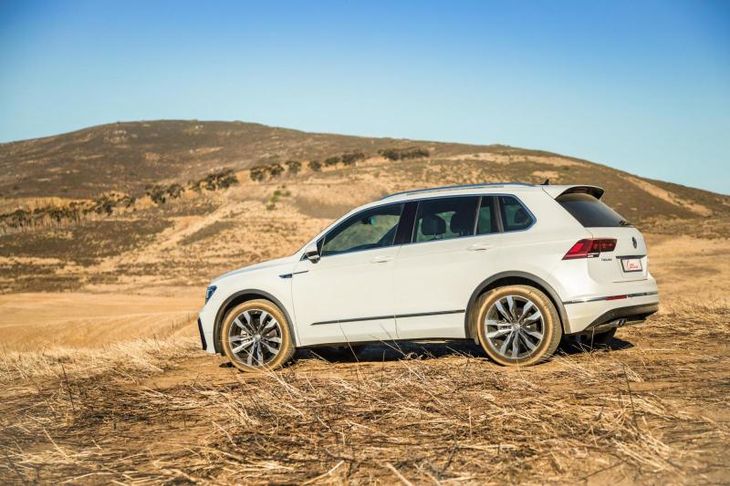 4Motion offroad ability is better and more capable than expected
The Good
Surprisingly capable off-road
Given its 4Motion (all-wheel-drive) configuration, what better way to put the Tiguan to the test than by turning off the tarmac, engaging the dirt mode and seeing what the VW can do? A case of "let's see where this dirt road goes" turned into "this is getting tricky now, we should do the photos here". The road in question comprised a steep and rutted gravel/dirt path, but we were optimistic and hopeful that our Tiguan test unit could traverse such terrain. And so it did; the fact that the Tiguan didn't bottom out or battle for grip was a pleasant surprise.
See, this 4Motion arrangement is not meant to be a serious off-road 4x4 technology, but rather an aid for slippery conditions such as snow and gravel. Nonetheless, we were more than impressed with the way the Volkswagen dealt with barely passable farm roads on a hot afternoon in the drought-stricken Cape Town area. There was little slippage/loss of traction thanks to the dynamic system sending power to the wheels that needed it most. We're not advocating this Tiguan as a rival to something like a Toyota Fortuner, but it exceeded our expectations.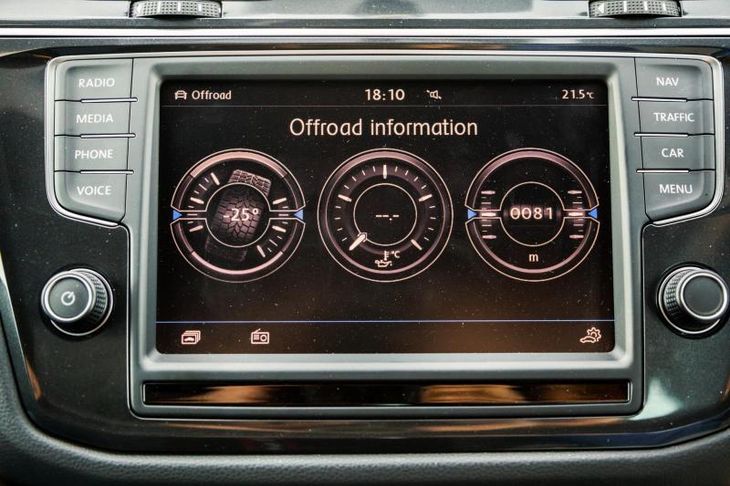 Off-road information on the high-quality infotainment display
Modern looks
Fitting the test unit – the entire Tiguan media fleet, in fact – with R-Line body kits was a stroke of genius by Volkswagen's marketing department, because the newcomer's visual appeal is greatly enhanced by the R18 000 upgrade. It's hard to find a base-spec Tiguan to compare it with, but when you see one, you'll be dismayed at how ordinary it looks by comparison. It may be an extra-cost item, but it really makes the Tiguan stand out. Rounding off the R-Line kit are some tasty 20-inch alloy wheels and a sports suspension.
Drivetrain refinement
In some countries (mainly in Europe), there is mounting resistance to diesel-powered vehicles. It's a pity, because we believe that a turbodiesel is the best powerplant for this class of car. Granted, it's the engine that proved the culprit in the recent emissions scandal, but despite the negativity and bad press, it complies with SA emission standards and that's that.
This 2.0-litre turbocharged diesel motor boasts more-than-healthy outputs of 130 kW and 380 Nm, with power directed to all 4 wheels via a 7-speed automatic transmission. It's a good combination and despite some initial lag (hesitation) at pullaway, the engine swiftly comes on strong and pulls well thereafter. We suspect this Tiguan derivative could prove a more than capable towing vehicle. It's also fairly frugal when you're treating the accelerator pedal like an on/off switch... during its time with us, we saw a consumption readout of 7.9 L/100 km.
Volkswagen's dual-clutch gearbox (DSG) just seems so seamless in its behaviour: each shift (up or down) occurs without any noticeable let-up in power delivery. You can, of course, use the steering wheel-mounted paddles to actuate gear changes yourself, but we chose to leave the 'box to its own devices most of the time.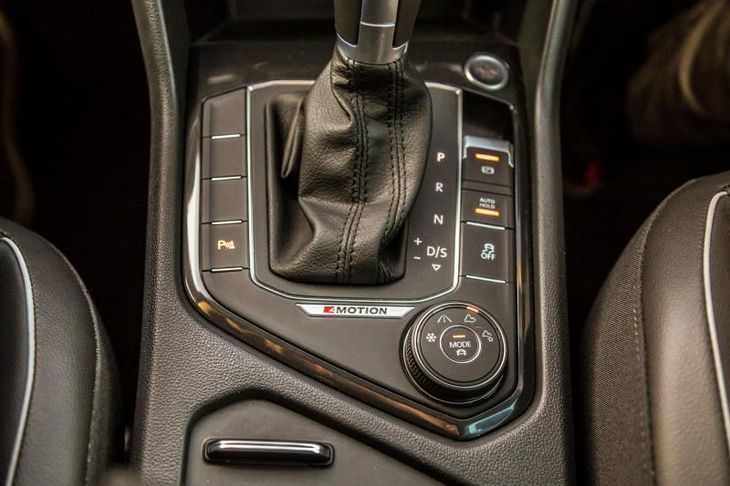 DSG is the industry benchmark in dual-clutch gearboxes. Note: 4Motion specific offroad mode selection wheel
Build quality and features
Volkswagen seems to achieve top-notch build quality and fit-and-finish with unerring regularity. This Tiguan feels superbly made and you could step out of it and into one of the premium brands' cars and not feel any immediate differences. Our vehicle's dashboard was sharp and modern, dominated by the optional 8-inch Discover Pro infotainment system.
Also fitted was the digital instrument cluster; it's a little difficult to find all the correct information, but this shouldn't bother owners who will have ample time to become familiar with it.
In a chapter we could potentially call "Options we didn't know we actually needed until now", we discovered that the test unit came with some rather great optional extras. The 230V socket was handy to charge our camera kit and the discrete electrically-released towbar meant that you can fit a bicycle rack. Also worth consideration is the DynAudio sound system.
The Not So Good
Rivals are more affordable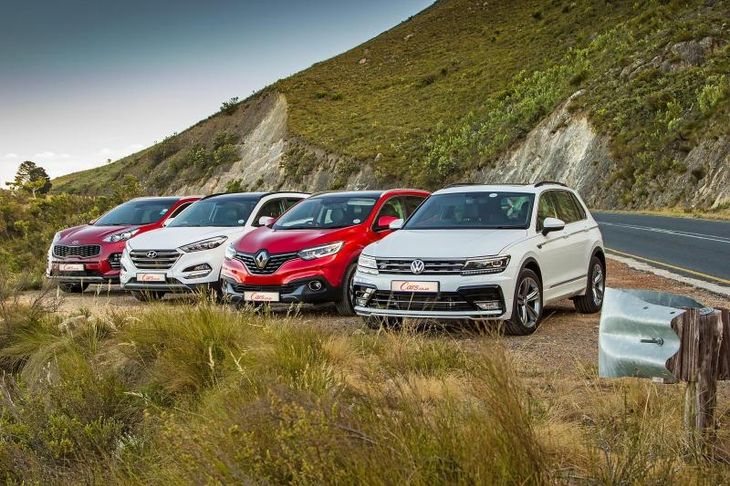 From a previous comparative review: As you can see, this segment is jammed with rivals. Tiguan is the most expensive, but is it worth the extra outlay?
As good as the Tiguan is, you pay dearly for that excellence. A cursory glance at our comparison tool highlights that the Tiguan is priced appreciably higher than its immediate rivals. Admittedly the likes of the Renault Kadjar can't compete in terms of finish and the Koreans' badges don't have as much appeal as the German's, but still, the price gap is considerable.
The popular Hyundai Tucson, for example, comes in at just under R540k, but you can't get an all-wheel drive derivative with a turbodiesel engine. The diesel-powered all-wheel drive Kadjar more than R100k cheaper, while a top-spec Mazda CX-5 (due for replacement at the time of writing) is comfortably R30k less than the Tiguan.
R-Line ride quality
Part of the Volkswagen R-Line kit on the Tiguan includes the combination of 20-inch alloy wheels and a sports suspension. While it makes for a firm, yet fair ride quality on perfect tarmac, not all roads offer a smooth surface and on roads that are degrading and feature potholes and tree roots, we found the Tiguan to be a touch too firm. It's a minor niggle, but worth noting.
On the other side of the coin is the fact that the MQB platform (as utilised by several VAG products) delivers notable driver enjoyment; when you're piloting the Tiguan swiftly through some the lovely sweeping bends that the Western Province is renowned for, you'll encounter pleasant levels of composure and directness.
Verdict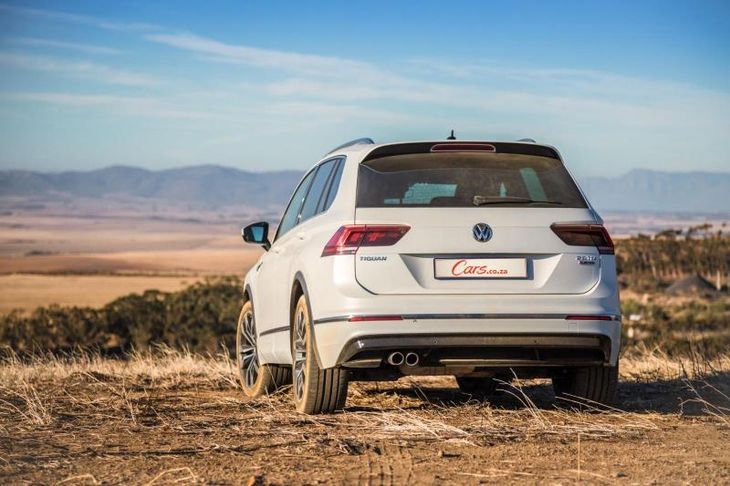 Volkswagen Tiguan 4Motion 2.0 TDI DSG - a complete car which is practical and capable. but you're paying a premium for it.
The Tiguan, equipped here with a reasonably thrifty (yet punchy) turbodiesel motor and all-wheel drive, is a very accomplished vehicle. There's so much it does right. Not only does it feel firm and solid, but its build quality is close to that of overtly luxurious SUVs. The practicality is hard to fault and whether you're a child or an adult, rear leg-, shoulder- and headroom are fair. We were also impressed with its composure, sure-footedness and overall capabilities on the dirt, particularly steep gravel farm roads where we photographed this test unit.
It's a great offering that ticks multiple boxes in terms of roles, but, given its high price tag, you'd expect nothing less. In short, it's a complete package that could be all the family car you'd ever need in one attractive, albeit budget-stretching vehicle. Given how South Africa's credit rating has been downgraded and that people will be downscaling to save money, we wouldn't be surprised to see potential customers of the Mercedes-Benz GLC, Audi Q5 and BMW X3 looking at this Volkswagen Tiguan as a "more-value-for-money offering...
Related content
Comparative Review: Hyundai Tucson vs Kia Sportage vs Renault Kadjar vs Volkswagen Tiguan
Volkswagen Tiguan stretched in Allspace Version
Volkswagen Tiguan 1.4 TSI Comfortline R-Line (2016) Review
5 Cool Things About the New Volkswagen Tiguan
Searching for a used VW Tiguan?