Volvo's announcement of a new-engined S60 Polestar, just a few months since the original was launched in South Africa, puts a question mark over the significance/desirability of the former. But even if the S60 is outgunned, will that matter to buyers loyal to the Swedish marque?
We like: Eye-catching but tasteful looks, sonorous engine, first-of-a-new-breed appeal
We don't like: Less than sports-sedan performance, squirmy under braking, intrusive safety systems
Alternatives
For more performance: If your budget stretches to R1 million or just over it, the Mercedes-AMG C63 and BMW M3 are thoroughbred sports sedans with much more brand cachet and performance capability. If those options are too expensive, hold out until the end of 2016, when Audi will launch its S4 quattro.

For better value: The slightly more affordable BMW 340i offers more-than-sufficient performance, but lacks the Volvo's sheer "wow factor". The Subaru WRX STi can certainly dig its wheels in and has gained a cult status through its generations, but premium buyers may find it too brash.

For the respect of fellow Volvo lovers: Nothing, unless of course you can get your hands on the new, lighter and more powerful S60 Polestar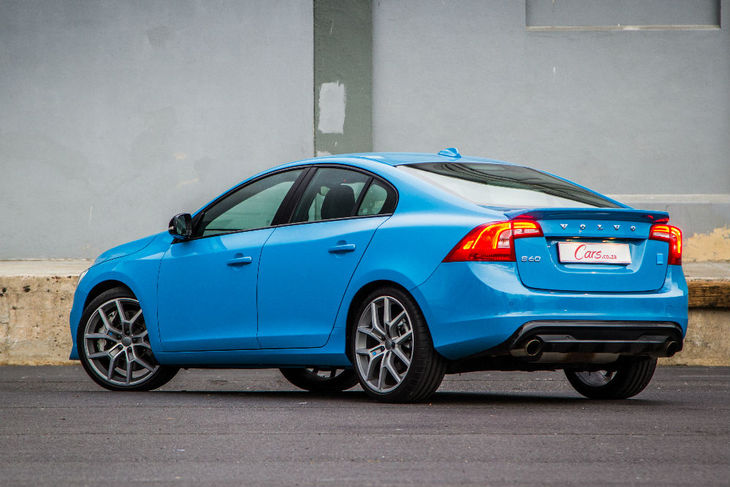 The S60 Polestar's rear bumper features a gloss black diffuser; the exhaust tips make a beautiful noise.
What is it?
Just when it seemed that Volvo Cars had made peace with being nicknamed the Sensible Swedes, the Scandinavian manufacturer bought out Polestar, the company that produces Volvo racing cars for touring car competition, and decided to build performance-oriented "R model" cars again, only this time round they'll be known as Polestars.
The move was received with great enthusiasm by Volvo aficionados, but, considering how dominant special models fettled by Audi, BMW, Mercedes and Jaguar's performance divisions are in the market, the S60 Polestar, a superheated and boisterous version of the top-of-the-range 3.0-litre straight-six T6 AWD Inscription model and of which only 28 units were allocated to the market late last year, is very much a brand-builder for Volvo. In other words, it is a first stab at establishing a designation (Polestar) that consumers will positively associate with the Swedish marque.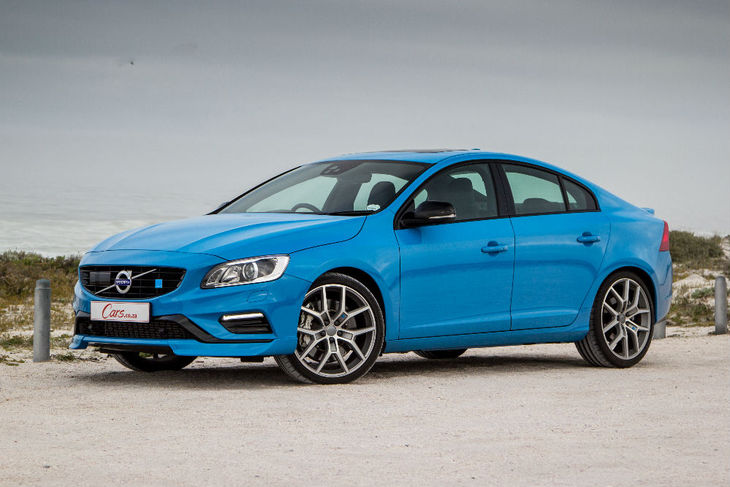 The cyan Polestar decal might not look distinctive with this paint finish, but it will stand out more on other versions.
Target market
S60 Polestar models were all pre-sold upon arrival in the South African market, but they do pop up on the used market occasionally. The Polestar's major attraction (apart from the fact that every vehicle in the South African consignment was finished in attention-grabbing Rebel Blue), is that it looks purposeful (yet tasteful) and offers an entertaining (as opposed to awe-inspiring) level of performance without compromising too much in terms of everyday usability.
While it is unlikely to lure buyers away from headlining, appreciably more powerful performance sedans such as the BMW M3 and Mercedes-AMG C63, for example, it's the most potent all-wheel drive compact executive sedan in the market until the S4 and (perhaps) RS4 versions of the new-generation Audi A4 make landfall in late 2016 and beyond. The Volvo's most natural rivals are the BMW 340i and, to a lesser extent, the Jaguar XE S.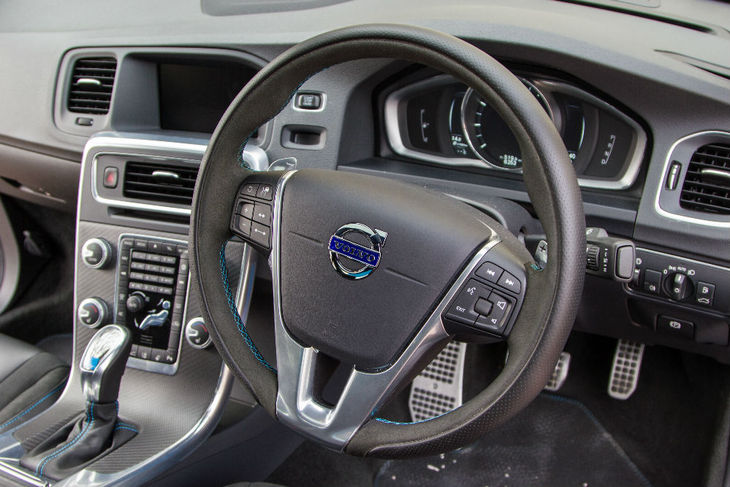 Contrast stitching and strategic application of Alcantara gives the Polestar's interior a racy feel.
How does it fare in?
Packaging and detailing
No fewer than 14 Polestar decals and liveries (yes, we counted them) feature on the S60 Polestar, so there is undoubtedly a sense of occasion about this limited-edition Volvo! Courtesy of its Rebel Blue paint finish, handsome aerodynamic addenda and a purposeful stance augmented by those eye-catching 20-inch alloy rims replete with branded calipers and miniature decals, the Polestar has oodles of kerb presence and head-turning appeal, but in the opinion of the majority of the test team, the Volvo's not too flashy to deter performance-minded premium buyers.
The interior detailing is quite subtle too... The cabin is trimmed in a combination of leather and Alcantara (even the steering wheel) and features light blue contrast stitching. That, in conjunction with bespoke touches such as the Polestar shifter and the rubber-studded metallic pedals, adds to the specialness of the cabin. Whereas its German competitors tend to err on the side of dark, somewhat sombre, interior treatments, the Volvo is comparatively bright inside and although rear seat legroom is not its forte, the front seats are supportive when you're driving enthusiastically, yet comfortable enough for everyday use. Otherwise, the Polestar's just as practical as any other S60 model...

Performance, ride and handling
The most notable performance characteristic of the S60 Polestar is the marked difference between the car's character between Normal and Sport modes. By fitting a new turbocharger and intercooler (among other modifications) to the T6's motor, Volvo has coaxed 258 kW and 500 Nm from the 3.0-litre straight six motor and while its exhaust note is burbling, but urgent, under normal conditions, it's resoundingly sonorous under full acceleration in Sport mode. In an era in where turbocharging technology has robbed some powertrains of their raspiness and timbre, the Volvo motor's an aural delight.
Having said that, the 3.0-litre motor is not the most free-revving unit of its kind and the mapping of the throttle and six-speed automatic transmission is comparatively leisurely when the Polestar's not in Sport mode. That's not to say that the Polestar is lethargic by any means, but when its driver feels the inclination to drive their S60 like a sportscar, it's best to knock the shifter to the left (Sport), see the instrumentation illuminate in a red hue and select a lower ratio with the left shift paddle before burying the throttle pedal. In that scenario, the Polestar brings its A-game: the Haldex all-wheel drive and tuned suspension deliver confidence-inspiring grip and body control on a twisty section of road, the front end feels glued to the road until gradual understeer intrudes at the limit and the willing engine remains in full voice throughout.

The S60 Polestar does have a couple of weaknesses, however. Even though the Volvo's braking system is well up to the task of smothering the car's momentum, there is a sense of squirminess to the way the retardation takes place and it's also apparent by a slightly grainy feeling to the middle pedal. What's more, there is a penalty to pay for the stiffer suspension setup and running on those low-profile Michelin Pilot Super Sport tyres: a less-than-compliant ride quality. To be fair, the Volvo's ride quality is not bone-jarringly hard, but stiff enough to jolt occupants over bigger bumps.
Desirability
As this Volvo's no longer available from new, by virtue of the fact that only 25 were made available to the public (the other three units were marketing vehicles), one cannot automatically attach modern classic/instant collector's item status to the car, even though there is bound to be pent-up demand for the model. Yes, it is the first of a new breed of performance Volvos, but that is a blessing (in terms of its originality) as well as a curse (Polestar is not yet a household name). Moreover, Volvo recently announced the production of another S60 Polestar that will look virtually identical to this vehicle but offers a more potent, let alone efficient, powertrain. Nevertheless, those who can find one in the used market will still benefit from the balance of a 5-year/100 000 km warranty, maintenance plan and roadside assistance.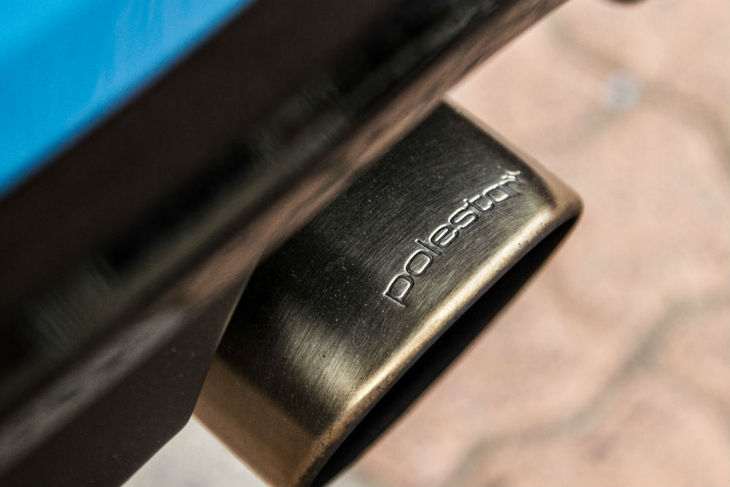 There is no shortage of Polestar liveries on the S60... even the exhaust tips are branded.
Verdict
It's a tricky task to assess a vehicle that was offered in very low numbers and sold out before it even made its public debut, especially in the case where it is a vehicle that does not have a predecessor that it can be compared against. Ultimately, the S60 Polestar does not set new performance benchmarks in the premium compact sedan segment – in fact, it has few direct rivals – and that can be damaging for a vehicle that is packaged in the way the Volvo is.
However, the newcomer is very significant insofar as the Volvo brand, which has a small, but loyal, following, is concerned. For brand aficionados, the S60 Polestar represents a highly desirable proposition and, objectively, an interesting proposition for those who cannot quite afford the aforementioned German rivals, especially from new. Those who are interested in switching to the Swedish marque will be interested to know that according to the Cars.co.za Owner Satisfaction Survey, Volvo's resale values may not be as good as those of its rival luxury marques, but the brand rates favourably in terms of sales experience and well in terms of after-sales experience.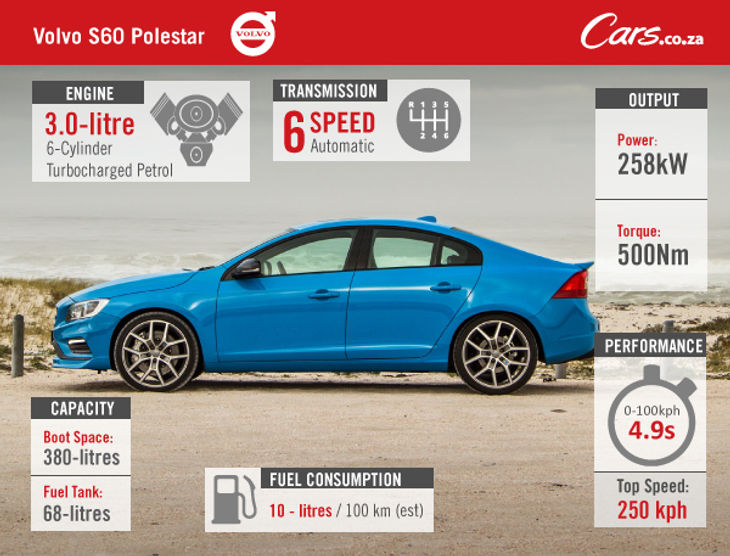 Interested in buying a Volvo S60? Search for one on Cars.co.za