The Volvo S60 Polestar was a limited-edition performance vehicle, but demand has outstripped supply so the Swedes have launched a newly-engineered model and expanded its market availability.
A few months ago we attended the launch of the Volvo S60 Polestar in South Africa, and it impressed us immensely - look out for a full test soon. However South Africa only received 25 of these beasts, and all of them were snapped up exceedingly quickly.

Read the detailed specifications and pricing for this model here.
Read a launch story of the Volvo S60 Polestar here.
Volvo Polestar has clearly realised that it's on a good wicket with these blue rockets and has doubled the annual production output from 750 to 1 500 units of both the S60 sedan and V60 estate. The big news, however, is that there has been an engine change. The meaty 3.0-litre six-cylinder motor has been replaced by the latest generation four-cylinder turbocharged and supercharged 2.0-liter Drive-E. While the downsizing means a lack of a meaty six-pot roar, power and performance is on the up.
This Drive-E engine features a bigger turbocharger, a supercharger, new camshafts, new conrods, larger intake as well as a high capacity fuel pump. Power is rated at 270kW, which is 20kW more than the outgoing model. Torque has dropped from 500Nm to 470Nm, and the vehicle's grunt reaches the road through a BorgWarner four-wheel drive setup. The six-speed automatic 'box has been replaced by an eight-speed Geartronic unit. The revised car will hit 100kph in 4.7 seconds and go on to a top speed of 250kph.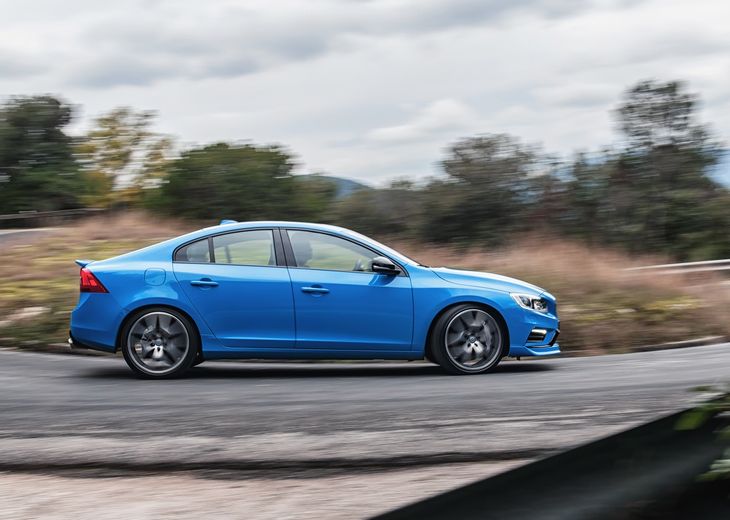 With its new, smaller engine, the S60 Polestar will hit 100kph in 4.7 seconds.
Volvo Polestar also points out that the vehicles have been on a diet and both the V60 and S60 have shed 20kgs. Fuel economy has been improved due to the downsizing and Volvo Polestar claims that both vehicles will return 7.8L/100km. Visually there are new 20-inch alloy wheels, while the brakes are now slotted discs of 371mm.
Distribution
While a new car is always nice, perhaps the most important take away here is that Volvo Polestar is on the sales offensive, with new markets on the cards. Currently Volvo Polestar products are only available in 13 countries, but this will be expanded to 47.
Volvo S60 Polestar South African availability
In total 32 units have been allocated to South Africa and we can expect them to arrive in the third quarter of 2016. Pricing is unconfirmed at this stage, but we estimate that it won't be far off the current asking price of R735 000. At this stage, the V60 Polestar Estate is not confirmed for South Africa.