Volkswagen has added a 7-seater variant to its popular family car range, but is the Tiguan Allspace more than just a standard Tiguan with 2 extra seats? We drove it through twisty and muddy hills in KZN to see how different it really is. Read on...
What's new?
Compared with the standard Tiguan, the Allspace is 210 mm longer overall (to house the extra pair of rear seats), but it has its a distinct design, standard specifications and a modified platform. The wheelbase is longer by 110 mm (for more rear passenger legroom) and the cargo capacity is improved by 115 litres (in 5-seater mode).
The face of the Tiguan Allspace, despite minor changes to the bumper, is immediately recognisable as its own model. The front end is rounder and less sporty in appearance. To put it another way, the standard Tiguan looks quite angular and square from the front, whereas the Allspace has a softer, smoother face.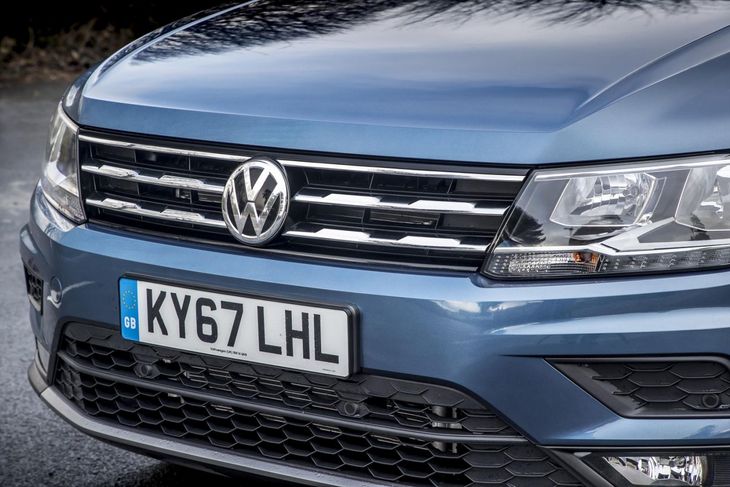 Softer face of the Tiguan Allspace makes it look different from the standard model.
In terms of the newcomer's rear three-quarter aspect, the Allspace's back window has been extended to give 3rd-row passengers a slightly better view out of vehicle.
And, finally, on the engine front, there is a new 2.0-litre turbopetrol unit that delivers 132 kW and 320 Nm of torque. Those familiar with Volkswagen's engine line-up will recognise these outputs from the now discontinued Scirocco, which utilised this powerplant.
Can you actually fit 7 people in it?
The 3rd row of seats is not suited to accommodate adults, because anyone over 1.7 metres in height is bound to run out of headroom. The 2nd row does slide forward on rails, however, providing a bit of extra legroom for the third row, making it perfectly suited for children (...and the vertically challenged among us).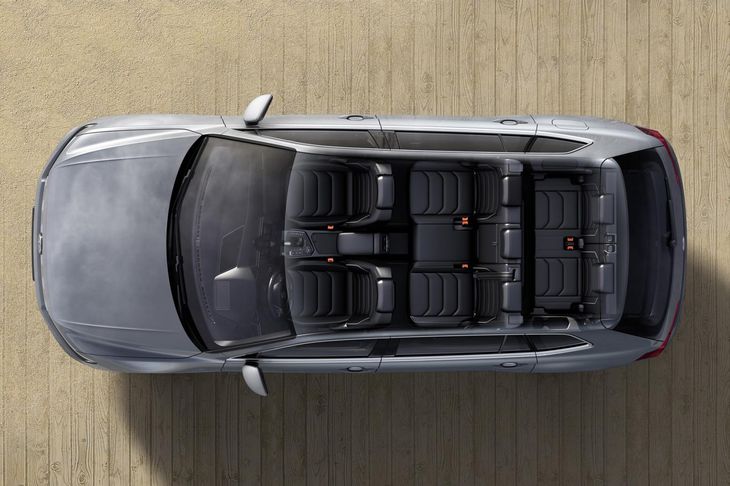 The rear-most seats are fine for smaller people and luggage space with all the seats in place is still fair.
The seats are practical in their folding arrangement allowing for a 40/20/40 split and even the front passenger seat can be folded flat, which would make it possible to load an 8- or 9-foot surfboard without difficulty. The extra length has meant that the loading area grows to 700 litres in 5-seater mode and 1 775 litres with the middle row folded flat. Even with all the seats up, there's a reasonable (for this segment) 230 litres of luggage space available.
Loading practicality is one of the Allspace's strongest traits: the rearmost seats can be lowered via a lever in the bay, which is flanked by shopping bag hooks and a handy torch.
How does it drive?
We had a chance to sample the new turbopetrol engine, which felt a little flat considering the power figures it is said to produce. The roads we drove required a lot of slowing down and then overtaking from low speed. The 132 kW didn't really make its presence felt until you put your foot flat to summon all of the motor's available grunt. The DSG gearbox's mapping has always leaned towards economy (it often uses a higher gear than one might expect, which could be the reason the initial sluggishness).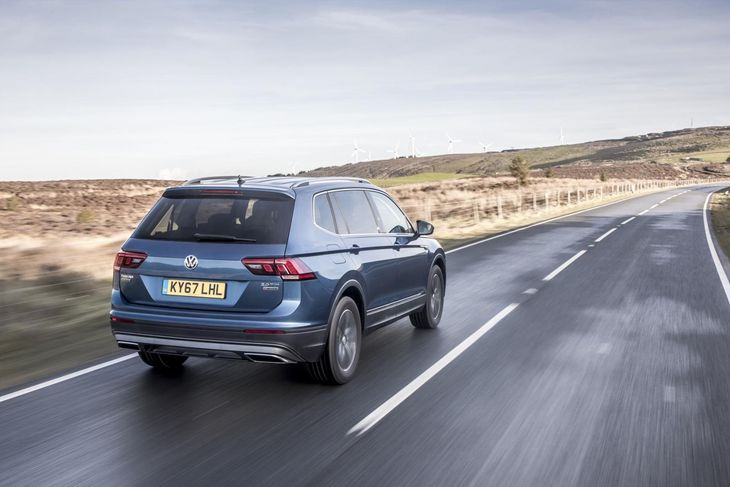 The new 132 kW turbopetrol engine was previously used in the Scirocco.
Only the entry-level 1.4-litre turbopetrol 110 kW engine comes with front-wheel-drive, the rest of the derivatives has 4Motion all-wheel-drive and a selectable off-road mode. Ground clearance is 208 mm, which is decent for a road-biased SUV and, if you opt for the off-road kit, you get an extra 7 degrees of approach angle.
For a full review of the Volkswagen Tiguan click here
Pricing and competitors
The Allspace gains a few extra standard features compared with the regular Tiguan, but comes with a bit of a price increase for obvious reasons (it has 2 more seats). There aren't many direct competitors to the VW, save for the Nissan X-Trail 7-seater, but that lacks the Tiguan's engine and transmission refinement. Further afield there's the much more off-road biased Fortuner and Everest or the more expensive Hyundai Santa Fe and Kia Sorento. If value for money is a major consideration then consider the Mahindra XUV500. All things considered, the Tiguan Allspace appears to have carved out a tiny niche for itself in the refined 7-seater family car segment.
1.4 TSI 110 kW Trendline DSG R463 400
2.0 TSI 132 kW Comfortline 4MOTION DSG R523 800
2.0 TDI 110 kW Comfortline 4MOTION DSG R571 100
2.0 TSI 162 kW Highline 4MOTION DSG R604 800
The new Tiguan Allspace comes standard with a 5-year/90 000 km service plan, 3-year/120 000 km warranty, 12-year anti-corrosion warranty and space saver spare wheel. The service interval is 15 000 km.
Related content
Volkswagen Tiguan Allspace (2018) Specs & Price
3 Reasons Why Volkswagen Tiguan is #CarsAwards Finalist
Spy Shots: Volkswagen Tiguan XL
Is Volkswagen building a Tiguan R? [with Video]
Volkswagen Tiguan 1.4 DSG (2016) Video Review
Comparative Review: Mazda CX-5 2.2DE AWD Akera vs Hyundai Tucson 2.0CRDi Elite [with Video]
Looking for a used Tiguan?