Three years after making its international debut, Volkswagen's eagerly-anticipated T-Roc has finally arrived in Mzansi. Has it been worth the wait? We got to grips with the newcomer at its media launch in the Western Cape
The Wolfsburg-based carmaker is making good on its promise to offer an SUV in virtually every segment of the passenger-car market and the arrival of the T-Roc duly completes VW's SUV line-up in South Africa. The newcomer sits between the T-Cross and Tiguan; it's a compact family car, but it prioritises style over practicality. Critics argue Volkswagen now has too many models in its SUV portfolio and perhaps they have a point...
However, Volkswagen SA is confident that the T-Roc has plugged the gap between T-Cross and Tiguan, and if you look at the pricing, it's easier to understand the justification. The T-Cross is a great entry point to the brand, with the T-Roc offering more style and features, plus a more powerful engine. If you need space and practicality, then a Tiguan is the next step up. Finally, for those who like their SUVs large and luxurious, the Touareg is certainly worth a look. We've provided a comparison between the 3 Volkswagen models so you can compare pricing, dimensions and engines.
Speaking of practicality, the T-Roc is said to offer a load capacity of 392 litres, while 1 237 litres become available if you fold the rear seats down. Interestingly, the T-Roc doesn't have the same rear sliding bench as the T-Cross and, at first glance, rear legroom isn't as generous as we hoped.
What's on offer in SA?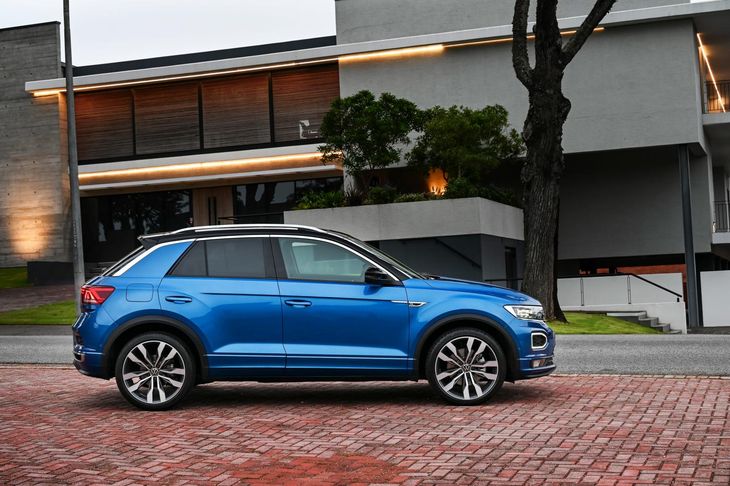 With an array of colour combinations, the Volkswagen T-Roc is one of the prettier vehicles in its segment
Volkswagen SA has introduced 3 derivatives of the T-Roc in our market. There are 2 engines on offer: a 1.4-litre 4-cylinder turbopetrol and a 2.0-litre 4-cylinder turbopetrol. The 1.4-litre version produces 110 kW and 250 Nm, and power reaches the front wheels via an 8-speed Tiptronic 'box. The 2.0-litre turbocharged petrol engine in the flagship derivative offers peak outputs of 140 kW and 320 Nm and is mated with a 7-speed DSG transmission, in conjunction with 4Motion all-wheel drive. For those of you who want some R flavour, we have bad news... Volkswagen SA has explicitly said the T-Roc R is NOT coming, but if you absolutely must have a performance Volkswagen SUV, then start saving for the Tiguan R.
ICYMI: Our International Launch Review of the Volkswagen Tiguan R
When it comes to performance, Volkswagen claims the 1.4 TSI is good for a 0-100 kph time of 8.4 seconds, while its 2.0-litre (2.0 TSI) sibling is said to do the same in 7.2 sec. Their stated average fuel consumption figures are 6.1 L/100 km and 7.2 L/100 km respectively.
There are 2 levels of trim available: Design and R-Line. The Design trim is available for both the 1.4-litre and the 2.0-litre, while R-Line is exclusive to the flagship derivative. There's a huge focus on customisation, and the Design level of trim offers a choice of 8 paint finishes, as well as a quartet of roof colours! The R-Line offers a further 8 exterior hues with 4 roof colour options. There are also 4 allow wheel designs to choose from in Design trim, while the R-Line comes standard with 19-inch alloys. There's a good chance the proverbial Joneses won't have an identical T-Roc to you!
The Design package comes standard with 17-inch Mayfield rims, while the 18-inch Montego and 18-inch Grange Hill alloy wheels are optional. The R-Line spec, meanwhile, incorporates 19-inch Suzuka alloy wheels, which we've seen before – on the Tiguan.
Feature-packed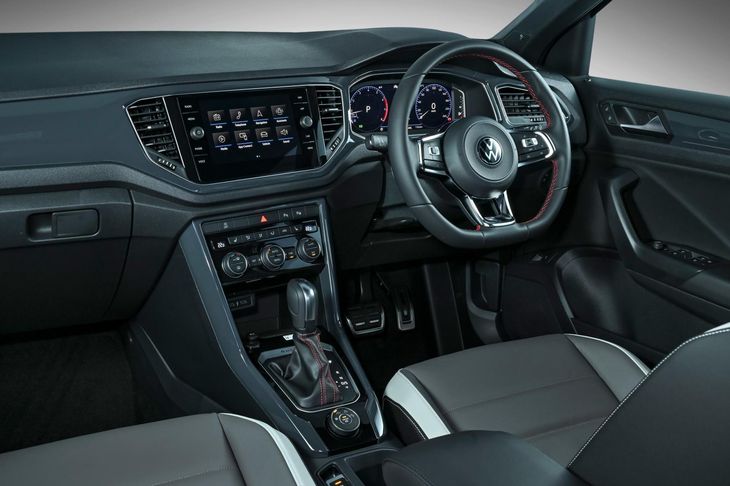 Pedals and steering from a GTI give you some indication of what it's like to drive...
The new Volkswagen T-Roc (Design) comes standard with the Composition Media radio and App-Connect, replete with an 8-inch touchscreen interface and a pair of USB ports. The Design trim level also features Climatronic (automatic aircon), connectivity via the WeConnect Go app, voice control, LED tail-light clusters, visual underbody guard (in other words, black cladding) and park distance control (front and rear).
The 2.0TSI 140kW 4Motion R-Line, on the other hand, comes standard with additional high-tech systems, such as front-assist area monitoring with city emergency braking and pedestrian monitoring, an automatic post-collision braking system, as well as lane assist. From a cosmetic point of view, the flagship features LED daytime running lights in the front bumper and dynamic cornering lights, 19-inch Suzuka alloy wheels, the latest generation Active info display, keyless entry, a smartphone charging pad, adaptive cruise control (with front assist) and Vienna leather seats.
Some options worth considering are the panoramic sunroof, an electronic trailer hitch, smoker's package, a Discover Pro navigation system (in conjunction with a 9.2-inch screen), the Beats audio system and the Park Package. Volkswagen has also introduced its safety tech, called IQ.Drive, which includes sophisticated features such as adaptive cruise control, front assist, lane assist, blind-spot detection, park assist, and rear-traffic alert.
What's it like to drive?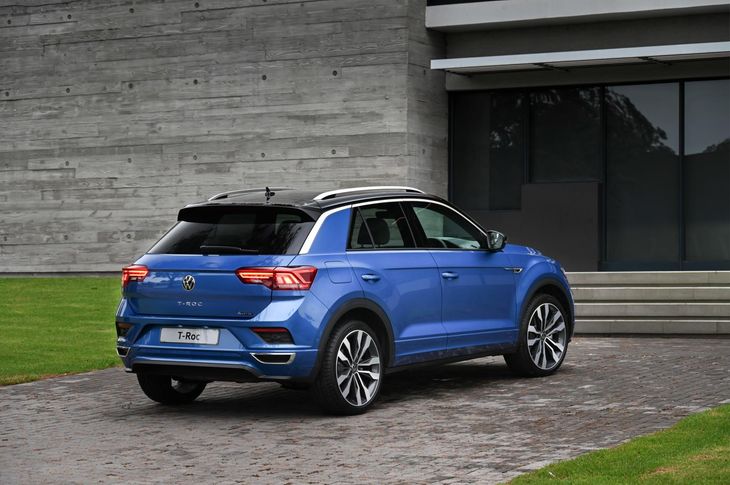 Volkswagen has offset the lack of SUV-like ground clearance by favouring good, old-fashioned driving manners.
We lined up the R-line range-topper (clad in a subtle, yet classy, White Silver metallic finish) for the on-road evaluation segment of the media presentation. There's no denying it: this is one very pretty, modern-looking vehicle. Those daytime running lights give the car such a distinctive presence, but it's interesting to note that the ground clearance is just 158 mm, which is low for a compact crossover, let alone an SUV.
While this may disappoint potential customers who were banking that substantial ground clearance and all-wheel drive would avail a modicum of off-road capability, the T-Roc's relative dynamism more than makes up for that. By virtue of sitting closer to the ground than some of its rivals, the Volkswagen has a lower centre of gravity and it's quite remarkable that when you pitch the T-Roc into tight corners at speed, there's minimal roll.
The engine has to be put into its sportiest/most responsive mode for maximum effect, of course, and you're encouraged to make extensive use of those shift paddles located on the steering wheel. Granted, 140 kW is barely comparable with the Polo GTI's peak output, but the maximum torque of 320 Nm provides a notable helping of shove-in-the-back driving thrills, particularly when it comes to overtaking. Keen-eyed enthusiasts may notice the 'wheel and pedals have been lifted from the Golf GTI; those accoutrements are a great indication of the T-Roc R-Line's driving manners.
The steering setup is surprisingly quick and the T-Roc will dart around with verve if you need it to. You can confidently pitch the T-Roc into corners, yet its suspension manages to find a sweet balance between comfort and agility. Push the limits too hard and the 4Motion all-wheel drive will keep things in check. In terms of ride quality, well, it's firm, but we suspect the 19-inch alloy wheels (shod with low-profile rubber) are partly to blame...
Now if you've read this far, you're probably wondering: Can the T-Roc be a capable compact family car? To a degree, yes. R-Line trim incorporates nearly all the latest features; for many, the optional panoramic roof and uprated Beats audio setup should be more than enough to clinch the deal.
The list of standard specifications is exhaustive. A modern infotainment system – appended with USB A and USB C ports and compatible with Android Auto and Apple CarPlay – will keep the "connected generation" happy. The leather seats are plush and the front ones are heated too.
There's also a fair amount of luggage space. My only major gripe with the T-Roc package is the cramped rear legroom. I'm taller than most adults, but it was difficult to conduct the sit-behind-yourself test. Perversely, there's adequate legroom in the smaller T-Cross, thanks to its nifty sliding rear bench.
Summary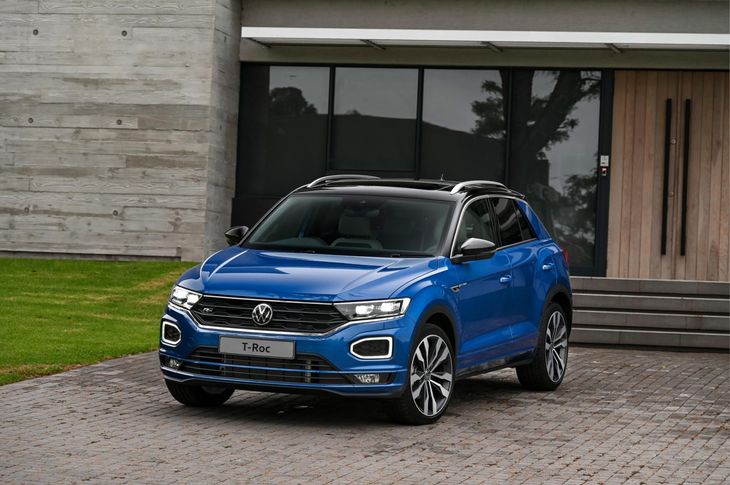 Volkswagen SA says over 400 T-Rocs have been pre-ordered.
It's fascinating to see how Volkswagen's latest SUV offering has very un-SUV-like manners. By virtue of its low centre of gravity, the T-Roc feels more like a lukewarm hatchback than a crossover. It appears Volkswagen has sacrificed some practicality and dirt road capability in favour of a stylish cabin and engaging quality driving dynamics. We're more than okay with this arrangement... if you need more space in your Volkswagen SUV, there's the lovely Tiguan within the T-Roc's price range, or you could just splurge on a liberally-specced top-of-the-range T-Cross...
We're keen to see how the newcomer fares in a full review by Cars.co.za. Look out for the road test and YouTube video review coming soon.
Volkswagen T-Roc Price in South Africa (November 2020)
The all-new Volkswagen T-Roc will come to market with a 3 year/120 000km warranty, 5-year/90 000 km Volkswagen Service Plan and a 12-year anti-corrosion warranty.
Volkswagen T-Roc 1.4 110 kW Tiptronic Design R489 400
Volkswagen T-Roc 2.0 140 kW 4Motion DSG Design R548 300
Volkswagen T-Roc 2.0 140 kW 4Motion DSG R-Line R593 600
Further Reading
Volkswagen T-Roc (2020) Specs & Price
Volkswagen Tiguan R (2020) International Launch Review
Facelifted Volkswagen Tiguan Revealed