As the demand for performance SUVs continues to grow, Volkswagen has bolted all of its R department's go faster bits to its facelifted family car – the Tiguan. Has the overhaul gone awry, or is it just the right amount of crazy for your compact people-carrier? International correspondent Greg Kable shares his impressions of the newcomer.
What is it?
It's an obvious move – one we've often discussed when speaking about the Tiguan. But for various reasons it has taken Volkswagen close to 13 years to bring the R name (and the performance-enhancing modifications for which it is now quite well renowned) to the Tiguan line-up.
There have been various R styling lines for the Tiguan down through the years, of course. But with a further developed version of the 2.0-litre 4-cylinder turbopetrol engine used by the Golf R and more recently introduced T-Roc R, the new Tiguan R is easily the most powerful and the fastest variant of Volkswagen's best-selling family car to date...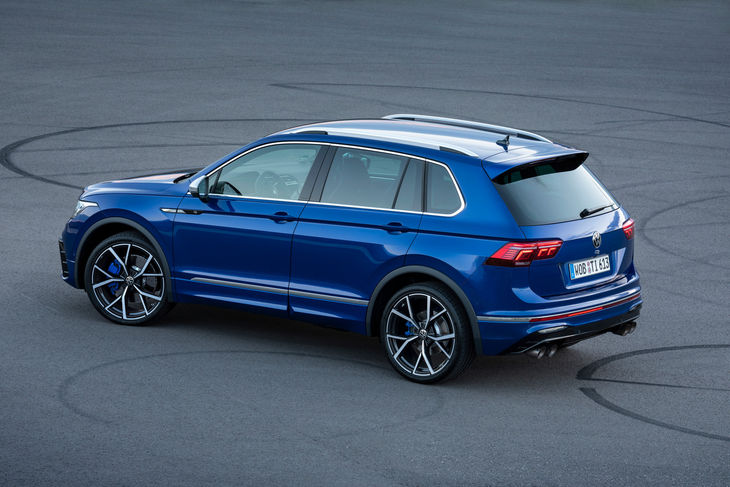 VW's best-selling family car now comes with potent power.
The newcomer's peak power output is 235 kW, with torque building to a maximum of 420 Nm, which is readily available between 1 200 and 5 200 rpm. To put this in perspective, the next most powerful petrol derivative in the facelifted Tiguan line-up develops far more modest outputs of 110 kW and 250 Nm. The SA engine line-up for the updated Tiguan range has not been finalised yet, so we're going on what's on offer in Europe for now.
In the TIguan R, drive is sent through a standard 7-speed dual-clutch transmission (with both manual and automatic shift modes), but, importantly, a newly developed version of Volkswagen's 4Motion system. The Wolfburg-based brand's all-wheel-drive setup now features a torque-vectoring function on the rear axle, which can alter the amount of drive sent to each of the aft wheels.
Visual differentiation from the rest of the 2nd-generation Tiguan line-up comes via a uniquely styled front bumper and other exterior elements featuring design cues similar to those seen on different R models, including standard 19-inch wheels.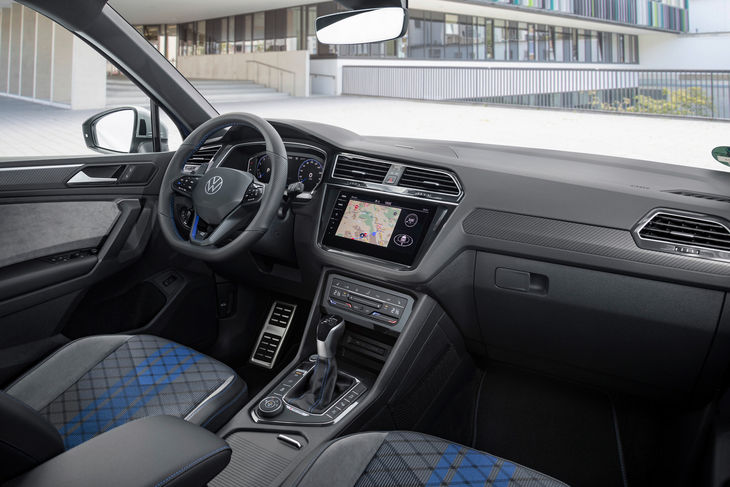 Striking blue stitching and inserts, as well as R-specific dials, make up the interior definition.
Subtle changes (brought to all new facelifted Tiguan derivatives) include a more advanced version of VW's MEB infotainment system, which supports wireless Apple CarPlay and live traffic data, multi-coloured ambient lighting and a touch-sensitive digital control module for the climate functions (along with a number of typical R equipment upgrades).
There are R-specific digital instruments that change colour depending on the drive mode, sport seats and a multi-function steering wheel with haptic feedback controls – including an R button, which allows you to switch directly into Race mode – together with stainless-steel pedals and unique dashboard trims. Apart from some hard plastic panels below your usual line of sight, it's a pleasingly functional and quality driving environment.
What's it like?
The Tiguan R is very straightforward to drive, with a broad set of characteristics depending on the chosen drive mode: Comfort, Sport or Race.
The engine, with its inherent smoothness and impressive flexibility, is at the very root of the dynamic appeal, delivering relaxed part throttle and truly urgent qualities under load. There's great linearity to the way the transversely-mounted unit revs, and the transmission delivers lightning-fast shifts in any of the 2 more performance-oriented driving modes (Sport and Race).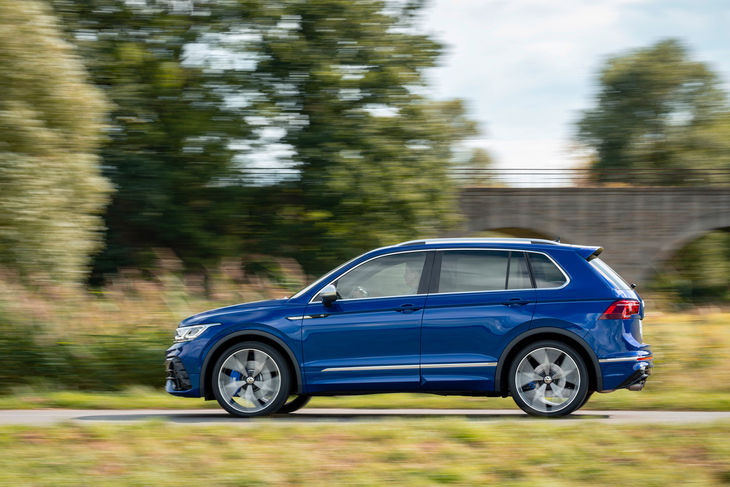 Is under 5 seconds from 0 to 100 kph enough to get the kids to the soccer game on time?
The Tiguan R never feels quite as determined as the lower-riding Golf R, owing in part to its rather hefty 1 746-kg kerb weight. But the claimed 0-100 kph time is 4.9 sec, while not class-leading, endows the newcomer with a good turn of speed when you set it loose on deserted back roads.
The exhaust note, which is enhanced with a sound generator within the cabin, is engagingly raspy in Comfort mode. However, it is perhaps somewhat over-the-top in Race mode, where it crackles loudly on practically every lift of the throttle.
The reworked 4Motion all-wheel-drive system, meanwhile, provides outstanding traction and grip. The aforementioned new torque-vectoring function is able to send up to 100% of available torque to the outside wheel during all-out cornering, instead of the 50/50 split seen in other, less powerful Tiguan derivatives. The result is a level of balance and cornering poise that's well and truly beyond that of the standard car.
What's more, there's outstanding accuracy to the variable-ratio steering and, with reduced ride height together with firmer springs and dampers, admirable body control. By compact performance-SUV standards, the handling is quite fluid, even if a little lacking in outright feedback.
It's the relatively composed ride quality that really stands out, though. The adaptive dampers provide the suspension with great control and the ability to deliver acceptably compliant properties in Comfort mode and significantly more sporting characteristics in either Sport or Race modes, which is particularly impressive when you consider that our test car was shod with the optional 21-inch alloy wheels.
While the Tiguan R's unlikely you're ever going to head away from the bitumen with such a wheel and tyre combination, Off-road, Snow and Off-road Expert drive modes are also available.
Should I buy one?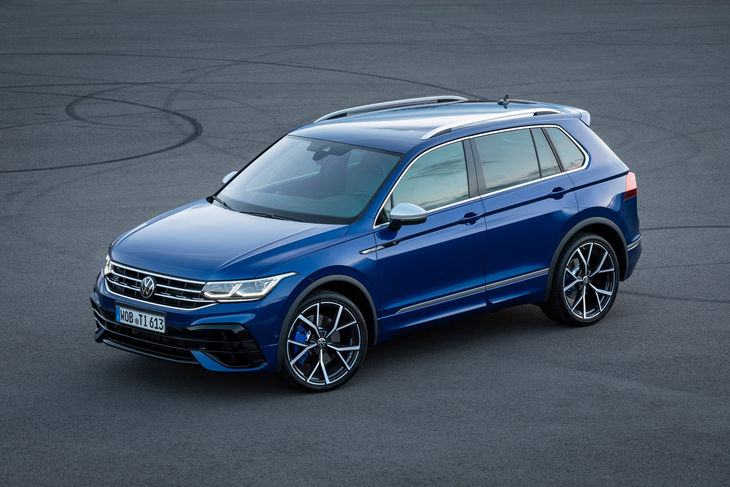 Crouching and waiting for the Hyundai Tucson N to join it.
We're still waiting to hear how Volkswagen will price the Tiguan R in the South African market. However, if the pricing of the outgoing 2.0 TSI, which it indirectly replaces in the Tiguan line-up, is any guide, it's going to be a R700 000-plus proposition.
It enters a highly competitive class but, on the evidence of this first drive, the Tiguan R will provide stiff competition to the likes of the BMW X2 M35i, Jaguar's E-Pace and whatever performance versions of the GLA Mercedes-AMG might produce. I have no doubt that we will also see a direct competitor from Hyundai's new Tucson and its N division very soon. It makes you wonder why it took Wolfsburg so long to produce a Tiguan R...
Related content
Next Hyundai Tucson 'will spawn 254-kW N model'