We believed the Volkswagen T-Roc would never reach South Africa, but the Wolfsburg-based firm's local subsidiary has announced (in March 2019) that the stylish compact crossover will indeed be launched in Mzansi in 2020. Our UK correspondent Neil Briscoe has driven the T-Roc and finds that although the VW pushes all the right compact crossover buttons, he can't help but wonder if the newcomer is not trying to be too fashionable for its own good...
What is it?
Before the Polo-based T-Cross was unveiled (which is scheduled to arrive in South Africa during the 2nd half of 2019 – with a starting price of under R300 000, Volkswagen SA says), it was believed this T-Roc was the Wolfsburg-based firm's answer to the likes of the (deep breath!) Honda HR-V, Hyundai Creta, Mazda CX-3, Nissan Qashqai, Opel Mokka, Renault Captur and Toyota C-HR. Well, it's one of VW's compact family car options – whereas the bigger, more expensive and roomier #CarsAwards winning Tiguan targets buyers on the higher end of the family car price list (with notable success), the T-Roc is designed to compete lower down – in a burgeoning segment where VW has been conspicuous by its absence.

What's the point of launching the T-Cross and the T-Roc into the cut-throat compact family car market, then? It's a fair question, but as the recent unveiling of the Mazda CX-30 (at the 2019 Geneva Show) and local introduction of the Mitsubishi Eclipse Cross suggest, the T-Roc is designed to appeal more to fashion-conscious urbanites than the volume-chasing T-Cross. Think of it as Volkswagen's answer to the BMW X2 and Audi Q2...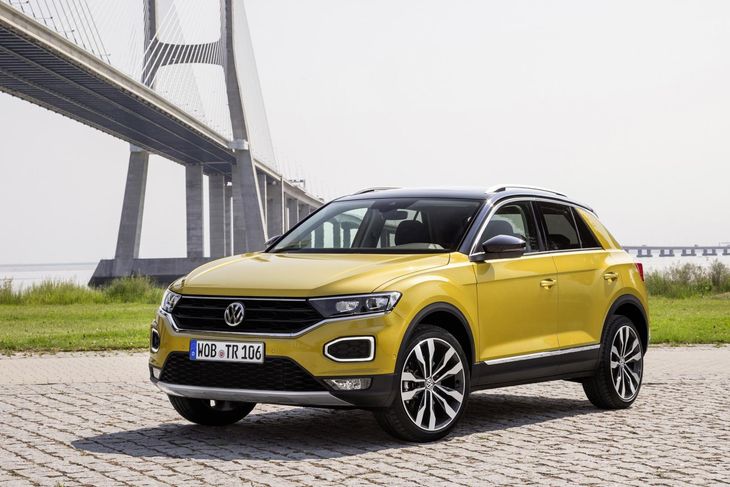 Undoubtedly the cousin of the Audi Q2, the T-Roc is palpably flamboyant compared with the classy conservatism of the TIguan.
Well, the styling is certainly distinctive! There are cues from other VW models, of course, but it also strikes out on its own course, with lots of chunky detailing and a sense of being slightly over-styled. Is it a success? We'll leave you to be the judge of that, but for our money it looks as if it's trying a bit too hard, and moves too far away from VW's clean-and-crisp design policy, as best exemplified by the Golf and Tiguan.

Inside, there are also some differences from more mainstream VWs. There's more colour, for a start, thanks to contrast-coloured plastic panels on the fascia and instruments. There's also a new 10.3-inch digital instrument panel, which is not as impressive as the 12.3-inch version we've already seen in the new Golf, but is still quite pretty. Depending on final spec, we expect to see VW's impressive 8-inch touchscreen infotainment system (which also includes VW's App Connect connectivity technology, as well as Apple CarPlay and Android Auto).

The driving position is comfortable (courtesy of supportive seats), but the cabin does suffer, as do some other cars in this class, from less than brilliant plastics. They're fine, generally speaking, but not as good as we'd normally expect from Volkswagen. Rear seat space is also an issue, with just about enough room for 2 full-sized adults in the back, but no more than that.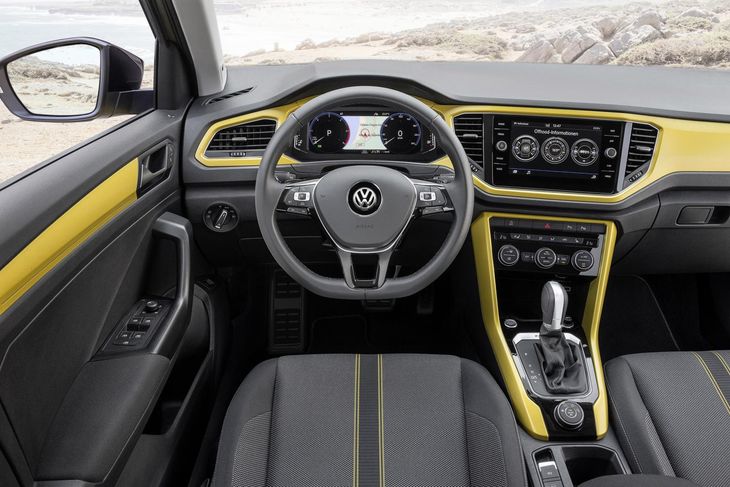 The demonstration unit features funky contrast inserts and -stitching, as well as optional Active Info Display.
The luggage bay is competitive though (at 445 litres). Essentially, the T-Roc sacrifices the practicality needed to compete with roomier compact family cars, in favour of more fashionable styling that it hopes will allow it to appeal to a yuppie clientele. With all the research pointing to the fact that buyers rate style above all else in this segment, that's probably a good tactic.
Own a Volkswagen? Tell us about your experience here.
How does it drive?
It performs well enough up to a point, but the T-Roc is ultimately hampered by its weight and height. With a DSG dual-clutch transmission and 4MOTION four-wheel drive, it tips the scales at a portly 1 400 kg. The engines, or at least the ones we've tested thus far, cope well enough with that weight. We first tried the range-topping 2.0 TSI, which is essentially the Golf GTI engine with, at 141 kW, a 17% power reduction.

VW makes much play of the T-Roc being "an SUV from the company that invented the GTI" and for the first few kilometres, you could almost be fooled into thinking this is a GTI on stilts. The steering feels smooth, and the T-Roc turns into corners with a brisk, but composed, enthusiasm.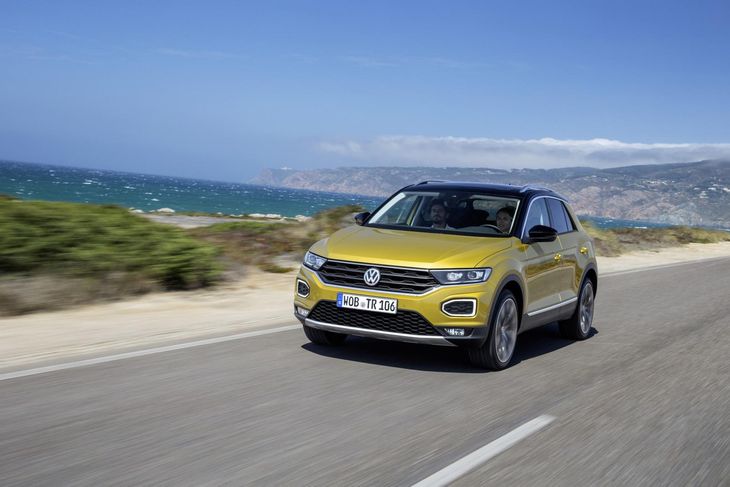 The T-Roc proves wieldy, but although the ride quality is generally composed, the body control is a trifle casual.
It is initially quite good fun to chuck about, but you soon start to realise that the body is swaying and rolling rather more than you would like, and with all that weight on board you have to keep a close eye on your braking distances coming into tight hairpins. Basically, the T-Roc has decent balance, and some capacity to entertain, but, alas, it's no GTI.

The 2.0 TDI diesel, with 110 kW, isn't as potent as the top-spec TSI, but as it has an extra 20 Nm of torque, at 330 Nm, it's hardly any slower in real terms. It is less refined than the petrol and actually rougher than we have found this same engine in other cars. There's a constant gurgle of diesel compression; you're never left in doubt about which fuel you're burning.

You can also feel the extra weight of the turbodiesel in the vehicle's nose. The front wheels are definitely less keen to turn into a given corner, and the ride is firmer, bouncier, and less composed (the TSI model actually rides pretty well, for a tall-ish crossover with big optional alloys). Of course, the TDI is significantly more economical, averaging better than 6.3 L/100 km on a route where the petrol engine struggled to break through the 9.5 L/100 km. So if you're buying your T-Roc for long journeys, it's a bit of a no-brainer. We haven't yet had a chance to try out either the 85 kW 1.0-litre TSI or 1.5-litre 110 kW TSI petrols in the T-Roc, but suspect that one of these will prove to be the sweet spot in the T-Roc range.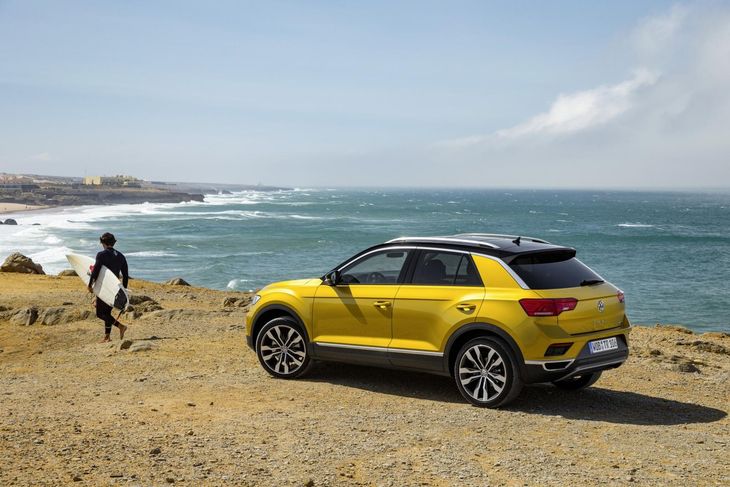 The T-Roc has the lifestyle set firmly in its sights; but not just mountain bikers, surfers are welcome to load up their boards too.
Summary
There is no getting around the fact that the T-Roc is a car built at the behest of Volkswagen's marketing department. If the brand wanted to, it could have created a cut-price version of the Tiguan to rival the bottom end of the Qashqai range, but it decided to chase the fashionable end of the market with a purpose-built car for trendy, well-heeled urbanites. Essentially, this is VW's answer to the premium brand's crossover offerings – if you're buying it primarily for the looks and the image (and the fact that such items as a surfboard rack and snowboard holder are on the options list).

It compromises its rear seat space in favour of styling, and regrettably downgrades its cabin plastics in search of profit. If you're smitten with the styling and happy to make those trade-offs, great. Bear in mind, however, that the T-Roc, which is "the 1st Volkswagen SUV that is available to order in 2-tone paintwork", will face a formidable foe when it arrives in South Africa – a second-hand Tiguan! Which VW would you rather have?
Watch the promotional video for the T-Roc below:

Further reading:
Volkswagen T-Cross (2019) Specs & Price
BMW X2 M35i (2018) Specs & Price
Alfa Romeo Tonale Concept Revealed
Audi Q2 1.4T FSI Sport S tronic (2017) Review
Want to buy a Volkswagen?