German carmaker BMW has revealed the X2 M35i - a performance version of the stylish X2 crossover. Herewith, some details as well as how much it costs.
The new BMW X2 M35i is powered by the most powerful 4-cylinder turbocharged petrol engine offered by the brand. It offers up 225 kW and 450 Nm, which is sufficient to fling the stylish SUV to 100 kph in a claimed 4.9 seconds. Power goes to all four wheels via BMW's 8-speed Steptronic gearbox, which also features launch control. BMW claims a fuel economy figure of 7.4 L/100 km.
It's not just a powerful engine and some sporty kit fitted to the BMW X2 M35i. Speaking of sporty kit, you'll be able to spot the X2 M35i with its sporty front bumper with large intakes, unique mirrors, large exhausts and unique 19-inch alloy wheels. The real detail is in the performance upgrades, however. There is a remap on the gearbox, with a focus on performance as well as an M Sport suspension. You can also option adaptive suspension, which will likely be well worth forking out for. There's also an M Sport differential fitted to the front axle and bigger M Sport brakes have been fitted.
The BMW X2 M35i goes into global production in November 2018 and we'll see the first units arrive in South Africa in the first quarter of 2019. We have discovered that the vehicle is available to order on the BMW SA website.
BMW X2 M35i Price in South Africa
BMW X2 M35i SAV R815 172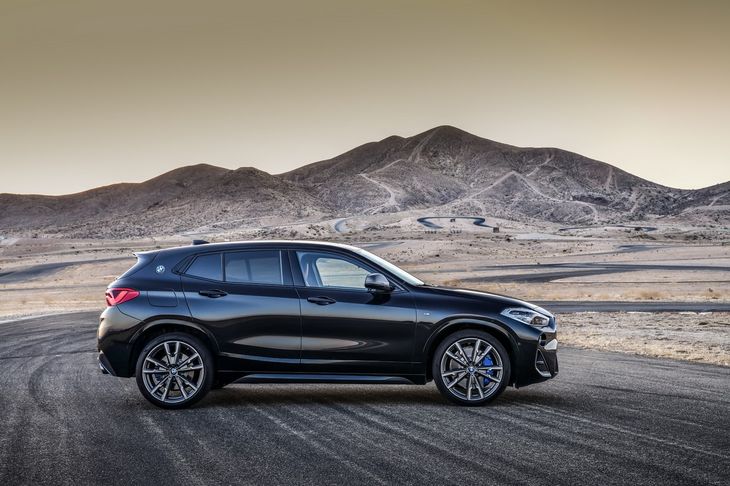 The BMW X2 M35i boasts the most powerful 2.0-litre turbo in the BMW arsenal. With 225 kW and 450 Nm, it's going to be one quick customer
Related content:
Searching for a used BMW X model?