Alfa Romeo has used the Geneva Motor Show to reveal a new plug-in hybrid compact SUV concept called the Tonale. See details below...
Named after the Tonale Pass in Italy, Alfa Romeo's latest concept shows the potential for a luxury compact plug-in hybrid SUV, which will be the first for the brand.
Styling Details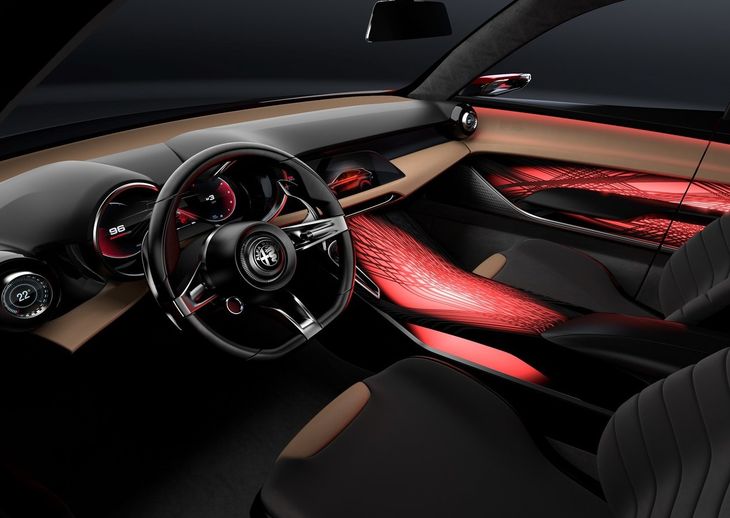 The Tonale Concept is equipped with a striking interior along with a large digital instrument and infotainment system.
It's a more compact version of the Stelvio and draws its inspiration from Alfa's past cars. For example, the phone dial design of the 21-inch wheels is inspired by the iconic 33 Stradale of the '60s while the bodywork is reminiscent of the Duetto and Disco Volante Spider. The front end features Alfa Romeo's signature "Trilobo" and "Scudetto" grille which is complemented with "3 plus 3" forward lighting similar to that of the SZ and Breza.
The Tonale's cabin can seat 4 passengers comfortably and combines materials such as aluminium finishes, leather, Alcantara and translucent panels with backlighting that give the interior a striking look. A 12.3-inch digital instrument cluster is at the driver's disposal as well as a 10.25-inch infotainment system.
The Tonale's hybrid technical specifications are not known at this stage but Alfa Romeo plans on introducing at least 6 new plug-in hybrid models by 2022 and based on this concept, you could very well see the Tonale come to fruition in the near future.
Buy a new or used Alfa Romeo on Cars.co.za
Related Content
Alfa Romeo Stelvio 2.0T Super Q4 (2018) Review [w/Video]
Alfa Romeo Stelvio Quadrifoglio (2019) International Launch Review