South Africa loves hot Golfs. Look no further than the fact that 60% of local Golf sales are made up of GTI and R variants as proof! Seemingly, not even a pricetag of around R650k (without options) can deter buyers. Following its recent round of updates and a slight uptick in power, is this the ultimate Golf?
We like: Sizzling performance, quality cabin, daily driving practacility
We don't like: Occasional suspension harshness
Alternatives:
A deadly enemy from within: Sibling brand Audi offers the S3 Sportback quattro for similar money which is a particularly big problem as the Audi badge holds considerably greater prestige and it also packs the slightly higher output engine. Nevertheless, the Golf outsells the hot Audi by a considerable margin, undoubtedly due to the VW network's greater footprint, but also because its more extroverted appearance (and image) is arguably more in line with its target audience. Then there's also the fact that the VW offers a few more goodies as standard.
Something more hardcore: If you want your hot hatch to be a bit more, err... brash, then consider the Ford Focus RS. This rorty machine was designed and set up by a team that prioritised driving fun and extroverted dynamics. It is considerably more expensive and probably not faster in the real world, but you do get exclusivity.

Compare the VW Golf R with the Audi S3 Sportback quattro and Ford Focus RS by clicking here
Facts & Figures
Price: R647 300 (September 2017 - no options)
Engine: 2.0-litre, 4-cylinder turbopetrol
Transmission: 7-speed dual-clutch
Power: 213 kW
Torque: 380 Nm
Fuel consumption: 6.9 L/100 km (claimed)
0-100 kph: 4.6 seconds (claimed)
Top speed: 250 kph (claimed)
Do you own a Volkswagen Golf? We'd like to hear from you! By completing our in-depth Ownership Satisfaction Survey, you will be contributing to next year's Cars.co.za Consumer Awards - Powered by WesBank. Click here to have your say!
What's changed?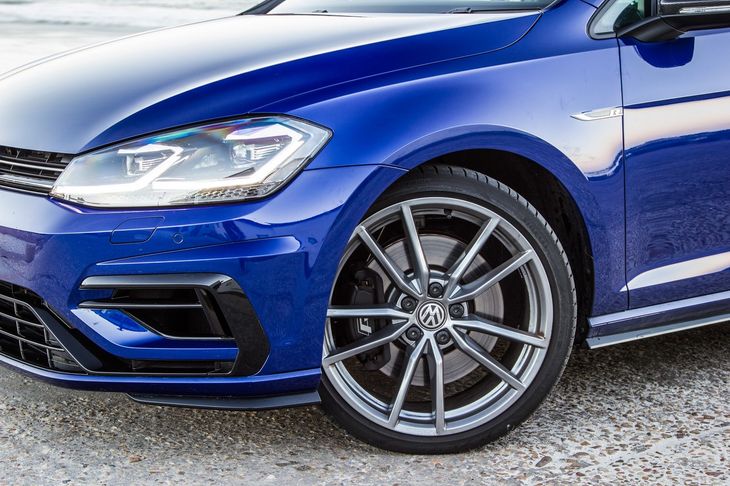 Biggest visual changes have happened along the front bumper and with the LED headlamps.
For the eagle-eyed Golf R afficionado the changes to the updated model will be immediately noticeable, particularly the revised bumpers and LED head- and taillamps. Look closer and you'll also spot that the exhaust outlets are now positioned wider apart, making the car appear more squat from the rear. There are also new mirror housings in a chrome matte finish (optionally in Carbon). 19-inch Spielberg alloy wheels are standard but you can also get the appropriately titled "Pretoria" wheel for R8 100.
Inside, the latest Golf R benefits from all the recent Golf 7.5 updates and the smart 9.2-inch Discover Pro (with Gesture Control) info-tainment system is offered as an option for R20 200. In the case of the R specificially, the Active Info Display is standard as is a lap timer.
So, overall, a few nice tweaks here and there but what you're most likely eager to know about is the performance. The new Golf R has slightly more power from its 2.0-litre turbopetrol (213 kW – up from 206 kW) and is now fitted with a slick new 7-speed dual-clutch transmission that features a launch control mode as standard.
The Good
It's very, very fast
Because South Africa is seen as a hot-weather country, Volkswagen currently doesn't allow the Golf R's engine to unleash all of the 220+ kiloWatts that is available elsewhere, but the 213 kW it does have, along with the 380 Nm of torque, certainly endows the R with explosive performance. With Launch Mode engaged one can rocket to 100 kph in 4.6 seconds, with the Golf squatting on its haunches as the all-wheel drive system calculates how to best launch the uber-Golf to the horizon. Have a look at our video below to see just how much faster a Golf R is against the Golf GTI in a quarter-mile dash.
It's not only a robot-racer, though. The engine is very flexible, with that maximum torque figure being available across a wide rev range that spans from 1 850 to 5 300 rpm. Coupled with the slick new gearbox, and a multitude of driving modes that allow the driver to finetune the responsiveness on offer, the Golf R is truly a performance machine for whatever driving mood you may happen to be in.
And yet, it's not a highly strung motor that feels unrefined in "normal" driving. It's always refined, and when pottering around will even return excellent fuel economy. Volkswagen claims a combined cycle figure of 6.9L/100 km.
As practical as ever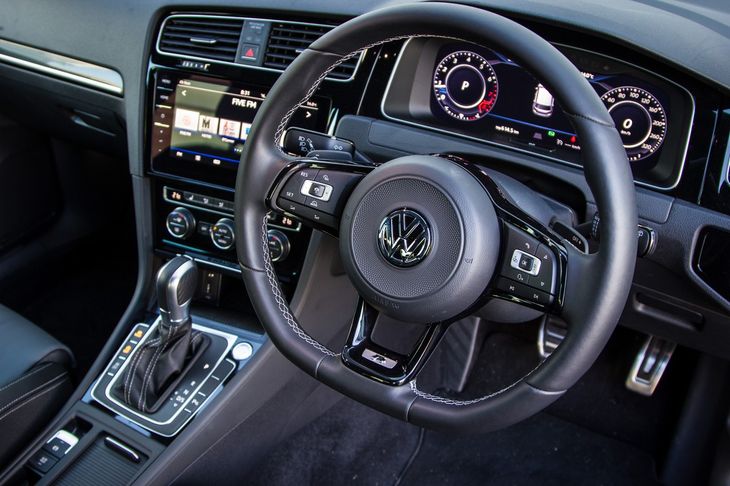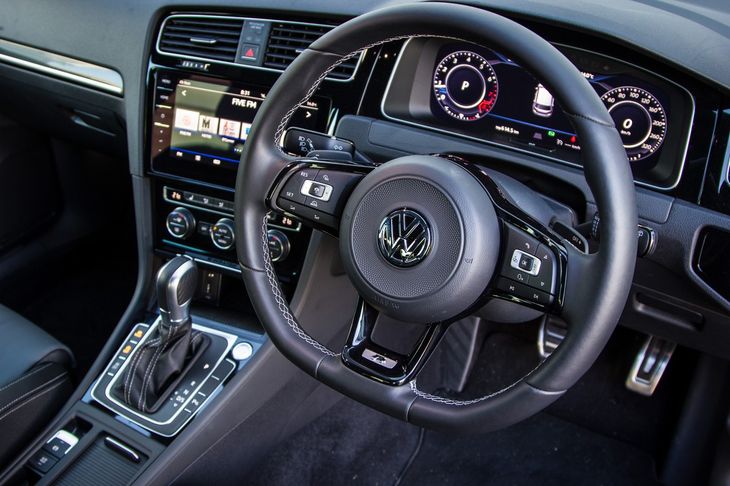 The Golf R's cabin strikes a fine balance between practicality, technology and a premium ambience.
For all its heady performance capability and drivetrain complexity, the Golf R remains a comfortable, practical daily runner. Using the same 5-door bodyshell as all the other Golfs means that the boot and passenger space is similar, too. We say "similar", because the boot is slightly smaller at 343L (versus 380L for a GTI). Nevertheless, fold down those rear seats and you can still fit most of today's lifestyle equipment in there without much hassle.
Furthermore, rear passenger space is excellent, and those occupants seated in the front are treated to very comfortable (and supportive) Sports seats that also offer heating. The driving position is spot-on, courtesy of Volkswagen's usual generously rake/reach adjustable steering and height-adjustable driver's seat. Leather upholstery, dual-zone climate control, a panoramic sunroof and auto lights/wipers are standard.
An entertaining drive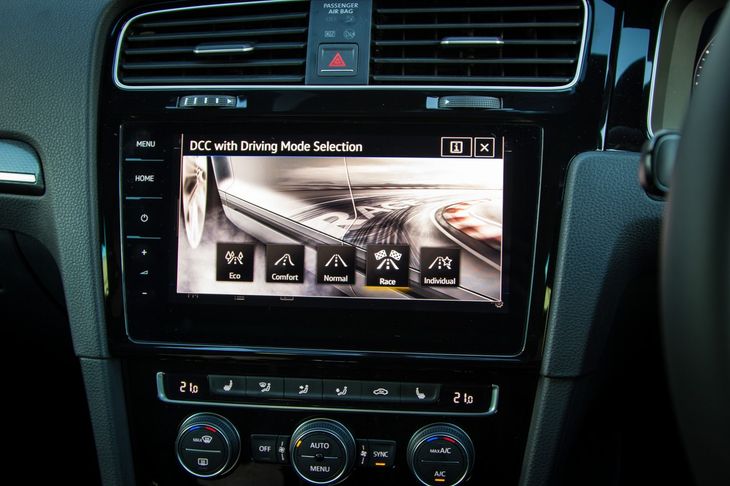 With the optional Adaptive Chassic Control system fitted, the driver can scroll through 5 driving modes.
With all-wheel drive as standard and a firmer ride from the get-go, the Golf R feels markedly different to its famous GTI sibling when driven hard. It feels more "hunkered-down", grippier and because of a marked lack of body roll, quite sportscar-like in the corners. Fitted with the optional Adaptive Chassis Control system (R12 700), the driver can adjust the throttle responsiveness, steering and firmness from behind the wheel, but it's always on the firm side and becomes progressively more "aggressive" as one moves through the various modes. It's also worth noting that, when Sport mode is selected, the infotainment screen displays "racy" items such G-forces and power outputs.
It is also possible to switch out ESP completely with the Golf R, which is increasingly a rarity.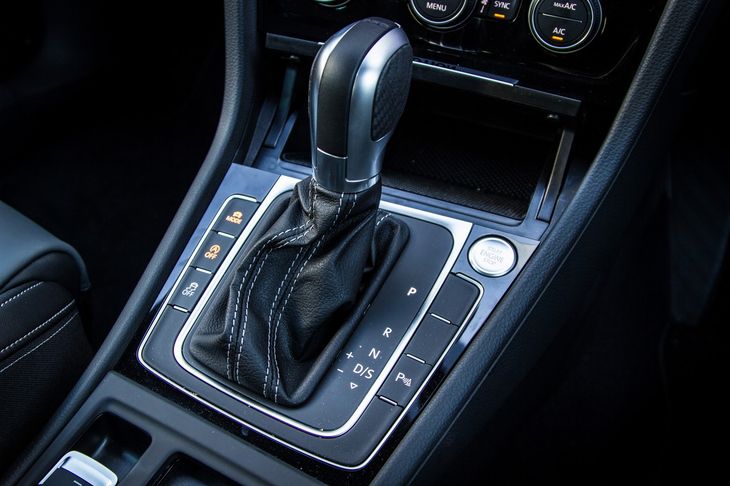 The new 7-speed dual-clutch gearbox incorporates a Launch Control function. The 'box is lightning fast and feels very robust.
Overall, the Golf R's initial response to being pushed hard into a corner will be predictable understeer, but because it can channel power to the rear when there's little traction at the front, the experienced driver can extract good and entertaining adjustability from the R by using the throttle pedal. It is perhaps also due to this ability (shifting power to the rear), that the steering feels purer and more informative than on cars (and Golfs) where all the power goes to the front wheels. It's a car with such depth to its dynamic abilities that it requires a dedicated driver to extract its full potential. The process of discovery is, however, very rewarding.
It's an impressive performance particularly because not so long ago fast all-wheel drive hatches were one-trick ponies that could only go fast in a straight line but fell short of providing true entertainment on the twisty bits. The Golf R is not like that, it's fast and entertaining everywhere.
The Bad
Ride occasionally too firm
There aren't many chinks in the Golf R's armour, and given its overall balance of performance, driving fun and practicality, we feel inclined to forgive it its slightly firm ride. On European roads it will probably never be a problem, but on South Africa's (in places) deteriorating road infrastructure, it can prove to be uncomfortably firm. That said, most cars that it competes with are in a similar boat (or worse).
Pricing and Warranty
The VW Golf R currently (September 2017) sells for R647 300 without options and the price includes a 3-years/120 000 km warranty and 5-years/90 000 km service plan. It is very comprehensively specified as standard but options include 19-inch Pretoria alloy wheels (R8 100), the Discovery Pro info-tainment system with satellite navigation (R20 200), Blindspot monitor with rear traffic alert (R3 500), adaptive cruise control with automated emergency braking (R5 000) and the Adaptive Chassis Control system with driving profile selection (R12 700).
Verdict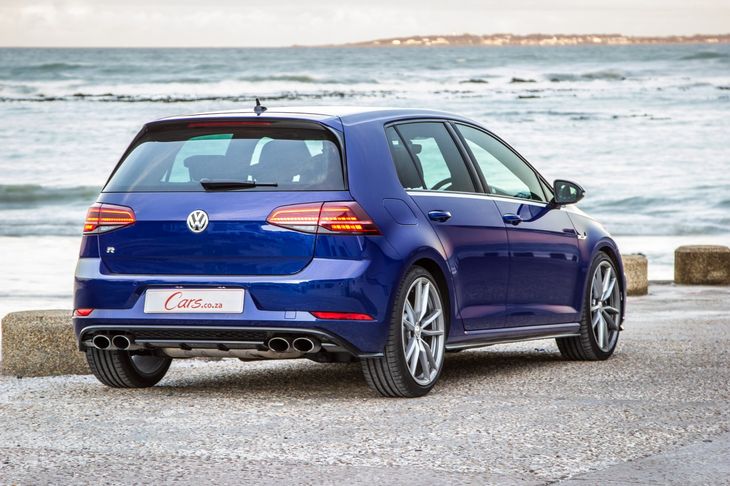 Bruiser in a tailored suit... The Golf R looks sophisticated but packs a hard punch.
For around R650 000 (without options), the Golf R is undoubtedly pricey. Nevertheless, within the context of its abilities and rivals, it makes more sense than one may think. This is probably the ultimate expression of the fast Golf formula to date, offering nearly all the practicality of a GTI, but with even more dynamic appeal, greater performance and a cabin that knocks most of the competition for a six. On paper (and in the metal) this latest evolution looks like a subtle improvement, but the reality is that the latest Golf R does everything "better than expected", and most importantly, delivers greater driving engagement than what we've become used to from this type of car.
You may also be interested in;
Volkswagen Golf GTI and Golf R (2017) track comparison (video)
5 Key changes for the facelifted Volkswagen Golf R
Audi RS3 vs BMW M2 vs Mercedes-AMG A45 vs Honda Civic Type-R track comparison (video)
Ford Focus RS (2016) video review
Looking for a new / used VW Golf to buy?