Volkswagen South Africa celebrates the 40th anniversary of the birth of the iconic Golf GTI with the introduction of the GTI Clubsport. It's far more potent than the standard car, but, given how closely it is priced to its Golf R sibling, can the Clubsport justify its higher premium?
We like: Outright power, pin-sharp handling, doesn't lose that typically GTI premium-but-practical feel.
We don't like: Priced dangerously close to a Golf R, Clubsport S is on its way, pricey options.
Alternatives
See how the Clubsport stacks up against the Honda Civic Type R, Ford Focus ST and Astra OPC here.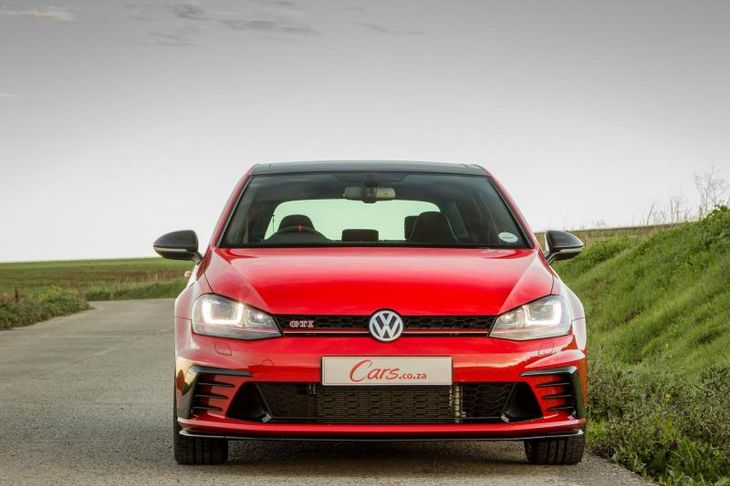 The black fins on the front bumper aren't just for show: they provide some downforce.
What is a Clubsport?
Forty (mostly glorious) years have elapsed since the first Volkswagen Golf GTI rolled off the line and to commemorate this milestone, the Wolfsburg-based firm has taken a standard GTI and turned the wick up in all departments. As good as the Golf GTI is, it's not perfect. It may offer an excellent blend of performance and everyday usability, but it doesn't offer the exhilaration/driver involvement of a track-oriented product. Isn't a hot hatch supposed to be thoroughly enthralling and rival a sportscar for entertainment value, but at a fraction of the asking price?
Enter the Clubsport. It's essentially a heavily revised Volkswagen Golf GTI, but, based on its appearance, it will require a dedicated petrolhead to tell the difference between the former and a standard GTI. Note the rear spoiler, which is not just for show: it generates additional rear downforce to aid roadholding. Similarly, the front bumper features aerodynamic mods that help push the nose down for additional grip. We'd swear the exhaust tips are fractionally larger than the standard car's, too.
The serious changes have occured under the sheet metal, where various upgrades to the 2.0-litre turbocharged engine sees the motor's outputs climb to 195 kW and 350 Nm. There's also an overboost function that will see the engine produce as much as 213 kW and 380 Nm for ten seconds. The Clubsport's suspension has also been revamped with retuned dampers and a new spring configuration, while the XDS+ electronic limited-slip differential receives a bespoke setup. The steering has been revised as well — it's claimed to turn in sharper with less input. Finally, the newcomer sits 15 mm closer to the road (than a standard GTI) for extra handling ability.
How does it fare in terms of…
Performance?
Volkswagen claims the GTI Clubsport will reach 100 kph from standstill in 5.9 seconds, which is deeply impressive... What's more, a blistering standing start is easy to execute: dial in launch control, hold the brake, mash the accelerator pedal to the end of its travel, and release the brake. Initially, the front wheels scrabble somewhat, but once they grip, the Clubsport shifts to second gear and a mighty surge of torque ensues. If you're not prepared for it, that sudden lump of torque comes as a (very welcome) surprise. The overboost function is available from 4th gear and up.

From our analysis, the Clubsport's launch control should enable the Golf to see off a Ford Focus ST and a Renault Megane RS275 Trophy in a straight-line sprint. This can be attributed to the engineering marvel that is VW's Direct Shift Gearbox (DSG), which actuates gear shifts with rapid precision. The Clubsport is also significantly louder than the GTI, with plenty backfires on downshifts and upshift pops (so typical of twin-clutch performance cars) are more distinct.
If you're impressed by the standing start prowess, the Clubsport's in-gear performance is no less stellar. Those additional kilowatts and Newton metres activate in gears 4 to 6, so for 10 seconds the Clubsport pushes out 213 kW and 380 Nm.
Ride and handling?
At idle, there's no discernible audio note that suggests the newcomer is anything more than a standard GTI. Find yourself a demanding sequence of corners on a serpentine road, however, and the Clubsport will swiftly demonstrate its mettle. The first thing we noticed was how quick and agile this fettled GTI feels. Compared with the standard GTI, this is a palpably precise driving weapon. The revisions to the steering are definitely apparent and we appreciated the tactile feel of the Velour-wrapped wheel, which is adorned with a red notch in the 12 'o clock position. Body roll has been reduced too and the Clubsport is enthusiastically responsive, yet still retains that GTI "daily driver" comfort that its competitors sacrifice.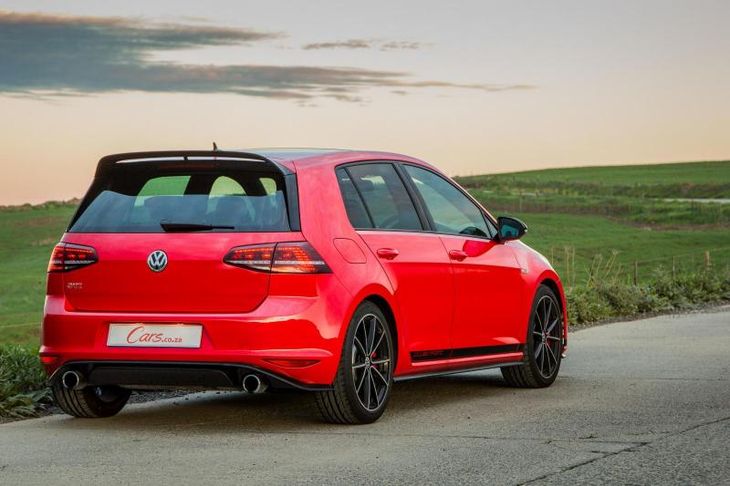 Revised chassis and tweaked steering make the Clubsport the most agile GTI yet.
Our testers were unanimous: (so-called) super hatchbacks aside, the Clubsport is the market's definitive compact hot hatch. It's the most focused/best-balanced performance machine in Volkswagen SA's arsenal (at least until the very exclusive Clubsport S arrives) and everything that driving enthusiasts criticised about the GTI has seemingly been rectified. Is it fast? Yes. Does it obliterate corners? Definitely. Will it reward the enthusiastic driver and flatter the novice? Absolutely. The Clubsport's suspension is tempered, its powertrain is responsive and the brakes are excellent.
Value for money?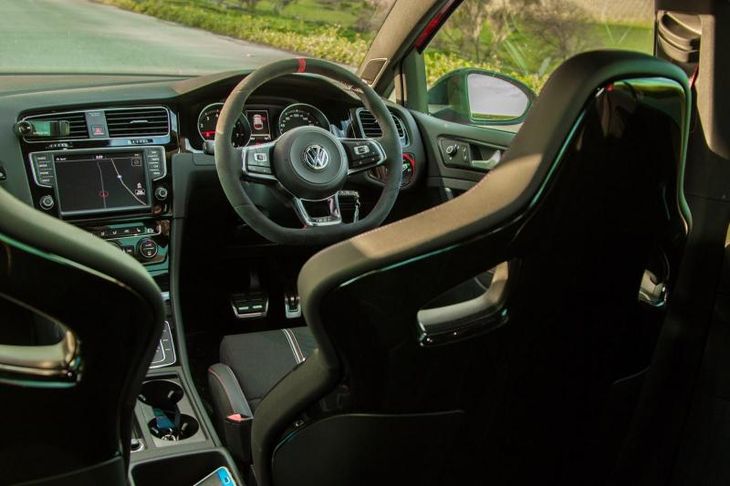 Bucket seats are beautifully designed, supportive and incorporate a heating function. They're not standard, but we recommend you tick that box.
The Golf GTI Clubsport retails for just over R540 000 and while you're probably shocked by that markup, bear in mind this is the fastest stock GTI money can buy (at least right now, the more hard-edged Clubsport S will probably arrive by the end of the year) and the newcomer (only available for 2016) is pretty exclusive, as demand will comfortably outstrip supply.
However, you have to consider where this product sits in the performance Golf family as well. For not much more money you can purchase a Golf R (R591 800 for the Auto): an all-wheel-driven charger with just a tad more power, but it's neither as involving nor as exciting to drive as the Clubsport.
As impressive as the R is, we'd stake money on the flagship Golf coming off second best in a head-to-head tussle with the Clubsport. Of course the former would have the upper hand off the line and in low-grip conditions due to its all-wheel-drive configuration, but on a dry twisty road (or if the driver of the latter managed to ambush an R pilot during an in-gear acceleration run), the tables would probably be turned. The lighter Clubsport is just a more exciting car to drive.
Meanwhile, the Clubsport's standard specification is fairly generous, but our test unit did come specced with some nice-to-have options, including Tornado Red paint (R6 200), sunroof (R10 000), light assist (R1 150), rear assist camera (R3 150), uprated audio system (R8 600), satellite navigation (R20 200), adaptive chassis control R11 850) and Clubsport Racing shell seats (R18 000). That's nearly R80 000 in extras, which pushed the total price to just under R620 000. The seats are superb, however, and the adaptive chassis control undoubtedly adds considerable dynamism to the driving experience.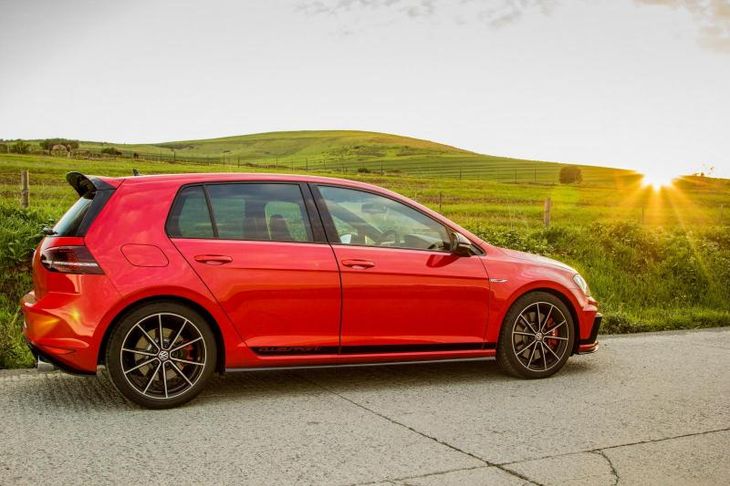 Unique wheels, bespoke rear spoiler and Clubsport decals differentiate this GTI from lesser models.
Volkswagen Golf GTI Clubsport price in South Africa
The Volkswagen Golf GTI retails from R540 200. The price includes a three-year / 120 000 km warranty and a five-year / 90 000 km maintenance plan with intervals every 15 000 km.

Search for a new/used Volkswagen Golf GTI on Cars.co.za
Verdict
The Golf GTI Clubsport is a very accomplished package; given the vast performance potential and agility it has on tap, we happily give it a double thumbs-up. The standard Golf GTi is very capable, but its outputs are good, rather than impressive, and it can be argued that it favours refinement and poise over a seat-of-the-pants driving experience. The Clubsport, in turn, takes an already good package and makes it so much better. Yes, it is about R60 000 more expensive than a standard car, R40 000 dearer than the GTI Performance package and does not cost much less than a Golf R.
Nonetheless, the Clubsport offers something that its aforementioned track-focused rivals cannot… a superb balance between driving thrills and on-road comfort/refinement. Good has become great – this is the Golf GTI you need in your life.
More Volkswagen Golf GTI Content:

Volkswagen Golf GTI Clubsport S is official [Video]

Updated: Volkswagen Golf GTI - Which one should you buy?

Volkswagen Golf GTI DSG – Best Premium Hatchback

2015 Polo GTI vs Golf GTI – Which Should You Buy?

Volkswagen Golf GTI Performance Pack (2015) Review

Five Cool Things You Should Know About the Volkswagen Golf GTI Performance Pack