So, Volkswagen has confirmed that it will offer 300 Golf GTI TCRs in South Africa. The news has lit up our social media channels with various opinions, but there appears to be some confusion regarding what the differences are between the standard Golf GTI and the GTI TCR. Let's set the record straight then, shall we?
The Golf GTI TCR is the last swansong of the Golf 7 generation before the new Golf 8 is expected to be revealed in October 2019. In August 2019, Volkswagen SA sneakily used the 2019 Festival of Motoring to announce its intentions to bring the GTI TCR to market in SA and the good news is it's arriving in July 2020.
UPDATE: Latest Volkswagen Golf GTI TCR Specs and Pricing May 2020
Let's take a closer look at the key differences between the Golf GTI TCR and the standard Golf GTI
1. It has more power and it's faster
Like the standard GTI, the Golf GTI TCR has a 2.0-litre turbopetrol engine but it has been uprated to produce 213 kW and 380 Nm. Note that the GTI TCR makes use of a 6-speed dual-clutch transmission. In comparison, the Golf GTI employs the same turbocharged 2.0-litre engine but with 169 kW and 350 Nm of torque using the same 'box.
In terms of performance, the GTI TCR is significantly faster than the standard GTI and Volkswagen claims 5.6 seconds in the sprint from zero to 100 kph while the GTI claims 6.4 seconds. The GTI TCR's top speed can also be optionally increased to 260 kph by removing the electronic Vmax limiter.
2. It handles better
The GTI TCR offers superior handling performance over the GTI by offering a number of upgrades. The GTI TCR not only sits lower than the GTI and it also features a front-locking differential to enhance traction and handling. Damper and spring rates have been altered and the brakes are uprated with perforated brake discs and special brake pads to improve stopping power. More so, the electronic power steering has also been tweaked to offer a more direct feel, making it a more agile handler than the standard GTI.
3. It looks and sounds better
The Golf GTI TCR has more racy appeal over the standard GTI. Key features include LED headlights, black exterior mirror housings, sill extensions, front splitter, a TCR roof spoiler and a rear diffuser. Additional styling options include a carbon mirror housings, black painted roof, honeycomb decor side panel foils and 19-inch wheel options.
Vrrphaa pleasure comes courtesy of a standard stainless steel exhaust system that's been tuned for increased performance and it features large-bore dual exhaust tips that sit on either side of the rear diffuser.
The interior features sports seats with a new microfibre fabric design, a perforated sports steering wheel and seat belts with red edging.
4. It has some cool track options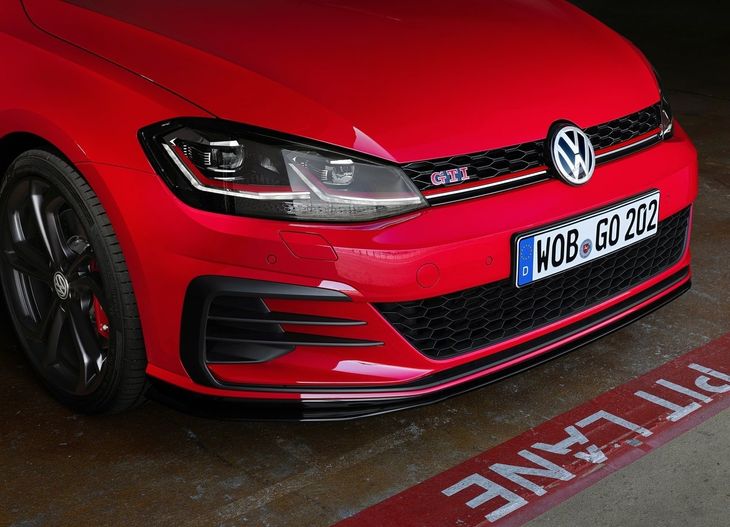 The Golf GTI TCR rides on 18-inch 'Belvedere' forged alloy wheels as standard but bespoke 19-inch 'Reifnitz' and 'Pretoria' wheels will be offered as an option.
It's also worth noting that the GTI TCR will be offered with semi-slick tyres if you opt for the 'Pretoria' wheel option which also includes sportier rear shock absorbers and adaptive Dynamic Chassis Control (DCC). Both 19-inch wheel options also include the removal of the Vmax limiter which increases the top speed to 260 kph.
5. It's pricier than a GTI

Current pricing for the Volkswagen GTI is pegged at R565 800, which is a fair sum for a car (a very good one at that) on its last legs before retirement. The GTI TCR, according to VWSA, will be priced under R700k.
Some people feel that it's a rip-off and merely another opportunity to make a quick buck from GTI-crazed consumers, and while there may be a sprinkle of truth in that sentiment, it can be countered by all the information above. There's a lot that sets the GTI TCR apart from the regular GTI and on paper at least, it's the better car. We can't wait to drive it…
Buy a new or used Volkswagen Golf GTI on Cars.co.za
Related Content
Volkswagen Golf GTI (2017) Video Review
Volkswagen Golf GTI (2017) Quick Review
Volkswagen Golf R (2017) Quick Review
Volkswagen Golf GTD (2017) Video Review
Volkswagen Golf R, GTI & GTD (2017) Track Comparison Video
Drag Race: VW Golf R vs Golf GTI [Video]