Some details on the 47 Volkswagen Golf GTI Clubsport S heading for South Africa have emerged.
The Volkswagen Golf GTI Clubsport is the most powerful and fastest GTI in South Africa that money can buy, but hot on its heels comes an even more insane faster and more hardcore derivative. Meet the Volkswagen Golf GTI Clubsport S - the current Nurburgring Nordschleife front-wheel drive record holder. It was created to celebrate 40 years of Golf GTI and on paper at least, it looks like one formidable hot hatch package.
Let's get the numbers out the way. Compared with the current Volkswagen Golf GTI Clubsport, the S turns the heat up a notch further. The Clubsport packs 195 kW and 350 Nm, while the S boasts 228 kW and 380 Nm. It features a higher top speed too and you can hit 265 kph in the Clubsport S, in comparison to the 249 kph limit in the standard Clubsport. Enthusiasts will also note that the adaptive chassis control now has a Race mode in addition to the standard Normal, Comfort and Individual modes.
The Clubsport S will have a six-speed manual gearbox and will be sold exclusively as a three-door as opposed to the DSG-equipped five-door Clubsport. It has unique 19-inch alloy wheels too. With substantial weight reduction, the S is 30 kg lighter than its counterpart.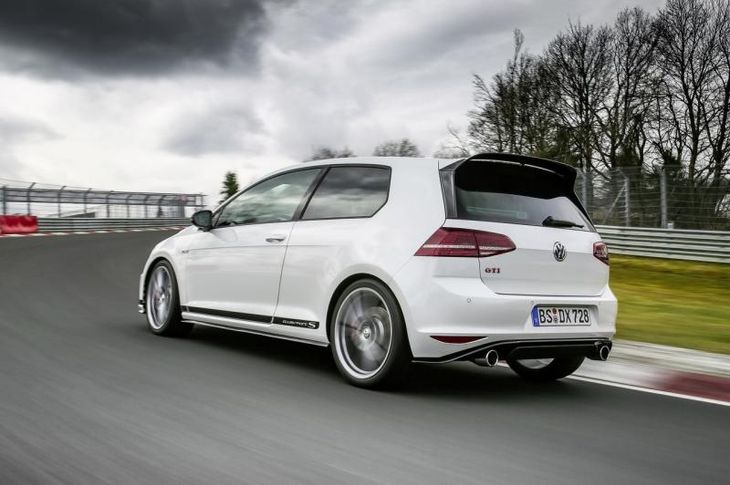 You can have any colour you want as long as it's Pure White, with a black roof. SA gets just 47 units.
South African spec for Clubsport S
South Africa has been allocated 47 Volkswagen Golf GTI Clubsport S units. The rear seat bench has been removed, the space-saving spare wheel has been replaced with a tyre mobility kit and the panoramic sunroof is not available as an optional extra. In place of the rear bench is a rear strut brace which adds structural rigidity.
All 47 units will be built in early September 2016 and are expected to land in South Africa in October. Only one colour will be available: Pure White with a black painted roof. Bucket seats are standard and the Discover Media navigation will come fitted as a standard feature too. The production number of the vehicle (001/400 to 400/400) will be etched by laser onto the ashtray cover.
Want a Volkswagen Golf GTI Clubsport S? Head to your local Volkswagen dealership, but be warned, this exclusive model will be in high demand and some may already be accounted for. The United Kingdom received 150 Clubsport S units and all were quickly snapped up, so you will have to move fast. Pricing will be interesting as a standard Golf GTI Clubsport retails from R540 200. You can purchase a Golf R for R592 580 and the flagship Ford Focus RS costs R699 900, so we estimate that the hardcore Clubsport S will be priced between R600 000 and R650 000.
Compare the Volkswagen Golf R to the Ford Focus RS and the Audi S3 here.
More Reading
Want to purchase a Volkswagen Golf GTI? Browse stock here.
Which should you buy: a new Volkswagen Polo GTI or a used Golf GTI?
Read a review of the Volkswagen Golf GTI Clubsport here.
Watch us test the Volkswagen Golf GTI Clubsport here.
Watch the Volkswagen Golf GTI Clubsport S Nurburgring Record